The Next Leap--Report on Exchange Among Young Fashion Creators in New York
Akiko Iwata (saisir)
Yasutoshi Ezumi (Yasutoshi Ezumi)
Mayuko Ban (Ban San)
Takuya Morikawa (TaaKK)
Shinsuke Morishita (LAMARCK)
Moderator: Shinichi Shuto
(Associate Professor at Bunka Fashion Graduate University, President of Brand News K.K.)
The Japan Foundation carries out the KAKEHASHI Project -The Bridge for Tomorrow- as part of the Youth Exchange Program with North America promoted by the Ministry of Foreign Affairs of Japan
The Japan-U.S. Young Professional Creators Exchange Program, which covers the four areas of fashion, design, anime, and art, was launched in FY2014 as a part of the KAKEHASHI Project. As a start, five young fashion creators were sent to the U.S. in April. Over a one-week period, they held exchanges with young creators from New York, one of the four fashion capitals of the world, and visited fashion-related facilities. Through their own works, they also spread the word about the Cool Japan initiative and the appeal of Japanese culture.
Upon returning to Japan, the five fashion creators gave a report at a session moderated by the advisor for this project, Shinichi Shuto, Associate Professor at Bunka Fashion Graduate University (as well as President of Brand News K.K.), who has worked in marketing and PR in the fashion industry for many years.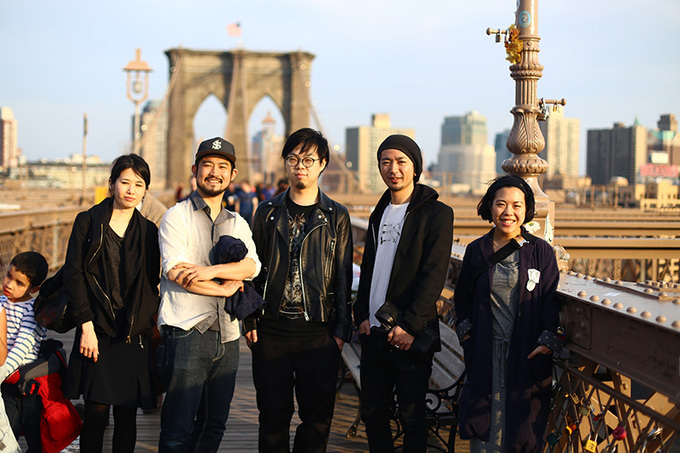 Satisfactory Response to Promoting Japanese Fashion in New York

Shuto: First, could you tell us the response and difficulties you experienced in promoting your own fashion works in New York under the KAKEHASHI Project?

Morishita: The works that I had brought with me on this trip were mostly manufactured in Japan, and I felt that close attention was given to the materials and techniques used. I had also brought with me works that were made by hand, and the people I met there took an interest in the delicate handiwork. As the prices I had set were not very high in comparison with the market rates, the price range was appraised positively as being acceptable to the U.S. market as well. Other similar brands set their prices in the same range sell the products on a much larger scale. Hence, I realized that if I did not increase the number of models and sizes, I would not be able to expand my brand, and it would be difficult for retail stores to stock my products. It would be good if I could increase variation of model to expand my brand.

Shuto: Is it possible also to extend the craftsmanship that is one of the strengths of Japan, as well as materials that can only be made in Japan, across the U.S. market? However, in order to succeed in the U.S., it is vital to engage in a certain degree of mass production. It may be difficult to match these initiatives with efforts to increase production volume and the range of sizes. What are your views on this, Iwata-san?

Iwata: On this trip, I had brought with me items showing Japanese dyeing methods and handicrafts, which I pushed out to the forefront, as well as regular products that I have continued to made, which are minimalistic designs (fashion that pursues simplicity to an extreme degree), but careful attention has been given to cutting and silhouette. I was happy and surprised when many people told me that clothes with a minimalistic cut that they could wear every day are great. In Japan, clothes that are cute or childlike are popular. However, much of the fashion in New York is simple and mature. I felt that it would be difficult to differentiate myself in such a market, and that it would be tough if customers could not tell at one glance that my products were worth buying even if they were expensive.

Shuto: I have heard that Japanese designs, including fashion, which have been honed in a Zen style and eliminate waste, are extremely popular overseas. How about the response in such cases?

Iwata: In my case, rather than my handicraft products, items that I focused on cutting and make women look good received more compliments from everyone.

Ezumi:For me, rather than bringing items that reflect Japanese characteristics, I brought products that allowed people to easily grasp the style of my brand. I have been told that since I have achieved success in the aspect of style, how I implement my branding strategy is of great importance. I think that people were able to view my products from the same perspective because I had given consideration to where to place the products in the department store, and what price range I wished to set for my products. How I am in implementing my strategy, such as in the aspects of delivery times, sizing, and news value, I felt, was of significant importance of being successful.
In Europe, I am always asked what my concept is, but no one asks me such a question in the U.S. In New York, I got a strong sense that the emphasis is placed on how the business is running, how much the product costs, and how the apparel is worn in reality.
The response I received was good. A competition was held during the same period, and I submitted an entry to the New York market. I was selected as one of the three finalists. Although I ultimately did not win this time, I became convinced that I would be able to gain positive appraisals even in New York.
Going forward, I aim to come up with a proper branding management strategy that sets out how, and at what timing, to sell my products. I have now seen the potential for success.

Morikawa:For me as well, I brought along the apparel that I had produced myself, and received a good response. Although I have received compliments in Japan, I was actually told frankly and more directly this time that there was business potential for my products. I came away with the feeling that I had not made a mistake in choosing this path. Thanks to this dispatch program under the KAKEHASHI Project, in July, some store in New York decided to sell my products. Even if I have to set the prices higher, I feel that I have to create products that are relevant there. A jacket will cost close to 100,000 yen. Hence, my challenge in the near future would be to create products that consumers would want to buy even at that price.
I also met Japanese collaboration partners in New York. Although there are many things that I do not know yet, I think it is important to take up the challenge.

Ban: Rather than products, I had brought along iconic items that represented my brand image. I was happy at the positive response I received during my presentation. I think the response was favorable as there were people who felt that my apparel was stimulating.
However, there were also comments such as, "When you actually make an item of clothing, it would cost 500,000 yen," and "You should learn more about clothes." These were harsh comments and I felt as if I was at a loss for words, but I still felt rewarded by the smiles I received from those who had seen the presentation. I think I would like to push ahead in this direction.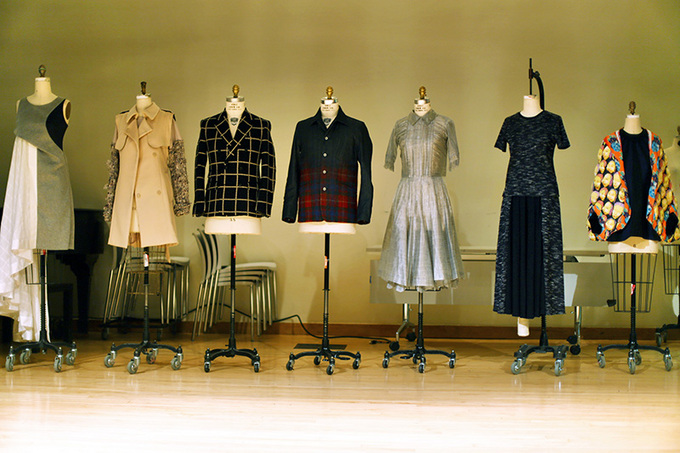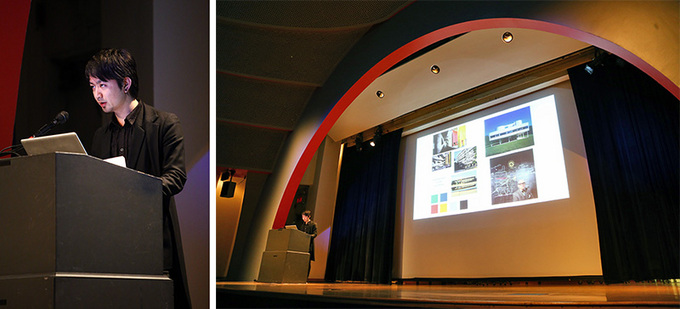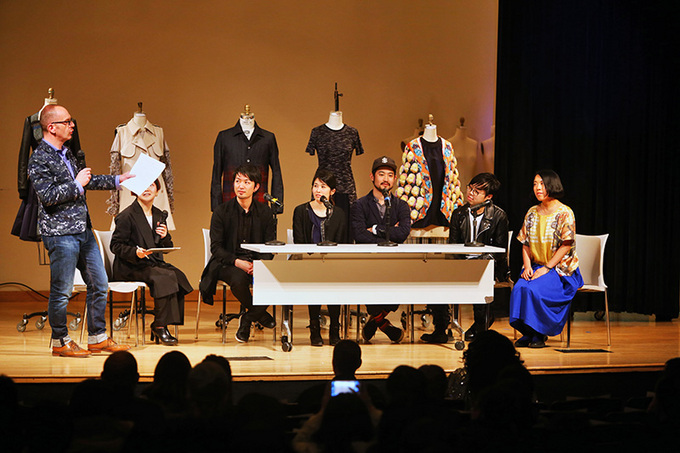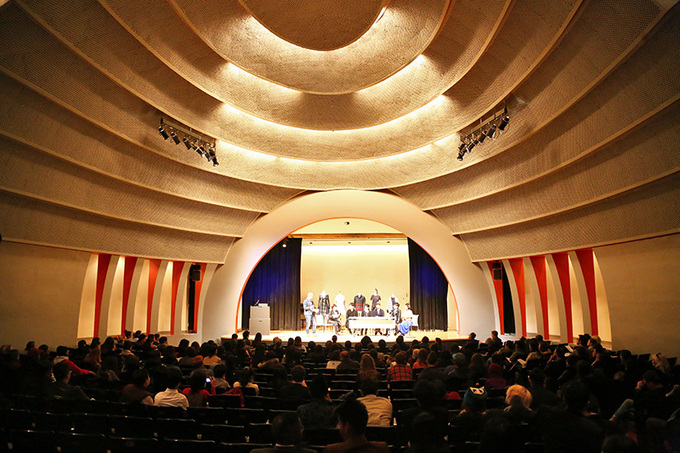 Presentation held at the hall of Parsons The New School for Design



Desire to Share the Joy of Creation with the World

Shuto: Approximately 300 people attended the presentation at Parsons The New School for Design upon hearing that young Japanese designers would be there. You had the opportunity to see the New York market and actually speak to people in the U.S. What do you feel were the impressions and interests that they had for Japanese fashion?

Morishita: This is not restricted to the U.S., but whenever we ask non-Japanese about their image of Japanese fashion, many would appear to have a strong impression of apparel that is avant-garde or black, represented by brands such as Comme des Garçons, Yohji Yamamoto, and Issey Miyake. Recently, Jun Takahashi, the designer of UNDERCOVER, has also come under the spotlight. Perhaps this is because young Japanese seldom venture abroad. Conversely, they are surprised when we bring minimalist creations with us. There are many people who have the impression of Japanese fashion as being more architectural, complicated, detailed, and dark. I think that minimalistic designs are more current and trendy, but those that incorporate Japanese characteristics are more surprising and therefore, gain more attention. One of the comments I received was, "There are actually new things in Japan too, aren't there?"

Ezumi::I went to the shops in Soho and spoke to various people, and my final impression was that customers are not too concerned with which countries the designers' brands were from. However, their image of the character of Japanese fashion had strong elements of subcultures, such as "maid cafes," "Akiba," and "kawaii." Although I did not see what they actually purchased on the market, this was my impression. What I did often come across on the market were brands such as sacai and UNDERCOVER. Rather than paying particular attention to the technique aspect of made-in-Japan products, I felt that people had the impression that products that were made in Japan probably were of high quality.

Shuto: Apparels created by Japanese designers have architectural designs that distinguish them at one glance, such as Comme des Garçons, Yohji Yamamoto, and sacai. I think that the Japanese aesthetic contains minimalistic elements to begin with, but this is captured and perceived as an architectural element in fashion. While there are more brands in the U.S. than in Japan, did you get the impression that people in the U.S. felt the appeal of a brand simply because it was created by a Japanese designer?

Morikawa: While the Japanese are certainly producing good products, it is not necessarily true that they would buy these products simply because they are made in Japan. To the customers, it would be sufficient if they felt instinctively that they were comfortable wearing it. I think it would be more fun if there were sites around the world that could produce comfortable clothes, even if these were not in Japan. If we all had similar skills and techniques, had the desire to tackle new challenges, and shared the joy of creation, then I think there would be value in creating things.

Iwata: I did not necessarily feel that people in the U.S. would want to buy something just because a Japanese had designed it. The parts of the market that Japanese brands have entered are expensive. For sacai, although Japanese people like their items that are worn as everyday wear, in the U.S. their products were concentrated on those with materials that consumers could distinguish at one glance, or those with detailing. Rather than buying a product because it was made in Japan, I felt that it was vital for a product to have a clear value that corresponded with its higher price.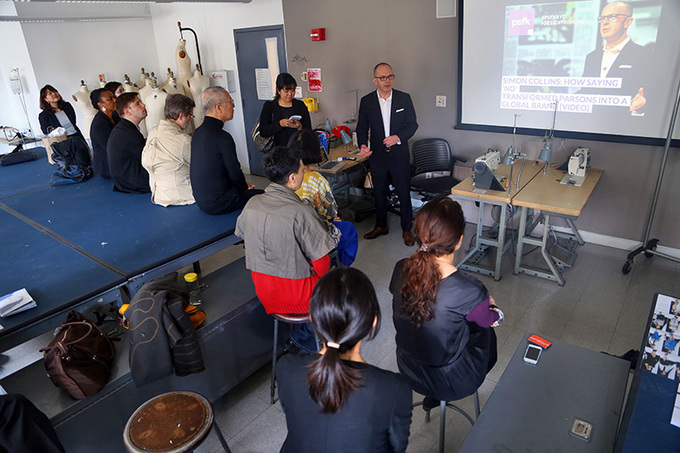 Orientation at Parsons The New School for Design, and assessment of works by advisors



Understand Market Differences and Grab the Business Opportunities!

Shuto:Having taken an actual look at the fashion market in New York, I believe you have learned the current trends in the New York fashion market, as well as the differences between the Japanese and U.S. fashion markets. If you continue to develop your own brands in the direction that they are now taking, do you feel that they have the potential to succeed in the U.S.? Alternatively, do you feel that you have to change your creations to tailor them to the U.S. market? What do you feel are the differences between these two fashion markets?

Morishita: On the day scheduled for our independent research, I visited the Soho area and department stores. The department stores had sections for dresses, which are not so big in Japan, and there were dresses and formal wear amongst the featured items for the brands. In Japan, it would be difficult to sell such products. Although there were few customers on the floors for trendy items, I felt that it would be a good idea to have products that incorporated TPO or dressy items when expanding a brand in markets overseas. Although I create everyday wear in Japan, I felt that it was also necessary to create items that could be worn on formal occasions, such as one-piece dresses.

Shuto: Were there differences in the line-up of brands in department stores between the U.S. and Japan?

Ezumi: Similar brands were found in the line-up of high-end brands, but there were differences in the mid-range brands. There were brands that I did not know, as well as brands that will probably become trendy in the local market in the near future. Jason Wu and Alexander Wang were also firmly established in the line-up. While there were few customers in the sales areas for high-end brands as these were expensive, stores selling contemporary items (fashion that incorporated current trends) were crowded. I think that products with a contemporary quality are more expensive in Japan. However, at the first glance, I felt that the U.S. designs were well-executed and interesting.

Shuto:What was the menswear market like?

Morikawa:In terms of the market, there is a significant income gap, and the market is split between those who can afford to buy and those who cannot. In Japan, there is a large group of middle-class consumers. I produce menswear, and I feel that I will have to create serious products for my price range. In the U.S., good quality menswear is expensive, and those who can afford these are consumers from wealthy classes. In Japan, it is difficult to identify such consumers, so we end up making products that are neither here nor there. Even if the U.S. market has products that are simply expensive, I think that our products can be accepted into small markets that are still a part of the larger denominator of the U.S. market.

Shuto:Having traveled around New York, were there menswear brands that you felt were good?

Morikawa: Most of these can also be found in Japan, and I did not feel that there was any novelty about the brands. However, I think that there are opportunities there. Menswear is particularly difficult in the Japanese market, and we have to survive within that environment.

Ban: From what I observed in the streets, although New York is labeled as a fashion capital, I did not see many people who were perfectly dressed, as I do in Japan. Even though Comme des Garçons is said to be a popular brand, and there were probably people wearing their products, I had no idea where these people were.
Teachers at professional fashion schools such as Parsons The New School for Design were perfectly coordinated, but I did not see such people on the streets. I had the suspicion that they only dressed that way for parties and other occasions.

Shuto: American society is a hierarchical one, and there are situations where people put on clothes and shoes that correspond with their level in society. While they may be niche, these layers of society are thick. These people may not necessarily be walking along the streets of New York.

Iwata: During my presentation, one of the popular products from my brand was a cut and sewn dress that could be worn for various occasions. Although the Japanese people say that it is easier to buy clothes that can be worn for various occasions, I do not think there is a strong sense of this in the U.S. The product line-up is also different from Japan. For womenswear, Japanese consumers buy products that do not emphasize their figures. However, there are greater extremes in the U.S., such as apparel that expose the body, or apparel that is short or long. There were hardly any products that were in between these extremes. I also felt that there were differences in the designs.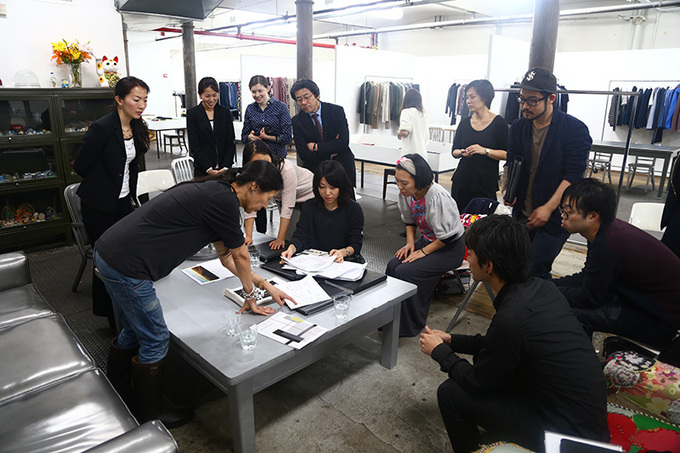 Visiting fashion-related facilities and having their works assessed



If You Take a Step Forward, People Will Reach Out to You

Shuto: You interacted with various people in the fashion industry in New York. Could you tell us the future challenges that you face, the significance of this project, and what you have learned from it?

Iwata: This was the first time that I had delivered a presentation overseas, and it was a good experience for me. People posed questions about the presentation in rapid succession, which were beyond my expectations. For example, they asked me questions such as, "Why has this detail here been made like this?" or "What do you feel about your identity as a Japanese person with respect to this piece of clothing?" Those who raised questions would also tell me what they thought or felt. Such situations do not arise in Japan, so I felt that people in the U.S. were firm in advocating their own opinions.

Shuto: That is necessary when conducting business overseas.

Morishita: I was born and raised in Japan, and set up my brand here. Before this, I have never brought my brand overseas. For me, the best part about this experience was hearing the opinions that others had about my brand, including the good and bad points of my brand from the perspective of non-Japanese. For example, I received the comment that it might be a good idea to incorporate more design elements. This was an opinion that I accepted. I think that foreigners have a different point of view, and I would like to reflect these in my work in the future.
I am not particularly good at preparing presentation materials and delivering presentations. To date, while I have prepared brochures such as look-books, these are difficult to look at when there are many people. To circumvent that, I prepared materials that could give people a good overview in just one page. I think that there will be a greater need for strong presentation skills from here on.

Ezumi: This was my first visit to New York, and my first thought was that it is a big city. I could feel the power and hunger there. In the aspect of business, they were sensitive and highly able, and I learned much from the experience.
With regard to business strategy, I felt that I had to improve on my designs and creations. I felt that I should match the business strategy and branding to the tastes of the local market to some degree, within the larger framework of the brand. However, if I tailored my products to the New York market, I would not be able to sell them in Japan. It is important for me to improve on the brand design and my creations. Next, I have to decide on whether to position the brand for the New York market or secure the Japanese market, and come up with a solution that corresponds with my decision. In order to focus on improving design and quality, I think that it would be better to have a businessperson draw up a business strategy for me. It is rare to have partnerships and collaborations in Japan, and the designer is the one who thinks about the aspects of business. However, I found out that designers in New York have partners. I think it is important for me to meet such a partner.

Morikawa: This was the first time I had brought my creations and received comments about them. There were also people who reached out to help me. If you take a step forward on your own, there will be an answer for you, and you can proceed with that in mind. That is what I felt.
Until now, I have worked with the vague idea that I wanted to work hard to produce something good. However, this experience has served as a catalyst for me. Delivering a presentation overseas has changed my direction significantly, and when I attempted to take another step forward in response to this change, this triggered a reaction. I feel that this has been a meaningful experience, and that I would never be able to fully express my gratitude.

Ban: The presentation given by Simon Collins, Dean of Fashion at Parsons The New School of Design, was wonderful. However, the thing that had the strongest impact on me was his comment, "Even if it were one borrowed pen, that is your design." What he meant was that if someone said to you, "Please lend me your pen," the pen that you pass to this person represented yourself in some form. He also told us, "Have elegance in everything." I thought about the kind of pen that I would lend out if it had been me. In the future, I aim to reflect on myself in order to succeed independently in the fashion industry. In addition, it was a good learning experience for me to visit the U.S. with all these members, and to listen to their interesting and profound opinions.

Shuto: I hope that you will all spread your wings and take on the world in the future, and become the representatives of Japanese designers. Make full use of your experience in New York as part of the KAKEHASHI Project, continue to harness the connections that you have made with various people on this trip, and work hard so that your efforts bear fruit.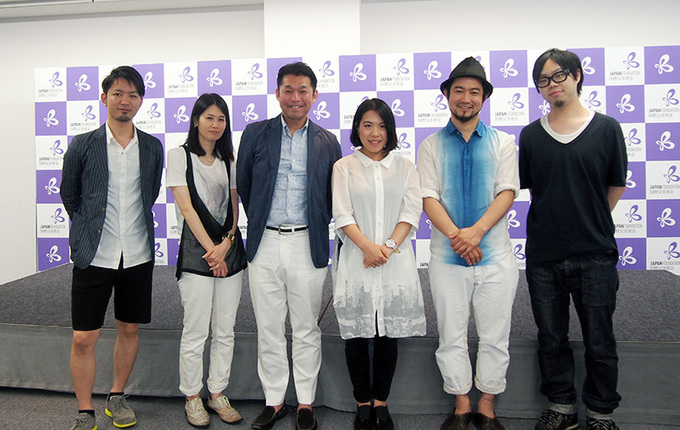 From left to right, Yasutoshi Ezumi, Akiko Iwata, Shinichi Shuto, Mayuko Ban, Takuya Morikawa, and Shinsuke Morishita


Akiko Iwata (saisir)
After working under Yohji Yamamoto, Akiko Iwata launched her own brand saisir in the summer of 2008.

Yasutoshi Ezumi(Yasutoshi Ezumi)
Yasutoshi Ezumi presented a collaboration line, ANTEPRIMA + YE with ANTEPRIMA during the Milan Fashion Week for 2013 spring and summer.

Mayuko Ban (Ban San)
Mayuko Ban joined Amina Collection Co., Ltd. in 2009. She became an independent designer in 2014 and launched her own brand Ban San.

Takuya Morikawa (TaaKK)
Takuya Morikawa became an independent designer after working at Issey Miyake. In 2012, he set up the Morikawa Design Office. In 2013, he was selected as a designer to be supported in the Professional Category of the Tokyo New Designer Fashion Grand Prix.

Shinsuke Morishita (LAMARCK)
Shinsuke Morishita started his own brand LAMARCK. While schooling, he held a runway show at Prêt à Porter Paris, organized by the Fédération Française du Prêt à Porter Féminin.

Moderator:Shinichi Shuto
Associate Professor at Bunka Fashion Graduate University and President of Brand News K.K.