Globalization in the Regional Cities of Thailand
Eiji Oguma(Professor at Faculty of Policy Management, Keio University)


The Japan Foundation, Bangkok invited Prof. Dr. Eiji Oguma, Professor at Keio University, to Thailand in September 2014 to hold lectures for university students and academics, on the occasion of his participation in international conferences in the Greater Mekong Subregion. His lectures, the themes of which were "Widening differences and its countermeasures in Japan" and "Civil movements and social changes in Japan," took place at Ubon Ratchathani University and Chiang Mai University. He contributed an essay about his experiences in one of the Thai local cities he stayed this time.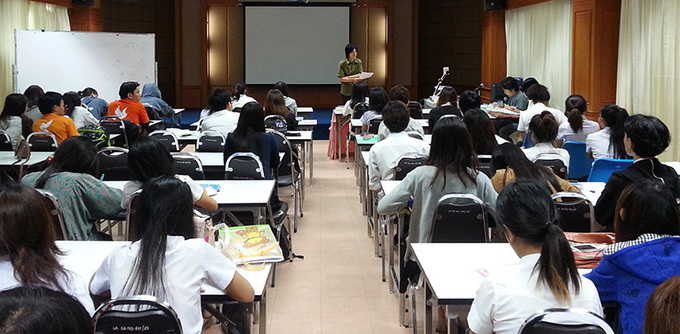 Lecturing at a Thai university


Encounter with K-Pop Dance in Ubon Ratchathani
This was the second time for me to go to Thailand through the assistance of the Japan Foundation. The first time was right in the middle of the floods in the autumn of 2011. Of particular interest on this visit to Thailand after a three-year absence was the influence of globalization.
Ubon Ratchathani in north-east Thailand is a far cry from the hustle and bustle of Bangkok. However, a large-scale shopping mall, which was not there three years ago, had been constructed in the suburbs. It has brand name shops where expensive jeans are on display, but the food court on an upper floor offers very reasonable prices. Because the public transport system is weak, there is a car park adjacent to the mall, which faces a major highway, and people go there by car.
On a Sunday evening, on an outdoor stage in the square in front of the mall, a K-pop dance competition was being held. Groups of young girls and boys who had applied to take part appeared to dance one after the other, in front of a pair of pop star MCs, and who seemed to be guest celebrities chose the best group. It was like a Thai version of Japan's nodo jiman taikai (a popular singing competition) but, from the mall's perspective, it was for drawing customers.
The boys and girls on stage were mostly around high school age. They had studied the style of dancing of K-pop on YouTube, and apparently bought their outfits through online sales. The audience sitting in front of the outdoor stage seemed to be mostly friends or family members of the performers, and they were taking photos of the performers on stage using their smartphones.
Ubon Ratchathani is surrounded by farming villages, and there are many NGOs there working in anti-poverty policies and for the spread of education. In contrast, things such as suburban shopping malls, smartphones, online sales, and YouTube have also been rapidly making inroads into the area. With this background, the young boys and girls of Thailand enjoy wearing brightly colored costumes and grooving to K-pop dancing.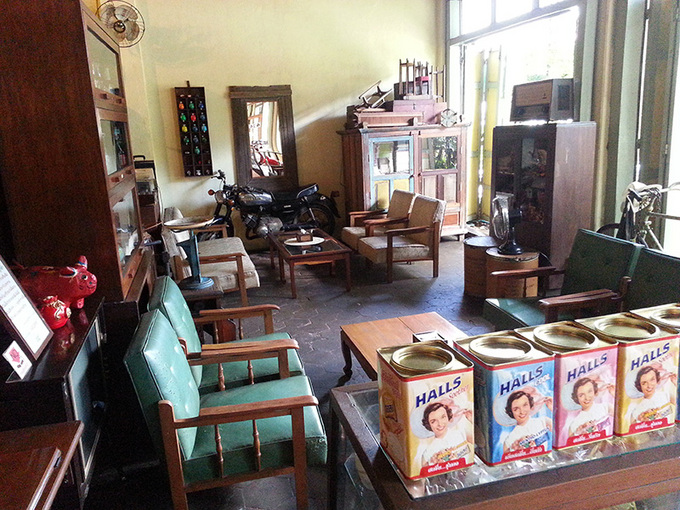 Retro-looking cafe in Ubon Ratchathani


The Appearance of Retro-style Cafes and Self-Awareness of Thai People
Changes are also occurring to the downtown area of Ubon Ratchathani. Although large-scale re-development is not yet taking place there, cafes have sprung up here and there that did not exist three years ago. A young barista who tells me he trained in Bangkok pours a wonderful cappuccino in the fashionable interior of his café.
What I found especially interesting is a cafe with a retro-style concept. This cafe is in a renovated Thai folk dwelling, and features old-fashioned fans, sewing machines, telephones, etc., while in the courtyard bananas and palm trees are growing. This place appears to be popular with the local intellectuals. However, all of these various phenomena reflect more than merely the fact that "Thailand is also becoming modernized." In the present day, modernization does not occur in the same shape or form as it used to.
In fact, the retro-style café mentioned above, from its outside appearance only, looks hardly any different from the many actual dwelling nearby. In Japan there are retro-style cafes in renovated dwelling as well, but in those cases, it is the very fact that there are no other actual dwellings built nearby that make the retro features of the café stand out. In contrast, the retro café in Ubon Ratchathani is surrounded by similar old dwelling. It is only inside the café itself that is filled with self-awareness: "this is a retro-style café."
One of the factors that has brought about these phenomena appears to be the diffusion of smartphones. Customers at the retro café take photos of themselves and their friends there on their smartphones and post them on Facebook, etc. People seeing just those photos do not realize that the location is a place with a lot of dwelling, where the scene outside is like in the old days. The scene in the photo builds customers' self-awareness that makes them feel as if they and their friends were in a retro café in New York.
Also, the scenery of the courtyard where banana trees and palm trees are growing implies that the self-awareness of the Thai customers assimilates into a Western tropical taste. I heard that the old fans and sewing machines assembled in this café were apparently bought in antique shops that cater to Western tourists. In a suburb of this town, there is a mall where tuk-tuks (three-wheeled taxis), which still run in the central area, are on display along with American classic cars and old film posters, which was opened by an owner after recently returning from study overseas.



Retro-looking cafe in Ubon Ratchathani


Light and Darkness Brought About by Globalization
Moreover, globalization has brought about a different sort of poverty from the kind that existed in the past. In Ubon Ratchathani and Chiang Mai, prices of land in the center have soared dramatically, and I heard that they have more than doubled during the past five years.
With the background of the development of the Internet, investment money is racing around the globe and bringing about soaring land prices. This is something I heard also in places like Hong Kong and Mexico City. In San Francisco, the average rent for a bedroom is $3,200 (\340,000). In Thailand also, it is gradually becoming more and more difficult for young people to buy a house in urban areas.
Another trend that is advancing in the world is the increasing instability of employment. Globalization and the increasing use of IT have made it easy to transfer manufacturing bases to countries with low wages. Japan's workers must compete with Thailand's workers, while the latter must compete with Bangladesh's workers. In both Ubon Ratchathani and Chiang Mai, there are no local employment opportunities for university graduates, and I heard that there are many people who have no choice but to start their own businesses.
One characteristic of modern life is that these kinds of economic difficulties and glittering cultural aspects are not in conflict with each other. To watch K-pop dancing on YouTube or see a live dance competition does not cost anything (in contrast, the sales of CDs are not going up to the extent of cultural penetration). I was told that you can also buy flamboyant dance outfits online for a low price.
Creating a cafe in a renovated dwelling is also perhaps a clever measure to keep the initial investment cost minimal. This kind of concept was perhaps originated by someone who had graduated from university but could not find a job. The barista pouring out a cappuccino in the café with a fashionable interior had also apparently graduated from university, and opened a café locally.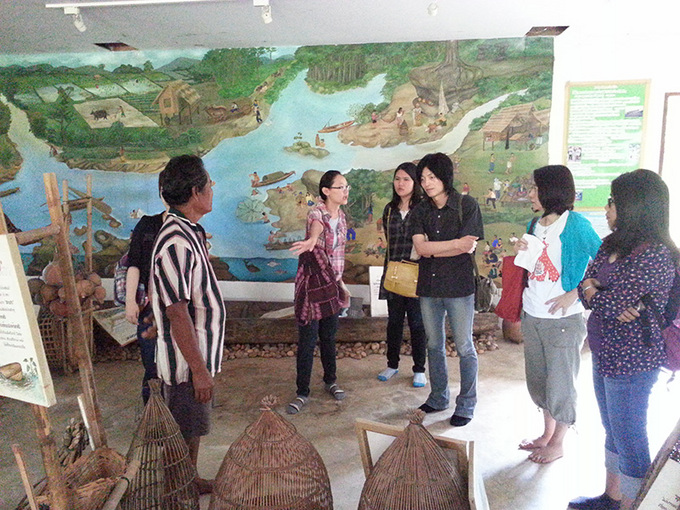 Hearing from inhabitants protested against operation of the Pak Mun Dam, which had been built on the Mun River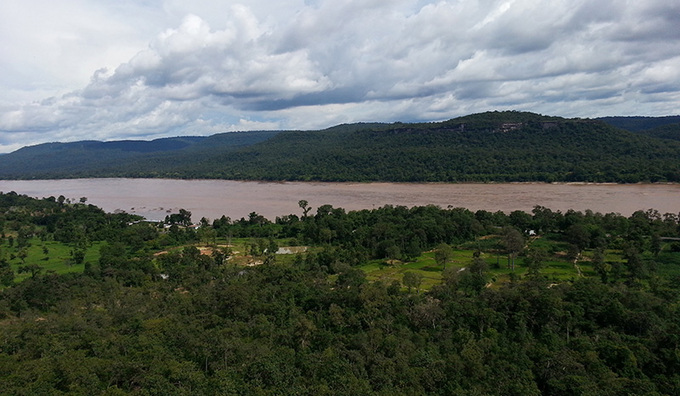 The Mun River, a tributary of the Mekong River


Everywhere in the world, people live in circumstances which were given to them. The style of "modernization" and "poverty," or the way in which people experience self-awareness, is not the same as in previous eras. It is important not to misjudge such changes. However, at the same time, it is also essential to seek out things that do not change. When I was thinking in this way, the expressions of the audience watching their classmates or relatives dance K-pop while cheering them on, looked no different from agricultural villagers enjoying a village festival.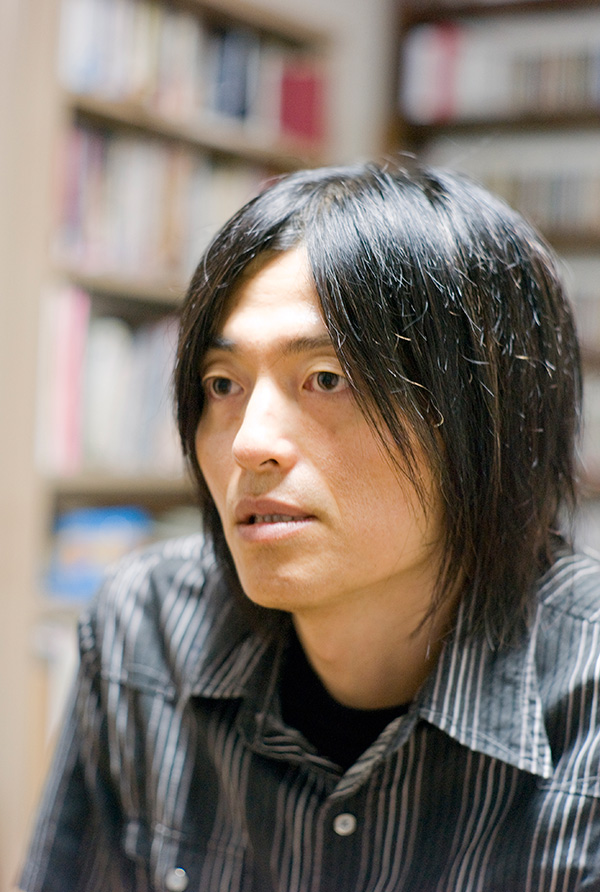 Eiji Oguma
Eiji Oguma was born in Tokyo in 1962. He graduated from Faculty of Agriculture, University of Tokyo. After working for a publishing company, he obtained his Ph.D. from the Graduate School of Arts and Sciences, The University of Tokyo. He is currently a professor at Faculty of Policy Management, Keio University. His published works include: Tanitsu Minzoku Shinwa no Kigen (The Origin of the Myth of a Homogenous Race), "Nihonjin" no Kyokai (The Boundaries of "Japanese People"), "Minshu" to "Aikoku" (Democracy and Patriotism), 1968, Nihon to iu Kuni (The Country Called Japan), and Shakai o Kaeru ni wa (How to Change the World).