Let's Nurture Designers in Jamaica!
Masami Suda (Animator/Character Creator)


The overseas travelling exhibition JAPAN: Kingdom of Characters was held in Jamaica in 2014 to commemorate the 50th anniversary of the establishment of diplomatic relations between Japan and Jamaica, and to celebrate the Japan-CARICOM Friendship Year. Taking advantage of this opportunity, the Japan Foundation dispatched animator and character creator Masami Suda, to Jamaica in August 2014 to host a talk show at an event for anime fans, as well as to conduct a lecture and workshop about production techniques and business models from the angle of animation and character culture. Upon his return from Jamaica, Suda spoke us about his interaction with the people there, and his vision for the future of the animation industry.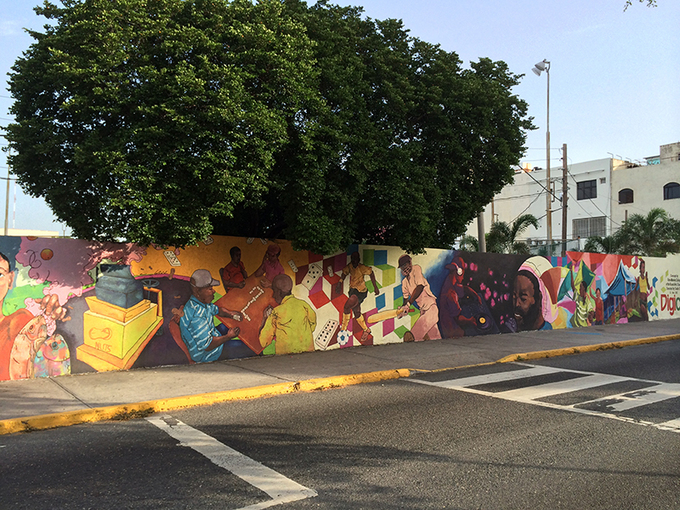 Streets that exude a strong Jamaican character



――This was your first visit to Jamaica. How did you feel when you first received this request?

Suda: I felt as if I had a giant question mark after the question, "What is Jamaica?" I knew nothing about Jamaica other than Bob Marley, reggae music, and Blue Mountain coffee, so the first thing I did was to find out a little more about the kind of place Jamaica is. My first reaction was that I would definitely not travel to this country for my private vacations, but at the same time, I noticed that the place seemed to have a similar atmosphere to Italy, which I had previously enjoyed very much. So, I decided to make this trip to Jamaica.

――I heard that you had watched a movie about Jamaican national bobsleigh team before. What was your impression of Jamaica after you actually visited?

Suda: The townscape was beautiful, and there were many Japanese cars, giving me the impression that they like Japan. In fact, they apparently have a positive attitude toward Japan. The streets were westernized, and the atmosphere was reminiscent of the streets of Australia. The cars drive on the left just like in Japan, arousing a sense of kinship and familiarity. I was able to fit right in without any resistance. I also felt that the women there were really dynamic.

――From your point of view, how was the response and feedback from the participants?

Suda: Many young people attended the event, and they all had great smiles on their faces. They were really having a good time. At the cosplay event, they completely got into their characters, and they seemed to have an emotional attachment to their characters. I felt that they were genuinely enjoying themselves. They were also no different from other countries in terms of their zeal, especially in the competition events. The fact that more than 700 people gathered for the cosplay event is definitely an indication of their passion and enthusiasm.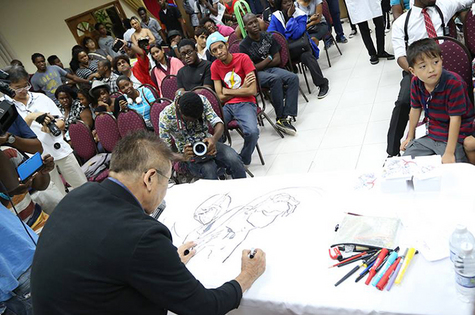 ©Marcus Bird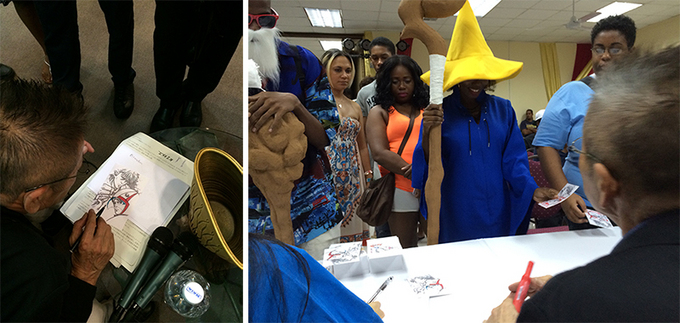 The drawing demonstration and autograph session, held during events in which anime fans gathered, drew large crowds

――This time, you presented workshop participants with the challenge of creating a Jamaican-style character. How did the workshop go?

Suda: I was involved in several events in Jamaica, and I found the workshop interesting because it gave me the opportunity to view various works by individual participants. They showed me one work after another. Although these pieces were short, they each had their own themes and punch lines, and gave me a good laugh.

Personally, I had imagined that their works would be vibrant and dynamic. However, in actual fact, many of the participants created their drawings on computers. If you do not tackle the challenge of drawing on paper, it would not be possible to produce a natural sense of dynamism. That is why I told the participants to draw on paper as much as possible. As for the pictures, I provided some drawing instructions and guidance by actually drawing some pictures, and sometimes I gave the participants advice such as "It would be a good idea to do it like this," or "It would be better to draw it more clearly and sharply." If they begin to create works seriously in the future, I believe they will be able to produce works that are fun and enjoyable.

I was also stimulated and inspired by the workshop. Although there were participants who created Japanese-style drawings, the wide variety of participants drew a broad range of pictures. I believe they were all competing with one another. Overall, I got a sense of the Jamaican character from the works of the participants. This was not only in terms of the colors, but also the quality of the drawings. There were moments when I thought, "I have never seen such coloring styles in Japan," and it gave me a strong impression.

Amongst the participants, there were also some who were already engaged in serious professional activities. I think that these artists will eventually form the core of Jamaica's animation industry. I hope that their works will be seen and enjoyed by a wide audience.

――I believe there are differences between Japan and Jamaica even when it comes to aspiring animators. What were your impressions on this after the event?

Suda: Animation in Japan is already a mature industry, and it is difficult for young people to find an entry point. For this reason, I feel that it is vital to raise the level of Japan's anime industry. If we were to continue in this state, I am concerned that we would lose young creators, which would spell certain death for Japan's industry.

Animation is an outlet of cultural information, and, as a form of culture, attracts the attention of those from overseas. As such, I hope that Japanese people will treat it more seriously and treasure it. We must take steps to increase the number of people entering the Japanese animation industry, and develop an environment that can ensure that young animators continue to work in this industry. I strongly feel that it should become a place with much more vitality than it is now. On the other hand, animation has not developed as fully into an industry in Jamaica, and I have gained the impression that, this is why everyone still has dreams and are still enjoying themselves. I thought that I should have fun with them. Apparently, many of the participants in this event tackled animation work individually while studying at those higher education institutions. However, it seems that Jamaicans who have studied at university or other institutions eventually go abroad. Therefore, we have no idea if participants in this event will ultimately remain in the industry. Since animation industry has not been well-established in Jamaica, they will not return to the country once they go overseas. Perhaps they have no choice but to do so. However, there are also companies in its animation industry today that are putting their best foot forward, and I hope that Japan can provide some form of education assistance in this field. The outflow of young animators is a problem faced by Jamaica, and everyone is worried about it.

――Jamaica's animation industry is still on the path of development. What did you think about this after you actually visited?

Suda: There is no animation works originating from Jamaica yet, although it appears that they are commissioned by companies in Canada, Malaysia, and other countries to produce television commercials. As there are no large companies in Jamaica that produce commercials, they have no choice but to make a contract with overseas companies to undertake such work. However, I think it will be good if they will be able to create something that is "made in Jamaica," even if it were something on a small scale.

Local animators do not create entire production work, because they currently receive subcontract work from overseas companies. As this trend of subcontracting work from overseas companies continues, it would be good if they gain recognition for their work, and eventually receive orders directly from overseas companies to create works that are produced completely in Jamaica. I am confident that Jamaica has that potential, and hope that they will move on from here to develop an animation industry, and to become a hub for other countries. The work of nurturing creators is the next step going forward.



Left: With a student who aspires to become an animator
Right: With a Jamaican who had previously studied in Japan

――By the way, many of the participants in this event seem to have aspired to become animators as a result of the influence of Japanese anime. What made you decide to become an animator and character creator?

Suda: When we are young, we often become motivated by praise that comes not from our parents, but from teachers at school and other people. I have been drawing pictures as far back as I can remember, and felt that drawing pictures for others brought them joy because people told me that I was good at it. On top of that, when I was in elementary school, I was also told at a palm-reading session that I would head in this direction, so the idea grew on me. Sometimes, such experiences leave an impression on us, and we end up taking that path when we grow up.

I decided to become an animator and character creator when I was producing the original drawings on cels for Science Ninja Team Gatchaman and other animations. I thought of doing more enjoyable work, and of doing something different, so I began to take up the work of character design, and have since been involved in various projects.

――You also attend animation events overseas. Do you have a strong desire to spread animation culture overseas?

Suda: To begin with, we have not engaged in animation work with the explicit intention of targeting the overseas market. However, animation became popular when foreigners brought it back to their home countries, eventually spreading across countries abroad and going overseas. It appears that works from the past are also popular outside of Japan. In future, I hope that animation will spread across the world. Of course, I am also interested in the future of the participants I have met and studios I have visited in Jamaica on this trip.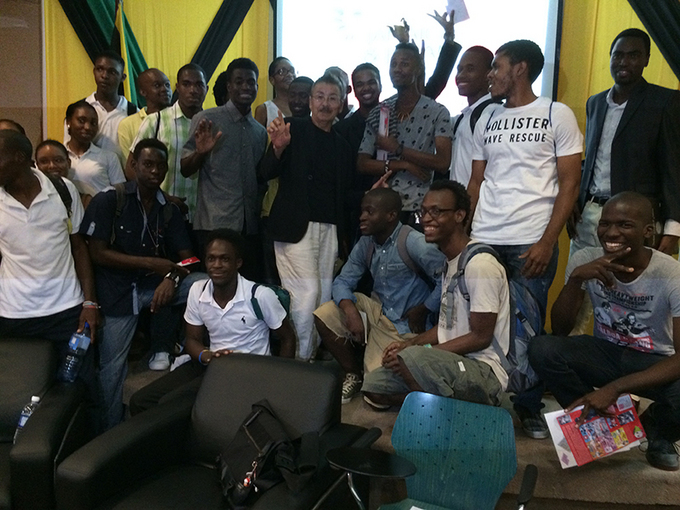 Participants in the workshop targeted at businessmen

――What do you think is important in the creation of animation?

Suda: We have to produce animation that children understand. The people who grew up watching animation have become those who produce them. When that happens, they become overly emotionally attached. Even cheerful works are transformed into dark worlds, and emerge as different completed works. That is why I think that we should create animation for children, which children can watch and are in a typical animation style accompanied by music that everyone can watch. Of course, I think it is also fine to create works that are for more specific audience, such as late-night anime, but even some of those should be works that both children and adults can watch.

――What kind of presence would you wish anime to have?

Suda: Recently, there have been many anime produced based on popular manga. However, I think that the production of animation is supposed to begin with the creation of animation characters. To be sure, as the production of animation costs money, it would be difficult to launch the business if there are no guarantees as data that it will become a hit. Even so, I hope that animation productions will take more risks even when there were no such data in the business of animation.

Today, even movies are produced from manga. If there is money to produce remakes, would it not be better to make new ones ourselves? I would like people to create things based on their own ideas. I think that Japan's greatest weakness is our reliance on such data because we do not want to fail. I want us to create more things from animation even if there is no such data.
I have been in the character business and engaged in the work of creating characters. I think it is a good idea that we first create a character, which somehow gains popularity, and then we produce an animation that is founded upon popularity of the character. That would be the ideal situation. In order to achieve that, I create adorable characters as well as a variety of other characters. I seek some kind of possibility in the hope that everyone will think that they would also like to be involved in what I do. In actual fact, I have also been approached by young people who told me, "Let's do this." Even if you did not originally consider creating an animation, you do not know what may happen once the character gains popularity. I think that Yo-kai Watch is a good example. I believe that I have recently been approached frequently due to some expectations that I would create cute characters like that and also that something may arise out of that. After all, everyone feels that such possibilities are interesting.

――I gain a sense that you are enjoying yourself.

Suda: It is fun. After all, if you do not enjoy yourself, you will not be able to create fun characters. As it has always been till now, I believe that enjoyment is everything. Does everyone not feel the same way? Going forward, I would like to continue to create characters that everyone, from children to grown-ups, will enjoy.

――What challenges would you like to tackle going forward?

Suda: I have now become a little distanced from animation and am involved in projects such as the creation of characters for smartphone applications and collaborations with traditional Japanese culture. I was extremely busy when I was involved in animation work, and I rarely had time to meet up with others. However, about three years ago, after I finished a major animation project, I began to interact with others with the intention of taking the next one year slowly. When I did that, everyone would ask me, "Suda-san, why don't we do something together?" Then, projects arising from interaction with others were launched a few years ago, involving young people who grew up watching my work, while nobody knows if these projects will bear fruits because they have just begun.

Still, I am worried about the world of animation in Japan. Everyone is growing old, and the industry will not survive if there are no young people. The Japanese animation industry cannot be supported solely by one person. However, we have been doing this work since we were young, and I believe that we can provide the necessary advice. I strongly wish that more young people would aspire to be animators.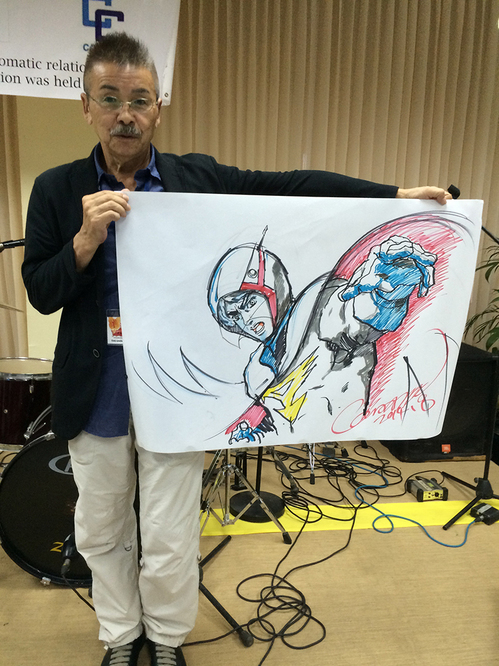 Completed drawing of Gatchaman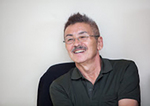 Masami Suda
Animator and character creator Masami Suda was born in 1943. From the 1960s to the present day, he has worked as a freelancer, and is an animator and character creator who is representative of the Japanese anime industry. He has been involved in creating numerous popular works, particularly works for companies such as Tatsunoko Production and Toei Animation. Some examples of the works that he has been involved in include Science Ninja Team Gatchaman, The Adventures of Hutch the Honeybee, Cutie Honey, Fist of the North Star, Sakigake!! Otokojuku, Slam Dunk, and Yu-Gi-Oh!. He is also currently involved in the character design for Yo-kai Watch, a popular TV anime broadcasted by TV Tokyo affiliated groups.