Art Boosts the Value of Local Regions and Inspires Change - The Power of Art to Connect Communities with the World
Shinya Ominami (Chairman, NPO Green Valley Inc.)
Makoto Nakashima (Artistic Director, NPO BIRD Theatre Company TOTTORI)
Kosuke Bando (Principal, Kosuke Bando Architects/Bus Architects)


The Japan Foundation presents the Japan Foundation Prizes for Global Citizenship with the objective of providing support to organizations that engage in regional development through arts and culture and in intercultural exchange that takes advantage of regional characteristics. In fiscal 2009, a prize was awarded to NPO Green Valley Inc. of Kamiyama Town, Tokushima Prefecture, and in fiscal 2011 a prize was awarded to NPO BIRD Theatre Company TOTTORI of Shikano Town, Tottori Prefecture. The prizes were awarded in recognition of the efforts of these two organizations to implement activities focused on their respective regions that create connections that transcend regions or national borders. Such activities demonstrate the creative potential of local regions that suffer from depopulation.

We invited representatives of the recipient organizations to hear their opinions on changes inspired by artistic activities in their respective regions and the possibilities ahead. The participating representatives were Shinya Ominami, Chairman of Green Valley Inc.; Makoto Nakashima, Artistic Director of BIRD Theatre Company TOTTORI; and Kosuke Bando, Principal of Bus Architects, the architect group that is actively engaged in the town development of Kamiyama Town.

(From the Talk Session "The Power of Art to Connect Communities with the World" held at the JFIC Hall "SAKURA" on January 29, 2015)



Cultural venture in Tottori Prefecture

Nakashima: BIRD Theatre Company TOTTORI is a theater company and a theater facility established in 2006 in Shikano Town, Tottori Prefecture. Recently, we have also been engaged in providing proposals for cultural policies. We are operating out of the gymnasium of a closed elementary school, as well as classrooms in a closed kindergarten adjacent to the elementary school. The focus of our activities is on theater, but we also strive as much as possible to serve as an art center that provides comprehensive art-related services to the local community.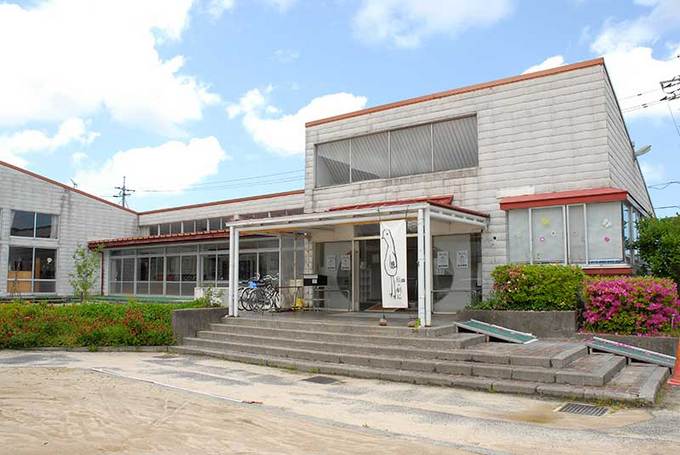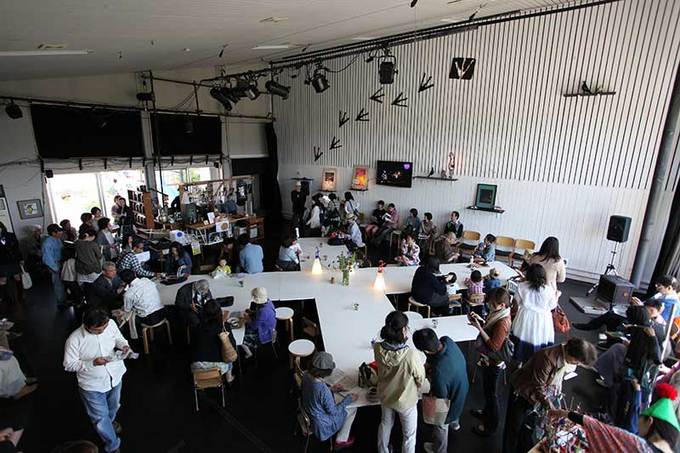 Top: The exterior of BIRD Theatre Company TOTTORI
Bottom: The foyer of the Theatre
Photos courtesy of BIRD Theatre Company TOTTORI

BIRD Theatre Company TOTTORI has several themes in our relations with the international scene. One is the production of plays in cooperation with foreign companies. Another is the organization of the BIRD Theatre Festival TOTTORI, an international event that will celebrate its seventh anniversary this year. Furthermore, we also implement international cultural exchange projects that take advantage of the relations with schools that we have cultivated over the years.

We produced a play with the participation of Chinese and Korean actors that was centered on the theme of war. In order to fully comprehend the situation in Tottori 70 years ago during the World War II, we incorporated in the personal notes of residents of Tottori Prefecture who experienced the war as well as a register of those who perished. On the one hand, there is the image of the nameless individuals oppressed by the excessive violence they experienced during the war, and on the other hand there are the actions we have taken as a nation. We incorporated these aspects in the play and invited Korean actors to participate in it in order to expand the scope of the performance.

We also produced the play The Nutcracker and the Mouse King in cooperation with a Finnish puppet artist. In Europe, it is a December tradition for parents to take their children to the opera house to enjoy stage productions of plays such as The Nutcracker and Hansel and Gretel. We decided to emulate this tradition in Tottori by staging The Nutcracker. This idea was realized through our encounter with the extremely talented and fascinating Finnish puppet artist Iida Vanttaja. The play incorporated shadow pictures and Iida's handmade puppets and masks to stage a performance that combined human actors with puppets and silhouettes. It was extremely well-received. The stage art for this play was created with the help of another Finnish artist who we came to know by chance. Two artists (one of them from Tottori) working on their graduation projects for the Master's course of the Tokyo University of the Arts resided in the school building that we rent, and one of them had an artist friend from Finland named Mari. The fact that we used the building of a closed school for our activities triggered the interest of these artists, and that is how Mari came to work with us. She really liked the local community and got married here and still lives in Tottori today.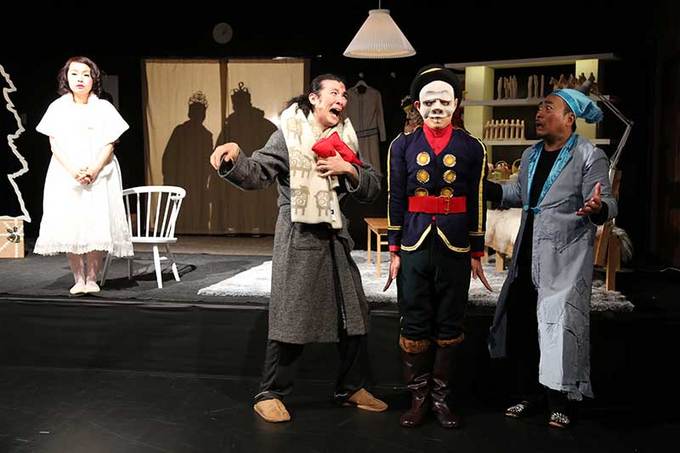 Top left and top right: About 70 years ago, Tottori, too, experienced the war. Can I, without any experience of war, make the recollection a part of me? Centered on the theme of war, this play featured Korean actor Seungjun Kim of Performance Group Tuida
Bottom: A scene from The Nutcracker and the Mouse King
Photos: Shinji Nakashima

BIRD Theatre Festival TOTTORI, an annual event launched in 2008, is held not only at our theater but also at several small theatrical venues created throughout the town. Visitors to the festival can see as many a few plays, possibly four on one day, back to back at the various theaters. The festival is held over a period of three weekends with the participation of numerous theatrical companies invited from Japan and abroad. We started inviting foreign companies in 2009. Since 2013, we have been proactively involved in town development. We provide the program Weekend-only Store, under which people who wish to open a general store or a café for just one day can rent a vacant house or store for one weekend for as little as 1,000 yen per day. We also have programs for children, and every weekend we organize a party for all the theater companies and visitors who have attended the festival during that week. These parties are extremely lively events and provide many good opportunities to forge new friendships.

At BIRD Theatre Festival TOTTORI, we also staged a play produced together with residents of Kamiyama Town in Tokushima Prefecture. The play was based on Chekhov's comedy A Marriage Proposal, and the setting was changed to Edo. The actors were residents of Kamiyama Town. Members of BIRD Theatre Company TOTTORI stayed for almost a month in Kamiyama Town, enjoying the hospitality of the local people and rehearsing and creating the play together. The play was performed in Kamiyama Town, but the participants decided that it would be a waste of efforts and talent if the play ended there, so we included it in the program of BIRD Theatre Festival TOTTORI. The play was staged at a theater which is created in the former town assembly hall, and was welcomed with extreme enthusiasm by the audience.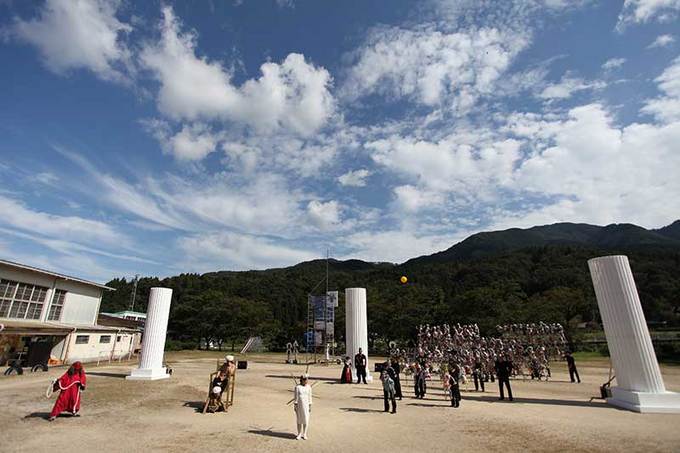 An Angel Comes to Babylon staged by BIRD Theatre Company TOTTORI (Venue: the schoolyard of the former Kowashigawa Elementary School)
Photo: Shinji Nakashima




Left: A Journey to Tomorrow
We dredge memories of the old Shikano Town using the stories of various people. Based on these stories, actors from BIRD Theatre Company TOTTORI play the parts of residents of the old town at various locations throughout Shikano. Visitors enjoyed the performances, which added flavor to their walk through the town. The project was implemented in 2013.
Right: Shikano Orai Koryukan "Dream"
Small theaters are specially created in various locations in the town on the occasion of BIRD Theatre Festival TOTTORI. This is one of the facilities that served as a performance venue.
Photos: Shinji Nakashima




Left: People who wished to participate in the Weekend-only Store program used vacant houses and stores in Shikano to set up their own shops during the period of the festival.
Right: Shikano Kaido
Photos: Shinji Nakashima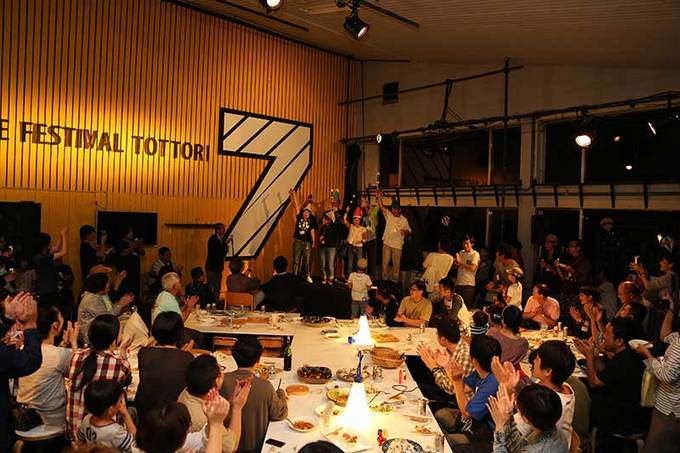 Party held during BIRD Theatre Festival TOTTORI
Photo: Shinji Nakashima

Lastly, I would like to touch upon the issue of our international relations in the field of education. We organize workshops for children led by foreign artists who participate in our projects. In addition, ten volunteers from high school drama clubs in Tottori prefecture visited Hwacheon County, Gangwon Province in Korea, home of the Korean Performance Group Tuida. There, the students stayed there for one week and they held a drama camp and engaged in exchange with Korean junior high school and high school students at workshops regularly conducted by Tuida.

BIRD Theatre Company TOTTORI is committed to discovering hidden social demands and future needs. Using the cultural and artistic treasures accumulated in the past, the intellectual endeavors and challenges of our predecessors, as well as the power of people, the power of connection, the power of thought and the power of place as resources, we convey the significance of these needs to society and produce through activities focused on drama and art, and achieve concrete results little by little. By sharing the results of our work on a broad social scale, these resources increase in a variety of ways. With these increased resources, we will take up new challenges and launch new initiatives. We consider our activities are some sort of cultural ventures.



Activities rooted in culture and arts reach agricultural issues more than a decade later

Ominami: I have been involved in regional development activities for approximately a quarter of a century. As a nation, Japan has entered an age of population decline. It is impossible to stop this decline in depopulated areas, so I decided to not obsess over the numbers but instead to focus my attention on content. That is how I coined the term "creative depopulation." My idea was to invite creative personnel from outside the depopulated areas and work to restore the soundness of the areas' population structures, boost their value as business areas that enable diverse work styles, and ultimately to create sustainable towns that do not rely entirely on agriculture and forestry.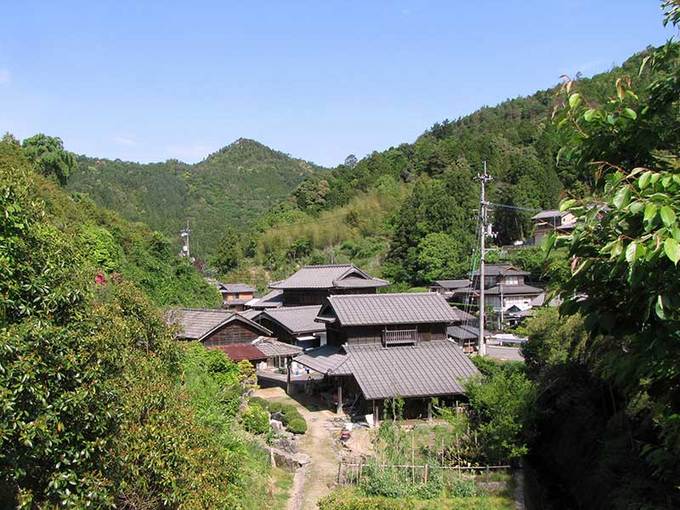 Sansan's satellite office "Kamiyama Lab"

In 1999 we launched an artist-in-residence project driven by the concept of creating an international cultural village that Tokushima Prefecture came up with. Every year, we invite one Japanese artist and two foreign artists to Kamiyama and have them work with support from local people on artistic projects. I would like to present one of the works created as part of the residence program. The Japanese artist Hideaki Idetsuki, who resides in Berlin, created an artwork called Hidden Library in a mountain. Until then, there was no library in Kamiyama, and this inspired the idea to have an artist build one. It is, however, not a conventional library where one can borrow books, but a library to which people donate their books. Anyone who lives or works in Kamiyama can donate up to three books that have had a significant impact on their life. Those who contribute books are given a key and only people who have a key can use the library. At the moment, the book collection is increasing little by little, and we hope that in several decades we will have a library packed with the ideas and memories of people of Kamiyama. There is a plan to build a library under the same concept in a village in France sometime next year. Once that library is completed, it will help establish a connection between the French village and Kamiyama. I believe that we can promote regional development and international exchange through the creation of such flexible networks.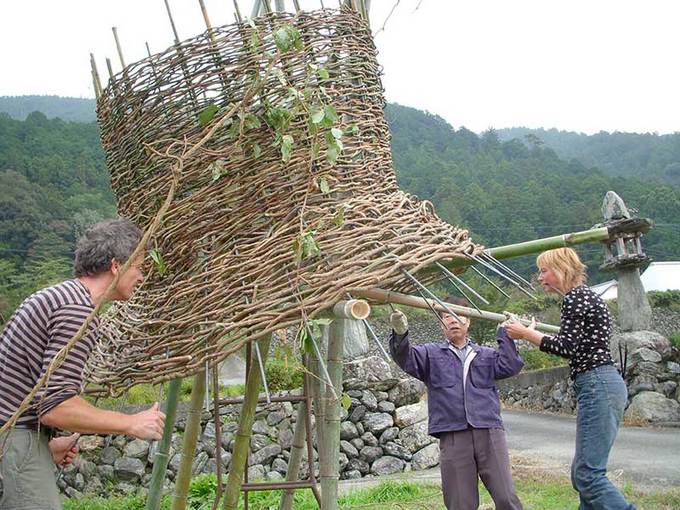 Karin van der Molen (the Netherlands) Moon dome 2008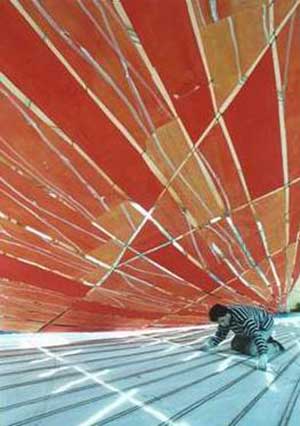 Oscar Lloveras (France) Water, Sky 1999

Regional development through art is conducted all over Japan, but its purpose in most cases is to attract more tourists. In Kamiyama, we launched the artist-in-residence project without funding and in the absence of experts, so it was difficult to enhance artistic feature on our own and attract tourists. That is why we made artists our target and focused our efforts on boosting the satisfaction they achieved from staying and creating in Kamiyama. After seven or eight years of implementing the project, we thought that it might be time to expand it into a business. In order to spread information about the project, we launched a website called "in Kamiyama" with the cooperation of Yoshiaki Nishimura and Tom Vincent. The opening of the website brought enormous attention to the information on the old Japanese-style houses in Kamiyama, which until then was merely an additional feature. The demand for relocation to Kamiyama became obvious. When we created this structure, we incorporated Work in Residence, which is a program that we nominate workers or entrepreneurs who are considered necessary for the future of the town. We started by limiting the professions of people who would be allowed to lease vacant houses. For instance, we decided that a certain house would only be leased to someone who would open a bakery, or only to a web designer. This enabled us to design the town and realize the wishes of the residents about the sort of shop street they wanted to have at virtually no cost.

We also launched a project for renovation of vacant houses called "Office in Kamiyama." The first vacant house in this project was renovated with the help of Kosuke Bando, an architect who had just returned to Japan from New York. After the renovation was completed, the CEO of Sansan Inc. Chika Terada came to inspect it and eventually decided to establish a satellite office in Kamiyama. Today, the number of such companies has increased, creating a new flow of people to the town and resulting in the opening of facilities, such as stylish bistro and guest house that previously did not exist in Kamiyama.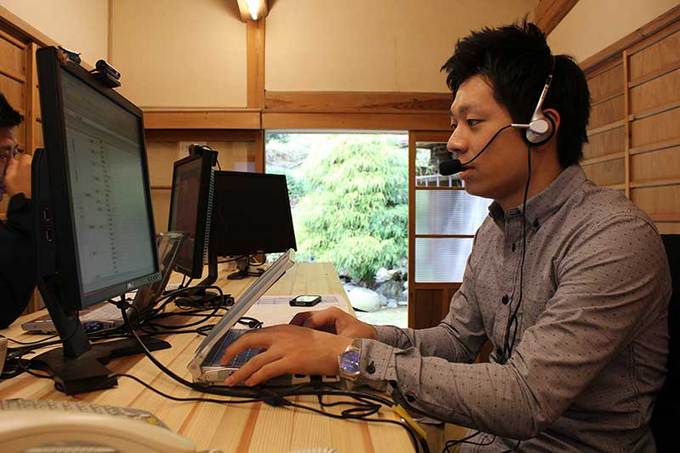 The online sales manager of "Kamiyama Lab"
Photo: Sansan

Our project started with culture and art, but their appeal attracted new residents and gave birth to the Work in Residence model. The arrival of young residents and the establishment of satellite offices prompted the birth of a service industry that, until then, was impossible to create. The agricultural products consumed by the service industry are all locally-grown organic vegetables and organic wheat. Our original intent was to rebuild agriculture in Kamiyama. We eventually got near our goal but in order to do so we took a completely unrelated route that had culture and art as its starting point. We believe that if we manage to attract more people willing to engage in organic agriculture as part of the Work in Residence program, Kamiyama will become the best organic agriculture base in Shikoku region. There are people who are interested in joining the cycle of regional organic agricultural produce and service industries without having to rely on big cities. I would like to make it possible for such people to be able to relocate from urban centers to this small town in Tokushima.



The diverse value of renovation with consideration to the future of Japan

Bando: Recently, I have been calling my activities "regional development through the recycling of vacant houses." In other words, I engage in regional development by renovating vacant houses so they can be put into use. I was born in Tokushima City, which is next to Kamiyama, and studied at Tokyo University of the Arts. Then, after working in Tokyo for a while, I went to study abroad at Harvard University , and after that became an independent architect while working as a Research Associate at Tokyo University of the Arts. Today, I have an office in Kichijoji and travel to Tokushima once or twice a month to work on renovation projects.

My first encounter with Kamiyama was in 2008. I met with Mr. Ominami and after learning that I could rent an old Japanese-style house for as little as 10,000 yen, I told him that I wanted to settle in Kamiyama and work there. However, he refused to lease me a vacant house, saying that I still had work to do outside Kamiyama. (laughs). But we kept in touch, and when I became a Research Associate at Tokyo University of the Arts, I received a proposal to renovate Kamiyama Blue Bear Office. That was the start of my activities in Kamiyama. In 2012, I designed the Kamiyama Valley Satellite Office Complex, and after it the Engawa Office of Plat-Ease Corporation.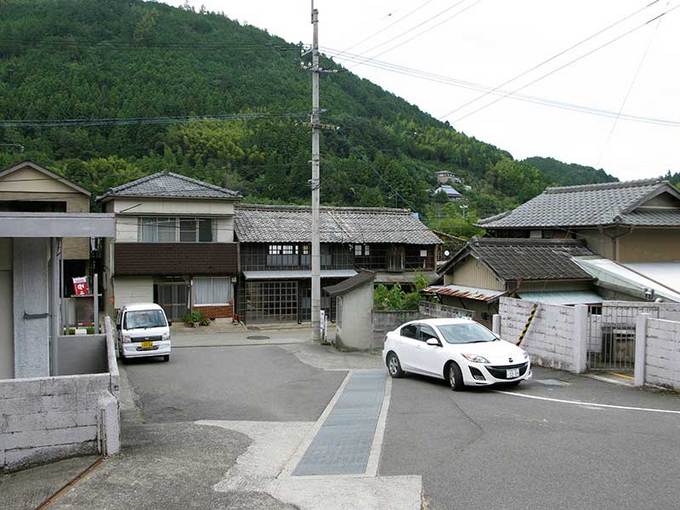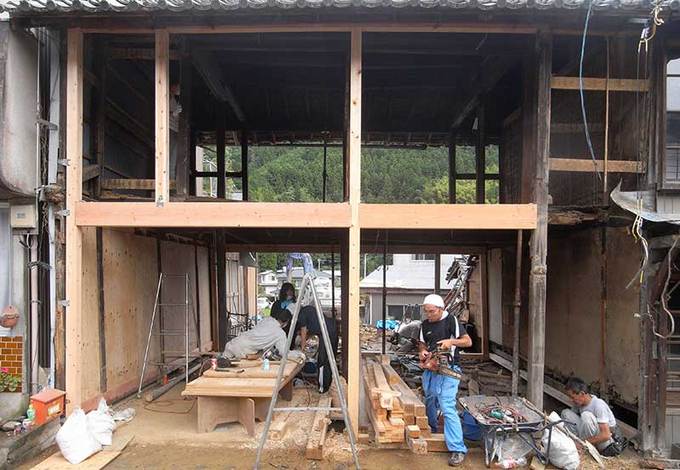 Top: The exterior of Kamiyama Blue Bear Office
Bottom: Renovation work at Kamiyama Blue Bear Office done together with university students
Design: Kosuke Bando, Issei Suma/Bus Architects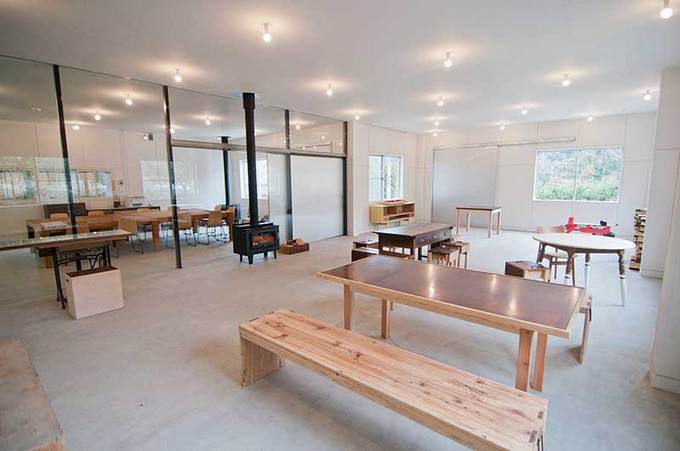 Top: The interior of Kamiyama Valley Satellite Office Complex
Middle left and middle right: Furniture-making workshop at the complex
Bottom: The exterior of the complex
Design: Kosuke Bando, Issei Suma, Satoru Ito, Hiroshi Kashihara/Bus Architects
Photo: Satoko Toizumi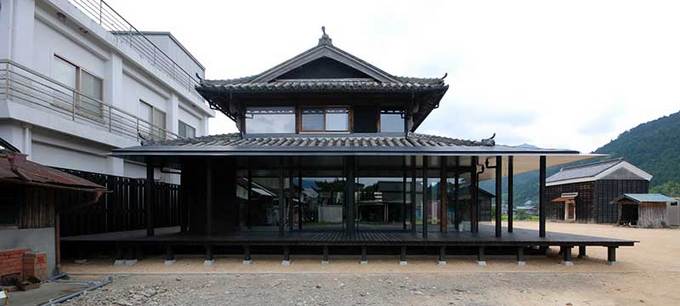 The exterior of Engawa Office
Design: Kosuke Bando, Issei Suma, Satoru Ito/Bus Architects
Photo: Satoru Ito

Recently, I have been engaged in regional development on Tebajima Island, which is a part of Mugi Town in Kaifu District, Tokushima Prefecture. It is a small island with a population of 70 people, and only one-third of all 170 houses on the island are inhabited. There is not a single car on the island, and because transportation of building materials via ships is expensive, there are some buildings from the Meiji (1868-1912) and Taisho (1912-1926) periods preserved in their original state. For me, a lover of traditional Japanese-style houses, Tebajima is a treasure island. In order to preserve these traditional buildings, we plan to utilize the government subsidy system for Important Preservation Districts for Groups of Traditional Buildings to repair their exteriors. However, the town office requested not only that the buildings be physically preserved but that we also consider their future utilization. For this reason, I hold workshops on the use of vacant houses with the participation of local students. As Mr. Ominami mentioned about not rebuilding the primary industry, such as agriculture, before other industries, we do not resort to ideas about first fixing the fishing industry, which is the main industry of the island. Instead, we believe that there are other methods and place great hopes on education and art.



Aerial photo of Tebajima Island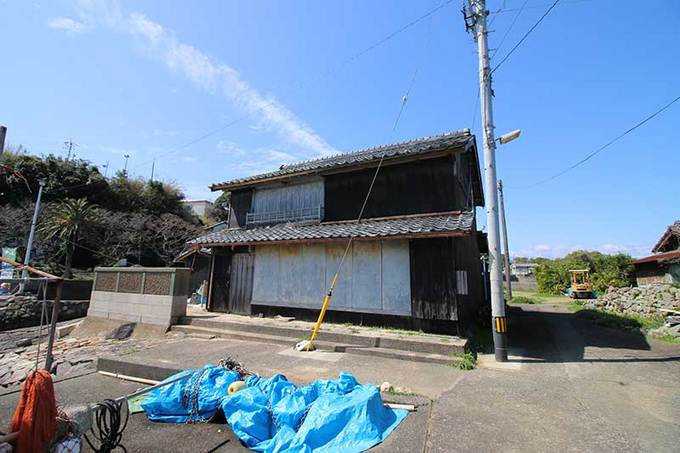 A vacant house scheduled for renovation

I have worked on numerous renovation projects in Kamiyama so far. I was taught that architects should work like artists with the goal to build public art museums and music halls, and I studied architecture with that objective in mind. The recent trends, however, are different. In a situation where the number of vacant houses continues to grow, building new houses without proper planning and foresight will only lead to more vacant houses. The first job that I received in Kamiyama was an owner's self-build project. As I was working on it, an old woman who was passing by commented approvingly on the renovation of the building. I was very surprised by the fact that local people assigned value to new things. They think that buildings made with new building materials are valuable simply because they are new.

However, I felt that this awareness changed after I completed the renovation of Engawa Office. The true value of this old Japanese-style house had been somewhat lost on the local residents. Its rebirth into a place where people could gather in tandem with the preservation of its original ambience seemed to change the way in which they perceived their own dwellings. The process of renovation served to affirm that their past and the memories nurtured throughout their lives in the local community are also valuable. Personally, although I do not overemphasize renovation alone, I believe that re-use and renovation of vacant houses has enormous value for the future of Japan.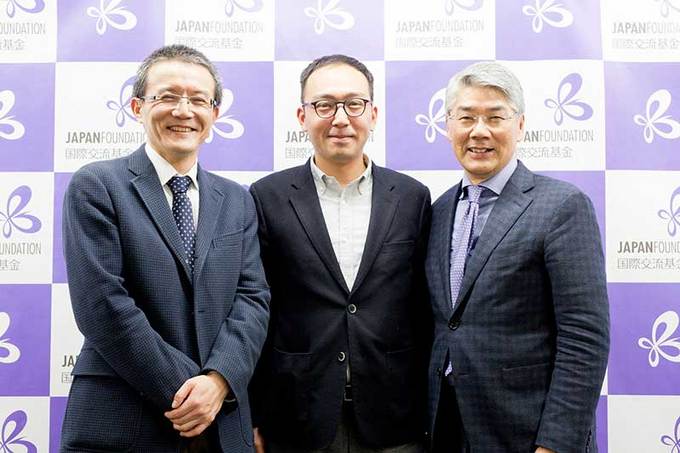 From left to right: Makoto Nakashima, Kosuke Bando, and Shinya Ominami

(Editor: Ayako Tomokawa; talk show photos: Kenichi Aikawa)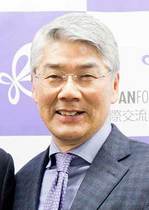 Shinya Ominami
Chairman of NPO Green Valley Inc. Shinya Ominami was born in 1953 in Kamiyama Town, Tokushima Prefecture. He studied at Stanford Graduate School of Engineering in the U.S. Since the beginning of the 1990s, he has been engaged in community-driven initiatives for regional development through the Kamiyama International Exchange Association. In 1998, he introduced to Japan the Adopt A Highway, which is a cleanup program originated in the U.S. In 2004, he established NPO Green Valley and became its chairman. Through programs such as Kamiyama Artists in Residence (KAIR) and Kamiyama Juku, the organization is involved in the promotion of human resource development. It also works to attract satellite offices of IT corporations. Under the concept of "creative depopulation," Green Valley works to change population characteristics with the rigorous goal of restoring the soundness of the population structure. He is president of Ominami-Gumi Y.K. and Ominami Concrete Kogyo K.K. He is a member of the Advisory Council on Hometown Creation at the Cabinet Secretariat.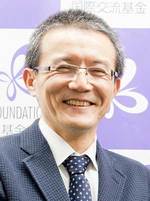 Makoto Nakashima
Artistic director of NPO BIRD Theatre Company TOTTORI. Makoto Nakashima was born in 1966 in Tottori City, Tottori Prefecture. He graduated from the University of Tokyo Faculty of Law. Nakashima made his first steps in theatrical activities during his university years. After graduation, he founded and led a theater company based in Tokyo. He won the Grand Prix at the 2003 Toga Theater Competition. From 2004, for a year and a half, he joined the Shizuoka Performing Arts Center (SPAC). In 2006, he moved the base of his theater company to Tottori and launched BIRD Theatre Company TOTTORI. Using the intrinsic power of theater, a cultural device with a history of more than 2,000 years, he tries to create a place for theater in society and to raise general awareness of its magnificence and necessity.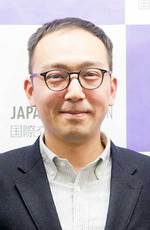 Kosuke Bando
Principal of Kosuke Bando Architects and Bus Architects. Kosuke Bando was born in 1979 in Tokushima City, Tokushima Prefecture. He graduated in 2002 from the Department of Architecture, Faculty of Fine Arts, Tokyo University of the Arts and completed his degree at the Harvard University Graduate School of Design in 2008. Bando has worked at Schemata Architects, Architects Teehouse, and as Research Associate at the Department of Architecture, Faculty of Fine Arts, Tokyo University of the Arts. He has also worked at aat+makoto yokomizo, architects Inc. He established Kosuke Bando Architects in 2010.