Sharing Japan's Football Expertise with China
Takashi Matsunaga, Associate Director, International Relations Department, Japan Football Association


The Japan Foundation is partnering with the Japan Football Association (JFA) to promote programs for the purpose of exchange among a broad range of people through football, as well as exchange among and cultivation of various people who support football culture. Takashi Matsunaga chronicles Japanese football observation and training undertaken by Chinese football coaches and league personnel during four months from September through December 2014, and offers his outlook for football exchange in Asia.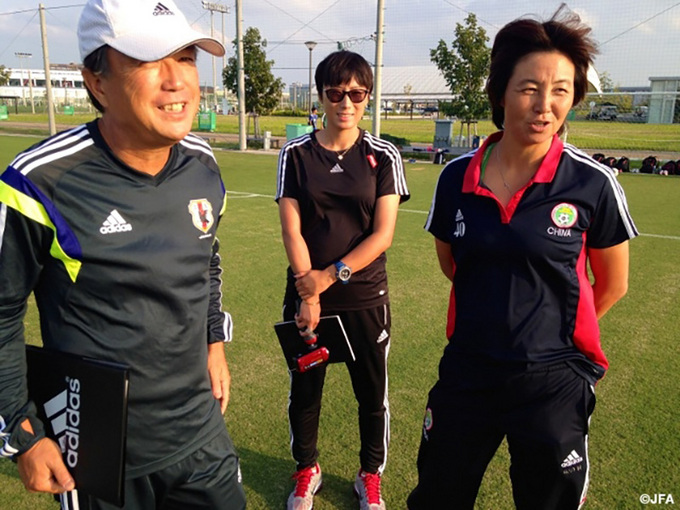 The women's football observation group: Coaches from the Chinese Football Association observing a Japan women's football development and strengthening program



Toward Popularization and Development of Football in Asia

In order to raise the level of football in Asia and deepen partnerships with Asian countries, the Japan Football Association (JFA) implements Japanese football observation and training programs for officials and coaches in member associations of the Asian Football Confederation (AFC) and receives national teams and club teams for training camps.

In 2014, in response to a request from the Chinese Football Association (CFA), JFA carried out observation and training programs in all areas of Japanese football for 13 Chinese coaches and league officials during four months from September through the end of December.

This program was realized through the grant program of the Japan Foundation. Compared to the programs for receiving people for observation and training that JFA has run to date, it was an extraordinarily long program.

First, in order to have everyone understand Japanese football more deeply, the JFA Technical Department took the lead in putting together an observation schedule broken into five groups according to field of responsibility. Time was also allotted for exchanging views with people involved at each observation site, and things were arranged to allow for full absorption of Japanese football expertise, which is highly regarded in Asia. I believe that it became a meaningful training experience.

In June 2015, JFA representatives were invited to a briefing session held in Chengdu, China. The observation team members who had visited Japan presented the information and expertise they gained in Japan to football coaches and instructors in each Chinese province and ordinance-designated city, and cited the challenges for Chinese football in the future, including the need to broaden the base, and to increase both the number and quality of instructors.



Partnering with the Chinese Football Association

It has been over 10 years since JFA started its Social Action Programmes in Asia, but it had already built a robust relationship with CFA before then.

In 2010, CFA president and deputy director of the State General Administration of Sport of China Cai Zhenhua and CFA first vice president Zhang Jian made an observation visit to Japan. In 2012, 30 physical education teachers were received for a one-week observation program from designated Chinese soccer schools at the elementary and junior high school level. In addition, JFA vice president Kohzo Tashima and others gave lectures at a seminar hosted by the CFA in Wuxi.

Thanks to these efforts, in May 2014, during a visit to Japan, CFA president Cai asked JFA president Kuniya Daini in person for his cooperation in accepting China's top domestic coaches for observation and training in Japan.

Given that in this program each of the five groups would stay in Japan for one month, and the overall duration would extend to several months, we sought advice from the Japan Foundation. I believe this program was made possible because the Japan Foundation understood the purpose and content of the training and kindly offered us assistance.




Left: Youth development observation group: Takafumi Yamaguchi, Chairman of the JFA Technical Committee (Development section) giving a presentation on youth development in Japan
Right: Coaching training observation group: A member of the technical department of the CFA exchanging views with a JFA coaching training instructor regarding coaching training systems




Left: Professional football observation group: Chinese professional football club representatives observing a practice by a J. League team Urawa Red Diamonds
Right: Grassroots observation group: Coaches from the CFA observing a football clinic hosted by the Tokyo Football Association



Comments from Participants in Observation and Training

At first, participants in the five groups--women's football, youth development, coaching training, professional football, and grassroots--were all to arrive in Japan at around the same time. However, this turned out to not be the best plan when it was noticed that the observation schedules prepared for each group did not work out with the timing of the schedules for the related programs. Therefore, each group ended up coming to Japan at the optimal time. As a result, each group enjoyed a fruitful training visit, and they and their Japanese counterparts were able to substantially deepen friendly relations.

Here are some of the comments made by participants in the program.

Wang Xin Luo (Head of delegation/technical staff from CFA)
"The four-month Japan football observation project was successfully completed. Our observational overview of Japanese football through five groups--women's football, professional football, grassroots, youth development, and coaching training--allowed all participants to gain valuable experience and outstanding knowledge. In addition, at the football seminar held in Chengdu in June 2015, Takafumi Yamaguchi, Chairman of the JFA Technical Committee (Development section), gave a detailed lecture that included an overview of JFA's advances in terms of technical aspects, youth development, and coaches. After hearing his lecture, I came to fully understand that youth development and coaching training are completely interrelated. I also felt that the earnest approach of the Japanese coaches is what has driven the raising of the level of Japanese football. The other guest speakers all agreed with Mr. Yamaguchi's closing remark that coaches have the most important role in youth development and technical development. I hope that we can realize further interaction between the football associations of our two countries going forward."

Wang Lei (Member, Chinese Football Association Observation Group)
"I already had a certain level of knowledge about Japanese football through publications, documents, and other materials, but honestly, I was very surprised by the current state of youth football development in Japan. I had no idea that the development system in Japan was this well-equipped. This month of observation broadened my horizons and I learned a great deal. I plan to convey what I saw and learned in Japan to people in football-related fields in China, and contribute to the development of Chinese football."

Liu Gang (Member, Chinese Football Association Observation Group/Technical Director, Chengdu Football Association)
"During the observation period, I strongly felt the enthusiasm for football on the part of the members of the Japanese football world. I came into contact with Japanese football's common philosophy, and learned that based on that philosophy, there are full-fledged systems in place for Japan's youth development and coaching training. In particular, I think that Japan's unique Class A U-12 Coach License has been extremely useful to the development of Japanese football. I certainly want to take the things I learned in Japan back to China, and contribute to the development of Chinese football."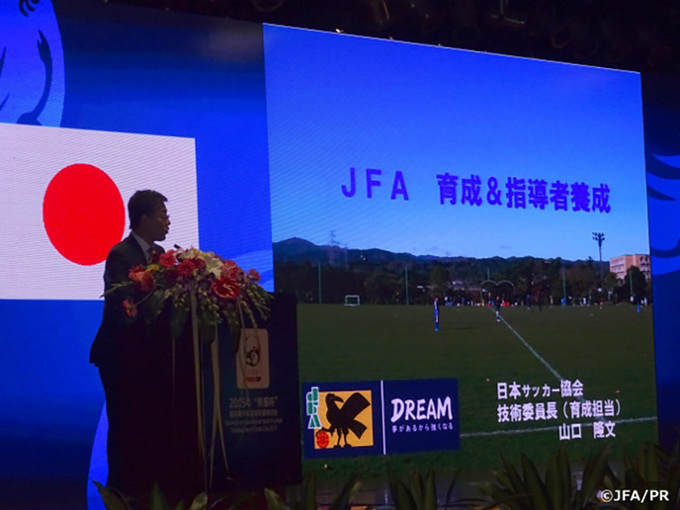 Takafumi Yamaguchi, Chairman of the JFA Technical Committee (Development section), lectures on the state of youth development and coaching training in Japan at a youth football development seminar in Chengdu



Toward the Future of Asian Football

Beyond this training program, the football associations of the two countries are continuing their exchange. In January of this year, Chinese coaches participated in training at the Football Conference held biannually by JFA, as well as the JFA International Coaching Course, which is designed for coaches from Asian countries. In addition, in May 2015, China's U-19 Women's team took part in an 11-day intensive training camp held at J-GREEN Sakai (National Football Center) in Sakai city, Osaka Prefecture.

According to "The Overall Plan to Reform Chinese Football," which the Chinese government revealed in March 2015, the Chinese Football Association will be made independent from the State General Administration of Sport of China, and given discretionary power to set up a corporation that will operate a professional league. The Chinese Ministry of Education also looks to play an important role in youth development. Under the reform plan, in order to promote the popularization of football and the strengthening of athletes of development age, the number of designated "football schools" (among elementary, junior high, and high schools) in China is to be increased from the current 5,000 to the ambitious figure of 50,000 by 2025. Since increasing the number of football schools will necessitate training a great number of coaches, increasing the number and quality of coaching instructors who will teach these coaches is a pressing need. From now on, we can expect to see more requests from the CFA for dispatch Japanese coaching instructors to China.

JFA will continue to work with Japan, China, and all other Asian countries to contribute to the popularization and development of football in Asia.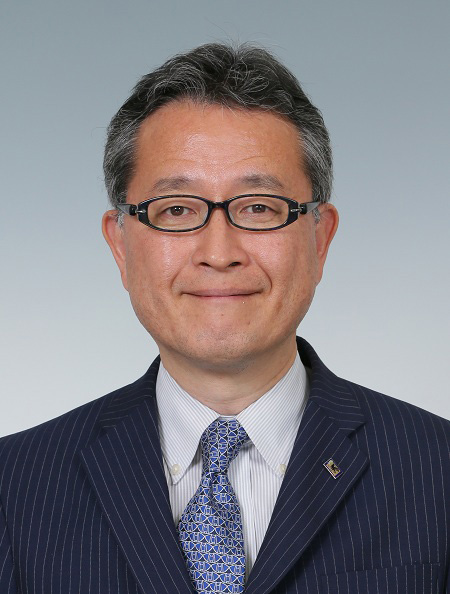 Takashi Matsunaga
Mr. Matsunaga has been an associate director of the International Relations Department of the Japan Football Association since 2004. He is mainly in charge of overseas dispatch of JFA-licensed instructors and Social Action Programmes in Asia, such as the reception of visiting national teams and observation/training groups.