Making Diversity Reality: Message to the Next Generation Delivered in the Salzburg Lake District
Shinji Sudo
(Founder and Chairman, People Design Institute; Founder, Fujiyama Store/NexTidEvolution)


Since 1994, the Japan Foundation (JF) has been providing assistance to the Salzburg Global Seminar, and from 2012 has participated in the planning and organization of the Salzburg Global Forum for Young Cultural Innovators (YCI). The YCI Forum is a project launched by the Salzburg Global Seminar that gathers and instills new values in young innovators from various countries who are engaged in initiatives to revitalize local communities through the power of culture and art. At the forum, young innovators exchange ideas and opinions and engage in discussions, searching for solutions to shared issues. The JF conducts the selection and dispatch of Japanese participants to the forum. Mr. Shinji Sudo, who was invited by the JF to deliver a lecture at the Salzburg Global Seminar held in October 2015, kindly contributed this article describing the content of his lecture and the response of the audience in Salzburg, as well as his impressions from participating in the seminar and his hopes for the future.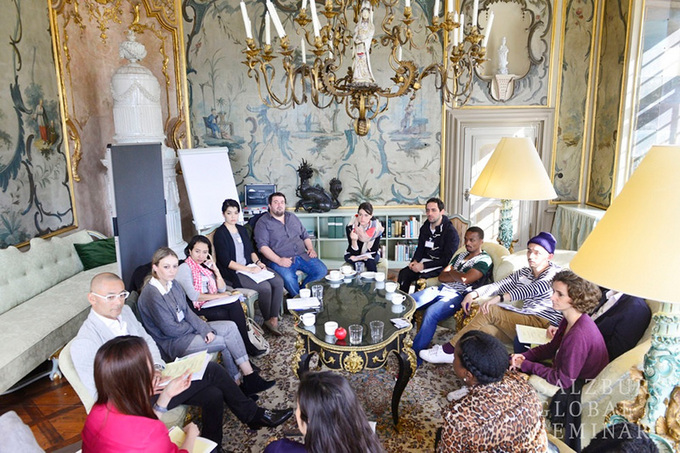 At the YCI forum


"Due to the influx of refugees from Syria, train services may be suspended for as long as two days."
I planned to return to Munich from Salzburg by train, but the situation forced me to switch to a route bus in the very last moment.

The one week that I spent in Salzburg, at the foot of ancient castles and serene lakesides was filled with stimulating and thought-provoking experiences contrary to this peaceful environment and the social and political reality.

Approximately 70 young cultural innovators invited from around the world participated in the YCI Forum. I was invited as a keynote speaker for Session 554 of the Salzburg Global Seminar 2015. My purpose was to convey to the new generation a new perspective through various discussions and workshops, using practical examples of the implementation of "People Design," a concept and methodology that we have proposed as a creative way for the realization of universal designs that help tear down conscious (emotional) barriers.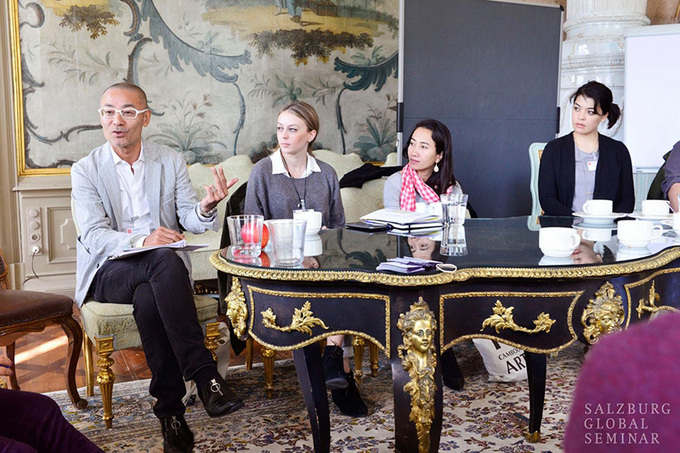 Mr. Sudo delivers a lecture on People Design, using practical examples


I wanted to convey that acceptance of diversity is one of the sustainable modalities necessary for us to coexist as global citizens. I suggested an approach which makes people with various characteristics intermingle and coexist as a merit of local communities and nations. The starting point of this concept is the potential to realize it by mobilizing already existing resources and knowledge. My son was born with a disability, and this has inspired us to implement various activities over the past 13 years, gradually narrowing the focus down to social participation of people with disabilities and eventually developing this concept. The concept's theme is medical care and welfare, two areas that are very likely to provoke the idea of helping the weak members of society and confrontation between different ideologies. In my lecture, however, I presented, using numerous products and photographs, specific practical examples of provisions of medical care and welfare that utilize the power of the economy, including design, fashion, sports and entertainment. This was also an attempt to provoke us to change our awareness about people with disabilities and elderly people from social costs to concepts for economic development. The gist of my idea is to evoke feelings of excitement and anticipation strong enough to overwhelm, on an intuitive level, the mundane sense of obligation and reasoning. It could be described as a know-how that collects a large number of "likes."

For my lecture, I prepared the following three practical examples.
● Marketing and messages of diversity that use fashion as a tool
● New work formats for people with disabilities that utilize sports
● From social costs to market creation: promotion that also stimulates market needs with urban areas as the medium
(People Design Institute / NexTidEvolution)




Left and right: Workgroup sessions


The rest of the sessions held on each day of the seminar were organized in a workgroup format and were attended by approximately 15 participants each. The sessions were followed by endless discussions among innovators who will create the future of their own countries. The work to find solutions to problems faced by each participant continued day and night, sometimes even until dawn. Each session was specific and with a high level of independence.

For instance, at a workshop held in a library, a woman from Cambodia presented the following problem.
"As an author, I am writing a novel, the plot of which revolves around a love story, but because of various ideological issues in my country, expressions of love are taboo, so I cannot publish my work."
Our group came up with the following solution. The author was to simultaneously send her manuscript to all participants in the seminar, who would have it translated into the language of their respective country. Then, the translated versions would be digitally distributed via various social networking services. In a few years' time, the novel would be published at this seminar and would be made available in that very same library where the workshop was held.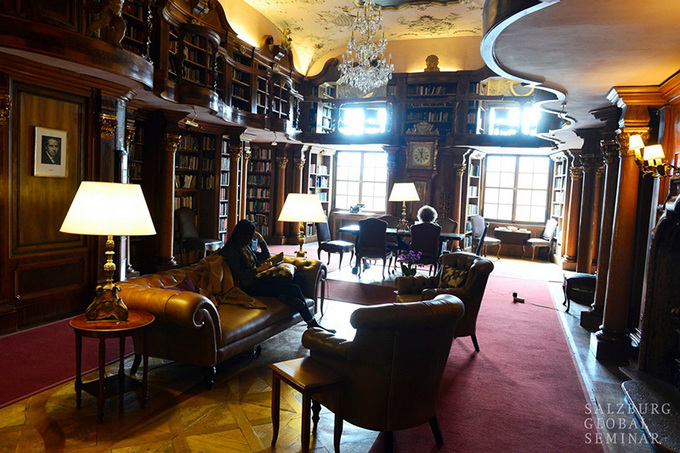 The library used as a venue in the seminar, where books conceived at the same seminar will be made available in the future

It was hard to leave Salzburg.
It was getting a bit cold.
As I was waiting for the route bus, one of the participants approached me and began delivering a hurried presentation.

"I really want to convey your lecture and methodology to many people. I want to put it into practice myself. I will gather students, citizens, businessmen. I want to spread a new type of diversity from this city to the world. I believe it could be combined with initiatives in the field of tourism."

Today, after returning to Japan, I have the following entry in my appointment book for 2016.
"June 2016, launch of a new project @ The University of Salzburg"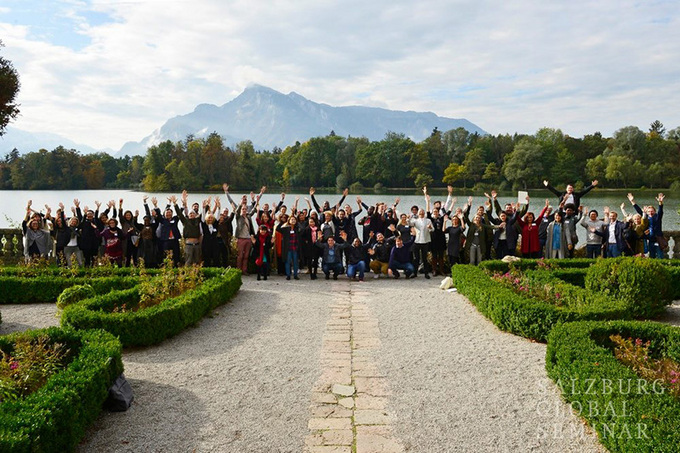 Commemorative photo of the participants in the Salzburg Global Seminar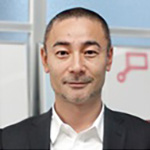 Shinji Sudo
After graduating from university, Shinji Sudo joined Marui Co., Ltd. There, he held several positions including PR person, buyer, and assistant store manager. With his second son born with cerebral palsy, he has been questioning, as a father of a child with a disability, the current modalities of welfare. While participating in volunteer activities for several years, he actively searched for opportunities to launch initiatives in that area. In 2000, he became an independent entrepreneur and founded Fujiyama Store Ltd., and in 2002 launched the social project NexTidEvolution. In collaboration with top creators from around the world, he established the novel concept of "People Design," which aims to eliminate conscious barriers related to disabilities. Today, he produces various events and items that boast tasteful design and can be worn by all kinds of people, regardless of whether they have a disability or not. In 2012, he founded the People Design Institute and assumed the post of its chairman.