Report on "The vibrating path toward a musical dream: From Noh-theater to a new operatic form—Opera Erdbeben.Träume and other works"
The Japan Foundation Award 2018 commemorative lecture by Toshio Hosokawa
Miho Morioka
(Associate Professor, Chuo University)
  On November 29, 2018, at the Goethe-Institute hall in Aoyama, the composer Toshio Hosokawa delivered a lecture entitled "The vibrating path toward a musical dream: From Noh-theater to a new operatic form — Opera Erdbeben.Träume and other works" to celebrate having received the Japan Foundation Award 2018. In his lecture, Hosokawa focused on the relationship between his own operatic work and the traditional Japanese Noh theater, combining clear analysis with an artist's deep insights for a rich and satisfying two hours.
 Following introductory remarks by Peter Anders, Director of the Goethe Institute, and Hiroko Tsuka, Executive Vice President of the Japan Foundation, an audience of over one hundred people first heard Hosokawa's lecture. Then, after a short break, Professor Yuji Nawata of Chuo University had a public conversation with Hosokawa, which was followed by a question-and-answer session with the audience.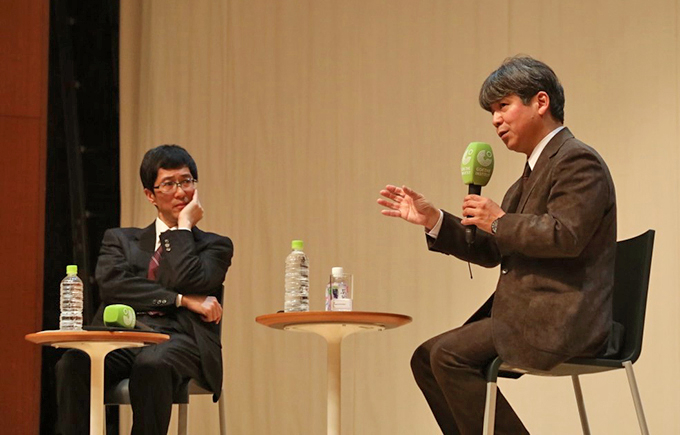 Toshio Hosokawa (right) and Yuji Nawata at the commemorative lecture celebrating the Japan Foundation Award 2018 (November 29, 2018)
The influence of Noh on content and form
 Few contemporary composers have their operas performed in Europe and America as often as Hosokawa. Hanjo (2004) has enjoyed a total of sixty performances; Matsukaze (2010) a total of fifty-two. The fact that no fewer than seven of Hosokawa's large- and small-scaled compositions are performed in theaters in various places each year shows that he is undeniably one of the most important composers of opera today.
 During his lecture, Hosokawa spoke of the process through which he composed these seven operas, noting that all are influenced by the Noh theater. This influence can be largely divided into form, meaning that the actors' movements, following ritualized patterns, are far from the realm of the everyday, and content, in which "purification of the soul" is the aim of the performance.
 Vision of Lear (1998), Hosokawa's first opera which was commissioned by the Munich Biennale, was composed in collaboration with Tadashi Suzuki, the innovative theater directors who developed Suzuki Method of Actor Training. This method aims to make actors more aware of their physical movements so that they can reconstruct them according to a method based on traditional Japanese theater such as Noh. Hosokawa found in the Suzuki Method an effective solution for his constant discontent with the stereotypical style of acting often used by opera singers. He would later go on to collaborate with artists who create their own worlds on the stage, such as the choreographers Anna Teresa de Keersmeeker and Sasha Waltz, who choreographed the first productions of Hanjo and Matsukaze respectively, and Ryoko Aoki, a Noh actor working toward a new form of Noh by introducing modern music into this ancient form. All of these collaborations seem rooted in Hosokawa's desire to eliminate stereotypical operatic movement from his performances.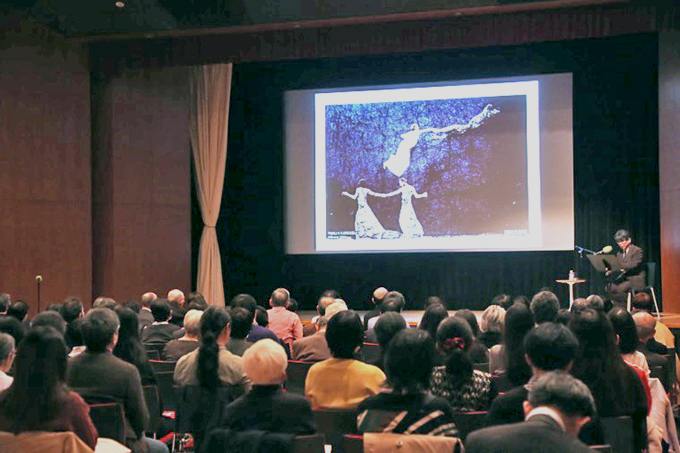 During his lecture, Hosokawa showed slides from Matsukaze and other works as he explained his creative process.
Toward "Music for Requiem" through "Purification of the Soul"
 After Vision of Lear, Hosokawa wrote two Noh operas: Hanjo, based on Yukio Mishima's modern version in Modern Noh Plays, translated by Donald Keene; and Matsukaze, a Noh drama translated in German and adapted by Hannah Dübgen. It is in the style of Mugen Noh, in which the libretto of Matsukaze was written, that we can find something in common with Hosokawa's musical world.
 "What especially attracts me to Noh is its basic structure; a ghost with deep sorrow and regret in its heart crosses the hashigakari, a bridge from the world of the dead to that of the living; this pitiable spirit then purifies its own grief through telling someone in this world its lamentable tale with song and dance. What I seek to achieve through my music is such a purification of the soul."
 On March 11, 2011, the Great East Japan Earthquake produced a huge tsunami, which was followed by the nuclear meltdown in Fukushima. At that time, Hosokawa was in Brussels, preparing for the first performance of Matsukaze, which was to take place in May at La Monnaie, Belgium's federal opera house. As an artist faced with this terrible disaster, Hosokawa began to think of what he could do for the grief-stricken people of Fukushima, and decided to write a requiem for them.
 After composing the chamber opera The Raven (2012), based on Edgar Allan Poe's famous poem, on commission from the Staatsoper (State Opera) Hamburg, Hosokawa composed another opera Stilles Meer (Silent Sea), which was first performed in 2015. When he asked the playwright Oriza Hirata, to write its libretto, Hosokawa asked him to have the grief of a mother who lost a child to the Fukushima tsunami overlap with that of the tragic mother who appears in the Noh play Sumidagawa. The protagonist Claudia (Susanne Elmark) appears as a "mad woman," the death of her Japanese husband and her son from a previous marriage in the earthquake and tsunami has made it impossible for her to accept her loss. In his lecture, Hosokawa showed the audience a film clip of one of the most striking scenes in this opera: Claudia's sister-in-law Haruko (Mihoko Fujimura), and other residents of the village where they live chant together the Buddhist prayer from the Noh drama Sumidagawa, which she and Claudia once saw together. Haruko hopes that the chanting will remind Claudia of the performance of Sumidagawa, leading her to an imaginary experience of identification with its heroine, another sorrowful mother who has lost her own child. This experience will hopefully heal her soul.
 "What I want to achieve through my music is to create a 'tunnel of sound,' a musical, aural bridge between dream and reality, madness and sanity, the world of the living and that of the dead. By going through this tunnel, people will be able to lighten their grief, or at least, to find a small light in the darkness."
 In Hosokawa's operatic world, a female singer often appears at the center of the drama, serving as a spiritual medium who stimulates her listeners physically as well as aurally, and creates a bridge between the real world and the realm of the supernatural. The Maiden from the Sea (2017) also deals with a pressing contemporary issue. In this opera, for which Hirata wrote the libretto, incorporating elements from the Noh play Futari Shizuka, a young refugee girl in modern Europe is possessed by the spirit of the Japanese Lady Shizuka (Shizuka-gozen) from 14th century Japan; in a brief imaginary encounter, the two women share their grief as mothers who have lost their beloved sons in the midst of political turbulence, thus helping to heal their psychological wounds. One scene from the first performance in Paris was enough to impress upon the audience of this commemorative lecture about the power of song and voice by the two leading performers, the Noh actor Ryoko Aoki and the soprano Kerstin Avemo; their voices opened an imaginary route between the natural and the supernatural.
Erdbeben.Träume—Cultural collaboration between Japan and Europe
 Erdbeben.Träume was first performed at the Staatsoper Stuttgart in July 2018. After the Great East Japan Earthquake, a friend of Hosokawa's who specializes in literature recommended that he read Heinrich von Kleist's novel Earthquake in Chile. While considering the structure of his next opera, to be based on this novel, a scene came into the composer's mind: Philipp, a little boy who has lost his parents in a tragic way, stands alone, as in the closing scene of Alban Berg's opera Wozzeck. Hearing of this scene from Hosokawa, Marcel Beyer, one of Germany's most significant contemporary poets, as well as the librettist of Erdbeben., had the idea of including a similar scene in the opera, with the child Philipp who has lost his parents, left alone on the stage. Beyer then suggested having Philipp on the stage from the beginning; his drama-like experience of seeing and hearing this story gradually reveals to this little boy the secret of his birth and he discovers his origins in the process.
 After a couple from different social classes has an illegitimate child, Philipp, a monstrous crowd of righteous Pharisees persecuted them without pity. Just at the moment when the couple are about to be executed, the city is struck by a huge earthquake. For a short while, their utter helplessness in the face of this natural disaster leads the people to be merciful. Nevertheless, an anonymous shout, "the earthquake was punishment for the sin of adultery," is enough to rile them up again, and they slaughter the couple along with another couple's child they happen to have with them. The dead child's parents, knowing that their child was killed in Philipp's place, decide to raise Philipp as their own son. When he is old enough to understand, Philipp has a dream in which his origins are revealed to him. The opera itself is his dream.
 "Here is a path that leads to the dream, an imaginary hashigakari. It trembles, and its various tremors can be musical reverberations, the beautiful, gentle rhythms of nature, yet also its threatening violence, like an earthquake. In this 'trembling dream passage,' Philipp will experience many things through music: the frightening aspect of nature and its gentleness; tolerance and mercy of human beings, as well as the atrocities that come from mass hysteria."
 Erdbeben.Träume was the last work Jossi Wieler directed during his term as Intendent (Director) of the Staastoper Stuttgart between 2011 and 2018. As Professor Nawata pointed out in his conversation with the composer in the second part of the program, under the leadership of Wieler and with the consistent support of his dramatist Sergio Morabito, the Staastoper Stuttgart enjoyed its golden age, as was shown by the honor of the most outstanding musiktheater in 2016 by the magazine Opernwelt (Opera World). The excellent production team of Erdbeben.Träume was indeed worthy of such a prize theater: Wieler and Morabito, their friend and star stage designer Anna Viebrock, and the acclaimed conductor Sylvain Camberling, who has worked in many theaters throughout Europe in his long and brilliant career, and especially in Japan, as the principal conductor of Yomiuri Nippon Symphony Orchestra for nine years.
 The libretto, all important for any opera, was written by the poet Marcel Beyer, as mentioned above, one of the greatest contemporary German poets. He produced such an esoteric text, filled with multi-layered poetic expression that Hosokawa confessed he felt "overwhelmed" with it numerous times, although the production team members patiently encouraged him to tackle it again. He also noted that while he was composing the music, he sometimes felt that the musical reverberations of Beyer's poetic words were leading him to the very source of "words," which gave him creative power. This seems to be an observation that could only be made by a musician.
 The Goethe Institute also gave great support at all stages of this creation. Several meetings were held at its Tokyo office with Professor Nawata and other Japanese scholars of German literature to do close readings of Kleist's Earthquake in Chile. Hosokawa appreciates their great help in deepening his understanding of this text. In addition, the four members of the production team —Wieler, Morabito, Viebrock, and Beyer—were invited to Japan by the Institute in April 2017. With the arrangement by the Institute, they made a trip to Fukushima, accompanied by Hosokawa and Camberling, to examine the current situation at the Fukushima Daiichi Nuclear Power Plant and its environs. They said that the trip certainly helped them to share a vision that would become the basis for the work they were to create.
 The key role of Philipp was played by a Japanese actress Sachiko Hara, who has worked in many theaters throughout the German-spoken world, and is currently attached to Deutsches Theater, Hamburg. Her performance as Philipp received high praise both from critics and audiences. Thus, the great success of this new production has been realized with international artists and staff members: people involved in German theatrical culture, staff members of institutes for cultural exchange between Germany and Japan, Japanese literary scholars, and creative heirs of traditional Japanese culture, as well as a range of artists practicing on a global scale. This creative process of Hosokawa's new opera with such an international cultural chemistry proves that he truly deserves the Japan Foundation Award.
Hosokawa telling how his trip to examine the Fukushima Daiichi Nuclear Power Plant with members of the production team for Erdbeben.Träume, invited by the Goethe Institute, helped them to form a shared vision that became the basis for the opera.
What art can achieve in the face of reality
 During the question-and-answer period, Hosokawa was asked if it might not be difficult to tell the story of an earthquake to people living in areas where earthquakes don't happen. He responded that neither Erdbeben.Träume nor Stilles Meer is set in a particular geographical location, and that, through these stories in unnamed places, he would like his audience to share an imaginary tragic experience caused by an overwhelming natural disaster that could happen anywhere in the world. Although his initial inspiration came from the reality of Fukushima, and a desire to pray for the souls of those who died there, he came to aim at something more universal in the process of sublimating this desire into a work of art. His response to the question about the connection between this opera and the devastating reality of what is happening in the world today showed a similar stance.
 "We artists have no power—that's true. I don't know how our works can have any influence on the real world. Nevertheless, I do believe that there's some meaning in creating an artwork like opera in collaboration with many artists, which is surely powerful enough to challenge the harsh reality of our world."
 Tonight's program left us with a sense of anticipation, looking forward to seeing what sort of new "passages through dream tremors" Hosokawa, who sincerely believes in the universal influence of art, will reveal in his new works.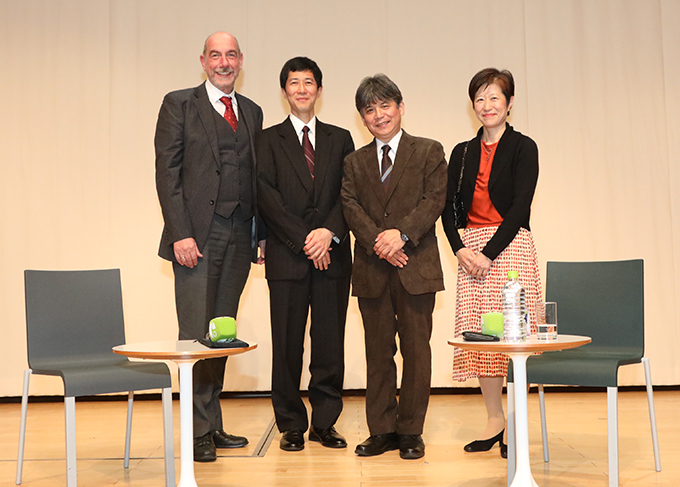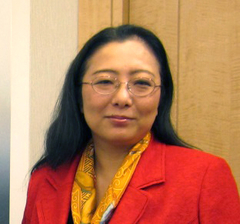 Miho Morioka
Associate Professor, Department of Economics, Chuo University, specializing in theory of cultural representation, gender criticism, and the nineteenth century British novel. Author of Viewing the World from the Opera House (2013); author of the paper "The Modernity of Berlioz's The Trojans in the Libretto and Recent Performances" (2014)