The Spread of the "World's Smallest Poems"
Sho Otaka (Haiku Poet)
 The haiku poet Sho Otaka has been holding haiku workshops overseas since 2010, working to share and spread this fascinating poetry form through haiku composing gatherings and explanations of seasonal vocabulary. She held her poetry workshops at three of the Japan Foundation's overseas offices; in 2016 at the Japan Cultural Institute in Paris, and in 2018 at the Japan Cultural Institute in Rome and the Japan Foundation, New York. We received this contribution from Otaka in which she wrote about these workshops, the reception of haiku overseas, and getting to know participants through haiku poetry.
My First Overseas Haiku Workshop
 One day ten years ago, a few simple questions came to mind: What kind of haiku do people overseas compose? What would it be like to compose haiku together? Some months passed, but my desire to know through experience only increased. Talking to the editor of an introductory book on haiku that I was writing, I was surprised to receive an enthusiastic response.
 After a series of almost miraculous encounters, a half year later I was holding an overseas haiku workshop. With my new book on haiku for parents and children in hand (published by Meiji Shoin), early in the summer of 2010 I held a haiku class on a similar theme at the bookstore Kinokuniya New York. After workshops at the Japanese School of New York, as well as Yale University and Vassar College for students learning Japanese, I was beginning to think about where and when to hold one next.
 Finding it fascinating to be present when someone creates their first haiku, I would then hold workshops in the U.S., U.K., France, Germany, Italy, and the Czech Republic.
Haiku's Characteristics
 Haiku is a form of Japanese literature known around the world that takes seasons as a theme. They are the world's shortest poems (seventeen syllables long) and feature punctuating words (kire). Also, and notably, they are meant to be created with other people present—a form of communication.
 While other forms of poetry, novels, and the like normally are created in isolation, haiku are made while taking walks with companions (Ginko), or at Kukai haiku gatherings, in which people share their impressions of each other's works. It is for this reason that many haiku pieces express gratitude or welcome guests.
 Working to spread haiku overseas, I developed a new appreciation for this uniquely Japanese poetry, further solidifying my desire to share and have people experience haiku communication.
The Meaning of Haiku Workshops
 My haiku workshops are not just about sharing knowledge. They center on co-creation and enjoying others' work, doors to the happiness that comes from mutual respect and to the new perspectives acquired from drawing nearer to others. By getting to know others through haiku that condense authors' sensibilities, people's hearts open up. Sometimes, they come into direct contact, transcending language. For me, haiku workshops are important because they are one of the few opportunities that allow people to deeply share such moments.
The Japan Cultural Institute in Paris
 My December 2016 haiku workshop at the Japan Cultural Institute in Paris was quite an undertaking. I remember arriving at Charles de Gaulle Airport full of hope, carrying a five-kilogram bag of freshly harvested rice. The plan was to hold a haiku gathering with the people of Paris at which we would make onigiri rice balls from this rice and then compose haiku inspired by them.
 This was the idea of Kenta Kawai. He is an associate professor at Kyoto University of Art and Design, where I have been teaching part-time since 2012, who co-organizes the project "Houmon Haiku Dan (group visiting various places and create haiku)" at the university. If one repeats "Paris" twice in Japanese, it evokes the crackling sound of the crisp seaweed that surrounds onigiri: pari pari. This inspired Kawai and, hearing this, I thought of haiku that effectively use original onomatopoeias and became interested in sharing this poetry with people while focusing on sounds. Japanese is distinguished by its rich onomatopoeic vocabulary. By sharing it along with haiku's seasonal words and expressions, a wide swath of people can get to know the deeply fascinating aspects of Japanese language.
(Left) The exterior of the Japan Cultural Institute in Paris, where the haiku workshop was held.
(Right) After making onigiri and getting to know each other, amidst nervous and eager anticipation, haiku creation began.
Haiku Born from Onigiri
 It was the first time making onigiri for almost all participants. I decided to make them using plastic wrap, an easy method even for children. I learned how to make onigiri in this way at the nursery school my oldest daughter attended. There are no hygienic concerns—one does not directly touch the rice with bare hands—and one can fully experience its smell and warmth. This experience heightened everyone's five senses and brought them together. Perhaps it made the people of Paris poetic—while eating onigiri, they completed their haiku in only fifteen minutes or so. I was quite surprised.
 The most popular haiku was the one below:
Le nuage de riz
a quitté l'île à l'automne
Pour me nourrir à l'aube de l'hiver
—Physalis
ごはんの雲が
秋に島を離れた
冬の明け方私を食べさせるために
<literal Japanese translation> Miyako Slocombe
The rice cloud
left the island in the fall
To feed me at the dawn of winter
<literal Japanese translation>
新米の雲秋津島飛び立てり
<idiomatic translation> Sho Otaka
Cloud of freshly harvested rice / drifted away / from the Land of the Rising Sun
<idiomatic English translation> Sho Otaka
The author said that they were extremely impressed by the flavor of the rice I had brought from Japan. Thanking them for their aisatsu-ku that welcomed me as a guest, they smiled, seeming both happy and embarrassed.
The haiku gathering was the first time making onigiri for almost all participants.
(Left) First, demonstrating a simple way of forming the onigiri. Seeing a finished triangle of rice, participants were curious and impressed.
(Right) Experiencing the heat and smell of freshly cooked rice, participants made onigiri with fillings of their choice.
Pari nori noir,
Les grains blancs étincellent.
Chaleur de l'hiver.
—KURI
パリ黒い海苔
白い粒光る
冬の暖かさ
<literal Japanese translation> Miyako Slocombe
Paris and black nori,
The white grains sparkle.
Warmth of winter.
<literal English translation>
パリパリの海苔へ新米艶めきぬ
<idiomatic Japanese translation> Sho Otaka
Crispy crunch in Paris / next to nori seaweed / fresh rise shines
<idiomatic translation> Sho Otaka
This haiku brings one's attention to the sounds of the Japanese and French language. It contrasts color and texture, and one can tell that the author enjoyed making onigiri with their five senses. In this way, it is possible to imprint in haiku poems moments that pass in an instant.
パリっ子の手にも新米光りたる
翔
Hands of Parisians / The new Japanese harvest / rice glistening  (Sho)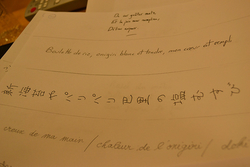 One of the participants' pieces. It is an onomatopoeic haiku that plays on the word "Paris" and the Japanese onomatopoeia pari pari, used to express the crinkling of onigiri's crisp seaweed.
The Japan Cultural Institute in Rome
 The haiku workshop held in October 2018 at the Japan Cultural Institute in Rome took full advantage of the location. It was the first Japanese cultural institute built overseas in 1962 and features a Japanese garden. On a pleasant sunny fall day, we walked around the garden while composing haiku. Italians studying the Japanese language were grouped with Japanese people to create haiku in Japanese while getting to know each other.
 I visited there with Kenji Yanai, International Christian University Senior Associate Professor who has studied in Italy, and Kawai wearing kimono as the Houmon Haiku Dan group. First, we tutored participants about haiku and introduced famous haiku about fall. When composing haiku while walking around the garden, as well as receiving advice about them, we were able to talk with participants individually, getting to know them amidst a friendly atmosphere.
 I was surprised and happy when an advanced Japanese-language learner said that they wanted to create a haiku using the waka poetry rhetorical device known as engo or "associated words." Their request reflected a deep knowledge of Japanese literature. They wanted to compose something using the Japanese homophonous words koi 鯉 (carp), which were swimming around in the garden's pond, and koi 恋 (love). The resulting twenty-six haiku overflow with the brightness and abundance of fall. Here I have included part of them.
秋晴れの遠くむこうに故郷あり
かえる
秋の風香りゆたかなローマかな
爽
空のした町のぜんぶが紅葉いろ
ジュゼッペ
はぐれ鯉秋色うつす水鏡
縁
草も木も色あざやかに枯れてをり


(※添削前:秋の草色あざやかな枯れた松)

流地
天高きローマを映し水しづか
翔
Soaring fall sky / reflected in Rome's water / Quiet
(Sho)
(Left) The Houmon Haiku Dan group teaching participants about haiku and sharing with them famous haiku about fall.
(Right) Commemorative photograph with haiku workshop participants in the Japanese garden of the Japan Cultural Institute in Rome.
The Japan Foundation, New York
 It is also hard to forget the December 2018 haiku workshop held for attendees of the JF Japanese Language Course that is jointly run by the Japan Foundation, New York and the Nippon Club. Participants gathered at the Nippon Club after their jobs on a weekday night. Since most were beginner and intermediate Japanese-language learners, I thought that haiku would be composed in English. However, everyone tried composing ones in Japanese, completing them while working together with others. In the class I covered the history of this form of poetry up through when it came to be called "haiku," and explained that the spirit of haiku is presenting a poem to someone or something. I asked everyone to keep this in mind when composing their haiku in Japanese or English.
 During the open editing of participants' haiku, everyone listened intently with a surprising amount of concentration—a quiet yet powerful response. Here I will share two winter haiku that were edited.
枝の雪払い思い出軽くする
シェリー
Wiping the snow / from branches and memories / become lighter  (Shelly)
新しきジャケットの肩雪白し
デイビッド
Brand-new / the shoulders of a jacket / winter snow  (David)
マンハッタン飾りつけゆく夜の雪
翔
Manhattan / becomes ornamented / snow at night  (Sho)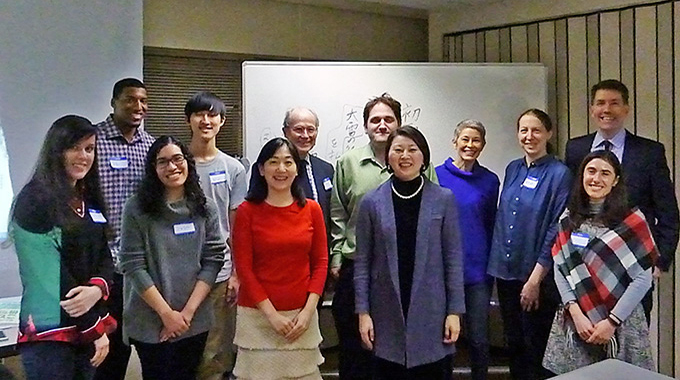 The New York haiku workshop.
The Great Power of the "World's Smallest Poems"
 I have engaged with haiku as a poet since I was a teenager, for around thirty years. Haiku workshops make me feel that all the troubles and doubts I have experienced during this time have been meaningful. Being present for people's first encounter with haiku, my various large and small setbacks become a resource that helps beginners challenging themselves move forward. I think that the sense of fulfillment acquired from trials and errors producing fruit over time is reflected not only in their haiku but mine as well. When I feel this great power of the world's smallest poems, the wish again arises to share it with yet unknown friends around the world.
 I found some workshop participations reactions quite interesting. First, they were surprised that events in daily life can become poems. Second, they also noted the equality of haiku gatherings, in that people critique haiku without knowing who wrote them. For Japanese people, haiku are a part of culture taken somewhat for granted. However, overseas, people remark, for example, that they are a wonderful everyday custom, a mechanism for sincerely experiencing poetry in a way that transcends individuals' positions, and so on. It is my hope that after the workshops, participants hold onto discoveries in daily life, turning them into poetry to make their lives rich and enjoyable.
Small Steps
 Reflecting on my activities up through the present, the faces and names of those who participated, as well as the interpreters and others who have provided so much support, come to mind. If everyone's dreams had not come together, then I would not have been able to continue this work. I would like to take this opportunity to express my sincere thanks to all of them.
 I plan to continue offering opportunities for many people to experience Japanese culture through haiku; while my activities are not large in scope, I always encounter gentle faces full of life, and I believe that the world will become more peaceful through this poetry, even if just a little bit. I think that weaving modest poems from the heart not only is an affirmation of oneself, but also encourages the development of a sympathetic mindset towards nature and other people and cultures. Is this not a light that we want to continually shine in hearts, regardless of time or place?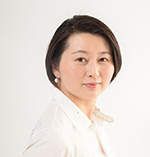 Sho Otaka
Haiku poet. Co-leader of Aibana haiku kai group. Part-time lecturer at Kyoto University of Art and Design. Born in Tokushima in 1977. Otaka has been creating haiku poems since the age of thirteen. Recipient of the 2016 "1st Haiku University Grand Prize" for her 4th haiku poetry collection Kihan and of the 2010 "Awa Cultural Creation Prize of Tokushima Prefecture."

Official Website:http://www.shootaka.jp