The 2018 Japan Foundation Prizes for Global Citizenship:
A Three-Way Conversation on Connecting Voices and Expanding the Circle of Global Citizens
The 34th Japan Foundation Prizes for Global Citizenship were awarded to the Komatsu Summer School Executive Committee (Komatsu City, Ishikawa), Hamamatsu Global Human Resources Support (Hamamatsu City, Shizuoka), and Pangaea (Kyoto City, Kyoto). Each using their own approach, these citizens' groups promote the co-existence of diverse cultures and mutual understanding. Having received their awards, representatives from each of these organizations discussed their visions for the future.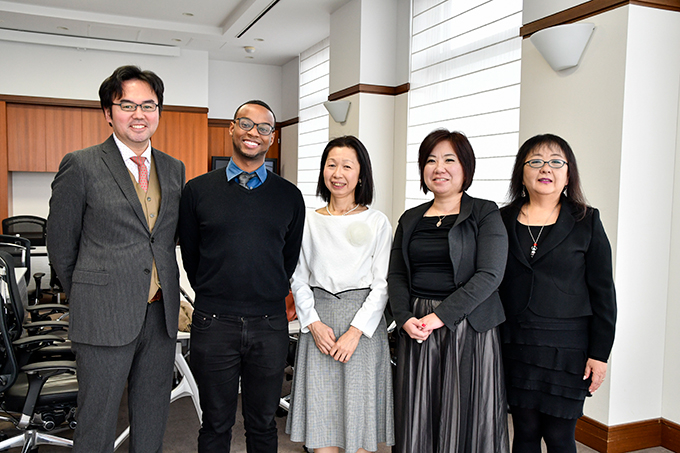 From left: Toshiyuki Takasaki, Vice Chairman of Pangaea; Stéphane Fouché, Chair of the Komatsu Summer School; Kazue Mitsui, Board Member of Komatsu Summer School; Hisano Hori, Representative Director of Hamamatsu Global Human Resources Support; and Yumiko Mori, Chairman of Pangaea.
Photo by Keith Tsuji
Komatsu Summer School Executive Committee
The Komatsu Summer School is a seven-day overnight summer program run by college students for Japan's high school students. Held yearly in the city of Komatsu (Ishikawa), it creates opportunities for high school students to meet people of a variety of ages with diverse cultural backgrounds.
http://komatsu-ss.main.jp/kss/english/
—Mr. Fouché, you came to Japan in 2011. Ms. Mitsui, at the time you were his host mother.
Stéphane Fouché: That's right. I did a homestay as part of a two-month program run by Princeton University's auxiliary organization Princeton in Ishikawa (PII). I call Ms. Mitsui "Mother" (laughs). I then also participated in HLAB, a summer school in Obuse (Nagano) run by college students from the U.S., primarily Harvard, and Japan. In this program high school students can engage in cultural exchange. I then wondered whether something similar could be brought to Komatsu as well.
Kazue Mitsui: The Komatsu Summer School grew out of my relationship with Stéphane. Having been a housewife until then, I had never written a project proposal for a presentation. Before I got used to things, I didn't have any time to sleep. Even so, I worked hard, wanting to create an opportunity for children living outside of major metropolitan areas to encounter the cultures of the world. For the participating high school students from Japan, it is a very uplifting week. While at first they are timid, through communicating with others, they become able to respect each individual beyond their nationality or title like "Harvard student." We see their initial unease disappear and lifetime friendships developing.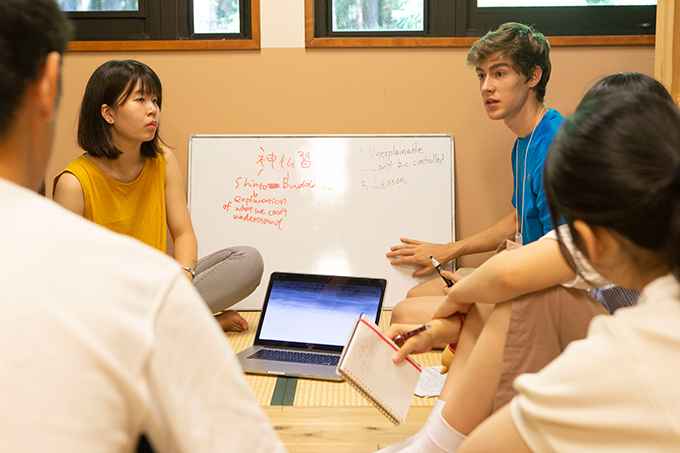 English liberal arts seminars and bilingual activities are held at the Komatsu Summer School so that Japan's high school students can express their thoughts in English.
Hamamatsu Global Human Resources Support
Hamamatsu Global Human Resources Support provides employment support for foreign residents in Hamamatsu and helps university students contribute to society. They use their own curriculum and educational materials to provide instruction regarding the Japanese language and professional skills necessary on the ground in nursing care.
http://www.globaljinzai.or.jp/
—With the amendment of the Immigration Control Act, a new residency status was created in April 2019. Amidst this, your organization has been described as an outstanding existing example of how to support foreigners in finding employment.
Hisano Hori: From around the time when I worked at the Hamamatsu Foundation for International Communication and Exchange, I was involved in such work. Due to the influence of the 2008 financial crisis, foreigners who were temporary workers, an unstable labor pool, lost their jobs all at once. While talking about providing support to foreigners, I felt just how powerless I was to do anything about these people, who work hard in areas that are not very popular with Japanese people and provide underlying support for business. Therefore, thinking that it was necessary to have foreigners acquire professional skill sets, in 2011 I launched Hamamatsu Global Human Resources Support. We have held nursing care training courses for foreigners to be able to obtain jobs, and also developed a simple Japanese textbook containing phrases useful on-the-ground in work. At present eighty-three foreigners have found employment in nursing care through our organization (as of April 2019). It is the organization's fundamental belief that people are the community's assets. I'd like to create a society where people who came from afar to this area can live more comfortably and become who they want to be.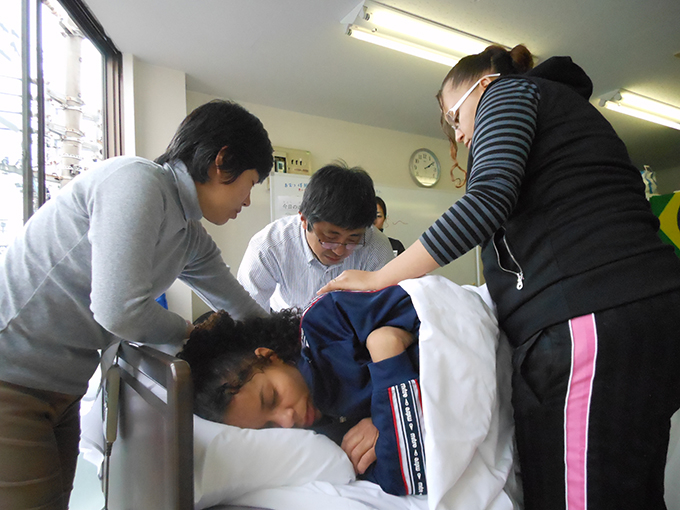 Hamamatsu Global Human Resources Support holds Japanese language and nursing care training courses for foreigners to be able to acquire professional skills and create a society that's easier to live in.
Pangaea
Pangaea runs a platform by which children from around the world can meet and get to know each other using information and communications technology (ICT). Children's communication is supported by tools such as "Pictons" (a set of 450 pictograms) and Gengoro, the machine translation software.
—I felt that your organization is unique in that instead of promoting English language, you developed pictograms to help children with diverse cultural backgrounds communicate.
Yumiko Mori: Only 20% of the world population's native language is English. Even though English is the strongest language in the business world, we thought that it would be mistaken to push a specific language in the context of the environment we aim for—the place where children from various countries co-exist. We wanted to affirm children's roots: "your country, people, culture, language, and religion are all wonderful."
Toshiyuki Takasaki: Gengoro is machine translation software. In general, machine translation technology is not perfect yet, and it has been improved day by day. I have considered and implemented the youth-friendly interface. For example, we put machine translation function into the clumsy-looking friendly character called Gengoro so that youth have friendly feeling towards it. These ICT tools have been developed in collaboration with various research institutes such as Kyoto University.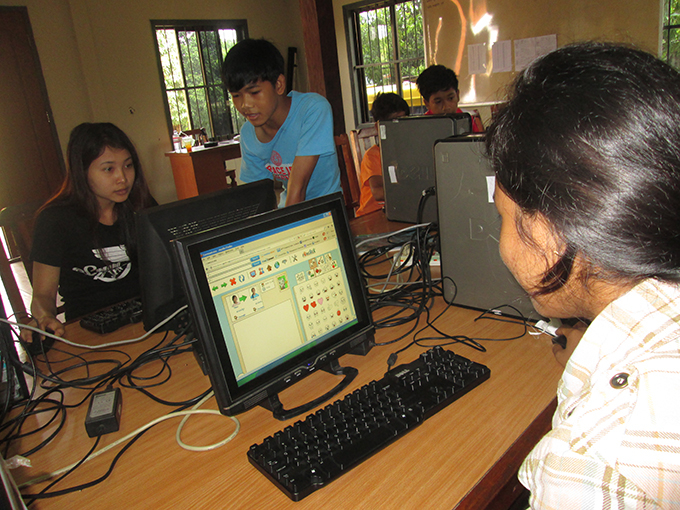 Pictons and Gengoro system supports Pangaea children in communicating while transcending language barriers.
—Next I'd like to ask questions for everyone. I'm sure it was difficult to launch such forward-thinking efforts. None of them can be done with the power of one person alone. How have you increased the number of people working with and supporting you?
Hori: At Hamamatsu Global Human Resources, there were only four people besides me. In order to operate something of this size, there is not enough manpower and funding. However, fortunately people outside the organization took a liking to us and showed kindness. There are many people who empathize with our work, including individuals in government administration. Multiple people from companies supporting us came to the awards ceremony, saying that they were happy to see this important occasion, taking commemorative photographs amongst reporters, and so on. This was really touching.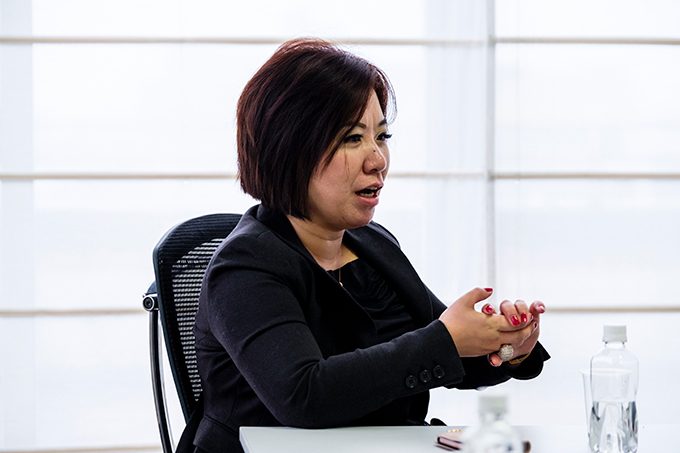 Hisano Hori describing how the organization's daily work is supported by the staff and many other people.
Photo by Keith Tsuji
Mori: Pangaea has been doing its work for seventeen years. While the first few years passed with us working furiously, after that things couldn't continue just based on founders' passion. A circle of people was necessary. This is why I'd like to always be evolving so that people around us will take an interest in our activities. Every few years we launch a new project and create new things, spaces, and activity contents. Doing so, many people take an interest, including scholars. They say that we're the cutting-edge undertaking without any precedent, and therefore a gemstone about which they can write many articles.
Takasaki: The creative design process in Pangaea is unique. System development does not complete only by specifications. We've adopted a style of trying out things on the ground over and over again, figuring out what elements would be interesting if incorporated, better ways of doing things, and so on. I'm in charge of the whole Pangaea ICT system design and development, and supported by many engineers working with me. If we include the technical staff, there are about 150 people working with us. There are many of them from overseas who participate online as well.
Mitsui: Komatsu Summer School is run by college students. Since generally they're only around for four years, the crew changes often. While we put out open calls for staff, often times students get their friends to come in and take over. We go out to various places and ask for people's cooperation. Supporters then introduce other supporters, and we then go to them for their cooperation. . . . We value these kinds of connections.
—What are your thoughts regarding spreading what has emerged in your communities to other places? Is it possible that your programs and structures can be turned into packages, so to speak?
Mitsui: We're willing to share our know-how from the summer school, so if people from other regions volunteer, we help out. However, the summer school is something we created through trial and error, and the best way of doing things might be different for other areas.
Fouché: It depends on the area whether programs like the summer school could be organized. There is the big issue of cost. We calculated this before—and found that doing the same program in Tokyo would cost at least 15 million yen, and around 13 million yen in Fukuoka. However, in Komatsu, we're doing it at half the cost it would require in Tokyo. This reduction in cost is possible primarily because the students from overseas who come to Komatsu as part of PII extend their stay for one week to help out with the summer school. We depend on our ties with PII. So, there's a need to come up with programs fit for each area's conditions.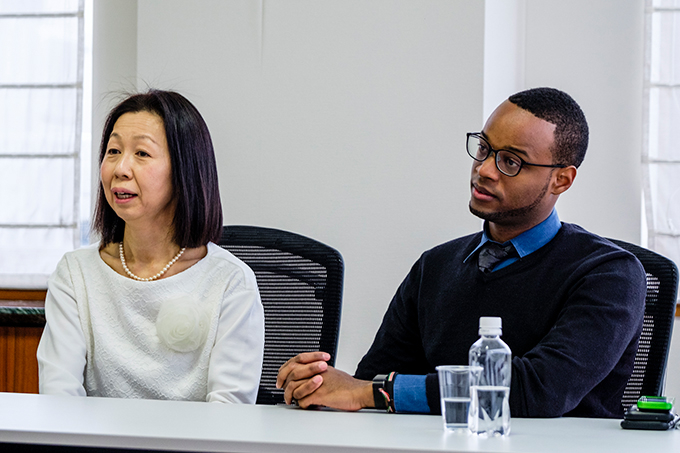 Ms. Mitsui and Mr. Fouché discussing the need to think about localized methods and formats when trying to run a program like Komatsu Summer School in other areas.
Photo by Keith Tsuji
Hori: Hamamatsu Global Human Resources Support developed a nursing care textbook that uses easy-to-understand Japanese and illustrations. It is available online, and can be used around the world. However, it's entirely a trial run, and I'm thinking that a new edition needs to be developed. Previously we published a textbook to be used as a supplementary text for beginning nursing care worker training. Looking at a few cases in which it was used, though, I felt that a guide with more detailed instructions was necessary. Since textbooks are nothing more than a tool, I think that we need to instill the mentality in those teaching and learning with this new textbook.
Mori: We considered Pangaea to have its activity fields around the world when it was established. From the beginning, we created four hubs in Kenya, Austria, Korea, and Japan. These hubs are volunteer bases, so we put all of our know-how down into a manual, including Pangaea operating methods even when there is not enough core staff.
—How did you meet those who are now staff at the hubs?
Takasaki: At first, we found them connected by people in MIT Media Lab, where Ms. Mori and I worked. For example, we contacted MIT Media Lab graduates in Kenya, and we also got to have introduction from an acquaintance in the university community, that landed at a museum in Austria. We've got to know good people through our human networks.
Mori: Our work is not something that you can do only with know-how—this is similar to Ms. Hori's textbook project. What is important is the value of respecting a democratic decision process with children's perspective. We met and talked with people who we got introduced, and went through these things with them.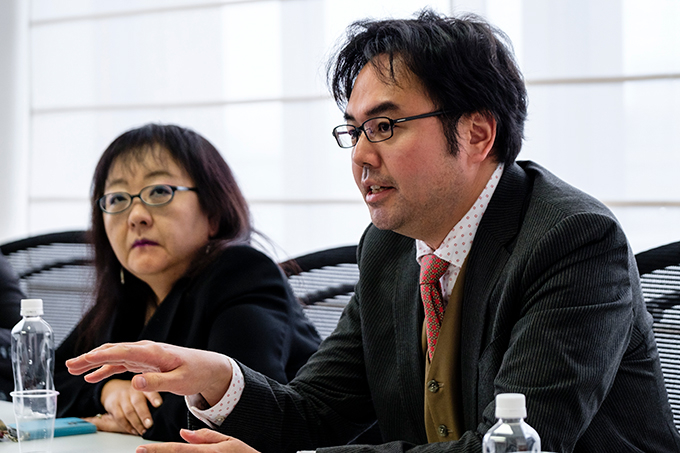 Mr. Takasaki (right) talking about finding overseas hubs' staff using human networks, and Ms. Mori, who described how they attached importance to whether potential staff members would work based on sharing same values.
Photo by Keith Tsuji
—It seems like it's the case for everyone that connections emerged while you were engaging in work based on your beliefs. Also, in the end, it seems like a large part of it is interacting with people as individual humans.
Hori: It's difficult for one's outlook adopted when interacting with people, as well as one's perspective for understanding things, to be just communicated spontaneously.
Mitsui: I feel that at the basis of what we want to do is to have the younger generation acquire the ability to create a better future through their own skills. Through workshops and the like, I'd like for high school and college students to continue to think about the world's issues on their own initiative. We would like for them to continue learning things that they cannot achieve alone can be solved using networks. I was reminded again of this today.
Interview and text: Yoichiro Takemi
(Note: Menghe Xu became the Chair of the Komatsu Summer School Executive Committee as of April 1, 2019.)