A Quarter Century from First Encountering Japan to Receiving a Doctorate in Japanese-Language Education
Franky Najoan
Full-time Lecturer, Manado State University, Indonesia
The Japan Foundation collaborates with the National Graduate Institute for Policy Studies to offer master's and the Ph.D. programs in the Graduate Program in Japanese Language and Culture, designed for in-service teachers, with the goal of nurturing human resources who will become leaders in Japanese-language education in countries around the world.
Franky Najoan, a lecturer at Manado State University, completed a doctorate in the Graduate Program in Japanese Language and Culture and received his Ph.D. in March, 2013.
In the course of almost 30 years, Japanese language major student at the Japanese Language Education Department in the Manado branch campus of the Institute for Teachers Training and Education (IKIP, the present Manado State University) as it was then known, has gone to become a driving force in Japanese-language education in Indonesia. He told us of the encounters with various people who supported making that happen, including Yasuhiko Sukegawa, Professor at the graduate school of Tohoku University, who taught Franky as an undergraduate.
(Interviewer: Noriko Yokoyama, The Japan Foundation Japanese-Language Institute, Urawa)
*Professor Sukegawa contributed some anecdotes from Franky's undergraduate days, which are included at the end of this article.
Phonetic instruction, a weak point even for teachers
The topic of my research was "A study on the effect of phonetic instruction in Japanese language education on Indonesian students: focus on vowel length and accent" The Indonesian language does not have a pitch accent that distinguishes the meaning. Neither does it differentiate between words by using long and short vowels. Thus, I thought that the difficulty for Indonesians in learning Japanese was likely to be the long and short vowels and accents of the language, and, on that basis, my research began with the question of what would be an effective teaching method.
As a teacher, I was personally interested in teaching pronunciation, and since there was hardly any research on Japanese-language phonetic education in Indonesia, I thought, "In that case, I'll do it by myself." My first step was to get a master's degree in the study of phonetic instruction at Tokyo University of Foreign Studies graduate school. In my master's research, my studies focused particularly on teaching methods for accents in Japanese, but as my research progressed, I was confronted with the awareness that in addition to accents the long and short vowels in Japanese were also a big part of the problem for phonetic education.
As I pursued my research, I realized that very little phonetic education took place when learning Japanese as a foreign language in Indonesia. Furthermore, I also discovered that, although the expertise required of those who teach foreign languages covers a lot of ground, few teachers were adequately informed when it came to phonetics.
A variety of reasons came to light as to why phonetic education is not emphasized in the Japanese-language classrooms of Indonesia. For instance, many Indonesian teachers are aware that it is difficult for them to give phonetic instruction in Japanese, which is not their native language, but they also lack the time to acquire knowledge or to refine their skills. As a result, hardly any time is set aside for pronunciation or phonetic instruction for learners in schools, and there are no provisions regarding phonetic instruction in Indonesia's curriculum guidelines.
There are many learners of Japanese in Indonesia, and numerous Indonesian teachers of Japanese who instruct them. It would be a challenge to have all these teachers acquire specialized skills in phonetic instruction, so I decided to study teaching methods that would allow the average Indonesian Japanese-language teacher to carry out phonetic instruction without feeling intimidated. It is important to note the word "average": I believed it was crucial that the method be something you could do even if you weren't an outstanding teacher, so that more learners could receive a more even level of effective instruction.
Specifically, I thought of incorporating the concept of collaborative learning, or more precisely, peer learning, in which learners use each other's strengths to learn cooperatively. Lacking confidence in their own pronunciation, Indonesian teachers have trouble modeling pronunciation themselves or correcting their learners' pronunciation. And in schools where classes are held for large groups, there is not enough time to have every single learner pronounce something and then give feedback.
Therefore, I decided to rely on recordings to model pronunciation, and to let the learners give each other peer feedback for pronunciation practice. In other words, I tried a method in which each learner gave a partner feedback on pronunciation while comparing it with the recorded model.
It is not just in the Japanese classrooms of Indonesia that pronunciation instruction is little practiced; in fact, it is far from thriving in other countries as well. I believe that it has rather been avoided, because without a fair amount of expert knowledge of phonetics and training skills, the instructors themselves don't feel confident in giving instruction regarding phonetics. For example, you can think of it in terms of the situation with regard to English education in Japanese schools, where Japanese teachers of English tend to be hesitant about teaching English pronunciation.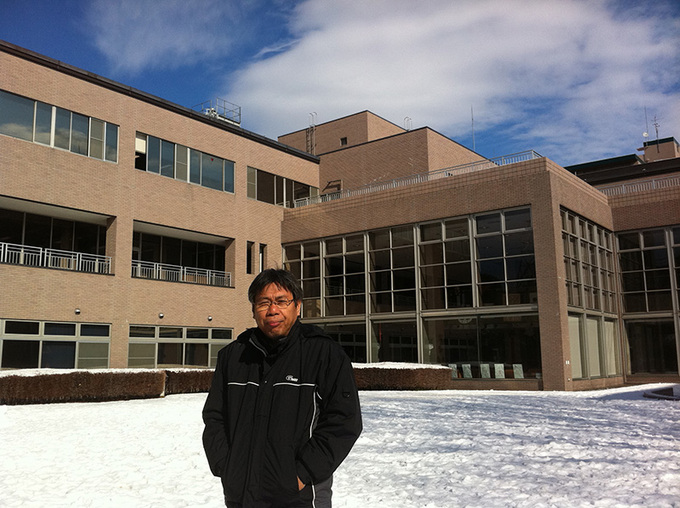 At the Japan Foundation Japanese-Language Institute, Urawa
Seeking to enhance Japanese-language education in Indonesia
It is an extremely bold idea to attempt to have learners give each other pronunciation feedback as peers, rather than relying on the intervention of teachers, who, however much they may lack confidence, must be at least more competent than the learners. In order to prove this hypothesis, I returned to Indonesia for a time, and enlisted the cooperation of Indonesian teachers in conducting an experimental class for one term. If we made the entire lesson something special, it would be difficult for the average teacher to put it into practice later, so we dedicated only part of each lesson, roughly 10 minutes, to this peer activity, and were able to show that phonetic instruction carried out by the learners among themselves had a substantial effect.
Even beginner-level learners were able to tell the difference between long and short vowels immediately after hearing them, saying "This pronunciation is different," and "It was too short that time." They could also discern when something was different when it came to accents. Not only that, but valid learning outcomes could be seen from the process of listening to their peers' pronunciation, and thinking about how it differed from the model and how to convey that in feedback to their partners. Noticing another person's mistakes raises awareness of one's own pronunciation.
Even if you tell learners to record their own voices and check the sound for self-study, it seems that they are unlikely to actually get around to it. Ultimately, it seemed to be a crucial point to have a listener, to have at least a peer who can serve as a mirror to one's learning.
Since the learners give each other feedback, the role of the teacher is to design a lesson so that the learners' peer activities can proceed smoothly. Of course, the learners don't give each other feedback right away; rather, they need to practice for the peer activities beforehand in order to be able to do them well. Nevertheless, demonstrating that incorporating peer activities into phonetic instruction can be this effective and having shown that any teacher can practice this method is, I believe, of great significance in terms of policy as well.
In order to give back the results of my doctoral research throughout Indonesia, it is necessary to work together with the diverse people who support the promotion of Japanese-language education in Indonesia. The majority of Japanese-language learners in Indonesia are high school students who study Japanese as a second foreign language. It is vital to link seamlessly the various networks connecting Indonesia's Ministry of National Education, which is responsible for educational policies such as curriculum guidelines, curriculum, textbooks, and teacher training, with organizations that support those policies such as the Japan Foundation, as well as the Association of Indonesian Japanese Language Education Studies (ASPBJI) and the Japanese teachers associations at the high school and university levels that provide opportunities for improving in a practical manner.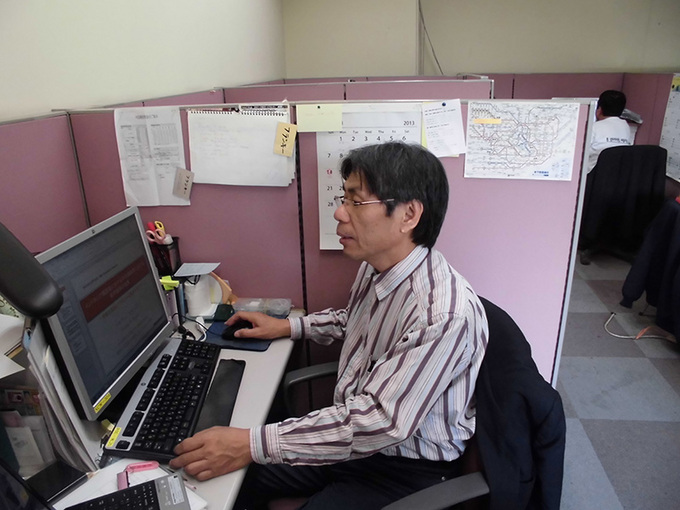 The author hard at work
The path to completing my doctoral dissertations
It took four and a half years from the time I came to Japan on my own in the fall of 2008 to enter the Graduate Program in Japanese Language and Culture to when I received my doctorate. It's common for people to take five to six years to complete Ph.D. dissertations, so this wasn't particularly slow, but for me, as a mid-career teacher already working full-time in the Japanese-language department of Manado State University, as well as being a family man and the father of four children, it was no small burden.
For the first three years, I was supported by the Japan Foundation Japanese Studies Fellowship Program, but it was a hard time in terms of my financial base during the year and a half after the maximum benefit period had expired. My age made it extremely difficult to get scholarships for international students from private organizations in Japan, so I took on a variety of part-time jobs. I mostly worked night-shift, because I gave top priority to academic matters such as seminars or consultations with my advisers. As a result, I was always craving sleep. But I knew that I just had to do it. In the end, I was able to get a scholarship from the Japan Student Services Organization (JASSO), and the National Graduate Institute for Policy Studies (GRIPS) helped me find a job as a teaching assistant so I was able to relax and write my thesis.
Even after things were set up to devote myself to studies, the hardest part was when I actually put pen to paper. It took for a long time to organize my data too, but it was rough going even after the data was all in order and I began to write. To meet the academic standards for doctoral dissertations, you need to have convincing analyses and explanations. There were times when I shook my head and wondered if my abilities were up to the task at all. Of course, to get a Ph.D., to do world-class research, you need to read all of the available materials. In language education research in particular, many of the previous studies are in English and you have to digest a lot of those materials. Since I wrote my dissertations in Japanese, I was taking the information I'd obtained from English sources and summarizing it in Japanese. In other words, since English and Japanese are both second languages for me, I was receiving input in one of my second languages, and output it into the other second language, which was a pretty tough task. Fortunately, I was blessed with the excellent advisers, and I managed to get through it.
My email address is long, but once you see it, you'll never forget it. I've been using it since I was a master's student at the Tokyo University of Foreign Studies. It is "akiramenai franky@," which means "Don't give up, Franky" in Japanese. The master's program was a very hard too, so whenever I was about to throw in the towel and thought I couldn't do it anymore, I would emailed someone. When I did that, the reply would come addressed to "akiramenai franky." Every time that happened, it would encourage me not to give up. Now that I've reached my goal of writing my Ph.D. dissertation, I won't give up on continuing my research for the rest of my life, and I want to dedicate myself to Japanese-language education in Indonesia.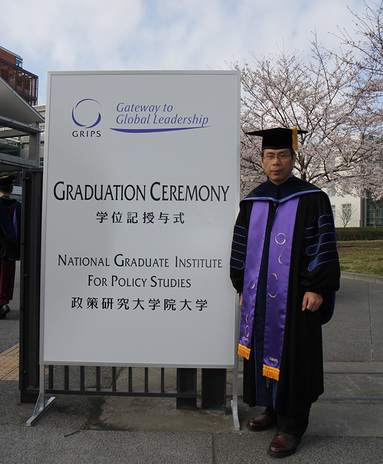 Ph.D. Graduation ceremony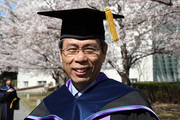 Franky Reymond Najoan
Full-time Lecturer, Manado State University, Indonesia
Born in 1964. Graduated from the Japanese Language Education Department at Manado branch campus of the Institute for Teachers Training and Education (IKIP, the present Manado State University) in 1987, and then became a full-time lecturer in Japanese-language education at the University. Meanwhile, in order to polish his skills as a Japanese-language education instructor, he took part in some courses such as Long-Term Training Program for Foreign Teachers of the Japanese-Language (1991-92) and Advanced Training Program for Teachers of the Japanese-Language (2007) at the Japan Foundation Japanese-Language Institute, Urawa, and the training for overseas teachers at Tokyo University of Foreign Studies (1994-95). He also received his master's degree from Tokyo University of Foreign Studies graduate school, and his doctorate from the Graduate Program in Japanese Language and Culture jointly organized by the Japan Foundation and National Graduate Institute for Policy Studies. He specializes in the fields of Japanese-language education, phonetics and phonetic education, and second language acquisition research.
---
A significant presence behind Franky's interest in phonetics is Professor Yasuhiko Sukegawa, who was the first expert dispatched to the Manado branch campus of the Institute for Teachers Training and Education (IKIP, the present Manado State University) by the Japan Foundation in 1986.
Since that time, IKIP Manado branch (currently a comprehensive university under the name of Manado State University) has been a key institution for higher level Japanese language education in eastern Indonesia. Over the course of nearly 30 years, the work of the Japanese language specialists sent by the Japan Foundation has come to fruition in the form of the people who lead Japanese language education in Indonesia, including the current head of the university's Japanese language department who was also taught by Professor Sukegawa. On the occasion of Franky being awarded his doctorate, Professor Sukegawa kindly recalled the early days and contributed us a following article.
The dawn of Japanese language research in eastern Indonesia
Yasuhiko Sukegawa
Professor, Tohoku University Center for International Exchange
I met Franky during his student days when I was sent to the Manado branch campus of the Institute for Teachers Training and Education (IKIP, the present Manado State University) as a Japanese language education specialist for a three-year period starting in July 1986.
At the time, the Japanese language department of the university, for various reasons, was facing an extraordinary number of challenges compared to other universities in the three cities of Jakarta, Bandung, and Surabaya, regions of Indonesia that were advanced in terms of Japanese-language education. Therefore it was the severe circumstances for learners to study Japanese. The biggest issue was that the instructors as a teaching specialist hadn't learned Japanese accurately, and everything was taught incorrectly, including pronunciation, word usage and sentence patterns.
For example, the only teacher who knew the proper order for the phrase Nihon to onaji desu (the same as Japan) was a part-time instructor specializing in animal husbandry who had studied abroad in Japan; meanwhile, in the classroom, the sentence was taught as Onaji to Nihon desu, which is the wrong order. Pronunciation and spelling of words were the same. For instance, yuubinkyoku (post office) was taught as yubinkyouku, with a wrong vowel put in the last syllable rather than the first. My first job there was to erase the mistaken Japanese and write the correct one.
In that context, Franky was an outstandingly-brilliant learner. He understood and remembered correctly everything that I pointed out, and seemed to progress in the blink of an eye. When I heard that he had applied for the National Graduate Institute for Policy Studies to study in the doctoral program after studying at the Tokyo University of Foreign Studies, I was extremely delighted that his passion for Japanese-language research remained unchanged even though almost 30 years had elapsed since he first began his studies. At the same time, I dreamed of a time in the near future when Manado State University located 2,000 kilometers from the capital Jakarta, would be transformed into a center for Japanese-language education and research in eastern Indonesia despite its disadvantage on the location.
As in other Southeast Asian countries, there is a huge disparity between Indonesia's central cities and those in the provinces. In economic terms, it is said that 70 percent of capital is concentrated in the Jakarta area, 20 percent in Surabaya, and the remaining 10 percent spread among the other regions. Franky's obtaining his doctorate and making his international debut as a researcher is of immeasurable significance for the future of Japanese-language education in Indonesia. I congratulate him on the success of his research, and sincerely hope for the development of Japanese-language education and research in eastern Indonesia.