Japanese Photography at the San Francisco Museum of Modern Art
Sandra S. Phillips
Sandra Phillips has been contributing to collect/exhibit Japanese photography at the San Francisco Museum of Modern Art ever since she joined the museum's department of photography as a curator in 1987. Phillips has also helped disseminate Japanese photography in the world history of photography through her publications and lectures. In recognition of her achievements, she received the Photographic Society of Japan's International Award in 2018. We have received this contribution from Phillips that summarizes her commemorative lecture delivered in May 2018 at the Japan Foundation Headquarters (Tokyo). She was a recipient of the Japan Foundation's Artist Fellowship Program in 2000.
My interest in Japanese photography really began in 1974, when I, a young mother, came to New York from upstate to visit the Museum of Modern Art and saw the show, New Japanese Photography. I will not claim that the exhibition I saw that day drove me to study photography, because I was already very interested in it. But I had no idea whatsoever of the depth and importance of Japanese photography of the postwar period. I was blown away by this show--it touched a nerve. I still remember the thrill of discovering those pictures.
Why were these photographs so moving to me, a young American woman who had no prior experience with Japanese pictures? As far as I know I had never seen anything like this work before. The photographs had a different energy, some aspects of it were familiar but much was new and strange. They were compelling and passionate. In any case, after that day spent looking at the show I went back home, and returned to my regular life, not thinking about Japanese photography at all until I was hired by the San Francisco Museum of Modern Art (SFMOMA) to be their curator of photography in 1987.
The SFMOMA was founded in 1935 by some very distinguished people who trained with the founders of the Museum of Modern Art in New York. San Francisco was far from the cosmopolitan center of New York, and away from the "center" of international (European-looking) art activity. On the other hand, the beatnik culture of San Francisco was important--Allen Ginsberg, Jack Kerouac, Lawrence Ferlinghetti, etc. etc. etc. They could live there with the other urban inhabitants: the African Americans, Asians (Japanese, Chinese and Filipino), and Hispanics.
This history affected the museum and what the museum did for its community. An important part of the cultural heritage of San Francisco is its longstanding history of photography--perhaps protected, like the Beat culture because it was inexpensive and regional. The photography community in the San Francisco Bay Area is very old--it started with the Gold Rush in the 19th century which drew many people from all over the world to California. Most of the men who came wanted to assure their families they were safe and perhaps even successful, so they had their pictures made and sent them home. Carleton Watkins and Eadweard Muybridge came to San Francisco from far away for the Gold Rush. Perhaps the most well-known San Francisco native was Ansel Adams, born in 1902, who was a practicing artist-photographer in San Francisco. When the museum opened in 1935, Adams persuaded the trustees to take photography seriously--he enabled the museum to acquire a fine collection (77 prints) by Alfred Stieglitz from Georgia O'Keeffe. As a result, the SFMOMA took photography seriously from that point forward: photographers in San Francisco like Adams, Edward Weston, Dorothea Lange and Imogen Cunningham were recognized as artists. I believe photography was important to the museum because it was plentiful, popular, local and very affordable.
The man who was my immediate predecessor was named Van Deren Coke, a trained art historian and also a practicing photographer. Coke saw his chief rival in John Szarkowski, who served as the director of photography at the MoMA in New York from 1962 to 1991. Szarkowski is perhaps best known for discovering Garry Winogrand, Lee Friedlander and Diane Arbus. I knew John Szarkowski, who incidentally turned out to be the co-author of the show I had seen many years ago in New York, New Japanese Photography.
When I arrived at the SFMOMA, I examined the collection, which I did in a very boring way. I started with the first box of prints, pictures by photographers whose names started with "A." As I worked my way through I came to the "M's." In one of those boxes and I saw a beautiful small (8 x 10) early print by Daido Moriyama--his famous Stray Dog! I hadn't seen this picture for years--it was given to the museum by Van Deren Coke! I looked a little further, there were more pictures--all beautiful early prints by Moriyama and other Japanese photographs.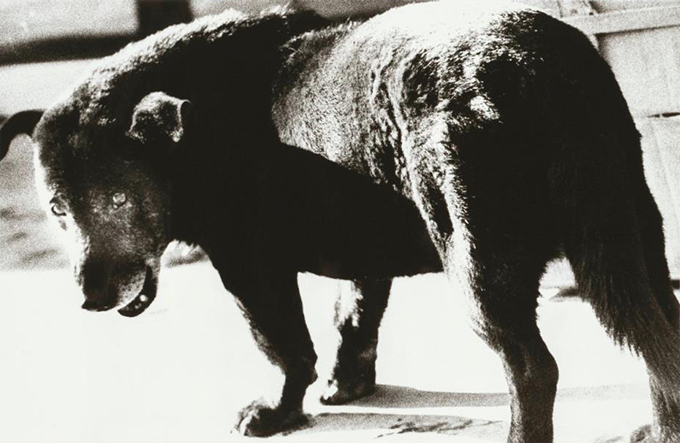 Daido Moriyama, Misawa, 1971
Collection SFMOMA, Gift of Van Deren Coke; © Daido Moriyama
The SFMOMA had taken the show I had seen in New York in 1974, New Japanese Photography. I believe seeing that show had stimulated Van Deren Coke to get photographs sent to him from Japan so he could see them himself--those were the pictures I saw in our collection. Szarkowski introduced me to Koko Yamagishi, who was working at the Getty Museum in 1990. She would be my guide to understanding Japanese photography, and she helped me considerably with the first Japanese show, the exhibition Daido Moriyama, Stray Dog, 1999.
Before the show opened, the museum constructed its new building downtown, in 1995, designed by Mario Botta. More important to me, the photography department had its own real galleries. After the show we continued to develop a collection and exhibition program of Japanese photographs. The next major show focused on Shomei Tomatsu, and was organized by Leo Rubenfein who had grown up in Japan, and knew Tomatsu personally. In 2006 we mounted Shomei Tomatsu: Skin of the Nation. As a result of the show, and because of the generosity of the photographer, the museum was able to acquire a substantial number of wonderful Tomatsu prints.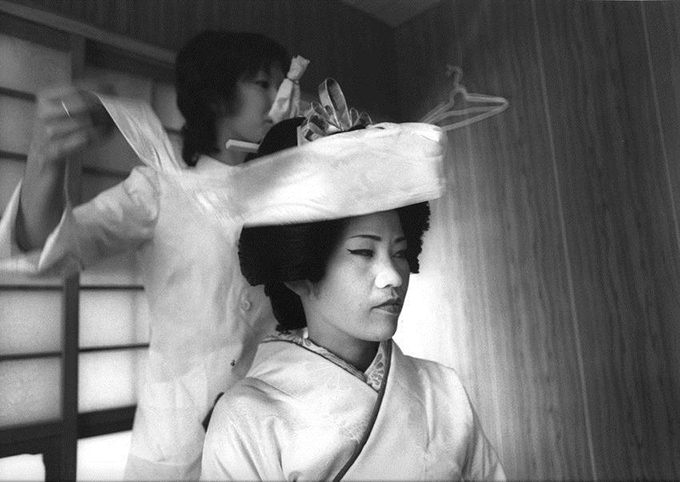 Shomei Tomatsu, Untitled [Miyako Island, Okinawa], from the series The Pencil of the Sun, 1973
Collection SFMOMA, Gift of John Steffens; © Shomei Tomatsu - INTERFACE
In 2000, I was granted a sabbatical leave by my museum. This meant that I could travel and study away from San Francisco. I was given a fellowship from the Japan Foundation to go to Tokyo and study Japanese photography. This permitted me to study the books and magazines in the library at the Tokyo Metropolitan Museum of Photography, and to visit the photographers of the older generation, specifically those who were part of VIVO. This enabled me to have a good understanding of the real breadth and power of Japanese photography. I mainly focused on the postwar period, but there were shows I saw of contemporary work, too--it was at this time that I first saw the work of Naoya Hatakeyama, and I also met his friend Akiyoshi Taniguchi.
The pictures I most admired were made from the 1970s, powerful expressions of what was happening in Japan, moments of difficult and contentious political activity in Japan, but also especially contentious times in the United States--my country was embroiled in an increasingly unpopular war in Southeast Asia. Universities were being torn apart by rebellious students--some were killed at Kent State University in Ohio, and the Watergate Scandal led to the almost certain impeachment of the President, Richard Nixon, who resigned in the summer of 1974. Some of the anxiety I found so compelling in Japanese photographs were reflections of the anger and anxieties of the political situation in which they found themselves at the hands of their ally and protector, the United States. I can say that I as a young American, I found these pictures especially riveting and meaningful.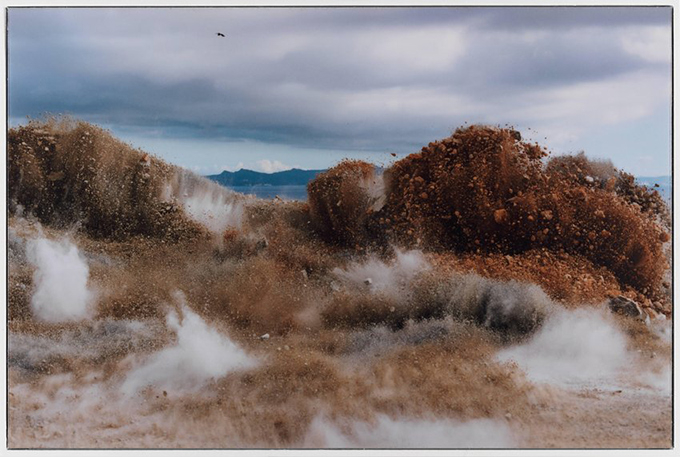 Naoya Hatakeyama A Bird/Blast #130, 2006
Collection SFMOMA, Gift of the Kurenboh Collection; © Naoya Hatakeyama
When I was in Japan in 2000, looking at these earlier pictures retrospectively, I found them still very meaningful, but I was also interested in photographers who were new to me. I discovered the work of Hatakeyama and also that of Miyako Ishiuchi, who I consider major artists of a slightly later time.
We have made exhibitions from our Japanese collection: one was organized around the Provoke Era, and at the same time we had a show of recent photography we acquired from artists in China, Japan and Korea. We also worked with the Tokyo Metropolitan Museum of Photography to present the show of Naoya Hatakeyama called Natural Stories, a show organized in 2012. We were delighted to receive the amazingly generous gift of Japanese photographs from the Kurenboh collection. What was most important to us was the variety and depth of contemporary work it included, work by contemporaries such as Hatakeyama, and many photographs by artists I had never heard of. One of the real strengths was work by women photographers. I can say very frankly that I did not know most of the photographers represented in the collection before this gift to us.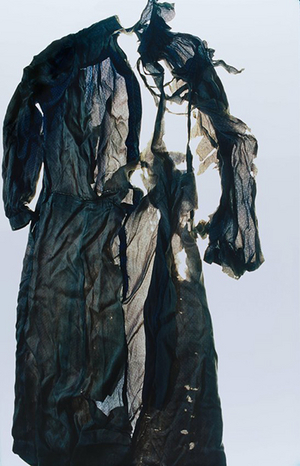 Miyako Ishiuchi, ひろしま/Hiroshima, 2007, printed 2016
Collection SFMOMA, Accessions Committee Fund purchase; © Miyako Ishiuchi
In 2013 the museum closed once again to build an even larger space, reopening in 2016 with more than double the space it had in the previous building. This meant that the photography department had a floor devoted only to photography. In 2017 we opened with a show featuring the additions to our collection of Japanese photography--and by far, most of the works we were able to present were from Kurenboh.
This is our most recent, and largest show on Japanese photography held at the museum. Because the pictures--virtually all of them made in the postwar period--were varied, we organized the show around several groupings or themes. Besides the show, and in preparation for it, we came to Japan and made interviews with some of the photographers before we reopened the museum.
We now have a website on Japanese photography from our collection, which includes the interviews and an almost complete list of the works in our collection, and other relevant information. What excites me most about this website is that it will be in English and Japanese, and we will commission essays and some translations for it. We have been very fortunate to have some significant funding from the Nikon company to do this. I am thrilled that this period of Japanese photography is now widely recognized as the major artistic endeavor it is, and I am so happy for my friends the photographers who are getting the kind of international recognition they deserve. I also want to acknowledge the wonderful support from the Canon company, which has helped me visit Japan and interview people to make this project a richer and more complete experience. The history of Japanese photography that we know either in English or in Japanese will be, we hope, through this effort, more understood and more accessible to an international audience. That's what it deserves.
Sandra S. Phillips
Phillips has been with the San Francisco Museum of Modern Art since 1987. She assumed the position of Curator Emerita of Photography in 2017. She has organized numerous acclaimed exhibitions of modern and contemporary photography. She received a grant from the Japan Foundation in 2000 and studied Japanese photography in 1960-1970 in Japan.