Unraveling the Makers and Meanings of Japanese Buddhist Embroideries
Carolyn Wargula (PhD Candidate, University of Pittsburgh)
The Japan Foundation invites academics and researchers in the area of Japanese studies to study in Japan. The guest contributor for this issue is Carolyn Wargula, a 2018 Japanese Studies Fellow who researched "Embodying the Buddha: The Presence of Women in Japanese Buddhist Hair Embroideries, 1200-1700" at the International Research Center for Japanese Studies as a fellow writing her doctoral thesis.
 At first glance, it may seem glamorous to conduct research on these forgotten textiles, but most of the work actually involves sitting hunched over in the library, identifying the faded characters inscribed on the back of these embroideries, and then carefully transcribing them into modern Japanese and English. I have been studying Japanese Buddhist embroideries as a PhD student for almost 5 years now, yet I have struggled to put my finger on precisely what captivates me about this topic. While a bit embarrassing to admit as an art historian, the appeal of these textiles for me has never been purely or even primarily the visual. These artworks are deeply personal and simultaneously universal, offering an intimate view of religious experience in ancient and medieval Japan.
 I just knew I had to find the answer to these questions and assembled the few sources available on Buddhist embroideries at the time; a 1960s exhibition catalogue and a handful of papers. I wanted to trace the names of their makers, who were often women, back into existence. Initially, the visuals were limited. I worked mostly with black-and-white photographs which required me to stretch my imagination to infer what colors or stitches were being used.
 There are still many discoveries to be made on this topic, which for me, is one of the deepest pleasures of my work. Writing a dissertation is a solitary activity, but the research has always felt collaborative. During my time in Japan, scholars and embroidery enthusiasts alike would mail me newspaper clippings about the discovery of Edo-period embroideries in the countryside of Niigata and Yamagata Prefecture. I would give talks on my research about hair embroideries and college students would come up to me and say, "I finally understand the proverb, 'Hair is the crucial essence of a woman 髪は女性の命' now." Their comments made me aware of the omnipresence of these Buddhist beliefs about female hair; that these hair embroideries live on in such phrases.
 Embroidered Buddhist images offer hidden stories of their maker and the world that they inhabited. The inscriptions on the back or a record about its production are sometimes all that we have to trace that man or woman's existence. Their stories are about heartbreak and the loss of a mother, a son, or a daughter. Yet their visuality provides a sense of peace and hope, that their loved one has achieved happiness in the afterlife. The embroidery's color has faded, the ritual practice it was used for seems dated and obsolete, but its subject about the fragility of life still speaks vividly to us even now.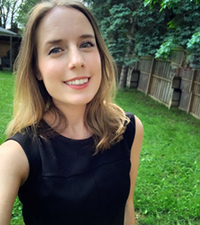 Carolyn Wargula
Born 1990 in Okinawa Prefecture, Japan, Carolyn Wargula is an American citizen who spent most of her childhood in Japan. She is a PhD Candidate in the History of Art & Architecture Department at the University of Pittsburgh. In 2018, she was the recipient of a Japan Foundation Fellowship and conducted research at the International Research Center for Japanese Studies. She is currently finishing her dissertation, "Embodying the Buddha: The Presence of Women in Japanese Buddhist Hair Embroideries, 1200-1700."