Report on the Lecture by PERSADA
Looking Back on 55 Years of History and Looking to the Future
2020.3.23
【071: The 47th Japan Foundation Awards—the Bond between Japan and the World
Nurtured by Culture, Language and Knowledge】
The Perhimpunan Alumni Dari Jepang (PERSADA: the Association of Indonesian Alumni from Japan) was established in 1963 mainly by a group of Indonesians who had studied in Japan with the goal of becoming a bridge between Japan and Indonesia. Over the years, its members have risen to approximately 8,000 former exchange students to Japan. In 1986, PERSADA and Perhimpunan Persahabatan Indonesia Jepang (the Indonesia-Japan Friendship Association) took the initiative in establishing the private Darma Persada University. With all of its 5,400 students studying Japanese, this university has the largest number of Japanese language learners in Indonesia. The university also turns out young people who will carry the future of Japan and Indonesia, with approximately 25% of graduates finding employment with Japanese companies.
The lecture held on November 9, 2019 at the Japan Foundation headquarters featured Mr. Ismadji Hadisumarto, vice president of PERSADA, and Mr. Hidekie Amangku, executive director of PERSADA. With Dr. Sakoda Kumiko, Deputy Executive Director at Hiroshima University who supervises Japanese language teaching at Darma Persada University, serving as moderator, they looked back at the history of PERSADA and spoke about its current activities and their thoughts.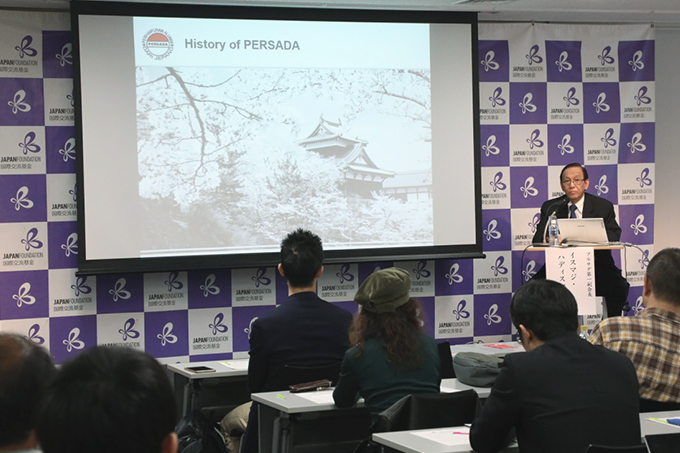 Part 1: Looking Back on 55 Years of History by Mr. Ismadji Hadisumarto (vice president, PERSADA)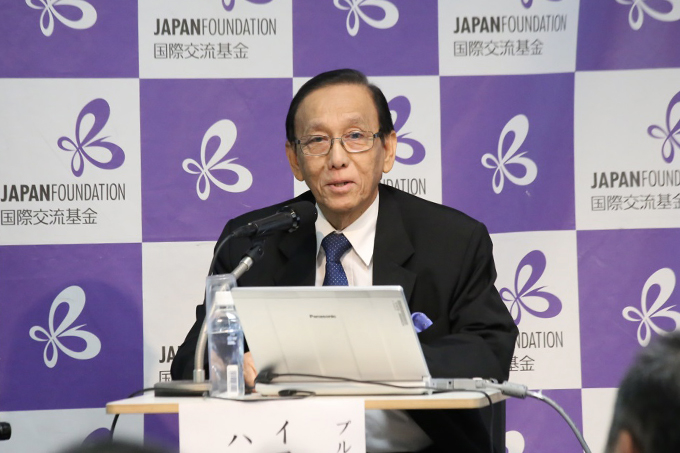 Mr. Ismadji Hadisumarto speaking about the history of PERSADA
Almost 50 years ago, in the 1970s, I came to Japan as a self-paid student to study technology. Japan is my second home. Through PERSADA's activities, I want to further strengthen the deep friendship between Japan and Indonesia and foster harmony between our countries. I feel these projects are a joy in my life.
The first Indonesian student came to study in Japan in 1932. Since then, many students have come to Japan at their own expense, including Umarjadi Nyotowijono, who later became Secretary-General of ASEAN. These students established Syarikat Indonesia in Japan. Later, based on this organization, the Association of Indonesian Alumni and other groups were established, evolving into the PERSADA of today.
Even during World War Ⅱ and during the time of Japanese rule, exchange programs from Indonesia to Japan continued, with the support of newspaper companies and from 1943 Japan's Ministry of Foreign Affairs. Former chairman of PERSADA, Yoga Sugama, and former president of Darma Persada University, W. D. Sukisman, met through the Association of Indonesian Alumni after returning to Indonesia and were employed in government service and other important positions. They eventually became involved in the foundation of the university.
When the second group of Indonesian students came to Japan in 1943 through the exchange program sponsored by Japan's Ministry of Foreign Affairs, two Indonesian students were in Hiroshima at the time of the dropping of the atomic bomb. Luckily, they survived, and later continued studying in Japan. They returned to Indonesia after graduating from Japanese universities and took up important positions at PERSADA. In particular, Hasan Rahaya, who studied at Hiroshima University, received his doctorate, started a shipping company upon his return to Indonesia and became a politician.
During the independence movement in Indonesia in 1943, young Indonesian leaders often visited Japan, explaining to Indonesian exchange students in Japan the significance of gaining independence. From 1944 to 1945, an independence movement emerged even among exchange students in Japan. In 1945, then-president Sukarno declared Indonesia's independence, but as the Dutch government did not recognize this declaration, the Indonesian National Revolution began. Exchange students in Japan also held gatherings and protests in Tokyo and Kyoto in an attempt to have the Japanese government and society recognize Indonesian independence.
In 1949, Indonesia gained its independence, and in 1958, diplomatic relations were established between the governments of Japan and Indonesia. Included in the diplomatic agreement was acceptance of Indonesian students to study in Japan as part of the postwar reparations. From 1960 through 1965, many "reparations students" came to Japan. After that, the number of students significantly increased, and the Wisma Indonesian, a dorm for these students, was built in Tokyo. Around 2,500 students lived in the 5-story building, and after learning Japanese at language schools, they went on to study at various universities in Japan.
In 1963, former Indonesian exchange students to Japan gathered in Jakarta and established PERSADA. As of 2018, there have been 6,277 Indonesian students who have studied or are studying in Japan, and PERSADA is active from the north of Sumatra to Sulawesi, with 15 branches across various parts of Indonesia. We have compiled the history of PERSADA into a book, which will be published by the end of 2020.
Part 2: Our Latest Initiatives: Centering Around Japanese Language Projects by Mr. Hidekie Amangku (executive director, PERSADA)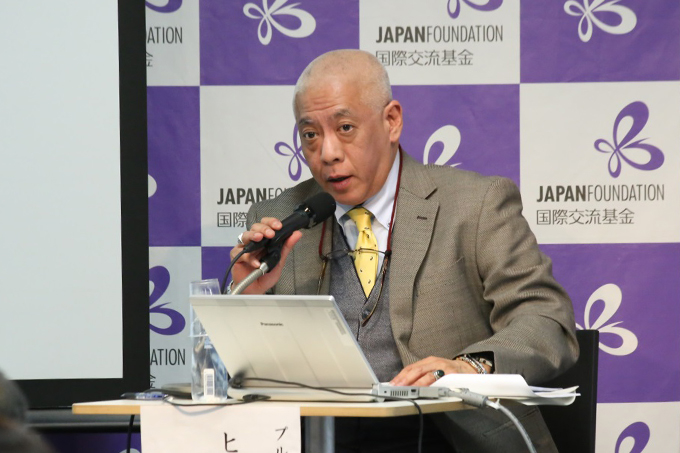 Mr. Hidekie Amangku speaking about PERSADA's activities in recent years
In addition to cultural exchange and golf tournaments, PERSADA strengthened its academic and cultural seminars from 1990 until 2000 after establishing Darma Persada University. From 2011, wishing to bring out a more Japanese flair, we began activities incorporating two Japanese phrases: monozukuri seishin (the spirit of creation) and hitozukuri seishin (the spirit of personnel training).
PERSADA upholds three themes of personnel training, cultural exchange and academic exchange.
For personnel training, we will continue to promote the program to study in Japan. We will also facilitate the generational shift at PERSADA, encourage contributions toward universities and the country and strengthen the relationship with Japan. Our Junior Program Homestay is what we are most hopeful about among PERSADA's programs. Once every two years, students from several countries stay in Japan for about two weeks. For youth, experiencing a different culture is valuable, and PERSADA hopes that students of junior high school age will develop an interest in Japan.
For cultural exchange, we will take the initiative in implementing academic cultural exchange as well as interactions with students. In addition to hosting the Japanese Language Proficiency Test every year together with the Japan Foundation, we also hold a speech contest in conjunction with the Japan Foundation, Jakarta and other organizations. We also hold a "study in Japan" fair with the participation of 80 to 90 organizations. Approximately 4,000 to 6,000 young people visit the fair each day, and the number of attendees is growing every year.
As a contest of various skills, we are trying many different formats. For example, the speech contest uses a format that tests communication capability in Japanese through presentations with slides, as opposed to memorizing a speech. We are also planning to provide "Sugaku Kentei" (Japanese mathematics-related ability tests) and etiquette tests to acquire Japanese hospitality, the way of servicing and more.
For academic exchange, we provide advice on exchange programs and university operations, guidance for teachers and more in cooperation with a consortium of 11 Japanese universities established in 2017. We are working to enhance the skills of Japanese language teachers so that students will have better employment opportunities in Japan. Right now, comparative research is under way between Darma Persada University and the Advanced Institute of Industrial Technology, a Japanese university. They are investigating Sumba, an island east of Bali, researching policies to promote tourism projects through comparisons with Japan's own remote islands.
We hope we can continue to incorporate Japanese culture, society and ideas into PERSADA, showcase more of a Japanese flair and create new and different features as former exchange students to Japan.
An Enthusiasm Toward Japanese Language Study Supported by Many Talented People—The History with Darma Persada University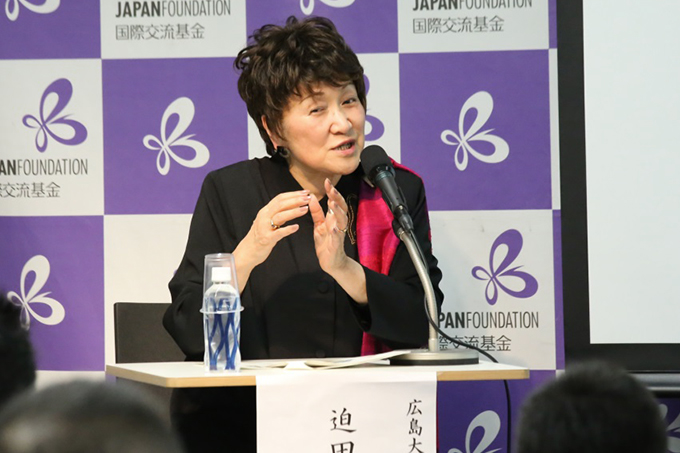 Dr. Sakoda Kumiko acting as moderator for Mr. Hidekie Amangku's lecture
Dr. Sakoda Kumiko, Deputy Executive Director of Hiroshima University, took the lead in supporting syllabus creation for Japanese language education at Darma Persada University and served as moderator for the lecture. She spoke about PERSADA and Darma Persada University.
Hiroshima University and Darma Persada University entered into an exchange agreement and conduct research and interactions, including the establishment of the PERSADA-HU Collaboration Project Center in Indonesia. Hiroshima University is a member of the consortium of 11 Japanese universities that support Darma Persada University. Multiple universities, including Hiroshima University, cooperated with the Japan Foundation and the Japan Indonesia Association in the creation of a syllabus and curriculum for Japanese language education at Darma Persada University. In creating these documents, we visited Indonesia several times, listening to the concerns and requests of teachers and holding lesson planning workshops and seminars. We devised ways to make learning fun, such as incorporating games into class and using manga and other themes that show the real Japan. The important thing is maintaining our connections. We are still currently involved in mutual exchange, and we aim to improve the level of Japanese language education.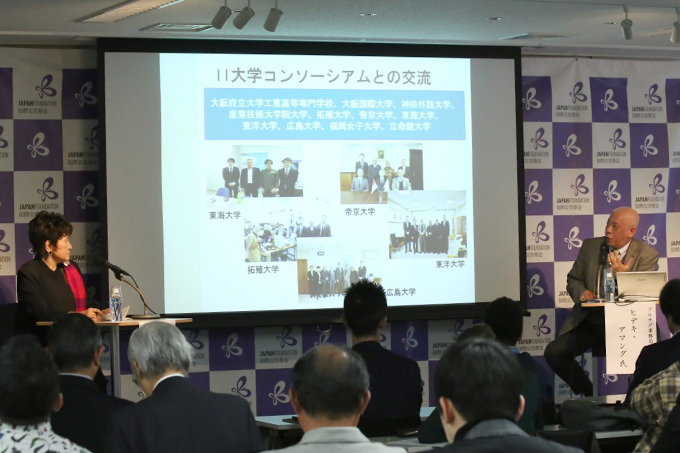 What impressed me most in Indonesia was the enthusiasm and the desire toward Japanese language study of both the Indonesian teachers and undergraduates. I sensed that teachers were more aware of the need for improving Japanese proficiency than students themselves. Many students are studying Japanese to have an edge in future employment or work for a Japanese company. In every class, I was impressed by the sight of lively exchanges between students and teachers and enjoying themselves.
PERSADA always regards Darma Persada University as important, and I feel that they are guarding and fostering the university's activities. These former exchange students to Japan have become prominent players in the political and business worlds, including executives at Japanese companies and successful entrepreneurs, and created positive networks. They struggled in a foreign land far from home, which eventually bore fruit, returned to Indonesia and found employment. I feel they have had a desire to give back to Japan in any way possible. Their feelings toward Japan are the same as the feelings we have when reminiscing about our teachers or the school buildings. Or maybe an even greater kind of fondness.
Coverage and Text: Terae Hitomi (the Japan Foundation Communication Center)
Photography: Katano Tomohiro