Report on Lee Soo Hyun Youth Exchange Program in Japan
―Aiming to Build a Bridge between Japan and Korea―
2020.4.1
Nineteen years have passed since a Korean student and one other person lost their lives trying to rescue a Japanese citizen who had fallen onto the tracks at JR Shin-Okubo Station in Tokyo in 2001. Since 2002, the Japan Foundation Japanese-Language Institute, Kansai has been honoring the spirit of Lee Soo Hyun by inviting Korean high school students, who will lead future Japan-Korea exchanges, for training every year in Japan.
In January and February 2020, a total of 17 high school students selected from across Korea stayed in Osaka, Kyoto and Tokyo. The aim was to cultivate a deeper understanding of Japanese culture and society through exchanges with Japanese high school and university students and visits to ordinary households during the approximately two-week itinerary.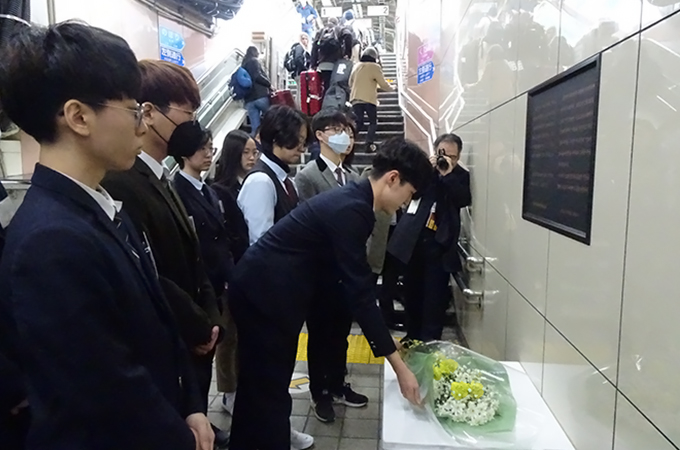 Korean students offer flowers at JR Shin-Okubo Station where Mr. Lee lost his life.
On the evening of January 26, 2001, two men jumped down onto the railroad tracks to rescue a Japanese man who had fallen from the platform at JR Shin-Okubo Station. One of the rescuers was Japanese photographer Sekine Shiro (then 47 years old) and the other was Korean student Lee Soo Hyun (then 26 years old). Sadly, they were unable to escape before an oncoming train and all three lost their lives. This heart-wrenching accident was widely reported in both Japan and Korea at the time. Mr. Lee's courageous actions transcended national borders and received heartfelt praise.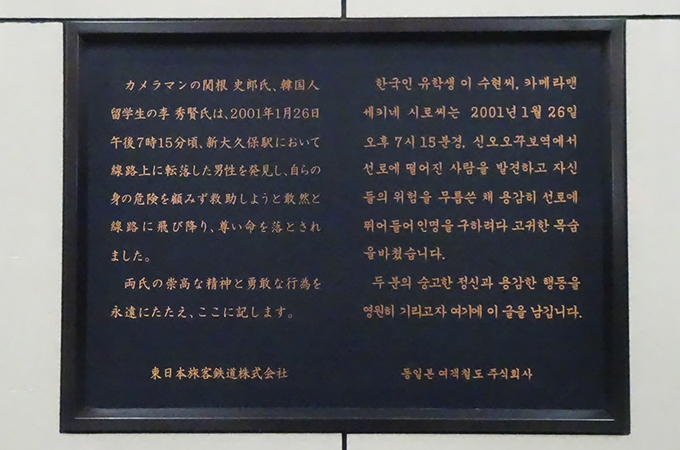 Memorial plaque inside JR Shin-Okubo Station
Mr. Lee arrived in Japan in January 2000 after graduating from Korea University in Korea. With a desire to get a job where he could serve as a bridge between Japan and Korea in the future, he was studying Japanese at a Japanese language school in Nippori, Tokyo.
Honoring Mr. Lee's humanitarian and courageous action, since 2002 the Japan Foundation has been holding the Lee Soo Hyun Youth Exchange Program by inviting Korean high school students to Japan who aspire to carry on Mr. Lee's wishes and serve as a bridge between Japan and Korea in the future. Over 300 Korean students have participated to date.
The seven male and 10 female students were chosen from across Korea. After visiting a high school and ordinary households in Osaka, they traveled to Tokyo and visited JR Shin-Okubo Station where the accident occurred on February 4. They placed flowers at a memorial plaque on a wall near the stairs leading to the platform and then offered a silent prayer at the scene of the accident.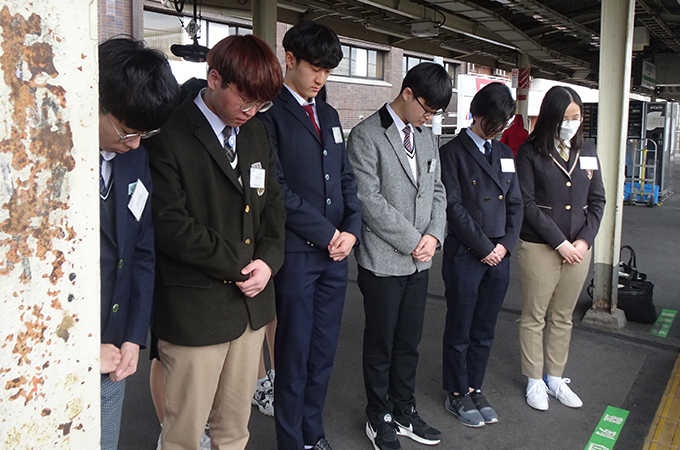 Students offering a silent prayer near the location where Mr. Lee tried to rescue a man
Following the commemoration, group leader Kim Seong Su (12th grade/Busan) remarked in fluent Japanese, "I've always thought that Mr. Lee was a very courageous man. As I offered a silent prayer in person at the scene of the accident, I was able to know about him even more deeply."
Also speaking in Japanese, assistant group leader Park Hye Min (11th grade/Daegu) said, "When I read about this accident in a book, I wondered whether I would have the courage to rescue a foreign national. I'm so deeply moved by Mr. Lee's actions. At the same time, I am grateful I was given this opportunity to participate in the program."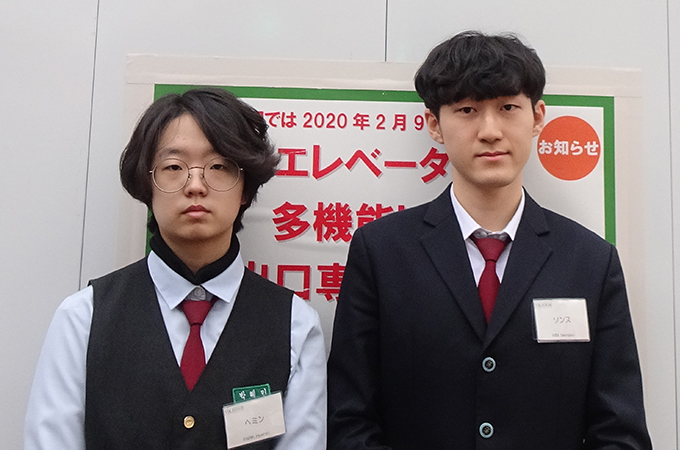 Assistant group leader Park Hye Min (left) and group leader Kim Seong Su (right)
After visiting JR Shin-Okubo Station, participants went to the Akamonkai Japanese Language School where Mr. Lee attended. Here, the students reflected back on Mr. Lee's life by touring the school's facilities that included a park commemorating him and interacting with the school's teachers and staff who warmly welcomed them.
During the two and a half days in Tokyo, the students went sightseeing in tourist spots such as the Tokyo Metropolitan Government building, the Edo-Tokyo Museum and Asakusa, as well as learned about diversity in Japan. They also visited the Japan Foundation headquarters and introduced themselves in Japanese.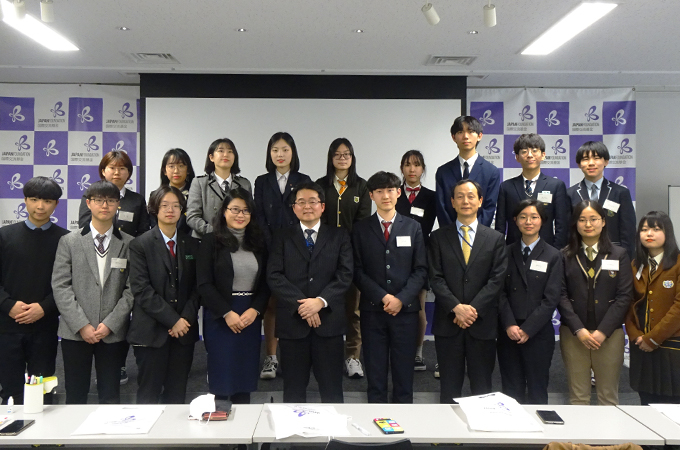 Commemorative photograph with Japan Foundation headquarters staff.
There was a student who participated in a program for studying Japanese culture at the Japan Foundation, Seoul when she was in junior high school, and she was overjoyed to see her former center director again. The Japan Foundation staff also included a former student who came to Japan through the 4th Lee Soo Hyun Youth Exchange Program held in 2005. Participants listened eagerly about her job at the Japan Foundation or working in Japan.
In addition, the students visited Ritsumeikan University in Kyoto and Osaka Prefectural Sano Senior High School near the Japanese-Language Institute, Kansai to deepen exchanges with students of their same generation. The day before returning to Korea the students held a presentation on the results of the program to students from Sano Senior High School and local residents who accepted the students for their home visits.
They confidently presented their impressions of the visit based on their respective viewpoints. One student said: "From watching anime, I thought Japanese high school students had colorful hair and were free to choose their own fashions. In actuality, however, most students have black hair and school rules appeared to be strict. I was surprised to see that students were very active in traditional club activities such as calligraphy and tea ceremony." Another student commented: "Seeing the torii gates at Fushimi Inari Taisha Shrine and the ema (wooden plaques on which people write their wishes) at Kitano Tenmangu Shrine, I could feel the wishes and prayers of many people. I got the impression that the Japanese people value their own country's culture and history." Other comments included: "I also found similarities between the two countries. For example, both Tokyo and Seoul have convenient transportation systems and everyone is very busy. Also, it seems in these cities there is a slight difference between what people say and their true feelings. Meanwhile, Busan and Osaka are famous for their distinctive dialects and people approach each other in a friendly manner."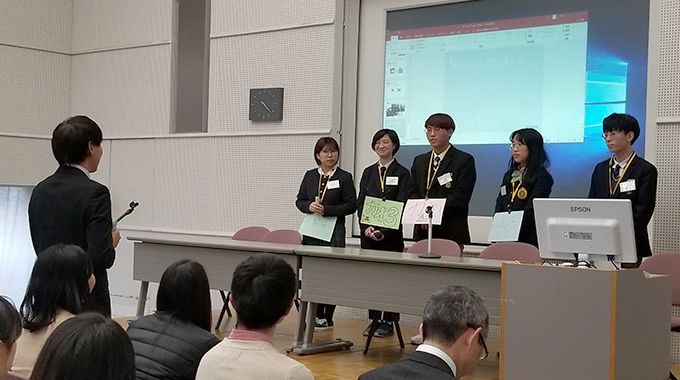 Students answer questions following team presentations.
In his address at the farewell party, group leader Kim reflected back on his experiences, "I'll never forget about this program and about meeting numerous invaluable friends, about studying and having fun together." The students also sang a Japanese song as a surprise gift to express their feelings of gratitude to the people who accepted them in Japan. After a lingering farewell, they parted ways with a smile and vowed to meet again.
Assistant group leader Park added, "I hope to see increased opportunities for interaction in the private sector so that young people who will lead their countries in the future will participate in such programs and become friends." These young participants share the same desire as Lee Soo Hyun to serve as a bridge linking Japan and Korea. By visiting the same places as Mr. Lee and interacting with many people through the program, this desire appears to have been further strengthened.
Interview/photos: Segawa Yoko (Japan Foundation Communication Center)
Text: Segawa Yoko, Terae Hitomi (Japan Foundation Communication Center)