The Power of Reimagining Cultural Tradition
2020.7.17
【072: Japan 2019: Japanese art blossoming in the United States】
Carol Martin
(Professor of Drama at New York University and
Affiliated Faculty at New York University, Abu Dhabi)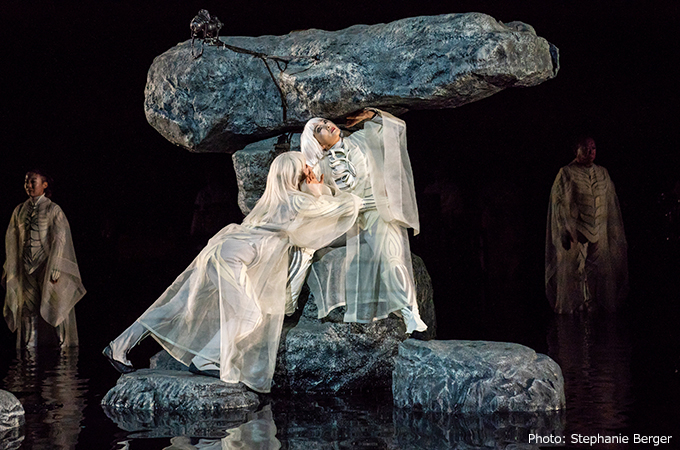 Miyagi Satoshi's Antigone
As I once said to a group of Japanese theater scholars: "I am not a specialist in Japanese theater, but my daughter was born on the day Ohno Kazuo, the cofounder of Butō, performed at Asia Society." My lighthearted but true statement revealed something deeper about cultural affiliation. In the sweltering heat of the summer of 1988, while holding my newborn daughter, Sophia, I was well aware that another drama of life was happening at that same moment just around the corner from Lenox Hill hospital.
The lifespans of cultural endeavors and the people who make and view them are intimately related. In New York City, both traditional and contemporary Japanese theater forms a web of relationships among forward-thinking presenters, knowledgeable and creative scholars and artists, and receptive spectators and critics. This web of relations creates the possibility to engage with inimitable Japanese aesthetics, progressive ideas about art, and the gifted artists who create the works.
The role of nonprofit funding institutions and foundations―some of which, like the Japan Society and the Japan Foundation, have antecedents in the early twentieth century―deserves considerable attention. Institutions like these have a formidable history of presenting and funding generative cultural exchange. Not only do they present culture, they create it. Since 1972, the Japan Foundation has supported cultural exchange throughout the world to enhance mutual understanding between Japan and other countries. Equally important, the leadership and mission of cultural organizations directly affects global artistic culture and audience access to that culture. Matsumoto Kenji, the now former Deputy Director General of the Japan Foundation, New York, emailed me in November 2019 in response to my request for information regarding Okada Toshiki's performances in New York City: "One of the points on my agenda as a young Program Director of Arts & Culture at the Japan Foundation, New York, was to create a forum where Japanese and American theater professionals could meet and exchange ideas so that Japanese plays could be introduced to American audiences."
Although the "forum" to which Matsumoto refers was held in autumn 2007, its results continue to animate the reception of Japanese productions in New York City today. Sophocles' Greek tragedy Antigone, directed by Miyagi Satoshi and performed at the Park Avenue Armory, and Chikamatsu Monzaemon's Edo-period Sonezaki Shinjū (The Love Suicides at Sonezaki), titled Sugimoto Bunraku Sonezaki Shinjū when presented at Lincoln Center's White Light Festival, are two examples. In both plays, lovers―in one case, a couple of royal pedigree, and in the other, a pair of ordinary working-class people―die in response to a corrupt world.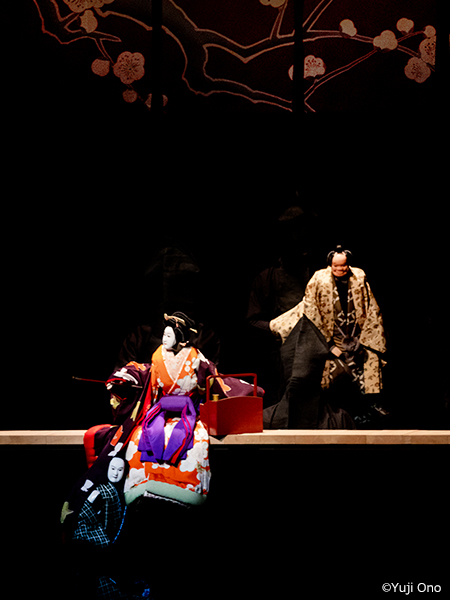 Sugimoto Bunraku Sonezaki Shinjū
Sonezaki Shinjū is based on a real event in eighteenth-century Japan: a clerk and a courtesan committing suicide in the forest of Tenjin. In the play, Chikamatsu joined forbidden romantic love to religious belief by suggesting that lovers who consummate their relationship in a double suicide would reunite in a Buddhist paradise. First performed in June 1703, just one month after the real lovers' suicide in May of the same year, Chikamatsu's play made such a great impression that the incidence of love suicides increased both on and off the stage. This provoked the Shogun in 1722 to prohibit all plays using the word "shinjū." In the 2019 U.S. premiere, the renowned artist Sugimoto Hiroshi presented a contemporary interpretation of the classic drama using Bunraku with music by Living National Treasure Tsurusawa Seiji, and video by Tabaimo and Sugimoto Hiroshi.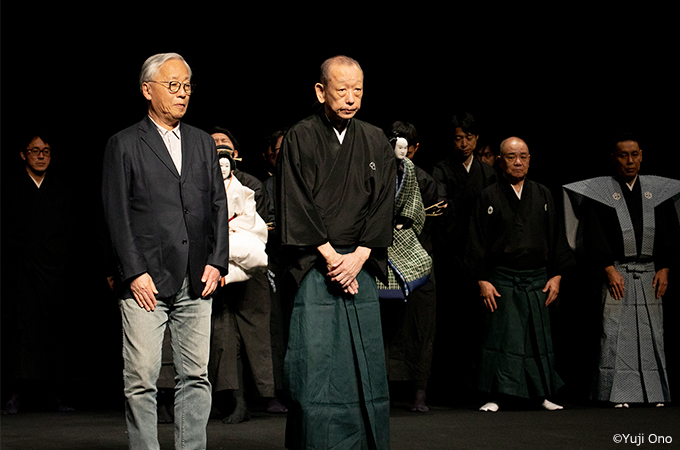 Sugimoto Hiroshi (left) and Tsurusawa Seiji (center)
Here's the story. An Osakan soy sauce shop worker, Tokubei, falls in love with the courtesan Ohatsu and hopes to buy her freedom. His uncle, however, wants Tokubei to marry his niece, so he gets Tokubei's stepmother to accept a dowry on Tokubei's behalf. When Tokubei rejects the plan, his uncle disowns him. Upon getting the money back from his stepmother, Tokubei naively loans it to a dishonest oil merchant. The merchant double-crosses him by claiming that Tokubei forged the IOU. Adding injury to insult, the merchant beats and humiliates Tokubei in public. Sugimoto underscores the unconscionable human corruption of the oil merchant, who has no motive other than greed and the perverse pleasure of being able to dupe and humiliate Tokubei. The merchant's treachery is born out of his unbounded venality. Demoralized by the corruption, the couple lose hope for an earthly future for their love, deciding to commit shinjū to unite their souls in the afterlife.
At the beginning of the play, as Ohatsu rushes from shrine to shrine, video artist Tabaimo uses animation to create illusions of space and movement. During the lovers' journey to the bridge under which they kill themselves, Tabaimo projects the woods moving behind them to depict their urgent rush to escape the world. Focused lighting (instead of general lighting) illuminates the puppets' faces and softly differentiates the shamisen players and chanters in the side space. Animation and lighting situate the characters somewhere between the real world and the stage world, imbuing them with a powerful liminal reality. The production reiterates a beloved story, rattles the staging tradition of its telling, and slyly links its theme of treacherous corruption that destroys the dreams of the younger generation to the present day.
The story of Antigone (played by the extraordinary Micari) is simple enough. Antigone defies the dictate of her Uncle Creon (Abe Kazunori) denying her brother Polyneices burial because he acted as an enemy of the state. In burying her brother, Antigone invokes the laws of religion, asserting that the laws of the gods are above those of man. Her insistence sets her on a collision course with Creon as both refuse to compromise their positions. In modern theater, Antigone is typically portrayed as righteous and Creon as a dogmatic and insecure new king. Both now and in the past, there have been many other, diametrically opposed interpretations of the original Antigone. Which is to say that interpretations proliferate.
Miyagi's interpretation imagines a Buddhist resolution to Antigone and Creon's seemingly intractable conflict. Working with designer Kiz Junpei, he creates a floating world, a black stage environment flooded with 18,000 gallons of water. The 29 performers in white robes, costumed by Takahashi Kayo, flow through the liquid stage dotted by large rocks suspended between the laws of man and the laws of the gods. "I want to convey to the audience," Miyagi writes in a program interview, "a point of view that doesn't bifurcate things into being 'of god' or 'of the devil.' I'm trying to make those kinds of borders less abrupt―more ambiguous." Water is the fluid medium that mediates Antigone and Creon's points of view and questions an absolute opposition between life and death.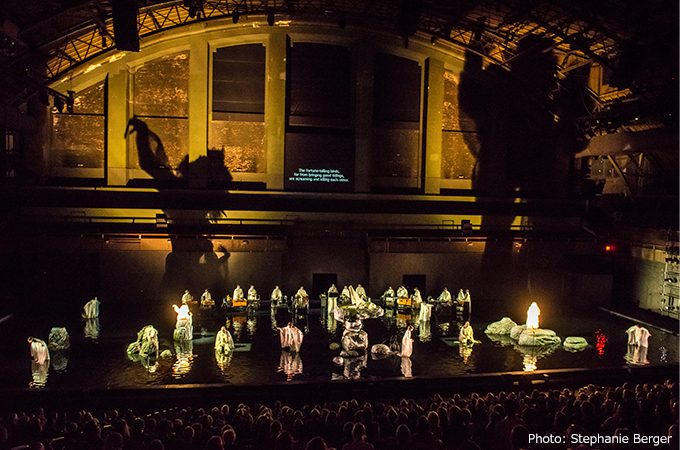 Miyagi Satoshi's Antigone
Drawing on Bunraku, Miyagi has two actors, a mover and a speaker, perform each character in a manner that includes stylized physical postures and gestures creating the illusion of a world beyond human reality. Tanakawa Hiroko's original music (performed live) builds suspense while creating calm, setting the actors apart from Antigone's defiance and Creon's rigidity. Antigone sits on a stack of rocks at center stage, casting an enormous shadow on the Armory's back wall, while Honda Maki kneels in the water, speaking her lines in the first person. The resulting mythic sphere is beyond human desire. At the end of the production, a priest on a raft floats paper lanterns representing the souls of the deceased. Finally, in a procession reminiscent of the slow walk between this world and another on the Hashigakari in Nō theater, the actors circle the stage like ghostly participants in a dreamlike, bon odori dance.
In this way, the world Miyagi creates for his Antigone is not unlike the world of Tokubei and Ohatsu who, in making a great effort to appear beautiful in their death, link beauty with impermanence. "No one is there to tell the tale, but the wind that blows through Sonezaki Wood transmits it, and high and low alike gather to pray for these lovers who beyond a doubt will in the future attain Buddhahood," writes Chikamatsu at the end of Sonezaki Shinjū, an ending that also pertains to Miyagi's Antigone. Audiences very much appreciated Miyagi's Japanese-centric interpretation of a favorite ancient Greek play. Time magazine ranked it among the top 10 theater productions of 2019, perhaps indicating the time is ripe for Americans to puncture the illusions of earthly desire.
New Yorkers were fortunate to have these two extraordinary productions in the same theater season. The season continues in spring 2020 with NYU Skirball presenting Okada Toshiki's Eraser Mountain, Noda Hideki's One Green Bottle at La MaMa, and Japan Society presenting Hirata Oriza's Control Officers + 100 Meters*. New birth, new ideas, a new Antigone, and new interpretations. Add to this Yamamoto Suguru's The Unknown Dancer in the Neighborhood at Japan Society this past January.
For my daughter, Sophia, Japan meant cherry blossoms, green tea, simplicity, chaos on Takeshita Street in Harajuku, politeness, children taking off their shoes to stand on subway seats, anime, chopsticks, kimono, bowing, sushi, Murakami, and Kurosawa's film Dreams. Nature, fashion, social codes, food, and culture. Today, two decades later, Sophia is an entertainment attorney. Far from Japan, yes, but some of her most decisive memories were formed as a child in relation to Japanese culture. For my part, Japan was the first foreign country I ever visited. During that trip, I saw a production of Kiyotsune, Nō play in Nara that led to a lifetime of viewing Japanese theater of all kinds. Sophia's experience and mine, and these theater works, are the basis for an imaginary that connects people across cultures.
Do I think of these two present-day productions as a form of "soft power"? No. The very idea of soft power is in opposition to military and economic "hard power." Instead, these two works make us engage the Buddhist idea of understanding cultural, diplomatic, and historical influence, not as being in opposition to military and economic power, but as influencing all forms of power relations. What could be stronger than that?
*The presentations of Control Officers + 100 Meters were canceled due to COVID-19.


https://www.jpf.go.jp/e/about/area/japan2019/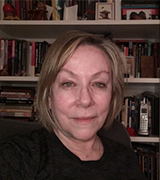 Carol Martin
Carol Martin, Ph.D. is a Professor of Drama at New York University and affiliated faculty at New York University, Abu Dhabi. For Miyagi's tour of Antigone, she was invited to conduct the Artist Talk with Miyagi at the Park Avenue Armory. Martin has published many books and articles on contemporary performance that have been translated into several languages. In 2006, she had a Fellowship at the University of Tokyo that enabled her to live in Japan for a semester. Her book series, "In Performance," includes anthologies devoted to the work of Hirata Oriza and Kawamura Takeshi. She co-edited a special issue of the theater journal TDR on Japanese theater, which was designated Best Issue of the Year by the Professional/Scholarly Publishing Division of the Association of American Publishers (AAP).