Crossing Borders, Engaging in Exchanges and Harnessing the Power of Creation amid COVID-19
Interview and Contribution Series <2>
Ogawa Nozomu, Director, Art Center Ongoing
February 8, 2021
[Special Feature 073]
In this second issue of our special feature "Crossing Borders, Engaging in Exchanges and Harnessing the Power of Creation amid COVID-19" (click here for a special feature overview), we welcome Ogawa Nozomu, who founded and represents Art Center Ongoing (hereafter, Ongoing), a complex art institution in Kichijoji, Tokyo, featuring a gallery and café. Though valued as a space for a variety of people to gather and interact through art, Ongoing was forced to close temporarily during the state of emergency. How did Ogawa find a way through this situation?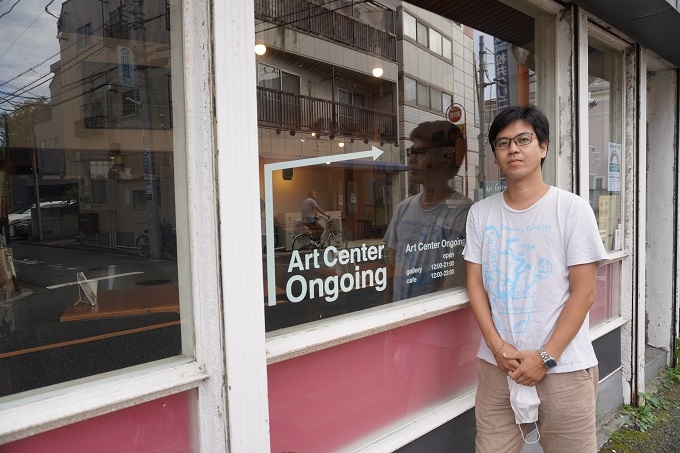 ――Can you tell us about how you started Ongoing in 2008?

I used to host Ongoing, an exhibition of works by the general public, once a year since 2002. Participating artists made presentations to each other and voted while changing the theme and location, including closed schools and restaurants in town. Without any money or connections, we searched for public venues and made phone calls one by one, explaining what we wanted to do. I thought it was meaningless unless we did it at a location that was thoroughly connected to society.

Through meeting more than 300 artists around my age, I always had the idea of creating a space where rather than something like a once-a-year festival, they could gather a little more constantly and art lovers could come to hang out and meet them. I had said this to the artists around me for a while, and around 100 people helped me renovate an empty property to create the art center.
――Did you study art management during your time at Musashino Art University?

No, I created things on my own while in undergraduate and graduate school. When I created the art center, I switched to the producing side as I didn't have enough time or energy to do that and create. I was interested in creating a space, and in creating our own values by thinking for ourselves.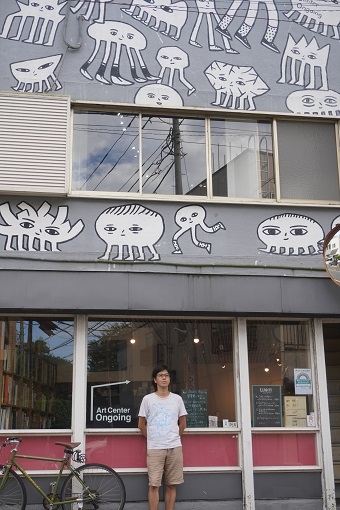 In front of Art Center Ongoing. Dex Fernandez, a Filipino artist, painted the mural.
――You stayed open even after the 2011 Great East Japan Earthquake, but you canceled exhibitions for the first time in April and May of 2020 with the declaration of the state of emergency. How have you been affected by COVID-19?

There were artists who had to cancel exhibitions. I'm going to study in Austria for one year from March 2021 as part of the Agency for Cultural Affairs' Program of Overseas Study for Upcoming Artists, and so we decided to close and then relocate and reopen when I return to Japan. If we hadn't decided to close, then it would have been okay to just postpone the exhibitions. I felt bad for the artists who were scheduled to have their art exhibited as it was our last year at this location and they poured all their energy to their creations. There were artists who planned to collaborate with outside people to create their art, but they couldn't because of COVID-19.

Even with TERATOTERA, an art event along the Chuo Line that I work as director for, we tried to host an exhibition and symposium in May 2020, calling about three art collectives respectively from Southeast Asia and Japan, but they were all canceled. Although it was a shame that various collectives weren't able to gather in person in Tokyo, we decided to do it online instead from October 15 to 18.

Also, in the Artist in Residence program, in which we take in overseas artists, we used to host about five artists every year for two months each and hold an exhibit, but all of the artists were unable to come to Japan. It has been painful financially as well because we have to continue paying the rent on the rooms we had prepared for them.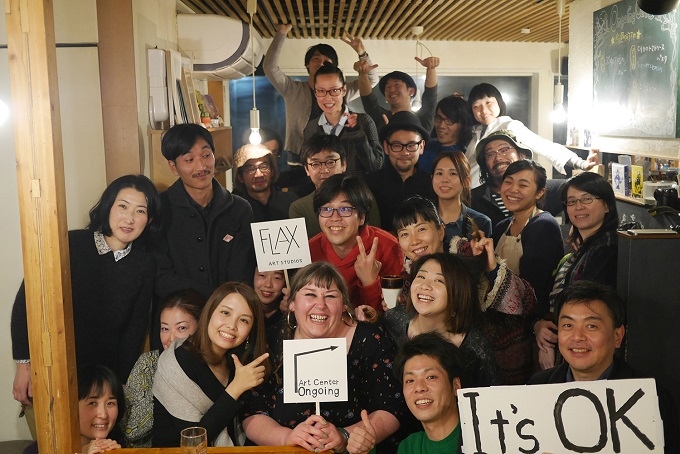 Gathering around Ongoing artist-in-residence Deirdre McKenna (front center) in 2015 (Photo courtesy of Mr. Ogawa)
――What did you do to counteract COVID-19?

We started the Ongoing Stamp Card Drawing Project in August. We created stamp cards to be exchanged for event entrance and drinks. Featured on the back of the cards, which were sold for 10,000 yen, are hand drawings by artists from Japan and abroad with whom we have connections. We planned to produce only 200 cards, but surprisingly many artists wanted to participate. Each artist created two or three drawings, even though it was for charity, and we made about 250 cards. I am so grateful that all these artists graciously participated, not wanting the art center to go under. We've sold about 140 cards so far, and since we made it so that they also can be used at the new Ongoing, I really need to create a new space once I get back from Austria!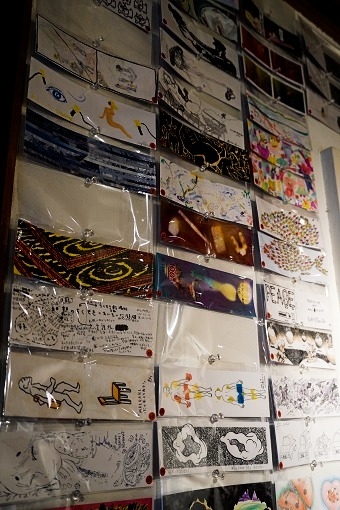 Stamp cards with artists' hand drawings. The designs are also posted on the Ongoing website.
Since May, we have also been distributing Ongoing Studio via YouTube, a donation-based talk show where artists talk about the pandemic and their creative process. Even though we haven't gotten any donations yet, I think it is important to hold online events so at least people can have an interest in exhibits and artists through the talk show.

Actually, Ongoing has always been in a precarious situation in which we would have to shut down if we didn't have any visitors for a week. Because of this, we have to continue with two-week exhibits without a gap. With COVID-19, I thought we would have to shut down as we couldn't do exhibits and people stopped coming, but we've managed somehow with the Ongoing Stamp Card Drawing Project and Ongoing Studio. Nevertheless, emotionally, it's difficult. We tried to connect online; however, since this was a place that was always full of people and then everyone suddenly became unable to come, I couldn't shake the thought that this wasn't what the art center was supposed to be. But everyone around me supported the center in various ways, and I thought there was no point in stopping.
――What do you think about the state of art and society since the pandemic started?

I really wonder if art can function if we can't meet other people. I wonder if it will all be digitalized, and people can encounter art without having to go anywhere. If that's the case, a place like the art center will truly become unnecessary. Having said that, as the center is a gathering place for people who are seeking a more personal, direct connection, I guess it will go underground.
――Like hosting events in secret?

Yeah! Because I don't think the desire to meet others in person and create something in real time will go away. If that happens and it does go underground, I think that is interesting in its own way.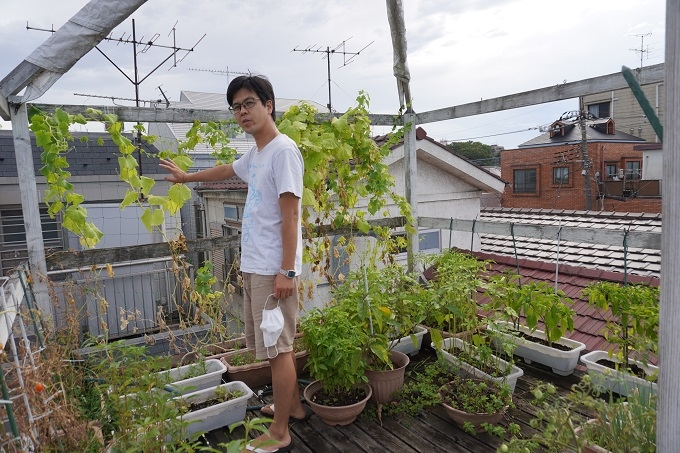 A rooftop garden Mr. Ogawa created with artists. Some of the vegetables harvested are served at the café.
――Have your views changed amidst the current social changes?

Well, currently, movements for all sorts of political correctness*¹ have been happening across the world, and it has come to the art world as well. It is a good thing. But somehow I think it would be a little boring if everything in the field of art also has to follow political correctness. Because of COVID-19, we have had to maintain social distancing and keep everything clean. In such an environment, issues in society which had been swept under the carpet have come to light. I felt that trying to eliminate or find "correctness" to these problems was a little unsettling. I want to create a place as a form of art in and of itself to do something interesting rather than something that is correct. Art should be something fun. Art should be a platform that allows people to gather and share the joy of spending time together in the same space and that is invaluable. I wonder if we have entered into a period where we consider problems using only our heads. I think art is meant to present a completely different set of values in a way that takes something that society considers ordinary and turns it upside down.

I doubt the idea of taking action because something is "correct." I like it when many opinions appear, starting with people gathering here and listening to what everyone thinks about what is going on in society. We try to be open and inclusive. We don't mind either if someone we don't know is present.
――You also formed the Ongoing Collective, which is an art collective of people involved in art. How did you come to start this collective?

When I was going around Southeast Asia for three months researching art spaces as a Fellow of the Japan Foundation Asia Center in 2016, I saw many collectives and thought that something like these was necessary in Japan, too. After returning to Japan, I reached out to about 50 people who might take an interest in collaboration and immediately launched the collective. I thought it was necessary to have a kind of community to connect people through art as a place for a variety of people to frankly exchange a variety of opinions. It didn't really matter whether we held exhibits or not. The collective is made up of about two-thirds artists and one-third curators and other art-related professionals. The collective is fluid and the direction isn't fixed. Everyone doesn't have to follow along or participate.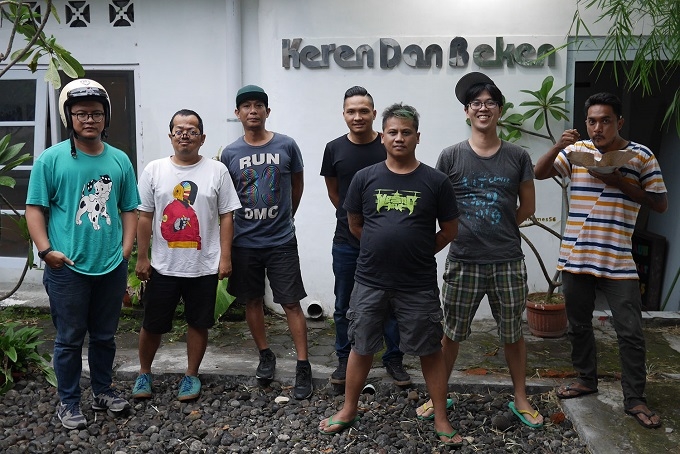 A photo when Mr. Ogawa visited the art space of Ruang MES 56, a collective in Yogyakarta, Indonesia, as a Fellow of the Japan Foundation. This collective was also invited to the 2020 TERATOTERA Festival (Photo courtesy of Mr. Ogawa)
I have been running the art center by myself the whole time, but I thought that it would be better for the collective's future to have the direction loosely decided by everyone as there would definitely be limitations at some point if I decided everything and pulled everyone along.

In general, we come to meet here at our convenience. It's only once a year that all of us get together for a general meeting. Since we can't even do that now, we are holding online meetings about once every other month. With a variety of opinions going around among the collective members, it's interesting that these meetings have become an opportunity to think.
――What do you do when there are opinions within the collective that are completely opposing? Do you decide on one or the other?

We haven't been pushed into a situation where we have to decide on one, but maybe someone will become less outspoken. I really hate the idea of putting out a manifesto or declaration as a collective, and there's really no need for us all to become one voice. We can all agree to disagree, and there's really no need to point the finger and say, "Your view is wrong."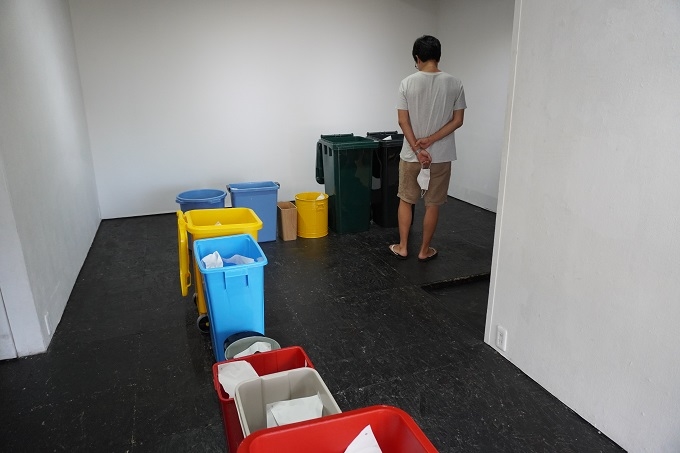 At the gallery during Tomii Motohiro's exhibit, wastepaper and space (Exhibit has ended.)
――It sounds like the collective can present a possibility of how a variety of people can coexist.

I think so. I believe everyone is somehow beginning to realize that the collective is effective in that we don't adhere to a single view. I also feel that many members of the collective are finding it interesting that although we think we share similar interests and are heading in the same direction, each of us has a slightly different view. Until a generation ago, it was believed that to be a successful artist you have to do certain things in a certain way. We finally began to realize that it was a misguided notion. Likewise, I think the collective functions as a way to realize that even our beliefs are not absolute.

A spirit of mutual forgiveness may be something fundamental to collectivism. Rather than fixating on the idea of "It has to be this way," mutual compromise is necessary for coexistence. I hate the idea of saying I am "right." Something is "right" only from a certain point of view. What is "right" for one person can be the exact opposite for another person, and it's all relative. We need to live while understanding this. It is scary to believe in one's own absolute correctness. I think this came to light especially during the pandemic. There are many artists who are comparatively flexible, so it may be important to learn from this attitude.
*¹ Political correctness
The act of using neutral phrases or words that do not include prejudice or discrimination due to differences in race, gender, religion, etc.
September 2020 at Ongoing in Tokyo
Interview/text/photographs: Terae Hitomi (Japan Foundation Communication Center)
* The interview was conducted giving consideration to measures against COVID-19.