Crossing Borders, Engaging in Exchanges and Harnessing the Power of Creation amid COVID-19
Interview and Contribution Series <3>
Kitagawa Fram, Art Director
February 22, 2021
[Special Feature 073]
In this third issue of our special feature "Crossing Borders, Engaging in Exchanges and Harnessing the Power of Creation amid COVID-19" (click here for a special feature overview), we welcome Kitagawa Fram, who directs numerous art festivals in Japan and overseas, including the Echigo-Tsumari Art Triennale (Echigo-Tsumari area in Niigata Prefecture) and the Setouchi Triennale (Seto Inland Sea area). How did he come to the conclusion to postpone some art festivals due to COVID-19? How are community exchanges through art carried out now that crossing national borders has become harder due to the spread of the virus? To find out, we visited Mr. Kitagawa's Tokyo office where art festival staff are busy making preparations remotely.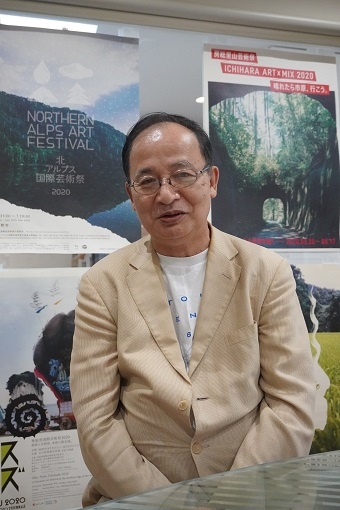 The office is also adorned with posters for art festivals that have been postponed.
――Among the art festivals in Japan that you serve as director, you decided to postpone the Ichihara Art x Mix (Ichihara City, Chiba Prefecture), the Northern Alps Art Festival (Omachi City, Nagano Prefecture) and the Oku-Noto Triennale (Suzu City, Ishikawa Prefecture). Why were these postponed while other art festivals shifted to an online format?

When COVID-19 began emerging around January 2020 in Japan, we had an uneasy sense that this virus could pose a major problem. Given this, we decided to postpone these festivals to make sure they could be held on their originally planned scale at some future date.

Art festivals can often be held online. However, postponement is not an option for performing arts because a one-year delay means rearranging the schedules of the performers, which could be difficult. Some productions for such festivals as the Ichihara Art x Mix were nearly completed, but after discussions with various local authorities, we decided to postpone the festivals in order to hold them as planned later on.

During this waiting time, however, distances between artists and us gradually grow. Recognizing this, I launched a project called Artists' Breath*¹. For this project, I ask participating artists from Japan and overseas to post a two-minute video on Instagram describing how they are spending their time and what they are thinking. This project has been ongoing every day since June 15, 2020, and we plan to continue it well into 2021 as a project commissioned by the Agency for Cultural Affairs.

Generally, artists are exceptionally physiological, insightful and intuitive people. So there is really a diverse variety of personality types compared with in other genres, which makes them extremely interesting. I started it in the hope that the lives and thoughts of these artists could someday serve as a valuable archive of the difficult times of this pandemic.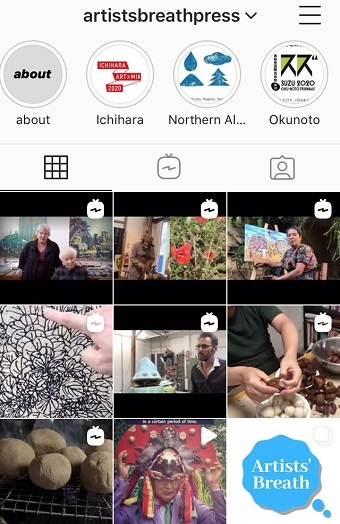 The account for Artists' Breath that introduces the currently evolving shape of each artist's "breath"
Although the art festivals themselves have been postponed, I've been able to discuss matters with the artists in more detail than usual. I've also tried to learn about and stay in touch with the people of the areas where the festivals were to be held if visiting them was possible.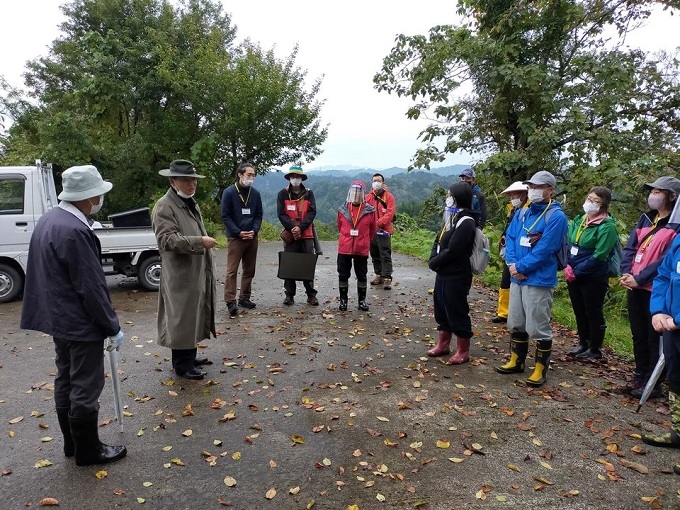 Mr. Kitagawa holds Fram Juku classes to train event organizers in various locations that host art festivals. Participants observe Tsumari's flora, fauna and insects while strolling through satoyama (undeveloped woodlands) in Tokamachi City, Niigata Prefecture, in October 2020. (Mr. Kitagawa is second from the left; photo provided by Mr. Kitagawa.)
At the same time, we have kept soliciting works for each art festival. Interestingly, we have been receiving an unprecedented number of works, including those from overseas. One of the reasons may be that interest in fine art, culture and art in general is rising. Another possible reason may be because there aren't many exhibitions being held these days and everyone is applying to ours.
――Will the contents of the programs change as the festivals are postponed?

Some changes will be made. The artists will probably modify their works slightly, too. There is still time remaining until the events so changes can be made little by little.

Currently, nobody from abroad can visit Japan. Depending on how long COVID-19 persists, I might have to consider holding some events remotely. I'm not really sure how flexibly audiences will be able to travel, so we might need to arrange the programs to appeal more to audiences from Japan.

I thought there'd be a surge in artists sending video works, but there were actually very few. This tells me there is still strong interest in visiting actual exhibition locations and creating site-specific*² works.
――What are your thoughts on the current state of society and art following the emergence of COVID-19? What impressed you most deeply?

There are many things. In today's world where homogenization and market-first principles are gaining traction, we've tried to undertake site-specific activities in various historical or regional locations and spaces. However, COVID-19 has robbed us of our freedom of mobility and the joy of eating and chatting with other people. I felt that holding events in a digital format or those that require social distancing was very cold and undesirable.

I'm exaggerating a bit, but I've often thought that during the COVID-19 pandemic we should think about the existence of humans within the context of nature from the first appearance of life and about what has happened to life itself since the earth was formed.

This is also a very minimalistic idea, but one more point to consider is that our relationship with nature, such as our interaction with land, has all but disappeared. This can be seen in the food we eat. I believe that humans as individual beings have become extremely vulnerable.

I feel like our society with its social distancing and remote interaction is moving toward sterilization. This tendency contrasts quite sharply from the original function of art.

It might be misleading to describe this as interesting, but the COVID-19 pandemic marks the first time people in every corner of the world are having the exact same experience. In that sense, I'm wondering if measures taken by companies and governments for dealing with the pandemic are more like symptomatic treatments than trying to make fundamental changes.

Personally, I've never studied in my entire life as much as during the stay-at-home period. I didn't go out to eat for three months, which gave me lots of time to think.
――How do you undertake your activities during the pandemic when it's become difficult to engage with other people in person while maintaining social distancing?

Actually, you engage with other people even with social distancing. However, it's more difficult to create things. What's fun about the process of creation is the spontaneity as we engage with each other. But with social distancing, everything is processed logically.

With just 10,000 to 20,000 art enthusiasts in attendance, the fact that 500,000 or 1 million people showed up at the Setouchi Triennale is a testament that it's not just about art. It's about sharing fun experiences and the spur of the moment. That's what makes art festivals interesting.

Without people, these events could become dry, sterile and homogeneous. We are trying our best, but it's not easy to come up with a good idea to prevent that when people cannot go anywhere in person.

In the countryside, people can live on 100,000 yen or 150,000 yen per month although life might be less exciting. Having said that, people engaging in agricultural work do have a variety of dramatic experiences of their own such as the weather, which could make a huge difference in their livelihoods. This is why I've been saying these rural communities are important. What's frustrating is that it's hard to travel to these areas under the current restrictive conditions.

Because of COVID-19, some rural communities are witnessing an extremely strong tendency toward excluding outsiders to protect themselves. How we should respond to this inclination is a major and serious issue. Even though I basically live in these rural communities half of my time, I am unable to visit them. I don't mean to be critical, but it seems totally unreal when your vehicle license plate or resident cards become the determining factor for where you can or cannot travel.
――Did each local government understand the reasons for postponing the art festivals?

Let's say a village has 50 people and around 70% to 80% of them think it's okay for outside people to come to their village for an art festival. Only one or two people object. I totally understand and respect their opinions because each person's situation is different. They might have vulnerable elderly persons in their household. But if just one or two people voice an objection, then we won't be able to forcefully hold the event.

In such a case, the local government is obliged to adopt the stance that it is not a good idea to have outsiders flood into their community amid the pandemic. I think this will remain a difficult problem for the foreseeable future. For this reason, the key is how much of a common understanding we can gain from community residents in one year.

That doesn't mean we can gain their understanding by applying logic because it's not simply a matter of being right or wrong.

These "outsiders" want to come to the village as much as for the art. Prior to departure, their primary purpose is to visit an art festival. However, talking to local people, eating local cuisine and participating in the festival rank top in questionnaires we give to these visitors before they return home.

Having said that, it's not easy to gain the understanding of local community residents so quickly. So I've been thinking mostly about how I should proceed. I'm at a stage where I am moving ahead while taking various trial-and-error approaches.
――Despite your outstanding achievements in holding art festivals, people in rural communities feel nervous when you visit them from Tokyo because it has the largest number of new COVID-19 cases in Japan.

The notion that "Tokyo is bad" also contains a kernel of truth. A lot of people in rural areas feel corrupted and deceived because of various things represented by Tokyo, and all of that came into the open with the virus.

That's all the more reason for proceeding cautiously. Following the end of the Japanese government's state of emergency, especially from July onward, I've been traveling to communities and villages more than ever and holding various workshops so long as I have the approval of the local residents.

I've been travelling these communities three to four times a week. Nowadays, we can also video chat so I'd say I have much closer contact with local communities than ever before.
――Did you feel nervous when you visited them?

Well, it was terribly difficult. There were shops with signs warning, "People from Tokyo forbidden." I really didn't know what would happen. It was like, should I tell my staff to transfer their resident cards to local communities and change our car license plates to a local Tsumari number plate?

The current situation of blaming the infected is not desirable. In some ways, it feels like everyone is trying to uncover a perpetrator. There is absolutely no notion that someone just "happened" to be infected with the virus, and I'm alarmed by the lack of compassion and empathy.

Because of the type of business we are in, it presents a big issue if we get used to holding festivals remotely. It is even scarier if we begin to see no problem holding them remotely.

It's because I believe the existence of humankind is based on interpersonal contact. I believe moving around, having talks and eating together is what defines humankind.
――The art festivals are also based on that premise.

That's right, but it's not possible right now. Our art festivals focus especially on the theme of "food." This of course puts us in a difficult position right now with the virus. The question is how we overcome this major issue. I've been an advocate for visiting as many locations as possible, but in reality we can't go anywhere.

Right now, it's all about the virus itself, but let's not forget there are serious issues of 30,000 people taking their own lives and one in seven persons living in poverty. With all the attention on the virus, it may be hard to notice but it's really serious.

Art festivals can bring a number of benefits that include cheering up people through art and creating jobs if these can be commercialized.

Speaking for the Echigo-Tsumari region, which hosts the Echigo-Tsumari Art Triennale, several hundred people hold festival-related jobs the year the art festival is held. Even in off years, 150 to 200 people are employed. This employment is very important.

Our art festivals do not focus solely on exhibiting works. Children's workshops and various types of everyday activities are also a very huge part of the festivals. For me, this is more important.
――A lot of people must feel saved by the opportunity to visit art festivals and creative events.

Yes, and this is absolutely huge. I have read in newspaper columns about people deciding against committing suicide after visiting an art festival and realizing what sort of trivial matter they were fretting over. This anecdote proves art can work wonders.

What makes art interesting is that it involves a diversity of people. With art, there are no correct answers. Artists are praised for being different. You don't need to be right. In this sense, I think art is an expression of human physiology.
――As a future goal, how do you wish to design Japan, including art festivals?

I can't be that bold.

Life in Tokyo is full of stimulus and excitement with major consumption and lots of information. I'm one of those who came to Tokyo thinking that living here was an interesting way of life. But after a few years, the glitter wears off. In Tokyo, you don't wake up in the morning, open the front door and greet your neighbor. On your way to work, you kick someone off the crowded train so you can have the spot. It's no way to live. I believe farming and worrying each day about whether it's going to be sunny or rainy would be a far better and richer way to live.

I think it would be more fun if we shifted our mindset and thought such a life is interesting and that people who visit rural areas could become like old friends. Right now, we are not leading a life fully utilizing all our five senses. Frankly, I think we've become quite dry and cynical.

Life is short, so it's better to have abundance in life. Gosh, it sounds like the musings of an old man (laughs). But I'm serious about this and I'm trying to do my best, although it's really difficult.

Somehow, I have not heard any opinions that we should stop holding art festivals. In fact, more people think the festivals are interesting. All these elderly people who were once staunchly against art festivals now say they enjoy them.
――How were you able to connect with people who opposed the festivals?

I may not be an amicable person, but I try as hard as I can to communicate that "art is interesting." I really do believe so. That's why I take my utmost efforts no matter what.

There is nothing more beautiful than when an artist is creating something. They always do their best. They fully exercise their ingenuity with whatever materials they can put their hands on. They don't even mind staying up all night to create their works of art. These unrelenting efforts resonate with the hearts of people in the local communities. In the end, it basically boils down to hard work. This is what's so interesting.

Most people say they don't understand these works, but they're happy because artists and visitors come all the way to the festival. It often turns out that artists and elderly people from rural communities who were fiercely against the festivals actually hit it off.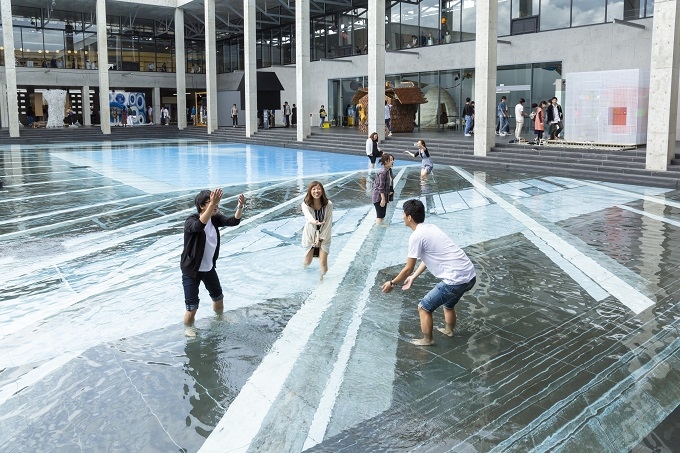 Visitors enjoy Leandro Erlich's "Palimpsest: pond of sky" exhibited at the Echigo-Tsumari Satoyama Museum of Contemporary Art KINARE at the 2018 Echigo-Tsumari Art Triennale (photographed in August 2018; provided by Mr. Kitagawa).
――That means it's all the more important to actually invite artists, doesn't it?

I think it's good for artists to be able to visit various sites. Things will change as more people get involved. So I believe art festivals should be held with great confidence and conviction.

I also believe it's best to obtain as much funding as possible from government agencies and the national government. I don't think these festivals should be held in exquisite and honorable poverty. Producers like me have to focus more time on obtaining money to support these festivals. That's why I live a life that's anything but beautiful (laughs). I think this is a key and interesting point.
――Art festivals are both a "matsuri" (Japanese traditional festival) and a form of "politics" because these are operated in collaboration with governments and residents of the local community.

Wherever we take questionnaires at our art festivals, more than 80% of the respondents say they are glad the festival has been held. When the Niigata Chuetsu Earthquake struck in Niigata Prefecture in 2004, people in the villages of Echigo-Tsumari told us they were eager to start preparations for the art festival as quickly as possible.

This made me realize that an art festival is very important to local residents after all. In short, festivals are a sort of a human instinct. They complain but still find it amusing when "weird" people come to the festivals.

I also feel that moving around freely, eating a meal together and chatting are human instincts. In a nutshell, curiosity is the essence of art festivals. I think it's probably very important to encounter strangers and unfamiliar cultures.

There are so many people who wish to visit rural areas or who have already moved there because of their connections with an art festival. If these people can in some way work and live in these rural areas, I think before long people's values would begin to shift slightly. This would be very interesting.
――You're spreading the things you find interesting to people of local communities.

It's plain and simple. What's interesting is interesting. I specialize in art and architecture, but when I judge works of art, I try not to do so within the confines of these categories. This may sound simplistic, but what kids find interesting is undoubtedly interesting.

When Hasegawa Kiyoshi exhibited the work of a copper engraver at a rural gymnasium, one child said, "I've never seen anything this black." I thought this impression was absolutely amazing. Even though nobody provided any guidance, the child intuitively understood.

There are many things people can intuitively understand about new, different and interesting things. I strive to choose works of art for exhibitions that don't require an explanation for people to find interesting.

I think art is incredibly interesting. I only started my involvement with art festivals in my fifties, which means I don't have much time left. I'd like to do my best to help the artists and increase their opportunities as much as possible.
*¹ Artists' Breath: https://www.instagram.com/artistsbreathpress/
*² "Site specific" refers to works affiliated with a location, works that utilize the characteristics of the location they are placed or the properties and methods of that location. (Source: Artwords®)
Current position and public post
Standing director of Fukutake Foundation, chairman of Art Front Gallery Co., Ltd., community creation advisor of Japan Foundation for Regional Art-Activities, etc.
Art Front Gallery: http://www.artfront.co.jp/en

September 2020 at Tokyo Art Front Gallery
Interview/text/photographs: Terae Hitomi (Japan Foundation Communication Center)

* The interview was conducted giving consideration to measures against COVID-19.