Crossing Borders, Engaging in Exchanges and Harnessing the Power of Creation amid COVID-19
Interview and Contribution Series <4>
Yukisada Isao, Film Director
March 5, 2021
[Special Feature 073]
In this fourth issue of our special feature "Crossing Borders, Engaging in Exchanges and Harnessing the Power of Creation amid COVID-19"(click here for a special feature overview), we welcome film director Yukisada Isao. He has drawn much public attention recently for simultaneously releasing his latest film, "Theatre: A Love Story," both online and at mini theaters as well as streaming free of charge a series of three short films, "A day in the home Series", which was made remotely using the Zoom video conferencing system. His attempt to deliver films during the pandemic by various means has also included holding the Kumamoto Restoration Film Festival*¹ in his hometown of Kumamoto, for which he serves as director, in the same way as in the past while inviting guests. We asked him to share his thought behind his efforts.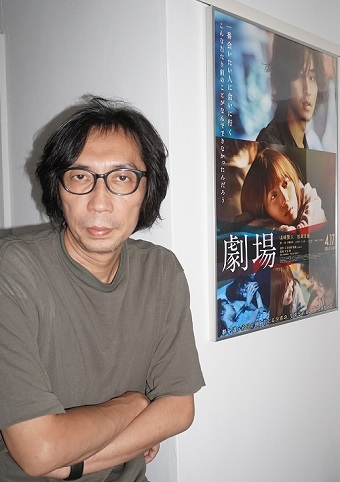 Yukisada Isao with the poster of "Theatre: A Love Story"
――With COVID-19 temporarily shutting down many movie theaters, you released your remotely made film series, "A day in the home Series," on YouTube in April 2020. You made an extremely quick move there.

In society amid the COVID-19 pandemic, the importance of culture has become secondary to people's sense of crisis and concern over their jobs and livelihoods. The entertainment industry in particular, such as films and plays, is not regarded as important to talk about under the pandemic.

Actually, there are people making their living out of films and plays, but the fact is hard to convey. Anyway, I believe there are people who have cried for help to keep our culture going, who have been relieved by watching films even if only slightly and who have relied on the power of culture.

Facing an uncertain future, I wondered if people would return to theaters after the declaration of a state of emergency was lifted. I felt I had to do something to reach people when the world came to a standstill. Since I'm a filmmaker, that "something" was making films. I thought actors would be concerned if there would still be a place for them during and after the pandemic, so I asked them to join me instead of worrying about the future while staying at home, and together we made a series of three short films remotely.

As someone involved in the film industry, I've always felt conflicted. If it's music, all you need is one guitar to show solidarity for people's feelings. Films are more troublesome. Filming, editing and adding sound easily takes six to 12 months. Even if we rush to a disaster-affected area as volunteers and try to show a film, it will involve serious work and be a burden to the people in the area. That feeling of conflict turned my thoughts to online film distribution this time.

I happened to see on social media people having a small party via Zoom. I thought it was both a form of culture and a record of the pandemic and got an idea that maybe I could make stories out of it. On Zoom, everyone talking at once will cause audio feedback, but I decided to film everything, feedback and all, valuing the potential that, by doing so, I could capture the reality as is and add vividness to script-based stories.

I've gained a lot through the experience. Streaming had not been a thing for me, but its most amazing feature is that it allows us to release a film quickly as we complete it. The speediness at which we can create and film a drama out of what is happening now and release it to the public is not possible with our traditional commercial way of making films. It will also be a direct record of the pandemic. Passing on the "feel" of our time to future generations is a mission of films, and I thought I could just do that using the streaming platform.
――You made "A day on the planet*² " in 2004, prompted by the 9-11 terrorist attacks in the United States in 2001. You also started running the Kumamoto Restoration Film Festival to support the recovery from the 2016 Kumamoto Earthquakes. What drives you to react to a situation in society?

As a filmmaker, I've always hoped to uncover a part of human emotions, which will remain the same even 10 or 20 years from now, rather than picking up things from society.

The idea to make "A day on the planet" did originate from the 9-11 attacks. While the events of that magnitude were taking place in another country, we were going about our daily lives here. In the film, a group of young people are having a small party. It seems so usual, but there are actually many feelings behind it. I wanted to show there are important things hidden in the boring details of our daily lives.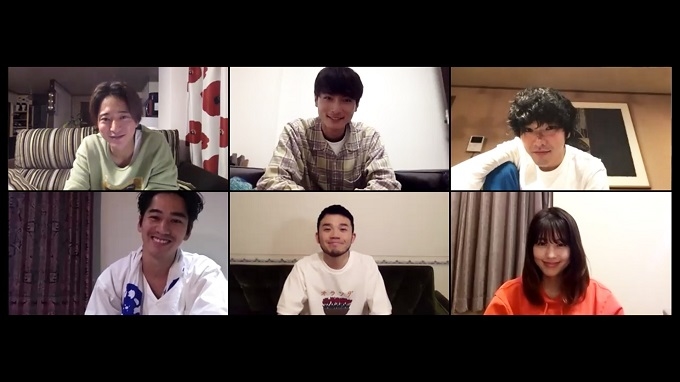 A scene from "A day in the home," the first short film in the series made remotely, which was derived from "A day on the planet" (Photo courtesy of Mr. Yukisada)
In the film, they become heated while talking about their romances in the past. I wanted to show that even in the midst of the unrelenting force of COVID-19, we still have the "energy" to get angry over a small thing that has nothing to do with the pandemic. I would like to believe that we are okay if we can be true to our emotions and remain honest with ourselves about our feelings like this scene.

I can't think of any other situation in which the entire world gets hung up in the same way. Another world war? Maybe, but let's hope not. What I'm saying is that I was trying to keep reminding myself that it is not too bad, because it's useless to lament over a challenge given by the gods to all of us.

Making short films gave me a positive feeling. Otherwise, I would have felt very frustrated for not being able to release a film as planned. My job, films, brought a sense of relief under the pandemic.
――It's been six months (at the time of the interview) since a state of emergency was declared in April 2020. Do you think you have gained much during this period?

I think so. As it turned out, people held faith in films and were looking forward to watching them. It is so encouraging to know that more than 620,000 people watched the two short films in the "A day in the home Series", which I made during the state of emergency, in a little over a month (total number of views during the free distribution period).

Streaming these films made me realize that people other than our targeted audience will watch them. While there are naturally pros and cons, this means that this method of distribution has the potential to reach out to so many people.

In my heart of hearts, though, I still want people to watch films at the theater. The sound effects and large screen make people concentrate on a film, as if we can enchant them. This magic won't work with streaming, in which the audience can skip parts or stop watching midway through a film if they can't concentrate. When it happens, the audience will miss what's embedded in the film. The failure to grip the hearts of audiences at the very beginning of a film will mean losing them. This creates an increasingly difficult challenge for filmmakers, making them seek more and more fast-moving storylines and themes that can keep the attention of audiences through to the end.

"Atmospheric emotions" and "a pause between scenes" are very important in Japanese films. I particularly like old Japanese films, becoming enveloped in such "a pause between scenes" in the darkness of a theater. These pauses can be a bit boring sometimes, but they also contain thought-provoking moments. For me, that's a truly splendid time and space that only theaters can provide.
――I heard COVID-19 guidelines for filming activities were created. Can you still film "close contact" scenes? I guess joint production with other countries, which has been increasing in recent years, is not an option now.

No, I don't think so. We can probably use computer graphics or conduct filming after taking PCR tests for safety, but these are costly, time-consuming and difficult to arrange. Many are postponing the filming to or after 2021. Low-budget films involving a small group of people that are shot in Japan would continue. But blockbuster films? I don't know how many will make films that will take much longer and cost twice as much. There are of course filmmakers doing just that, though.

In 2020, I had plans for international film co-production to conduct filming in Taiwan and South Korea and invite an actress from France for shooting in Japan. All were canceled as we are not allowed to cross the borders for a while. I'm starting over from scratch.

The question here is whether it's going to be a story developing under the pandemic, before the pandemic or the world without it. In short, what to do with the virus. Most films deal with the world without COVID-19, but I'm beginning to wonder if audiences would find them realistic as contemporary dramas.
――Do you think Zoom and streaming will go mainstream after the pandemic is over?

No, that will be a totally different story. The films I released online were a way for me to deal with COVID-19. Without the pandemic, I wouldn't have made them.

On the other hand, social distancing, restrictions on crossing prefectural borders and regional divisions are a very good setting for a love story. I think it will serve as a food for thought.

Imagine a couple in a long-distance relationship. They might feel online communication brings them closer, but that's the closest they can get. In the second short film "Imadattara Ieru Kigasuru" (literally, "I Feel I Could Tell You This Now"), featuring a couple (played by Nakai Kiichi and Nikaido Fumi) talking online, one particular line in the script hit me: "Are we really looking each other in the eye?" They try, but the feeling of distance just wouldn't let their eyes, or hearts, meet in a true sense. It's amazing that such a line was created. It's probably based on the scriptwriter's own experience of trying and not being able to look at each other online.

I guess I could count it as a fruit of the year 2020. I made these short films because I thought it was interesting to turn Zoom into a form of art, but I'm not sure if I can keep making films using this medium. I do believe Zoom has been an essential part of a cultural trend in 2020, though.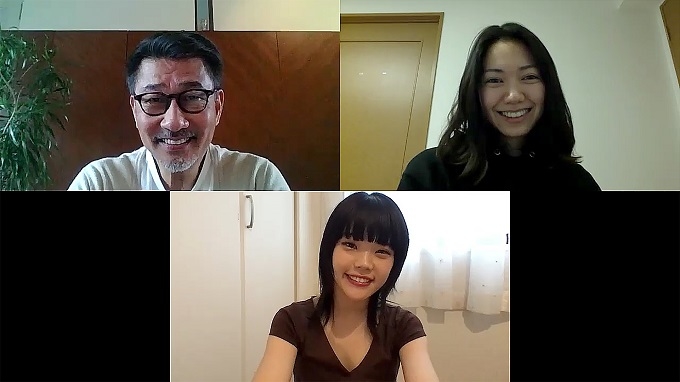 A scene from "Imadattara Ieru Kigasuru" ("I Feel I Could Tell You This Now"), the second short film made remotely, featuring Mr. Nakai (top left) and Ms. Nikaido (top right) as a couple (Photo courtesy of Mr. Yukisada)
――Do you think the pandemic has permanently changed the ways we watch films and engage in person-to-person relationships?

I'm not sure. Humans tend to miss things they have lost. This is also true for films, and I feel more people will definitely start longing for going to movie theaters as streaming becomes more popular.

We, as filmmakers, must believe theaters will certainly survive the pandemic. Otherwise, there will be no theaters. With such conviction, we are trying to cope with the pandemic. I've renewed my belief that we will never let theaters die away and that expression and creativity of films will not change.

I did distribute "Theatre: A Love Story" both online and at the theater, but I'm not totally shifting to streaming. Rather, I'm choosing between the two media depending on the time and circumstances. I can't handle the situation at hand if I think everything will return to normal soon and do nothing. That's what has happened to the film industry in 2020, thereby suffering a big blow. I didn't want anyone around me to take that attitude.

From the standpoint of audiences, they must have felt disappointed because they wanted to watch the film on schedule. For instance, if there are two films featuring the same actor, their attention will turn to the one released rather than to the one postponed. Audiences' responses are severe in that regard. I had to deliver my work, which represents what I've wanted to do now, to audiences at the earliest possible opportunity in order to bring about a concrete outcome at the right timing. So I decided to release "Theatre: A Love Story" online and at the theater simultaneously. The Motion Picture Producers Association of Japan, Inc. defines a film as the one that "is first released only in theaters." Simultaneous distribution is against this rule, so I pondered over it, but in the end I thought about audiences and decided to go ahead.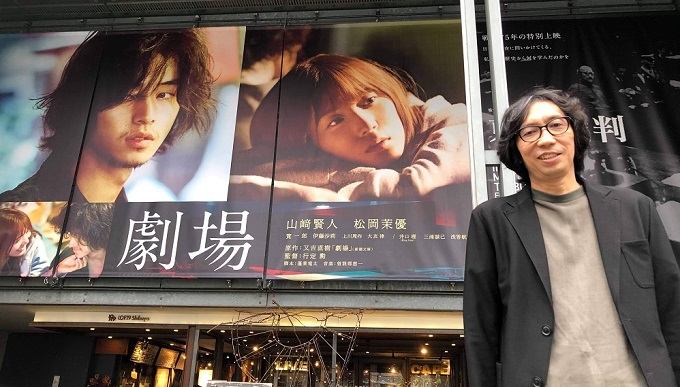 In front of EUROSPACE, a theater in Tokyo, on the day of the premiere of "Theatre: A Love Story" in July 2020, which was originally planned to be released in April. He thought "I will never forget this feeling." (Photo courtesy of Mr. Yukisada)
I also wanted to provide an opportunity for audiences to really compare watching films online and at the theater. The timing was great to appeal to them and let them recognize the attraction of theaters.

The same thing goes for restrictions on crossing prefectural borders. We can of course meet remotely but we still hold a strong desire to meet someone in person. Physically meeting, feeling and listening to others are completely different and generate so much energy.

In online communication, people seem to face each other, but their focus is a bit off and their eyes don't meet. Meeting the other's eyes is important, and we should reconsider and recognize the true value of meeting people in person and passing on energy to each other.
――Because we are not allowed to meet freely now, we recognize the importance of meeting someone in person. This recognition may change the quality of time when we actually meet someone later.

Yes, it will be totally different. We have to recognize again that the time we had spent with someone was really precious and how important it is to meet people in person and make things happen.

I think something like a paradigm shift is happening now--a shift that encourages everyone around the world to pause for a moment and think about the same thing. Doing so could probably create a better world. The real test will be how we act as individuals as we reflect on ourselves in an isolated setting.

There are different, personal approaches to preventing infections. Some people around me cannot go back to their hometowns because their family members have pre-existing conditions. Although theaters have been proven as absolutely safe, I don't expect everyone to come to theaters. We can't tell others what to do. We must think how we act on our own.

In order to make sure to deliver films to those willing to watch them, we need to provide more options. That was my thinking when releasing "Theatre: A Love Story." What is important is to assess the situation on our own way and make a decision accordingly. The same goes for everything, including politics.
――A difference in ways of thinking has caused bashing.

I rather feel a total division between those bashing and those being bashed. I don't understand the real intention of such bashing. Their reasons are borrowed ideas or somewhat ambiguous as well.

In any world, we have no definitions of what's right and what's wrong. Instead, we have to look at things from others' standpoints and know what has driven them to do what they have done before criticizing their actions.

It seems many are just too lazy to do so and feel like they know everything by only reading news headlines. Such a society is very scary. Amid the pandemic, fears and concerns over COVID-19 vary from person to person. Some are very afraid, and others not so much. This is a sensitive topic that requires careful attention, and I've become very mindful of that.

I decided to hold the Kumamoto Restoration Film Festival from October 2 to 4, 2020 to use the power of films to cheer up Kumamoto Prefecture a little, which suffered major damage from the torrential rains in July.

To me, holding it online felt like a step backward, with the pandemic forcing us to back down from what we've been doing in this annual festival. I believed that holding it in a normal way, with guests and everything, would be a step forward.

As there are no right, wrong or perfect answers, I've decided to try based on my own convictions. That's my action theme in 2020. Trying may bring some implications.

When we held the Kumamoto Restoration Film Festival, we were extremely careful, with a keen sense of awareness of the situation surrounding us. Yet, the characters in films screened at the festival formed very close and deep relationships, reminding us of some things that are important to people, things we should never forget. Under the pandemic, I think people who are empathetic to other people would want to watch films, and I believe providing such an opportunity to them is one role of film festivals.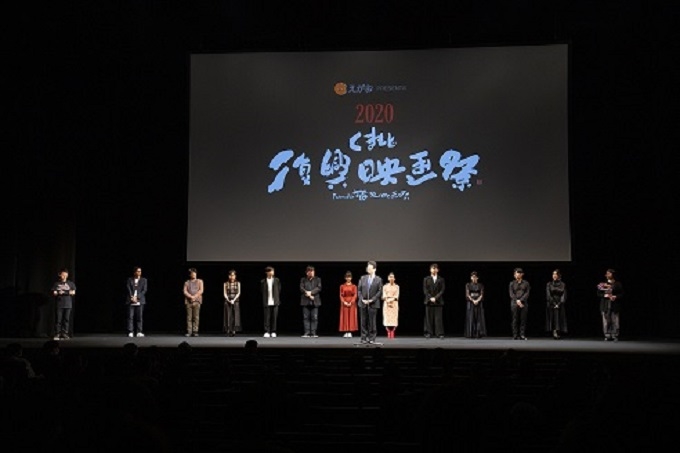 Kumamoto Restoration Film Festival, which ended on a high note (A snapshot of the opening ceremony) (Photo courtesy of Mr. Yukisada)
――Empathizing with the storyline of a film and imagining the feelings of its characters represents an attitude we should follow in today's society.

At times like this, the action of the main character in many films will touch us, particularly emotionally. I myself am no exception to that.

We are clearly in the middle of a transition from a vertically divided society to a laterally connected society. Under the pandemic, some people have begun to give a cry for help or voice their request to change something for the better. They've been criticized as being selfish, but they have the right to do so as they pay taxes and live in this country. These people are laterally connected. Obviously, it is important for everyone to join hands.

If someone comes up with a good idea, why don't we emulate it in a mutually beneficial way? Doing so will create a standard, or best practice. Nothing comes out of just accusing someone's wrong or quibbling over small things.

There's a saying that failure is the mother of success. Scientific experiments, for example, fail repeatedly, and it is the people patiently engaging in such experiments who create new things and win a Nobel Prize.
――How do you regard our society under the pandemic?

Even though the short films in the "A day in the home Series" were released online, paradoxically they were full of wishes to watch films at the theater. I wouldn't have made them or even thought about making them had we not been able to watch films in theaters because of the pandemic. I think it's about time we again start talking about how amazing films are.

I wish such positive words are filling our society now. If people start voicing how they want their society to be in a positive manner, instead of just accusing that something is wrong or finding fault in others, we can recognize more things that will go unnoticed otherwise.

I think the pandemic provided us the opportunity to straighten things up in society. I've heard the air is cleaner, as people stopped activities around the world. Since we've gotten to know how people's careless activities have polluted the earth, we should spread such recognition more widely. Yet, the thing is we still have to get the economy moving for everyone, including us in the film industry as well as theaters.

The pandemic forced us to recognize a number of issues. The point now is how we will turn these observations into action in our own ways. If everyone does that, society will surely be a better place to live. That might become a theme of films of our time.
*¹ Kumamoto Restoration Film Festival: Held every year since 2017 to support the recovery from the April 2016 Kumamoto Earthquakes. All proceeds from the event are donated for the restoration of disaster-stricken areas.
https://www.fukkoueigasai.jp/


*² "A day on the planet": Based on a debut work of Akutagawa Award-winning writer Shibasaki Tomoka, featuring a group of friends who have gathered to celebrate a member entering a graduate school and moving to Kyoto. It seems like an ordinary night but is filled with unspoken emotions.
Interview held in Tokyo in September 2020
Interview/text/photo: Terae Hitomi (Japan Foundation Communication Center)
* This interview was conducted while taking appropriate preventive measures against COVID-19.