Globalization of Japanese Studies
Tadashi Ogawa
Managing Director of the Japanese Studies and Intellectual Exchange Department,
The Japan Foundation
It will soon be thirty years since I joined the Japan Foundation. I have been mainly involved in supporting Japanese studies overseas and promoting intellectual exchange with other countries.
When I first started this job, what my boss and seniors taught me was the importance of a country-specific approach. That meant promoting Japanese studies in each country by setting up mid- to long-term policies to develop human resources and establish institutes that would serve as centers for research on Japan.
To do that, one needs to take into consideration the country's educational policy, system of higher education, interest in and relationship with Japan, as well as the influence of local Japanese studies scholars on society.
When scholarly activity rarely crossed borders, and there was little flow of funds and information between countries, government, research institutes and scholars in any given country were closely intertwined. Therefore, a country-specific approach was effective and efficient in building a solid foundation for Japanese studies.
These days, however, as the world of Japanese studies starts to feel the impact of globalization, we are seeing a new situation in which it is just not feasible to think in terms of national units.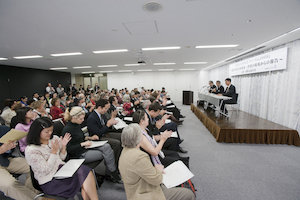 In October 2009, the Japan Foundation hosted the Global Japanese Studies Scholars Forum 2009, with leading researchers invited from twelve countries around the world. A buzzword during the forum was "globalization of Japanese studies," a phenomenon characterized by the movement of researchers from one country to another, the spread of information technology, and increased opportunities for global collaboration.
A classic example of a scholar who is active across borders is Professor Harald Fuess, the president of the European Association for Japanese Studies. Professor Fuess was born in Germany and received a Ph.D. from Harvard University in the U.S., after which he taught at the University of Sheffield in the U.K. and at Sophia University in Japan. His recent decision to move back to Germany to take up a position at the University of Heidelberg has been much talked about in the academic world. Though not as well known as Professor Fuess, a growing number of Chinese and South Korean academics are teaching subjects such as Japanese literature and politics at Japanese universities.
As more and more scholars move easily from country to country to pursue international opportunities, the existing country-specific approach to supporting Japanese studies loses its effectiveness. How should we deal with this new situation?
Until the 1980s the main interest of researchers overseas was Japan's economic power, but since the 1990s topics for study have diversified in ways that traditional scholars would never have imagined. The titles alone indicate the range of intriguing subjects taken up by scholars who have visited Japan over the last few years, such as "Robot Engineering and Management of the Aging Society in Japan," "Research on Purikura (photo sticker booths) from the Social Perspective" and "Comparative Study of Islam and Shinto".
What underlies the diversification of research topics is the globalization of Japanese studies. As Japanese studies attract more international attention, the scope of studies broadens. For example, the comparative study of Islam and Shinto mentioned earlier indicates that Japanese studies have spread into the Islamic countries.
The globalization of Japanese studies offers a great opportunity to expand the horizons of the field. Yet, there are also concerns that preeminent scholars may converge on a specific institute in a specific country, thereby causing brain drain, and leading to a widening gap between research institutes as well as other problems.
Amid these changes, we need to view Japanese studies as a global asset and take measures to strengthen our network of mutual cooperation, through shared research information, and international collaboration to nurture scholars for the next generation.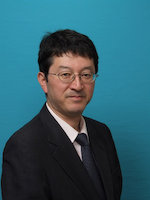 Tadashi Ogawa
Managing Director of the Japanese Studies and Intellectual Exchange Department,
The Japan Foundation