Special Series: Connect with Tohoku--Real Voices 001
A Little Bit More than Clothing, Food and Housing - from the experience of the Great Hanshin Earthquake
Yasuko Nitta
Founder of the Second Hand
On March 11, I learned about the Great East Japan Earthquake in Cambodia. "What can we do?" I soon called Japan and started a fund-raising drive. On March 15, I landed at Narita Airport, transferred to Haneda Airport and took a flight to my hometown, Takamatsu in Shikoku Island. On the domestic flight I noticed many women with babies, apparently evacuating from Tokyo. Although Haneda Airport had been in great confusion, Takamatsu was calm and peaceful. Japan may be a small country, but the two cities felt literally worlds apart at the time. Since the disaster-struck Tohoku region was even farther away from Takamatsu, I didn't think getting into my car to deliver relief goods to the northeast was a good idea in the circumstances. But having experienced the Great Hanshin Earthquake in 1995, I could easily imagine the chaos and urgent need for relief supplies.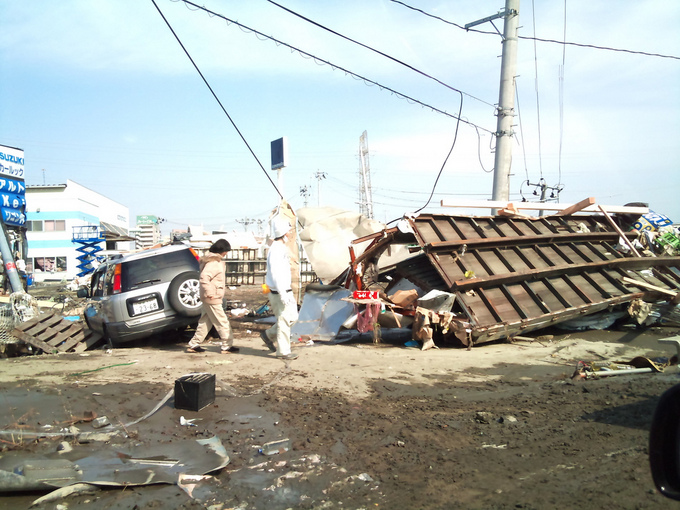 © Yuichiro Haga
Clear memory of the Great Hanshin Earthquake
On a January day in 1995, shortly after the earthquake struck the Kobe area, I arrived there with relief supplies at around 4:00 a.m. First, I went to a ward office to ask where I could unload my supplies. The entrance hall was thronging with truck drivers who had brought emergency supplies from various parts of the country. When an official asked them to wait until 7 o'clock, one of the drivers yelled back, "Our job is to deliver goods. We need to unload the boxes right now and go to our next job!" I waited until things calmed down and asked one of the staffers which evacuation centers needed supplies. He replied angrily, "You tell me! We have no idea!" They were all red-eyed from lack of sleep, unshaven, and probably hadn't had a proper meal for days. I was reminded that they, too, were victims of the disaster. Looking beyond the reception counters towards the adjoining room that had become a makeshift mortuary, he said, "Can you imagine how we feel working in this situation?" He told me he couldn't go home even though his house had been damaged. I handed him my business card, some food, and a memo with an encouraging message, and left. A few hours later, when I was looking for evacuation centers on my own, he called my cell phone. He apologized for his bad temper earlier on and gave me information about evacuation centers.
Victims not even receiving water
About a week later, I returned to Kobe with more relief goods. I had checked on TV just two days before as to what items were scarce, but when I arrived at an evacuation center, I saw they already had plenty of what I had brought. So I drove around the streets, calling out, "I have adult diapers!" Someone ran out from a house waving her hand. She said she had a bed-ridden family member and couldn't evacuate. She told me it was the first time they had received any relief supplies, and thanked me with tears in her eyes. Even though there were enough supplies at the official evacuation centers, they were not reaching people in privately run shelters or those remaining in their undamaged homes.
Language barrier
Later on that day, I was driving around a residential area with the remaining goods, when I spotted a group of people in a park, huddled around tents. Trying to see if I could do anything for them, I called out from the park fence, "Hello! Do you need help?" Then a man darted out from a tent, waving a frying pan in a threatening manner and saying something in a language I didn't understand. I figured he wasn't Japanese, and tried to tell him with gestures that I had relief supplies which I could give them if they were needed. As soon as he understood me, his expression eased. It made me wonder, though, what had happened to him to make him so hostile. Had he gone through a bad experience, or was he just being cautious? It even brought to mind the massacre of ethnic minorities after the Great Kanto Earthquake of 1923. At any rate, it was obvious that some people were isolated after the Kobe earthquake because of the language barrier.

Making use of past experience
So how are things after the recent earthquake in the Tohoku region? As is always the case when a natural disaster occurs, the town officials are victims just like anyone else, and there's always great confusion in crisis management. Even if personnel are dispatched from other municipalities, the local staff need to coordinate the operation and they end up working nonstop. Some evacuation centers have plenty of supplies, while there is a desperate shortage at others. Even one month after the disaster, there are people still waiting for assistance. TV and newspapers are trying to report the situation from many angles, but it's impossible to cover everything. Therefore it's hard to know what exactly is needed, especially if you are covering the story from a distance. I do think, however, that the media's stance has changed considerably and they are now making an effort to cover as much as they can, despite the many difficulties.
As far as I can tell, there are no isolated foreigners in the disaster areas at the moment, probably because various multicultural measures have been implemented. I hear that support for foreign victims started at an early stage, for instance, by handing out information at evacuation centers about multi-language consultations.
Of course, there may be issues that haven't surfaced yet. I think we need to build a solid foundation for people to help each other without being divided by language or nationality barriers.
Living means more than food, water and safety: the lessons of Aceh
I also visited Indonesia's Aceh Province in the aftermath of the 2005 Sumatra tsunami, hoping to take part in the relief operations. There was a district where we were planning to provide support, but British and American NGOs had already begun relief operations there. I was impressed by their swift action and also realized that money was essential in aid operations. While in Aceh, I had a memorable experience. I met a woman who had lost her husband, still in his 40's, as well as her house. She told me she was receiving almost everything she needed to live, but she added, "I want to put on makeup like you." She asked me if I could give her some of my cosmetics. It's natural for a woman to want to wear nice clothes and put on makeup. That was when I realized that living does not only mean to eat, drink and stay safe. From this experience, I included bottles of toner and face cream in my relief supplies for the Tohoku region, which were greatly appreciated. I also got many requests for chap sticks, too.

New way of providing support: Cash for Work
Whether it's a case of overseas assistance or disaster recovery, I think it's natural to do whatever we can and there's nothing special about it. I feel awkward when I receive tearful thanks from disaster victims and I don't know how to respond, because I'm the one who's grateful to have been given the opportunity to put my ideas into practice.
Currently, we are raising funds for the "Cash for Work" program, which employs people who have lost their homes or jobs to remove the mud and rubble. It began when I was talking to the leader of an evacuation center and an organizer of an NGO from Yamagata Prefecture that provided on-site support. They told me there was an urgent need to remove the debris in the disaster-struck areas. Volunteers had arrived from all over the country, but in order to use more local resources and generate some much needed income, we came up with this program. Since my organization, Second Hand, is based in Kagawa, which is far away from Tohoku, we're focusing on advertising the program and raising funds. We were aware that cash donations were not being distributed smoothly through the municipal governments, so we believed it would helpful to employ local people and pay them for their services directly. It's similar to Food-for-Work, the method commonly used in international cooperation activities to provide food in exchange for labor and to encourage local communities to stand on their own feet. We intend to continue this program as long as we can. I believe Second Hand can contribute to the recovery of the Tohoku region by sending money continuously rather than by delivering goods by truck to Tohoku, which would involve emitting carbon dioxide along the way.
One last thing. The people living in the Cambodian slums where we provide support often tell me, "Please don't forget us." They seem to be afraid of being forgotten, once we have completed our aid activities. So I'm going to keep on sending messages to those who are struggling to live in difficult circumstances, so that they always remain in my mind.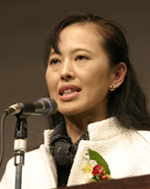 Second Hand, a Public Interest Incorporated Foundation
Second Hand is an NPO founded in 1994 in Takamatsu, Kagawa Prefecture, to provide international aid mainly in Cambodia. It raises funds by running charity shops in Japan. After the Great East Japan Earthquake, with the full cooperation of local freight shippers and warehouse owners, it has been sending relief supplies mainly to Ishinomaki in Miyagi Prefecture. Recipients of 2004 Japan Foundation Prize for Global Citizenship
Recipients of 2004 Japan Foundation Prize for Global Citizenship
Theater workshop with Aceh children
Reconstruction of Aceh from Conflicts & Tsunami Disaster