Japan-India Cooperation: Renewable Energy Need of the Hour
Panneerselvam Prakash
Japan's relationship with India is not new, however it is relatively new in sphere of politics and security. Both countries share socio-cultural heritage; most importantly the relationship is free from any structural impediments. Following the suit of industrialization, Japan achieved high economic growth in short term, despite the destruction it faced due to nuclear holocaust. It was only in the Post-Cold War era, Japan and India actually started to establish close ties with each other. India's major decision to liberalize its economy, coupled with government Look East Policy attracted Japanese investment into the region. Today, the ties have not only stabilized but it expanded to included wide range of economic and strategic issues. Notably, the relationship is grown old enough to sign civil nuclear cooperation. Yes, Japan in a major way is entering nuclear energy market by signing of civil nuclear cooperation with India. The access to primary technology to build its capacity will benefit New Delhi to expand energy market.
India's rapid economic growth has made it second fastest growing energy market in the world. To sustain the present growth great experts believe the country has to increase its energy consumption by four percent. The steep increase in the domestic energy consumption is a major challenge for India; relentlessly it will have an impact on India's foreign policy. Japan in no way free from deepening energy crunches; immensely depend upon overseas to meet its domestic energy demand. Therefore, it is time to think for an alternative energy source such as renewable energy, solar, wind and hydropower over carbon, nuclear energy. Since nuclear power plant facing stiff resistance from both the countries, Japan and India should deepen their ties close enough to jointly benefit from the renewable energy source. Most importantly, renewable energy guarantees to attain self-reliance and free from carbon emission. Therefore, collaboration on renewable energy is a need of the hour for the natural allies Japan and India.
Energy is vital for both the countries. After great east earthquake and the accident at the TEPCO Fukushima Nuclear power station significantly reduced public trust on nuclear power. Japan over depended on overseas oil; the Fukushima crisis aggravated the oil crisis further. According to news report only one of the country's fifty-four nuclear reactors currently in operation. The sole operating nuclear reactor, the No.3 unit at Hokkaido Tomari plant may also go offline on May 5 2012.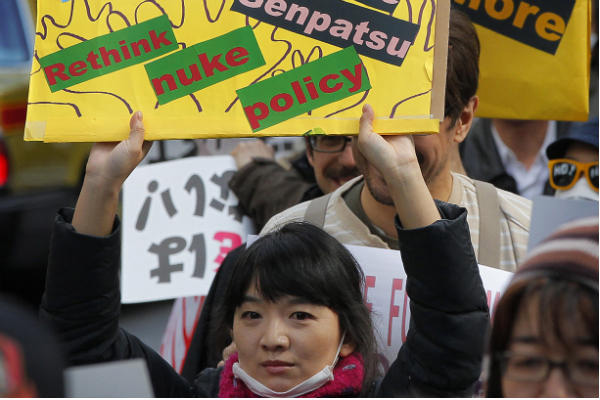 Protests in Japan against nuclear power
Meanwhile, Japan increased its import on LNG by twelve percent in 2011 and is expected to be higher in 2012 as Japan continues to face unprecedented nuclear crisis. As Japan eagerly looking for an alternative to low-carbon and non-nuclear energy, government is overhauling its energy policy to meet energy demand through renewable energy. Currently, Japan gets only nine percent of electricity from non-carbon source, to increase the level and to reduce Japan's energy dependence on nuclear. Naoto Kan government approved the most crucial renewable-energy bill to promote investment in solar and other renewable energy source. The new law will require utilities to buy any amount of electricity generated from solar, wind, geothermal, hydro and biomass at present rate for up to twenty years. Already, Southern Island Okinawa started one-megawatt solar power farm and government is preparing to launch a subsidy program to "spur electricity from renewable energy." Through effective implementation of the project Japan will have capacity to produce twenty eight gigawatts by 2020.
Triple disaster of unprecedented levels created huge havoc across the globe. Indians are among those greatly moved by the disaster; greatly worried about the consequence of upcoming nuclear power plants in India. The recent mass protests in front of Koodankulam and Jaitpur nuclear plant site raised serious question about the safety and government preparedness in wake of crisis. There seems no significant policy-change rather Indian government determined to continue with nuclear power plant project to meet energy demand of emerging India. However, nuclear energy contribution to India's energy basket is less than three percent; compare with Japan whose energy from nuclear power plant is enormous. But, India is planning to expand its nuclear power program and expect to have twenty thousand megawatts nuclear capacity by 2020. Globally perception about nuclear power plant is receiving negative review, many developed countries looking renewable energy as an alternative to nuclear energy. While India is taking a great leap forward in path of development, it is time to rethink its energy policy.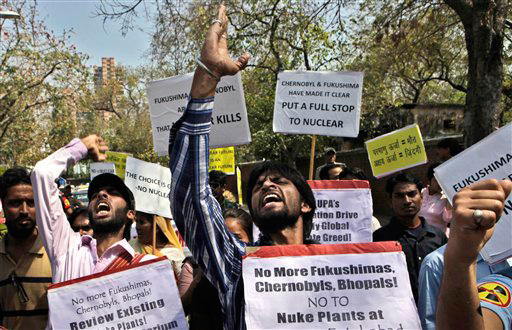 Mass protests in India
That begs the question, what can be the most viable and promising primary energy source for developing India? How Japan-India will benefit from renewable-energy and energy conservation project are some of the crucial questions to be asked first. Geographically India is foremost rich in energy and other natural resources. The long costal waters, coral reefs, sunlight all year long and abundant potential for wind makes unique destination for renewable energy and energy conservation project. To cultivate and conserve this energy requires state of art of technologies and best energy management practices, which India needs badly. Japan's proven energy efficient technologies and alternative energy technologies may helpful to support India's development. Already, in a joint statement both countries prime minister agreed upon to cooperate in development of new and renewable energy. According to joint statement, Japan and India established five working group on energy to discuss and promote energy cooperation. Moreover, the two sides jointly decided to develop one city in India as a "solar city." So far, Indian government approved thirty four cities in the country to develop under "Solar City" plan. Energy experts say, "The Solar City project has a goal of reducing a minimum of ten percent of demand on conventional fossil energy technologies within the next five years..." Further, Japan plan to promote the "Midori no Bunken" concept, a community based model to achieve self-sufficiency by using natural resources, in addition cooperation in Research and Development and exchange of experts are primary focus on Japan-India cooperation on the renewable energy field. For the current FY 2012, Japan's ODA loan to India is estimated to be more than 132.646 billion in yen; this is intended for infrastructure development, including increase use of renewable energy.
This facts and figure shows, both Japan and India is making steady progress in the field of renewable energy, but to bring the ideal plan into reality both countries should work hand-in-hand to create legal framework, tax system, subsidy program to promote energy conservation. Introduction of technology and energy management is time consuming and painstaking job, which required coordination from central government, state governments and nodal agencies. Moreover, bureaucratic hurdles and red tape may reduce the chance further to implement most viable technology for the energy conservation. Therefore, India should put forward its energy demand in detail and work accordingly to implement renewable energy with help of friendly nation like Japan. On the other hand, this will allows Japan to enter India's energy market, which likely to expand in future given India's rising domestic demand.
To conclude, as two countries celebrating their sixtieth year of diplomatic ties, Japan-India has to work more for sustainable development. In the pragmatic international relation, the bilateral ties have to find right balance, to ensure peace, stability and orderly transition. The bilateral relationship is of regional significance should find a renewable energy path to lead other regional countries in the region to self reliance. Moreover, to remain committed to bilateral cordial relationship, Japan and India should create many bridges of friendship. Renewable energy must be one of the bridge Japan and India should dwell upon to create "carbon-free relationship."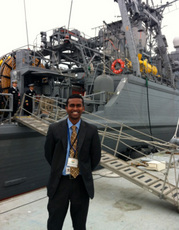 Panneerselvam Prakash
Prakash is currently a Guest Researcher at Japan Maritime Self-Defence Force (JMSDF) Staff College and visiting Japan Foundation fellow for the academic year (2011-2012). He completed both bachelors and master degree in Defence and Strategic Studies at University of Madras. He is presently writing his Doctoral Thesis on "Japan's Maritime Security." Prakash is a trained merchant mariner and he published several articles related to India-Japan relation.