Social Media Changes Society--Solidarity among Young People across Borders and Cultures
Dina Ghassan Baslan
Ahmed Mohamed Abd El Moneim El-Dorghamy
Although the "Arab Spring", which began in October 2010, brought an end to long years of dictatorial rule in Egypt, Tunisia, and other countries, there still remain many challenges along the way to building the civil society that people are hoping for. The Japan Foundation believes that what is important for building nations and communities is not only top-down leadership by a few, but on-the-ground leaders who engage and encourage the people. Having that in mind, the "Invitation of Young Intellectuals from Egypt, Jordan and Tunisia" was organized on the theme of "Leadership in Nation and Community Building" from February 19 to 28, 2012. Welcoming the 16 individuals including social entrepreneurs, journalists, and NPO members from Egypt, Jordan, and Tunisia, this 10-day trip program took the participants to the organizations and companies in various areas of Japan, including in the disaster-stricken region, and they met with local leaders who are active in their communities, and shared ideas about what is required for leaders when it comes to rebuilding a society.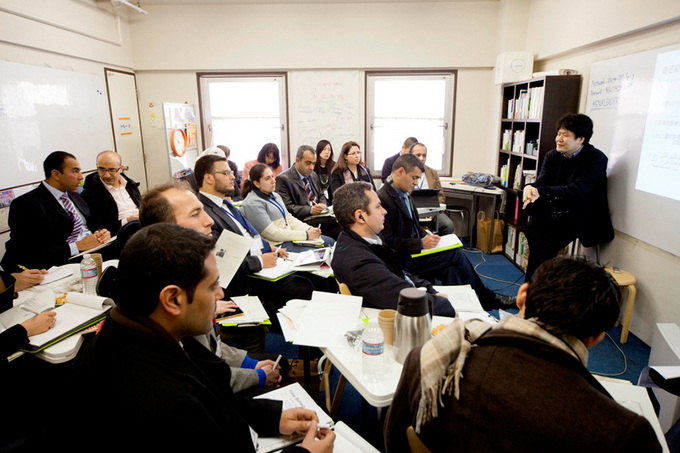 A discussion with Takuji Hiroishi (President of empublic Ltd.). Based in Nezu in downtown Tokyo, Hiroishi has been contributing to build foundations for a new civil society. At the discussion, the participants exchanged their ideas on the importance of creating "platforms", focusing on a case in the Yanesen (Yanaka, Nezu, and Sendagi) area.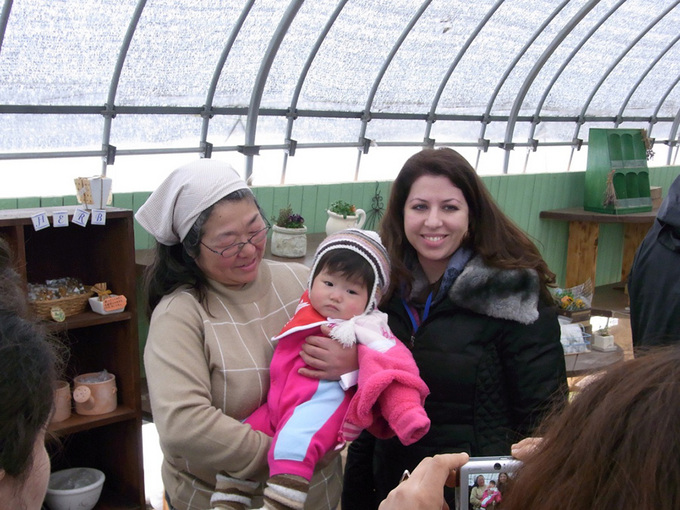 Muna Ibrahim Al Alul at Zao Herb in Zao, Katta District, Miyagi Prefecture, learning about the activities of the Miyagi no Kosegare Network, which explores ways to allow the next generations of farmers and fishermen, and other young people, to work in local areas. She is Head of the International Department of the National Committee for Demining and Rehabilitation in Jordan, which re-educates people after conflicts and helps refugees return to society.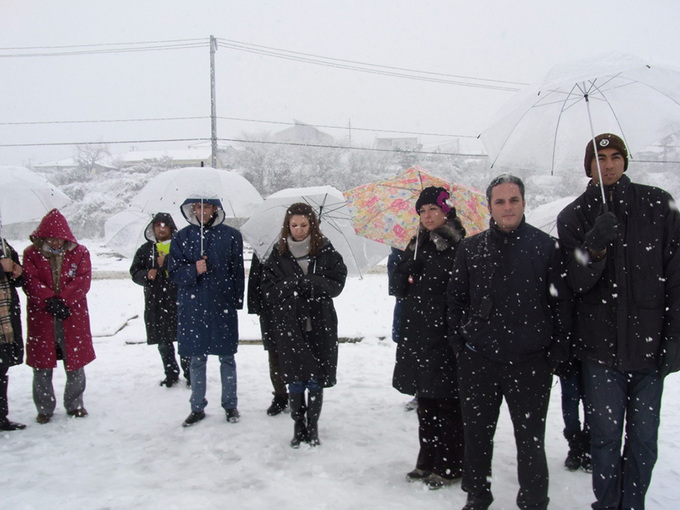 A visit to snowy Ishinomaki in the late February. A workshop was held with members of ISHINOMAKI 2.0 and the Genki Fukko Iinkai to discuss about rebuilding of society in the Middle East and Ishinomaki.
During the program, journalist Daisuke Tsuda gave a presentation on "the role of social media and social networking services (SNS) in crisis response and reconstruction". Below, two of the tour participants commented on the similarities and differences between Japan and the Middle East and Northern Africa (MENA) region, drawing on their experience of the revolutions in the Middle East where social media was exploited with such overwhelming power.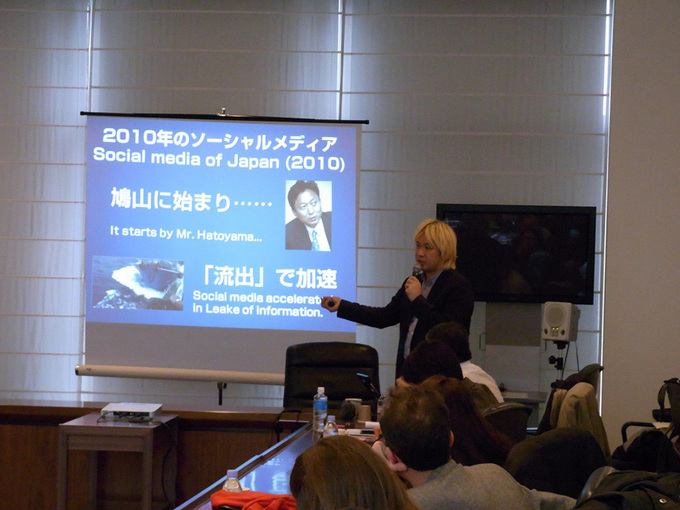 A discussion with Daisuke Tsuda on the role of SNS during social change.
---
Similarities between the Arab Spring and crisis response to the tsunami
"I do what I think is right and whoever wants to follow will follow." This must have been our favorite quote from the lecture by Mr. Daisuke Tsuda, who is well-known for his lively broadcasts of information on Twitter. This statement is also relevant to today's leaders who have to respond swiftly to the rapid changes and crises taking place in different countries for different reasons.
On the fourth day of this tour program, we had a chance to hear Mr. Tsuda's presentation on social media and the important role it played in the crisis response to the tsunami that struck Japan last year. Listening to his lecture, we could find many clear similarities with the situation in the MENA region, specifically during the revolutions in Tunis and Egypt, and the social activism that followed. The main points in common are outlined below.
- How instant-communication tools brought people together faster to support each other. How these tools helped in rescuing people in danger or at risk.
- That social media was the fastest means of providing news and information, and was at times more relevant than official news sources. They also promoted cross-media cooperation.
- How social media allowed communities themselves to quickly perform the same functions as government and institutions, and how they contributed to communities becoming autonomous and independent.
- How leaders used Twitter and such tools as a means to provide many channels of communication and always be reachable. Queen Rania in Jordan, for example, is very active on Twitter, and has been applauded for many initiatives using social media, such as the YouTube competition that she launched to promote tourism in Jordan.
Other similarities that should be mentioned include how the information about each of these crises broadcast via social media drew international attention, and how "crowdsourcing" (in which multiple unspecified social media users around the world collaborate on problem-solving through the Internet) provided different types of support.

(Left) Tamer Ashraf Badreldin is Chairman of Entrepreneurs Business Forum, a non-profit organization which aims at fostering entrepreneurs in Egypt. He also runs a plastic processing company to help produce jobs. (Right) Tarek Mrad hosts a prime-time program on Radio Express FM, Tunisia's business radio station. He is one of the popular radio hosts having many young listeners, and is in charge of marketing at the station, too.
Specific examples in using social media in the Arab world
After the lecture, we joined participants from Egypt, Jordan, and Tunisia for a discussion with Mr. Tsuda presenting examples from our respective countries. We were reminded of how social media, and the Facebook pages of numerous groups including "Kollena Khaled Said", functioned as catalysts during the Egyptian revolution. In Jordan, social media has been used for campaigns to successfully oppose development projects that threaten the environment, for example, the well-known Twitter-led environmental campaign against a plan to construct a Military Academy in the Bargesh Forest in northern Jordan. The phenomenon of cross-media cooperation too had many strikingly similar counterparts in the MENA region, such as "www.7iber.com", a tool for bloggers and citizen journalists in Jordan that operates largely through Twitter and Facebook. On the other hand, attendants from Tunisia drew attention to the role of social media in promoting undeserved stardom. They mentioned the example of Emna Ben Jemaa, an avid blogger who was later appointed as a high-profile government spokesperson, as having a number of followers on various channels of online social networking services. However, some consider her reputation to be inflated and her position undeserved.
Mr. Tsuda explained how this problem can arise, noting that similar undeserved stardom can be found in the sphere of social media in Japan, and that it can happen anywhere. He and the participants engaged in a wide-ranging and profound discussion of the pros and cons of social media and its uses, finding many points in common.
Another challenge for the use of social media in both Japan and the MENA region is the circulation of inaccurate, confusing, or outdated information. For example, after a distress call is sent out, the message may remain on social media even after the person has been rescued and the situation resolved, causing confusion on the ground. In Japan, we learnt that roughly 50% of calls for help made on Twitter were based on correct information. The virtues of social media in times of crisis, however, far surpass those disadvantages.

(Left) Nawel Skendaji hosts a cultural program "Zoom in to Culture", which airs on Hannibal TV, the commercial TV station with the highest viewer ratings in Tunisia. She also works as a journalist with rich experience interviewing and reporting on cultural issues.(Right) Ahmed El Mehalawy works as an IT & Communications Supervisor at an environmental protection company. Aside from this, he contributes to build IT infrastructure by creating computer networks with his technical skills for non-profit organizations, including the Red Cross and a volunteer organization, Resala, which operates social development programs.
Differences in the role played by social media
In our discussions with Mr. Tsuda, it became clear that there are points of contrast as well as similarities in using social media in Japan and the MENA region. To begin with, the rate of social media penetration is higher in Japan than in the MENA region: although mobile phones and computers are widespread in the MENA region, social media has not yet caught on to the same degree. (After the revolution, however, the penetration rate rose sharply, and the increase in Arabic content shows that social media is being used not only by the early-adopters, most of whom could use English as their means of communication, but by people from a wider range of classes and educational backgrounds, as well.) Furthermore, Mr. Tsuda explained that the role of social media is still confined to crisis response and management, and it is not yet used in social activism. In contrast, in the MENA region, social media is widely relied on as a trustworthy tool in community and nation building. In fact, even governmental organizations have been using Facebook as the main channel of communication with citizens.
At the lecture, it was also interesting to hear about other examples of leadership in community activities, such as a Japanese social entrepreneur who established a volunteer-matching website to connect volunteer opportunities with community needs. Similar initiatives are also expanding in the MENA region, such as "www.kherna.com" in Egypt, a social enterprise launched by the NGO "Nahdet El-Mahrousa". It performs exactly the same functions as the Japanese website, and is playing an equally important role to promote civic engagement in post-revolution Egypt.

(Left) Ghada Aly Mohamed Ahmed Gabr leads the Stabl Antar Dream Project, which helps alleviate the poverty stricken residents living in slums outside Cairo. The group has been involved in various community-based programs for social development and education, such as operating a community school and a craft workshop for women, for more than 10 years. (Right) Rand Dalgamouni is an editor of The Jordan Times, the leading English newspaper in Jordan. While editing local news articles, she also works as a reporter specializing in cultural issues.
A tool to create stimulating and innovative ideas
The thought that pleased us most as we listened to Mr. Tsuda's presentation and held discussions with the other participants, is that the youth of today, no matter where they are, no matter how different their cultural backgrounds are, are the same in so many ways, facing the same challenges, and supporting and inspiring one other. We are all working to give meaning to our lives and to have a positive impact on our communities as we embrace innovative tools and ideas and respond quickly to the big challenges that lie before us.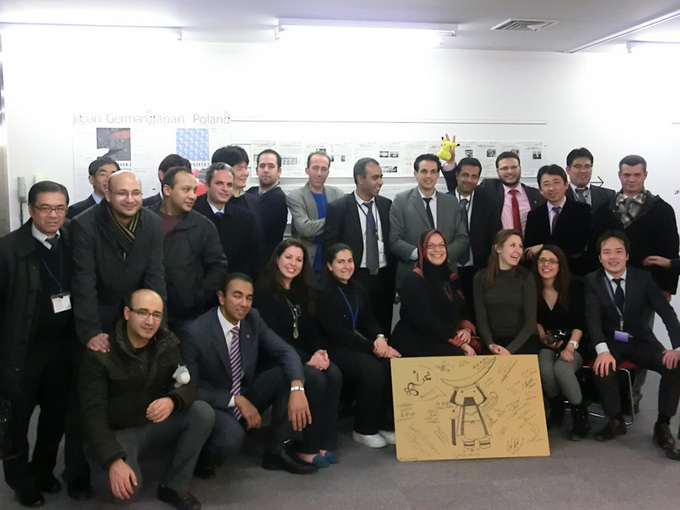 16 participants of social entrepreneurs, journalists and members of non-profit organizations from Egypt, Jordan, and Tunisia, at the Japan Foundation Information Center in Tokyo. During the 10 day program from February 19 to 28, 2012, they visited various organizations and companies in several regions of Japan including disaster-affected areas, and met with regional leaders who work in the field to discuss what is expected of leaders when rebuilding society.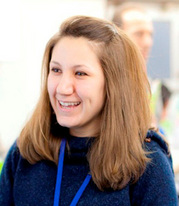 Dina Ghassan Baslan Media Assistant at the United Nations Office for Project Services Born in Jordan. She works for an international institution, taking charge of PR, liaison and coordination with donors and partners for a project that helps Iraqi refugees in Jordan.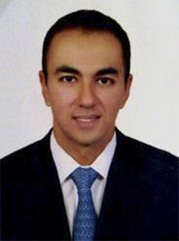 Ahmed Mohamed Abd El Moneim El-Dorghamy Energy & Environmental Consultant for the Center for Environment & Development in the Arab Region & Europe Born in Egypt. While working as an environmental consultant, he serves as a Board of Directors at Nahdet El Mahrousa NGO, raising awareness of environmental and welfare issues. He also contributes to alleviate environmental problems and urban traffic congestion by organizing activities such as promoting cycling.