Towards Cultural Recovery in Timor-Leste through Contemporary Art
Casimiro Valentim Pereira Zecaruno
Artist
On May 20, 2012, Timor-Leste celebrated the 10th anniversary of its independence. This year also marks a decade since the establishment of diplomatic relations with Japan. The two countries have therefore declared 2012 as "the year of friendship and peace between Japan and Timor-Leste" (to commemorate the peace year marking the 10th anniversary of that diplomatic relations) and organized a number of exchange events.
As part of its commemorative programs, the Japan Foundation invited Timor-Leste artist Casimiro Valentim Pereira Zecaruno (known as Gil) to Japan under the JENESYS Programme: Invitation Programme for Creators. Gil is engaged in efforts to use art as a means of peace-building, and of discovering and developing Timor-Leste's cultural identity. He participated in a "Creator-in-Residence" program at the Tokyo Wonder Site from May to July 2012, and had an exhibition on July 21 to present the artworks produced during his residency period.
At the conclusion of the program, we spoke to Gil about his motivation to contribute to the recovery of his country's culture through art.
----Coming from Timor-Leste, which has just celebrated the first decade of its independence this year, can you tell us about your experience participating in the "artist-in-residence" program in Japan, where the cultural and environmental contexts are completely different?
Timor-Leste had been occupied by three countries, Portugal, Japan, and Indonesia, and the road to achieve independence was long and hard. As for myself, I, as an artist, have learned art in my own way and received practical training from other artists, but I have never studied specialized theories of art at any institute for higher education. As a result, I found that my method of art making process was often different from that of artists from other countries. When it came to working in collaboration with Japanese artists, we sometimes got our wires crossed, and some things took time to understand each other.
Nevertheless, I am extremely proud of myself being given this valuable opportunity to join this program in Japan, and coming here as a representative of Timor-Leste.
I was impressed by high-quality service and products of Japan, and I felt that people were kind and always willing to give you a hand. On the other hand, partly because I was staying in Aoyama, the central area of Tokyo, I was able to see plenty of contemporary Tokyo while I was there, but unfortunately I only had little opportunity to expose myself to traditional Japanese culture. Next time I come to Japan, I definitely want to see its traditional aspects as well.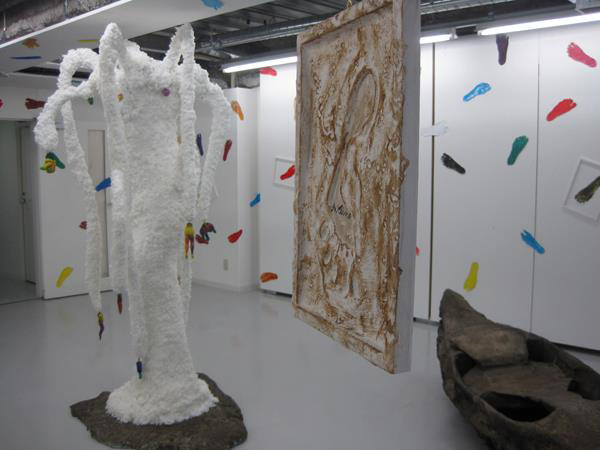 Numerous footprints connecting Timor-Leste to Japan were stuck on the walls.
People who visited his residency studio left their names.
On May 20, during my stay in Japan, Timor-Leste marked the anniversary of its independence, and I attended a commemorative event organized by a Japanese NGO. I was very happy to see Japanese people supporting the development of Timor-Leste and celebrating my country's independence. Of course, when I imagined how I would have cheered with my friends if I'd been in Timor-Leste, I was overwhelmed with thoughts towards home, and felt frustrated for being in a foreign country.
----At the exhibition, I found the piece titled Cooking Pot in one corner of the room, and it made an impression on me. Can you talk about that piece?
This represents my home country, Timor-Leste. The cooking pot sits atop a high-rise building. In Timor-Leste, all members of the family gather to share meals. We actually share not only meals, but everything. The blood of animals that is offered in memorial services for our ancestors flows over the pot.
I don't know how Timor-Leste is going to develop from now on, but we should not put all of our emphasis on modernization over traditional culture; I believe we should not sacrifice traditions even if it is supposed to be for the sake of development.
When I told Japanese people that I was from Timor-Leste during my stay in Japan, most of them were unaware of my country. That's why this work is tucked away in a corner of the space. In the Tetum language, "Timor-Leste" means "the country of the rising sun," so I placed it in a corner on the eastern side.
----What is the meaning of the joint work Reborn Tree that you created with the Japanese artists group OLTA?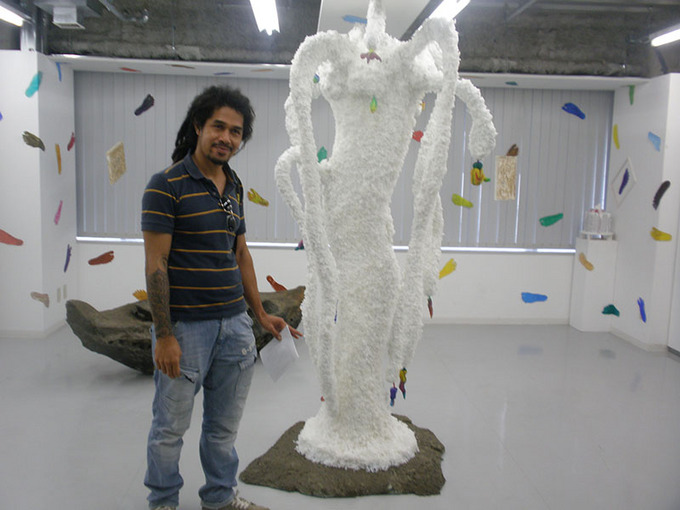 TWS Aoyama: Creator-in-Residence "OPEN STUDIO."
One of the works Gil created during his residency period: Reborn Tree
When talking to the members of OLTA, I realized that Japan and Timor-Leste share a tradition of offering rice to the dead-- Japanese people offer rice-served in a bowl with chopsticks stuck in it, while rice is buried in the grave when bidding farewell to the deceased in Timor-Leste. Trees grow by getting nutrition from earth and produce fruits. People too receive blessings from earth and eventually return to earth when they die.
That's why I attached rice to this artwork that represents human life cycle, and also added the fruit named "future." Actually, I've just had a child myself, and I've added this baby fruit since babies are treasures for the future.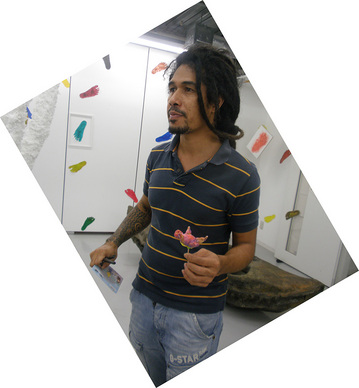 Gil holding the "baby fruit"
----What do you want to do when you get home? What are your thoughts on nation-building in the years ahead?
I want to share my experiences in Japan with local children and my fellow artists in Timor-Leste, through Arte Moris, the cultural organization to which I belong. They are as proud of my opportunity to visit Japan as if it were their own, and are eagerly looking forward to my return.
You don't know whether a roof of your house needs to be repaired unless you go outside and look at it. By traveling abroad, you can learn things about your own country for the first time. That is what this visit meant for me.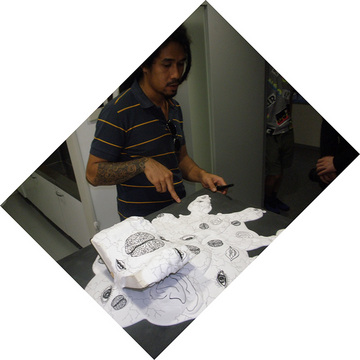 Memory of Transfer Passing on the wisdom of our ancestors to the next generation
It is my hope that peace will ever last in Timor-Leste, and the past will never be repeated. To make that happen, we need to keep up the festivals and traditional events that serve as ceremonies in the midst of everyday life. I hope that the government and NGOs will provide spaces for concerts, performances, and other creative platforms, and offer young people opportunities to be always involved in productive activities.
When you produce something, you are making a reflection of yourself. If you are creating something, you don't have time to think of anything bad. And so I pray that the strife of the past will never occur again.
In my view, apologies are not necessary; I understand that was the way things were in those days. If it weren't for the occupations in the past, there are things we would not have learned.
The three months I spent with the other JENESYS creators were very fulfilling. I will treasure my connections with them and Japanese artists for my own artistic growth in the years to come.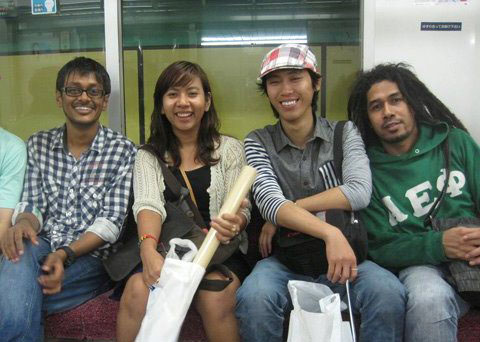 Traveling on the subway with other JENESYS creators. From right: Gil, Keomakara Hoeng (Cambodia, photographer), Zun Ei Phyu (Myanmar, contemporary art), Koustav Nag (India, contemporary art)
(Interviewed by Hisae Shiwa at Tokyo Wonder Site Aoyama, July 22, 2012)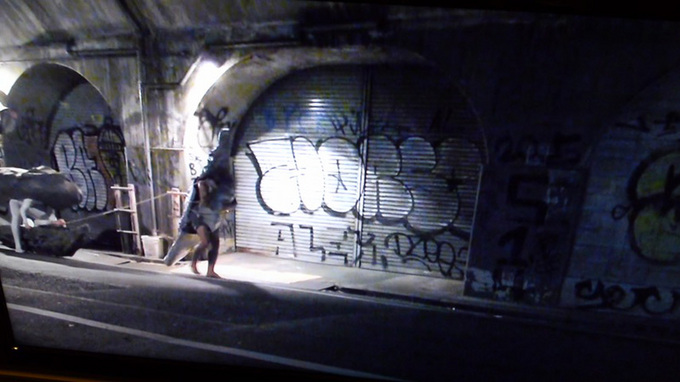 In The Caveman and the Alligator, a joint work with OLTA, Gil held a performance early in the morning near Shibuya Station. The photo shows Gil with the alligator costume walking through the streets around Shibuya Station as, dragging a caveman-like object.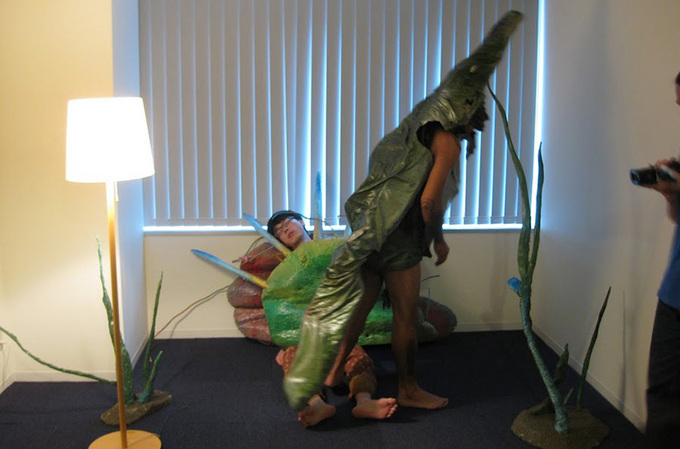 In contrast to OLTA's artist concept of "GENSHININGEN [primitive man]", Gil noted, "while an impression of 'primitive' seems to be distant and mysterious for Japanese people, we, Timor-Leste people, think of it as a connection to our ancestors, as part of our roots or identity." an image of the alligator worshipped as a god came from a fable about a young boy and an alligator, recounting the history of the island of Timor-Leste. In order to avoid any trouble that could arise from attracting too much attention in the middle of Tokyo, they set out from their residence at three o'clock in the morning, but Gil says that he would actually have liked to see people's reactions.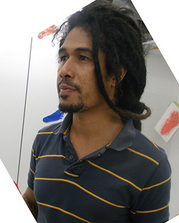 Casimiro Valentim Pereira Zecaruno (Gil)
Born in 1981. Graduated from Senior High School in 2001. Participates in exhibitions, community workshops, campaigns, and art education programs as a member of Arte Moris. Arte Moris was founded in 2003, and functions as Timor-Leste's first art education institution, cultural center, and artists association. Their activities are based on the concept of using art for peace-building, discovery and development of cultural identity, and recovery of the country's culture in Timor-Leste. Gil has been active worldwide as a visual artist, with major recent shows including "Carving Through Time" (Timor Island, 2011), "Be With Us, Be With Nature" (Shanghai World Exhibition, 2010), "Universal Communication" (Bali, Indonesia, 2009), "Art From Timor" (Sydney, Australia, 2006), "United" (Geneva at UN house and CIS Zumikon, Zurich, Switzerland, 2006), and "Art Auction" (Charles Darwin University, 2004). Arte Moris http://www.artemoris.org