The Japan Foundation Center for Cultural Exchange in Vietnam:Activity Report of The Japan Foundation Center for Cultural Exchange in Vietnam:Activity Report of The Japan Foundation Center for Cultural Exchange in Vietnam
The Japan Foundation Center for Cultural Exchange in Vietnam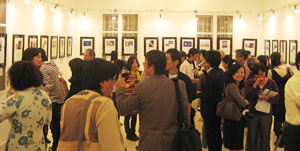 The Japan Foundation Center for Cultural Exchange in Viet Nam opened on March 10, 2008, as provided in the report of diplomatic delegation on cultural exchange implemented in May 2005 and in the appeal by a former Prime Minister Shinzo Abe at the Japan-Viet Nam meeting held at the APEC summit in November 2006. The Center supports Japanese language students and cooperates Japanese language teaching at secondary school level, the project promoted by the Vietnamese government. In addition to the Japanese language education activities, the Center is planning activities to introduce Japanese culture.

As 2008 was the 35th anniversary for establishment of diplomatic relations between Japan and Viet Nam, there were various cultural exchange activities both in Japan and in Viet Nam. The Japan Foundation organized "Japan-Vietnam Friendship Music Festival," photo exhibition "Hidden Japan," and "Japan Film Festival" to celebrate the anniversary. In the field of Japan Studies, as part of the anniversary activities, the Japan Foundation supported international symposia with Japan Studies experts from home and abroad held at University of Social Sciences and Humanities, Viet Nam National University, Hanoi, and at Hanoi University.

The Center held activities such as "Japanese Language Game" for junior college students who were studying Japanese, and the exhibition of children's toys. Three exhibitions of photograph were also held: "Tsunagari: Noi Ket" by Megumi Katsu, journalist and photographer who was living in Hanoi; "The Color of the Sun" by Viet Van, Vietnamese photo-journalist; and "Hanoi, Where I Love" by 44 Japanese photographers who were working and living in Hanoi. All of three exhibitions attracted attention, and many of the audience commented that they gained a new understanding of two countries by viewing Japan from Vietnamese perspective, and vice versa.

In August, the Japan Foundation organized the photo exhibition "World Heritage in Japan" at "Hoi An Festival" held in the Hoi An city in central Viet Nam. Hoi An is an ancient city that has historical relationship with Japan from the era of vermilion-seal certificate trade around the 17th century.

We are aiming to extend our cultural exchange activities to provincial cities of Viet Nam as well as in major cities such as Hanoi and Ho Chi Minh City.