The 49th Japan Foundation Awards
―Building Bridges Across Differences― <1>
Report for 2022 Presentation Ceremony for the Japan Foundation Awards
April 10, 2023
【Special Feature 078】
Special Feature: The 49th Japan Foundation Awards ―Building Bridges Across Differences― (for summary on special features, click here)
The Japan Foundation Awards, held for the 49th time in 2022, began in 1973, one year following the establishment of the Japan Foundation. Every year, the awards are presented to individuals and organizations that have made significant contributions to promoting international mutual understanding and friendship between Japan and other countries through academic, artistic and other cultural pursuits. Past recipients include such luminaries as Bernard H. Leach (potter, 1974), Kurosawa Akira (film director, 1982), Donald Keene (Professor of Japanese literature, Columbia University, 1983), Ozawa Seiji (music director, Boston Symphony Orchestra, 1988), Miyazaki Hayao (animated film director, 2005), Murakami Haruki (writer and translator, 2012) and Cai Guo-Qiang (artist, 2016). (Listed positions were held when awarded).

This year's award recipients included two individuals and one organization: Robert Lepage (Actor, Playwright, theatre and movie Director) from Canada, Korean Japanese Association from Korea and Goenawan Mohamad (Poet, Writer and Painter) from Indonesia. This is a report of the presentation ceremony attended by the recipients on October 19, 2022.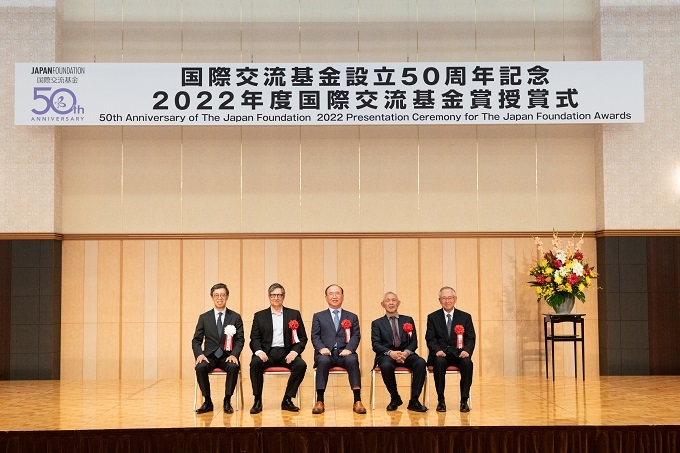 The Japan Foundation Awards is one of the oldest programs at the Japan Foundation, with 200 recipient individuals and organizations from 34 countries across the globe as of the 2021 awards.
For this year as well, recommendations were made by intellectuals in various fields from around the world as well as solicited publicly based on the three themes of Arts and Cultural Exchange, Japanese-Language Education Overseas, and Japanese Studies and Intellectual Exchange that make up the core of the Japan Foundation's activities. From among the 74 recommendations, recipients were then selected through discussions by the selection committee made up of 18 intellectuals.

Commemorating the 50th anniversary of the establishment of the Japan Foundation, the presentation ceremony was held in Tokyo with appearances of Their Imperial Highnesses Crown Prince and Crown Princess Akishino and with the presence of Mr. Yoshimasa Hayashi, Minister for Foreign Affairs of Japan, and approximately 200 people, including recipients, representatives from recipient organizations, the selection committee members, and other related parties.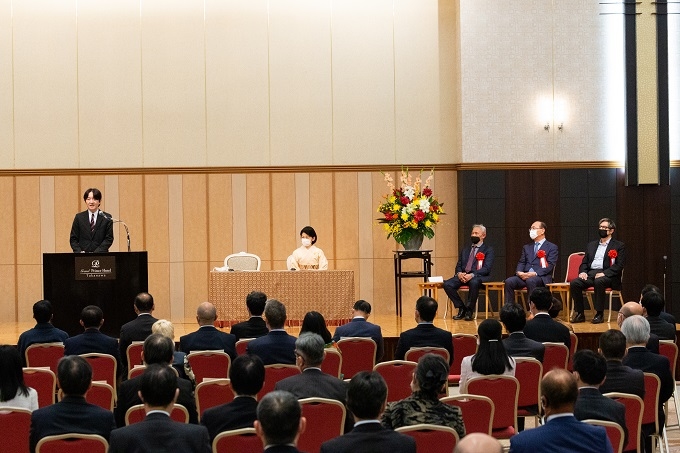 At the Ceremony, His Imperial Highness Crown Prince Akishino delivered the following address:
It is a great pleasure for me to join all of you at this 2022 Presentation Ceremony for the Japan Foundation Awards, which is being held in the commemorative year marking the 50th anniversary of the Japan Foundation. I wish to extend my heartfelt congratulations to the award recipients, Mr. Robert Lepage, the Korean Japanese Association, and Mr. Goenawan Mohamad.

I understand that the Japan Foundation has been working to deepen understanding of Japan and to enhance mutual international understanding by facilitating exchanges in culture and art, as well as by promoting Japanese-language education and learning, and moreover has been promoting and supporting Japanese studies and international dialogue in countries and regions widely around the world.

In the various countries that I have visited, I myself have had a number of opportunities to visit Japanese-language education and Japanology institutions with which the Japan Foundation has been involved, and to visit Japan Foundation exhibitions. I have also visited organizations that have received the Japan Foundation Awards or Special Prizes. I have found them all very impressive. Particularly, I have been amazed and profoundly impressed by the extremely high level of language proficiency attained by students majoring in Japanese language and Japanology. This also provided an opportunity to realize anew the diverse perspectives of researchers engaged in Japanese studies. Moreover, this has also led me to consider the role that these individuals are playing in bringing Japan and their respective countries even closer.

The Japan Foundation Awards, which were established in 1973, have been presented over the years to individuals and organizations from various countries, including Japan. I think that they have provided an opportunity to draw attention to the achievements of the recipients in further promoting the understanding of their respective countries. I would like to express my deep respect for the enthusiasm and efforts of all those who have supported the activities of the Japan Foundation over the years.

In the present day, marking 50 years since the establishment of the Japan Foundation, the need for mutual international understanding and cultural exchange is greater than ever before. In these circumstances, the role being played by the Japan Foundation in this regard will become even more important than in the past. I hope that the efforts of those involved will promote even greater cultural exchanges in various fields.

In closing my address, I hope that the recipient individuals and organization, who have utilized their expertise to engage in the wide-ranging field of international exchange, will attain even greater achievements in the future.
Furthermore, Mr. Yoshimasa Hayashi, Minister for Foreign Affairs of Japan gave a congratulatory address.
Minister Hayashi mentioned that the spread of COVID-19 in recent years not only had a major impact on culture, the arts, and international exchanges, but also reminds us that culture and arts nourish our hearts and helped people and how significant people-to-people exchanges are. He also expressed appreciation and respect for the contributions of the recipients, who were engaged in activities that foster empathy, trust, and friendship among people in Japan and around the world through international exchanges of culture, arts, and with the youth who would lead the next generation.
Noting that this year marked the 50th anniversary of the establishment of the Japan Foundation, he also described the expectations that the people-to-people exchanges the Japan Foundation conducted would continue to serve as a bridge for further friendship between Japan and the rest of the world.

Afterwards, the recipients and the reason for their awards were introduced.

In addition to being an actor, Mr. Robert Lepage is a director, playwright, filmmaker and the artistic leader of Ex Machina (Latin for "from the machine"), a creative collective he founded in Canada with activities spanning the domains of theater, opera and multimedia shows. Ex Machina is particularly known for its unique productions that boldly incorporate the latest technologies. The company is widely acclaimed throughout the world for its approach that defies conventional wisdom.
Mr. Lepage has a long history of relationships with Japan, such as the performance in Japan of his work The Seven Streams of the River Ota, about Hiroshima, and has had many collaborations with Japanese artists through which he has had a significant influence on the performing arts in Japan. These activities have contributed to the promotion of mutual international understanding.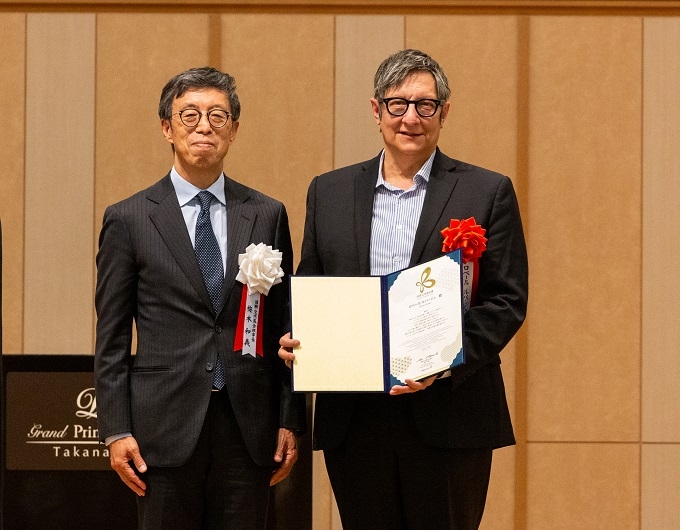 Mr. Umemoto Kazuyoshi, President of the Japan Foundation (left), and Mr. Robert Lepage (right)
The Korean Japanese Association was founded in 1971 to promote friendship, goodwill, and mutual prosperity between Korea and Japan. In the 50 years that have passed since that time, the organization has focused on the area of Japanese language education, which is the foundation of mutual understanding between Korea and Japan, to steadily carry out future oriented activities for youths.
The organization has worked on programs to discover and train young talent, such as a Japanese language studies achievement contest for Korean middle and high school students, a Japanese language translation contest for university students, and the annual hosting of the Lee Soo Hyun Memorial Program. The organization has also worked to support the careers of young people through their Japan Education and Career Fair.
In this way, the organization has contributed to the mutual understanding, friendship, and goodwill between Korea and Japan and to human resource development through their many years of diverse exchange activities for youths.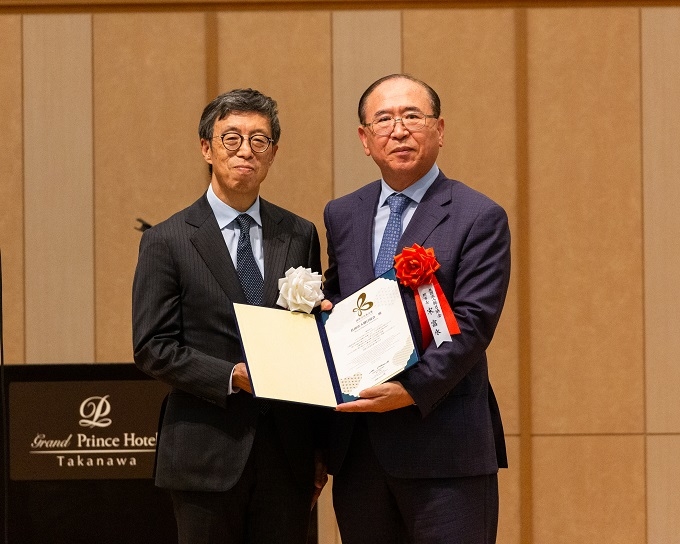 Mr. Song Boo Young, Chairman of Korean Japanese Association (right)
Mr. Goenawan Mohamad is one of the intellectual giants of his generation in Asia. With his achievements as a journalist, civic activist, poet, and playwright, he is Indonesia's leading intellectuals and has wide ranging talents. Among his achievements, Mr. Goenawan launched the weekly magazine Tempo in 1971 through which he continued to stress the importance of freedom and democracy in Indonesia. His wide-ranging activities and versatility covered the fields of poetry, drama, the fine arts, and writing, and in each of them he exercised his talents, thereby making contributions to art in general. Mr. Goenawan came to Japan under the Asia Leadership Fellowship co-sponsored by the Japan Foundation and the International House of Japan, and since then he has expanded his intellectual exchanges with Japan in a variety of domains.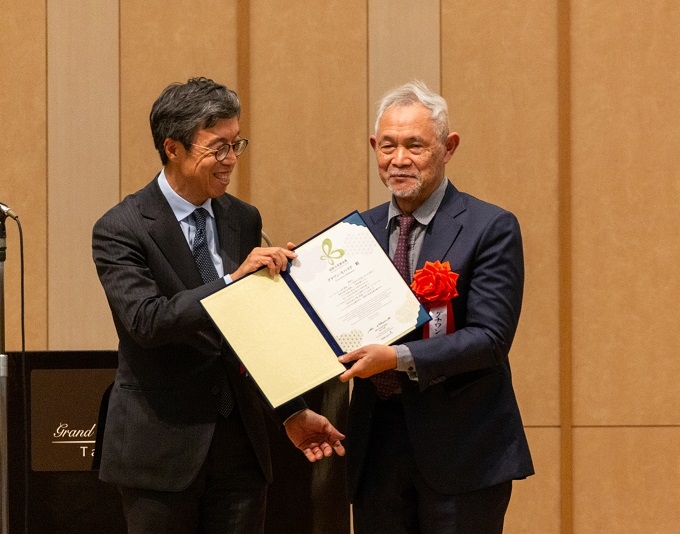 Mr. Goenawan Mohamad (right)
At the presentation ceremony, people associated with the recipients introduced and congratulated the recipients.

When Mr. Miya Umihiko (Actor, Founder of Agriculture entertainment project "Shino-Ko-Show," Founder of Umi Fit) met Mr. Lepage during the creation of Cirque du Soleil's touring show "TOTEM," which he directed, and when Mr. Miya asked his advice, was told "Don't act, to be." He said that this message became his lifetime theme, introduced the gathered individuals to Mr. Lepage's wonderful personality through several episodes, which can be said to be "Lepage Magic," and noted that Mr. Lepage could change the lives of those around him for an instant.

With respect to the activities of the Korea-Japan Association, Mr. Yoshino Toshio, Vice president of Japan Student Services Organization, which has been co-working with the Korean Japanese Association for many years, introduced the various efforts made by Korean Japanese Association to conduct the Examination for Japanese University Admission, explaining that, even though the examination is held in 14 countries and regions mainly in Asia, the largest number of examinees was in Seoul. He also mentioned that he had admired the efforts of the Association to help organize Study in Japan Fairs in Seoul, even when Japan-Korea relations became strained, to calmly accept the situation for what it was, and to continue steadily helping to improve Japan-Korea relations. He also expressed his hope that the Association would persistently pursues such activities into the future.

Prof. Ogawa Tadashi (Atomi University, Tokyo), who was responsible for inviting Mr. Goenawan under the Asia Leadership Fellow Program (ALFP) in 1997, mentioned that Mr. Goenawan stressed to him right after the outbreak of the pandemic, "The most important thing in times of crisis is to nurture creativity and critical thought among young people. These are the lifeblood of democracy, guarding it against populism, radical violent ideologies, and 'my-country-first' doctrines." In keeping with this, he introduced how Mr. Goenawan had been focusing his efforts on nurturing young cultural leaders at Komunitas Salihara Arts Center, a cultural facility in Jakarta, and that Salihara was also used as a venue for cultural exchange.

Following these remarks, speeches were given by the recipients.

Mr. Lepage described how he first saw a Kabuki performance at the age of 17, an experience which captivated him. Later, when he was invited to Japan for the first time by the Japan Foundation as a professional, he received a great deal of artistic stimulation, including his surprise at the beauty of the city of Hiroshima that seemed to have risen like a phoenix from the destruction and waste he had expected. This experience became the inspiration for his seven-hour epic poem, The Seven Streams of the River Ota. He then touched on his subsequent visits to Japan and his numerous collaborations and joint projects with many Japanese artists, including countless stage, circus, and musical productions. He mentioned with pride that he believed the reason he was invited to Japan so frequently is because the Japanese people saw themselves within the universality of his work.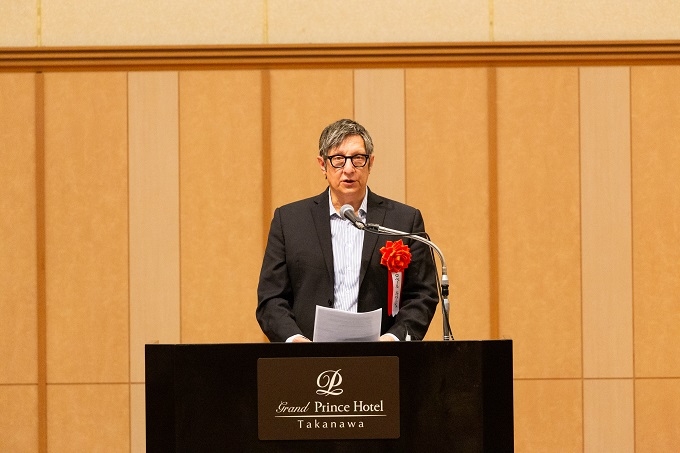 Mr. Lepage talking about exchanges with Japan
Mr. Song Boo Young, Chairman of Korean Japanese Association, noted that "In this age of globalization, it is ever more important for educational institutions and private organizations, such as ourselves, to increase our efforts even more to further deepen youth and educational exchanges with a view towards the future in the hope of peace and prosperity for both Korea and Japan. We are steadily engaged in several important programs of this nature, and I am extremely pleased to have received the Japan Foundation Award at this time. Encouraged by this award, I hope to continue to contribute as much as possible to the co-prosperity and peace of not only Korea and Japan, but the Asian region overall."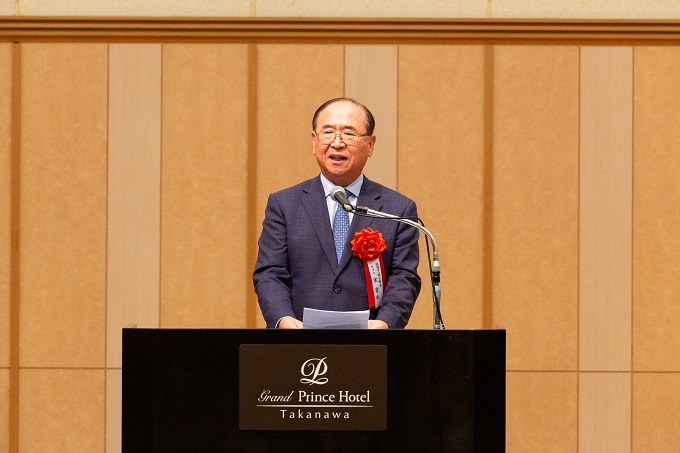 Mr. Song Boo Young, Chairman of Korean Japanese Association describing the joy of receiving the award
In his speech, Mr. Goenawan Mohamad said, "This award is a generous recognition of my achievements as a writer and journalist in Indonesia, for which I am grateful. But more importantly, this award is also a message of hope." He added that in a world where identity politics is spreading as people everywhere work to defend the purity of their religions, ethnicities, and cultural identities, it is necessary for us to use our intellectual and artistic energy, and the power of humor, to create things that are held in common by all people. As a starting point for that effort, he noted that there is a word in Javanese, liyan, which means "a different being you can share life with." He explained that he intended to focus on the meaning of this word, and that the award served to further support that intent.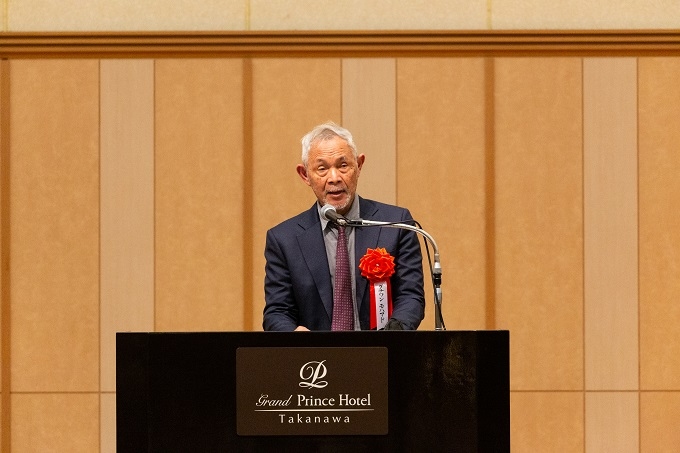 Mr. Goenawan Mohamad talking about the significance of receiving this award
After the presentation ceremony, it was seen that the awardees were surrounded by many people, praising their achievements, and enjoyed talking with them.

Text: Nishino Yumiko, Public Relations Dept., The Japan Foundation
Photo: Stage