JF's Initiatives for Crossing Borders, Engaging in Exchanges and Harnessing the Power of Creation amid COVID-19 <5>
Virtually Connecting Intercultural Exchange Organizations throughout Japan
March 22, 2022
[Special Feature 073]
Nawa Ikuko and Sato Marie
(Japan Foundation Communication Center)
JF's Initiatives for Crossing Borders, Engaging in Exchanges and Harnessing the Power of Creation amid COVID-19 (click here for a special feature overview.)
Even though many of the Japan Foundation's projects take place overseas, we also host The Japan Foundation Prizes for Global Citizenship, a program to recognize intercultural exchange organizations operating in Japan. Over its 35-year history, the program has given the prizes to 109 organizations in three fields: "Promoting regional/community development through arts and culture," "Promoting diversity of culture" and "Promoting people-to-people collaboration and international mutual understanding." In addition to recognizing these organizations, we have held a follow-up event*¹ since 2016. As part of the event, we invite past prize winners and hold workshops to share issues facing each organization and public symposiums to widely publicize their activities in the three prefectures of Toyama, Hyogo and Mie.

In 2020, however, the COVID-19 pandemic forced us to cancel the 2019 prize ceremony scheduled to be held in Tokyo on March 9, 2020. Because holding the planned follow-up event also became difficult, we struggled to find a solution and instead held an online talk event in August 2020 after repeated discussions with members of the 2019 selection committee. Our decision to hold the online event was backed by their passionate resolve to never stop international exchange among citizens even during the pandemic and encouraging advice to turn the event into a venue to talk about issues shared by everyone under the pandemic, rather than a venue to provide solutions.
In early July, we held interviews with the 2019 prize winners to grasp their current situations and find out what is happening and what has become an issue during the pandemic.

Shimoda Nobuhisa, director of C.A.P. (The Conference on Art and Projects), a Kobe-based organization of artists connecting society and arts, said that "When everyone was waiting for things to return to normal, expecting it would not last so long, artists were the first to make a move. They were feeling a strong urge to break out of the state of forced inactivity."

Mr. Shimoda was encouraged by the positive attitudes of artists to charge ahead. Some of them turned their conventional in-person art seminars into online classes, which can be enjoyed from home, on the theme of "not being able to meet people." Others were engaging in creative activities with their counterparts in Germany for Rokko Meets Art 2020, which was scheduled from September to November 2020. Even though many joint programs with overseas organizations were postponed, they believed that this co-creation process was so invaluable that they would feel no regret even if the event was canceled.

Iwamoto Yayoi, the director of MIC Kanagawa that arranges medical interpretation services for foreign residents in Kanagawa Prefecture, told us about the situation facing them: "It's a double bind. More patients are refraining from visiting a hospital because of COVID-19. Even if they do decide to visit, it has become difficult for interpreters to accompany them due to a fear of catching and spreading the virus. Meanwhile, some hospitals decline our service if interpreters do not accompany patients. The pandemic gave us an opportunity to re-evaluate the meaning of an in-person interpretation service and that of a remote interpretation service." She continued: "An additional effect is that the number of participants in our medical interpretation training has increased since we started providing it online, offering easier access to foreign participants."

Through the interviews, we also discovered common developments during the pandemic. They recalled a sense of unity generated by sharing the same issue across the world. They heard from people they met in the past, leading to more donations or new projects as well as unexpected reunions. Our worries that they might be in really difficult situations proved unfounded, and their continued activities despite the pandemic gave us energy instead.

Finally, we held a two-day online event*² in early August as a follow-up project for 2020 to share issues facing organizations under the pandemic and explore new possibilities. The talk event, "International Exchange in Local Communities in the COVID-19 Era," was viewed by a total of 10 organizations and more than 300 people.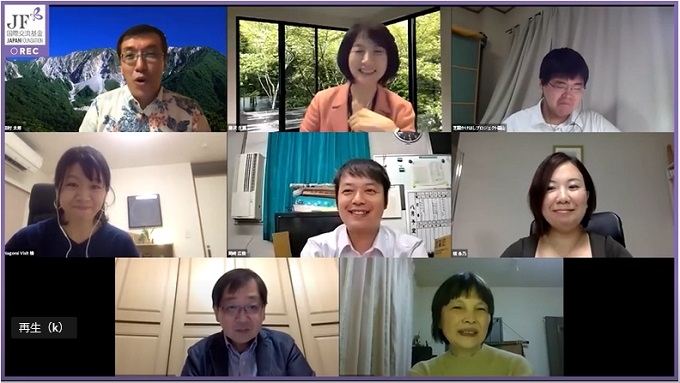 Streaming of the first-day session
The theme of the first day, August 6, was "Multicultural Coexistence." With Tamura Taro, representative director of the Institute for Human Diversity Japan, and Fujisawa Kumi, president of Think Tank SophiaBank, serving as moderators, we asked five theme-relevant prize-winning organizations to share how they are undertaking activities.

During the session, the participants held future-oriented discussions. Some reported that a combination of online and offline activities has enabled them to gain supporters more broadly regardless of geographic locations and generated new possibilities for collaboration. Yagi Hiromitsu, deputy secretary-general of the Kumamoto International Foundation, pointed out that "Cultural exchange should be done in person, but in a world with COVID-19, it is essential to set up a flexible system to ensure multilateral communication that includes an online means." He also emphasized "bonding and solidarity," which serve to protect precious lives, even in the post-COVID-19 new normal. Hori Hisano, representative director of Hamamatsu Global Human Resources Support, also noted that "Interaction beyond activity categories, such as collaborating with a venture business, will be important in solving issues," while moderator Tamura stressed the importance of taking up challenges, saying: "What is inherently valuable will prevail even in different forms, and the need for international exchange activities will never change."

The second day was divided into two parts. The first part, "International Exchange and Collaboration among Citizens," was joined by three prize-winning organizations providing international exchange programs for young people and two moderators, Ms. Fujisawa and project coordinator and planner Wakabayashi Tomoko.

The participants shared what they have actually faced. Even though the introduction of an online means has made it easier for everyone to participate in cultural exchange, it fell short for conveying non-verbal communication, which is essential for deepening a relationship with those who participated for the first time or those unfamiliar with online meetings. Varying Internet environments and time differences have also been troublesome in cross-border cultural exchange.

Aritomi Ai, program coordinator of the Executive Committee of the Asian-Pacific Children's Convention in Fukuoka, pointed out that "In-person communication is the key to non-verbal, heart-to-heart exchange. Words play a major role in communicating online in real-time, but what we seek is a heart-to-heart exchange beyond words. In order for children to connect to each other through their hearts, it is important to repeatedly hold non-verbal communication to capture the other's facial expressions and feelings and try to understand each other."

In the second part entitled "Community Development through Arts," two art organizations talked about their activities, with Kawashima Nobuko, professor at Faculty of Economics, Doshisha University, and Ms. Wakabayashi serving as moderators. The two organizations decided to hold their 2020 events despite the pandemic and are busy preparing for them.

Koganecho Area Management Center director Yamano Shingo explained how artists are creating their works remotely for Koganecho Bazaar 2020, an art festival held in Yokohama City, and presented their new online internship program, which allows interns to do their jobs online instead of on-site.

The International Theater Festival Okinawa for Young Audiences Executive Committee has decided to hold the theater festival (nicknamed "ricca * ricca festa") in March 2021. The committee's representative Shimoyama Hisashi told us that "The pandemic has been affecting both adults and children, but children in particular. Figuring out how to bring courage to children through the stage and arts is a global challenge. We are frequently holding online meetings with the participating theater companies throughout the world in a process of trial and error." He added: "Based on what we have experienced during the pandemic, I expect that the number of joint online international productions involving many countries and regions will increase."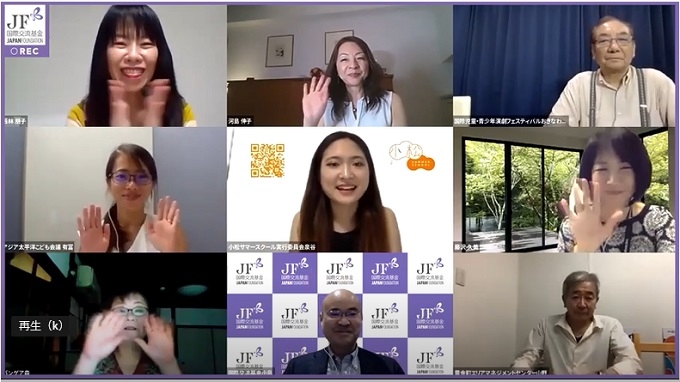 Participants of the closing session on the second day
Finally, during the closing session joined by all nine participants, NPO Pangaea president Mori Yumiko touched on an interesting point, saying: "Conveying everything online is difficult. What we need to do is divide our goal into smaller steps and think about what we can do online to pursue each step." Moderator Fujisawa commented that "Non-verbal communication, which is difficult to conduct online as pointed out by Ms. Aritomi earlier in the first part of the event, could probably be facilitated through art activities undertaken by the organizations that participated in the second part," showing a great expectation for collaboration among the participating organizations.

During the two-day session, we received many questions and suggestions from the audience and there was a lively interactive discussion that would not have been possible without the online streaming. It also revealed that viewers were equally struggling to find out what they should and could do under this unprecedented pandemic.

The prize-winning organizations taught us that the pandemic, which defies common sense, is perhaps an opportunity to both pause for a moment and spur innovation. They stressed it is important we move forward, even a little, by thinking about what we can do now, through a process of trial and error and building cross-border ties, rather than just waiting and doing nothing. An online event has its own merit, as it could otherwise have been difficult for this many prize-winning participants to join the sessions from across Japan. But again, we noted the importance of meeting people face-to-face and realized non-verbal communication is not always possible unless we meet in person.

Even if COVID-19 subsides, we believe that cultural exchange can be further deepened by utilizing both online and offline means. The event proved to be the first step for us.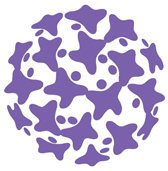 The Japan Foundation Prizes for Global Citizenship https://www.jpf.go.jp/e/about/citizen/index.html
(Japanese version of this article was released in November 2020; positions are as of at the date.)