JF's Initiatives for Crossing Borders, Engaging in Exchanges and Harnessing the Power of Creation amid COVID-19 <2>
How Artists Have Responded to the Pandemic―A Story of a Japan-India Joint Online Stage Production
February 4, 2022
[Special Feature 073]
Ishimaru Aoi
(The Japan Foundation, New Delhi)
JF's Initiatives for Crossing Borders, Engaging in Exchanges and Harnessing the Power of Creation amid COVID-19 (click here for a special feature overview.)
COVID-19 spreading across the world has had a serious impact on various professions, art being no exception. Movie theaters and other cultural facilities in India had yet been allowed to open in September 2020, and it has been said that theater workers faced massive cutbacks (as of October 2020). A silent war against COVID-19 has been continuing with no end in sight, sometimes making me feel downhearted. In the meantime, the Japan Foundation, New Delhi, co-hosted "WITHIN," an online stage production project, from May to June 2020, our first project in which artists from Japan and India worked together online to create a stage production for streaming. The video we streamed is archived and available for viewing via our official Facebook account. This article recounts the progress of the project and what I felt as a member of the Foundation tasked with facilitating the project. I hope that this will serve as an example of how artists have responded to the unprecedented crisis and will be of some help in the future.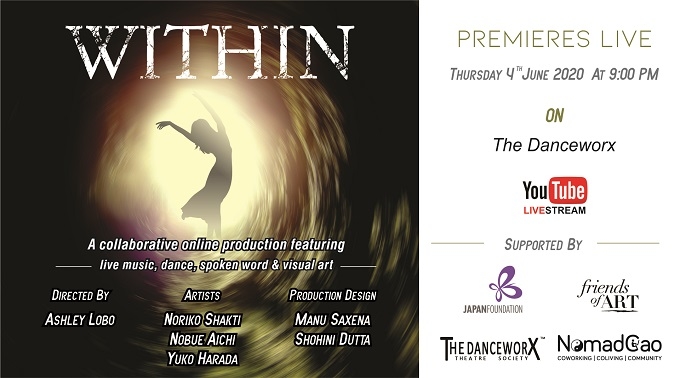 Key visual of the joint production based on the theme of "a bright light I saw in the twisted tunnel of life"
The entire nation of India went into lockdown on March 25, 2020. We were forced to stay out of the office for about 40 days and had to cancel or postpone indefinitely all planned cultural projects, including art exhibitions and workshops. Since we had always focused on holding on-site events, such a sudden development left us at a loss.
Immediately following the lockdown that strongly requested people to stay at home, the city of Delhi, where our office is located, became like a ghost town, so quiet with hardly anyone on the street. Around that time, artists across the world announced via social media new projects to be live-streamed or delivered without an in-person audience.
Some confessed their financial challenges and started crowdfunding. I was agonizing for days under a seemingly never-ending lockdown, wondering what we can do as an organization and as individuals for these artists.

On May 4, when the lockdown order was partially lifted, I was working in the office for the first time in a while and received a call from Harada Yuko, a dancer living in Mumbai. Ms. Harada participated in a stage performance hosted by the Japan Foundation, New Delhi, and we had been regularly in touch ever since. At that time, the number of COVID-19 patients was particularly high in Mumbai, and the city was imposing even stricter restrictions on movements than in Delhi. She was holding online dance lessons from home considering various ways on what she could do during the event of an unprecedented magnitude. Ms. Harada told me she had contacted Aichi Nobue, a dancer friend living in Japan, and felt strongly that dancing was needed more than ever. Since prehistoric times, dancing has meant praying, and people sometimes danced to appease a natural disaster. They agreed it was really the time. During our phone conversation, I told Ms. Harada that I was also contemplating whether there was something I could do during the lockdown and offered to help the best I could.
Aichi Nobue (left), a dancer living in Tokyo, and Harada Yuko (right), a dancer living in Mumbai
We then looked for artists and staff from Japan and India who'd support Ms. Harada's idea, and several days later, decided to create a performance centered around dancing for online distribution. In addition to Ms. Harada and Ms. Aichi, the project was joined by Noriko Shakti (music production) and Ashley Lobo (stage direction). Ms. Shakti is refining tabla (a type of percussion instrument) playing skills in India, and Mr. Lobo is the artistic director of the Navdhara India Dance Theatre, one of the leading contemporary dance companies in India, and a choreographer of Bollywood movies. It was a small company of less than 10 people, including production and technical staff, but all who had been confined to their homes due to the pandemic and had lost the opportunity to express themselves were very excited to participate in the creation process for the first time in a long time.
The following is the description of the production provided by Mr. Lobo.
The whole piece was conceived around the word "within."
Inspired by the times where we are all stuck within the boundaries of the four walls of our homes, it serves as a parallel to the thoughts we hold within that keep us separated sometimes even from ourselves. Within our minds there is always a war. And the devastation of war is both obvious and unnecessary.

Opening - Covid War
This is the war that happens inside our heads at the onset of being locked down or closed off and not allowed to act or think freely. The mind and body want to break those bonds and feel the freedom of full expression. Full connection to others, but most importantly to ourselves, by being free and authentic in our living.

Lipstick and Shadow
During the times of COVID-19, appearance is one kind of freedom that there is still a sense of feeling shutdown. A need to break free and explore and express. Be all you are but you cannot. It is so also in everyday life before the pandemic.
Appearances are so important in that the image of one is sometimes so different to who we actually are. There are so many sides of ourselves that we want to express, but are stifled by the perception of good or bad, right or wrong, safe or unsafe.
A feeling of being trapped, inhibited and stifled by our own beliefs.

Drawing - Kids
There is a child in all of us that never grows up and that child needs love and needs to be fed. Remembering what brought us happiness before we knew so much brings us back to the simplicity of our true nature. As a child, we expressed our thoughts and ideas freely without judgement. There never was a war of conflict then.

Poem with Kimono and Saree
This is a celebration of the two countries and oneness in diversity of the human race.
All of us go through the same experiences during a war. Whether it's a political one or one that is within the self with one's own cultures boundaries and the self. There is physical death but also death within. With any war there always is fear, sadness and loss and pain but there is also prayer and hope. And the desire to be at peace.

Noriko Solo Tabla
This is an expression of the metamorphosis of the death and pain and destruction of the past to real acceptance and healing. Where scars left behind serve as reminders of the journeys made and no more. A coming together of it all to the point of collapse and the birth of realisation.

Finale - Light Balls
A reminder that the light is with us always
A realisation of our actual existence and purpose which is unconditional love. Both outside and within. To find our true selves. And the celebration of that individual being free of duality and reborn into oneness of body, mind and soul. Where all worlds within and without live in harmony and sharing.
All rehearsals were done online by using Zoom and other apps. Members "gathered" at the same time and rehearsed for about three hours almost every day. I joined them as often as possible in between other tasks. It was the first time Mr. Lobo directed a stage via online means, which seemed to make him feel a little awkward in the beginning. But he gradually discovered how to take advantage of a limited space captured by a camera and to make the performance more attractive, giving instructions to the dancers accordingly. As you can see from the video, he tried unique staging ideas that are not used in conventional dancing performances on stage. Examples include the dancers coming very close to the camera and blinking their eyes or using the sole of their foot as a curtain to change scenes. Incorporating a variety of ingenuity, he created the show while repeating much trial and error and sometimes asking for comments from the dancers and staff. There were things that were different from usual stage performances as well, which needed creative solutions. For example, performers couldn't exit the stage because there were no stage wings, and they also had to operate the camera and PC themselves. Besides the performance itself, they repeatedly checked arrangements, including scene and costume changes and the use of props. Run-throughs were also difficult, sometimes disrupted for technical reasons as they faced no music coming out of the speaker, audio feedback and failures to show images.

In hindsight, the project was pretty rushed as it started in early May with a plan for live-streaming on May 31. During this period, the number of COVID-19 cases kept climbing in India, and as a result, I received an order to return to Japan on a flight on May 30. I wasn't able to join the final rehearsal because I had to prepare for my departure, but I remember I was so much uplifted as I watched a video of the rehearsal at the airport lobby before leaving. Realizing that there were artists somewhere in the world making their best efforts to express themselves and that their act was really precious, I was moved to tears.

At midnight, May 31, the day I arrived in Japan, the streaming of the show started, but there was something wrong. The streaming was interrupted several times and then stopped completely after about 20 minutes. The staff immediately made contact with each other and decided to cancel the show for the time being. Since we couldn't reach the performers while they were dancing, however, it was really heartbreaking that we had to tell them it was canceled after they had danced all the way through. It was spectacular, too good to miss for the audience. For the next several days, to make another try we conducted technical checks and rehearsals night and day, examining what caused the failure and checking off issues that had to be addressed to make the online streaming successful. For everyone, these days were probably the toughest part of the production. We decided to change the platform from Facebook to YouTube and distribute a pre-recorded video for the performance part.

The show, which took place on June 4, was distributed online without a hitch. The moment it ended, I saw everyone explode with joy in front of their PCs, feeling a sense of accomplishment. I felt the same excitement as I always feel with conventional shows performed on stage while watching from a stage wing the curtain coming down and being filled with inexpressible senses of relief and exaltation. We developed this project from different locations, never meeting in person; however, I have no doubt that a "stage" existed. After the streaming of the show, we received positive feedback from many audiences in Japan, India and other countries, expressing that it was an interesting effort and a form of performance never seen before. The project was a little rough around the edges, but was able to show a new form of expression at a nascent stage.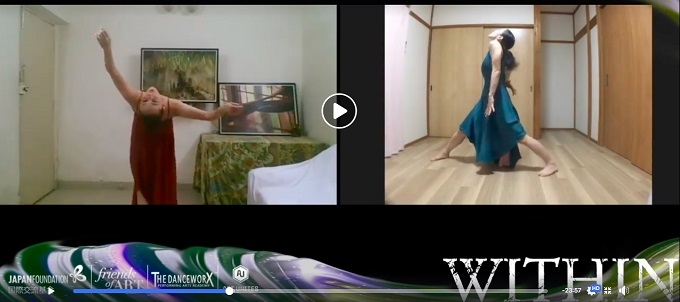 Screenshots of the performance delivered on YouTube from their respective homes
Since the pandemic started, I've been thinking what a stage or a performance is. With many theaters still closing their doors across the world, it will take a while before things get back to how they were previously. There is no guarantee that things will be fully back to the way they used to be. Many performances have been distributed online around the world, but frankly, I often feel something is amiss and am longing for a theater filled with an audience.

In July 2020, the Japan Foundation Asia Center launched "Online Asia Center TERAKOYA," an online seminar series. During its first session, Miyagi Satoshi, one of the guest speakers and the Artistic Director of the Shizuoka Performing Arts Center (SPAC), likened a conventional stage performance to "crab meat." "We may not be able to deliver real 'crab meat' right now," he said, "but we'll work to provide kanikama, imitation crab meat, instead." Having been involved in the project, I've come to realize that behind each kanikama, there is an unchanging dedication as well as the passions of artists. Online production eliminates national borders. With the entire world facing the same tragedy, anyone and everyone can join hands with others to create something. As a member of the Japan Foundation, I would like to offer my help to lay the groundwork for an environment to enable more artists to work on projects that transcend national borders. By doing so, I might someday taste and experience kanikama that is even more tasty than real crab meat.

Performance stage streaming project "WITHIN" (Official Facebook account of the Japan Foundation, New Delhi)
https://www.facebook.com/JFNewDelhi/videos/275546603820831/

"Online Asia Center TERAKOYA" #1 ("People Connecting with Each Other beyond National Borders Even in the Era of COVID-19: Potential of a New Form of Cultural Contact") is archived and available for viewing on the Japan Foundation's live-streaming channel, The Japan Foundation Live.
(Japanese version of this article was released in October 2020.)