JF's Initiatives for Crossing Borders, Engaging in Exchanges and Harnessing the Power of Creation amid COVID-19 <4>
How Can We Expand Our Exhibitions Online?
March 14, 2022
[Special Feature 073]
Sugie Yurika
(The Japan Foundation, Sydney)
JF's Initiatives for Crossing Borders, Engaging in Exchanges and Harnessing the Power of Creation amid COVID-19 (click here for a special feature overview.)
Even before the spread of COVID-19, Australia suffered from massive bushfires that swept across the nation from September 2019. These fires wreaked tremendous havoc on the country, scorching over 10.7 million hectares, damaging more than 5,900 buildings and claiming 29 human lives. Numerous types of wildlife were also victimized as seen in heartbreaking images viewed worldwide of koalas suffering burns after being engulfed in the inferno. Large billows of smoke poured into the urban areas of Sydney, home of The Japan Foundation, Sydney ("the Center"), transforming the skies into a yellow haze. There were continuous days when simply breathing was difficult even with a mask.

Just as the worst bushfires in Australian history finally subsided in February 2020, the country was struck by fears about the global spread of COVID-19.

In March, the number of infection cases began to rise and in late March the government announced it would restrict entries from overseas, prohibit public gatherings and close entertainment facilities such as restaurants, museums and movie theaters. These measures were quickly enforced within just one or two days following the announcement. Then, on March 23 Australia began a nationwide lockdown.
Opened on March 14, 2020, the 22nd Biennale of Sydney was entitled NIRIN (a word used by the Wiradjuri, one aboriginal group, meaning "edge"). Serving as artistic director, indigenous artist Brooke Andrew enthusiastically delved into the theme of the complexity and diversity of minorities.

From Japan, Ainu artist Mayunkiki participated with a work on Sinuye (traditional Ainu tattooing practice). Despite the difficulties involved with overseas travel during a pandemic, numerous professionals from arts circles arrived from all across the globe for the event opening. Unfortunately, as part of the lockdown in late March, cultural facilities also were temporarily forced to close and the Biennale of Sydney was inevitably suspended a mere 10 days after opening.

Shortly after the biennale was suspended, it was announced that the exhibition would be held online in collaboration with Google Arts & Culture. This was widely feted in the media as "the world's first virtual biennale." At the same time, prominent Australian museums such as the Art Gallery of New South Wales and the National Gallery of Victoria also put their collections and artist interviews online via their websites and social media and continued to communicate their activities.

The exhibition Seikatsu Kogei: Objects for Intentional Living*¹, which was held at the Center from February and introduced more than 70 craftworks by 22 active artists, was temporarily suspended during the exhibition period due to COVID-19.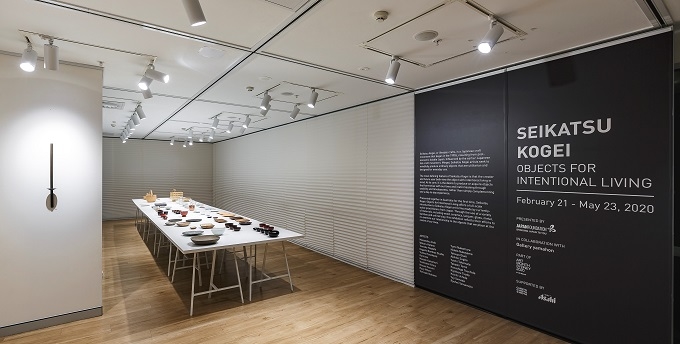 A scene from the exhibition venue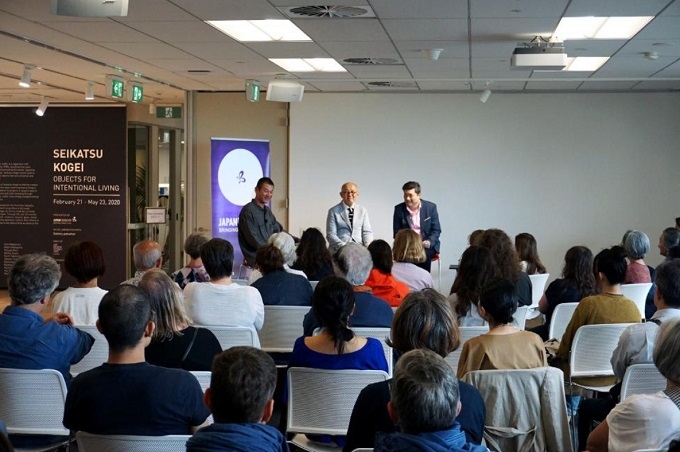 A talk event held in late February featuring exhibiting artist Mitani Ryuji (center) and gallerist Yamamoto Tadaomi (left)
We immediately began planning to move online to continue presenting the exhibition to audiences in Sydney (and by extension to audiences throughout Australia, Oceania and the entire world) even while The Japan Foundation Gallery was closed.

For our online format, we could have chosen a 3D format that enables virtual tours; however, we wished for as many people as possible to easily enjoy the exhibition so we decided to adopt a catalog format. This method allows for stress-free browsing by reducing required data capacity as we considered the somewhat sluggish Internet connection speeds in Australia. Another main reason for selecting this format is to effectively display each work with high-resolution images to convey the sophisticated beauty of the handiwork within the intricate details of the crafts.

We hurriedly obtained permission from the exhibition collaborators to display their works online. We photographed the exhibition settings and each work, transcribed the dialogue of the opening talk and posted them on the Center's website.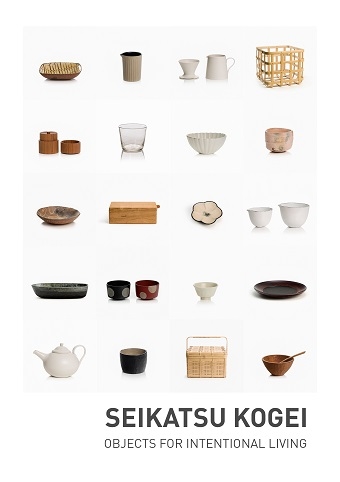 Catalog top page
After making these exhibits accessible to the public online, we received much favorable commentary. These included such comments as, "I'm delighted I could enjoy wonderful Japanese crafts presented online in a beautifully curated format. I rarely have the opportunity to see these in a rural community. Viewing these works allowed me to sense the attitude of Japanese people toward nature and life."

Amid the COVID-19 pandemic, which has forced people to drastically reevaluate their daily life routines, the works of Japanese crafts persons who continually faced "living" head on abound with universal suggestions underpinned by Japanese aesthetic sensibilities. Ultimately, I felt it was particularly meaningful to introduce such works during this time of a pandemic.

With the subsequent easing of COVID-19 restrictions, The Japan Foundation Gallery in Sydney reopened on June 9, 2020. In adherence to state government guidelines, for about three months after reopening we utilized an advance reservation system to limit the number of visitors per hour. The exhibition has now almost resumed normal operations while implementing safety measures such as requiring visitors to wear face masks and disinfect their hands.

The gallery is holding Hiroshi Nagai: Paintings for Music*², the first overseas solo exhibition by illustrator Nagai Hiroshi from late September 2020 to late January 2021.

This exhibition consists of 20 precious original paintings and iconic record jackets by Mr. Nagai, renowned for cover art for Ohtaki Eiichi's A Long Vacation and numerous other "city pop" music albums, and provides a comprehensive overview of the artist's career. In the exhibition hall, we stream a "city pop" music playlist that we specifically created for this exhibition on Spotify.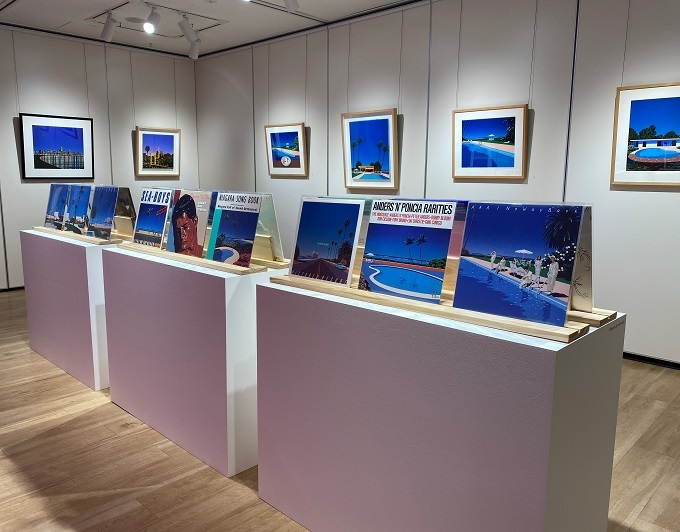 A scene from the exhibition hall
Visitors can scan a QR code at the venue to put this playlist onto their smartphones for their listening enjoyment outside the venue. As a related program, we plan online catalog publishing and a livestream DJ set*³ with Night Tempo, a South Korean producer and DJ who is driving the revival of "city pop" music.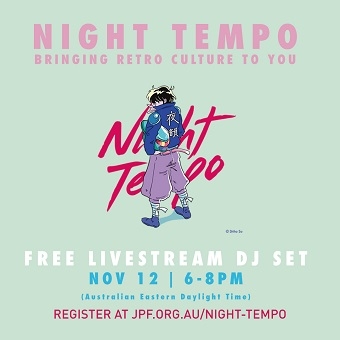 DJ set by Night Tempo to be held online
The online catalog showcases photos taken during the exhibition as well as those of all original paintings. It also features discussions on "city pop" music by Mr. Ohwada Toshiyuki, a visiting researcher at the Harvard-Yenching Institute, Mr. Mizukawa Hirofumi, an associate professor at Kanagawa University, and Mr. Mark McNeill, the founder of Dublab, from their respective standpoints. The catalog introduces the music and the feelings of the times surrounding Mr. Nagai's work, such as changes in Japanese consumption behavior during Japan's period of high economic growth, the yearning for American culture and a revival of "city pop" music outside Japan spurred by the flourishing of the streaming music culture in the 2010s. It is not only interesting as a reading material but also deepens the understanding of the exhibition. In conjunction with its December 5, 2020, launch, we will also livestream a commemorative talk*⁴ by Mr. Ohwada and Mr. McNeil. We hope you will enjoy the event.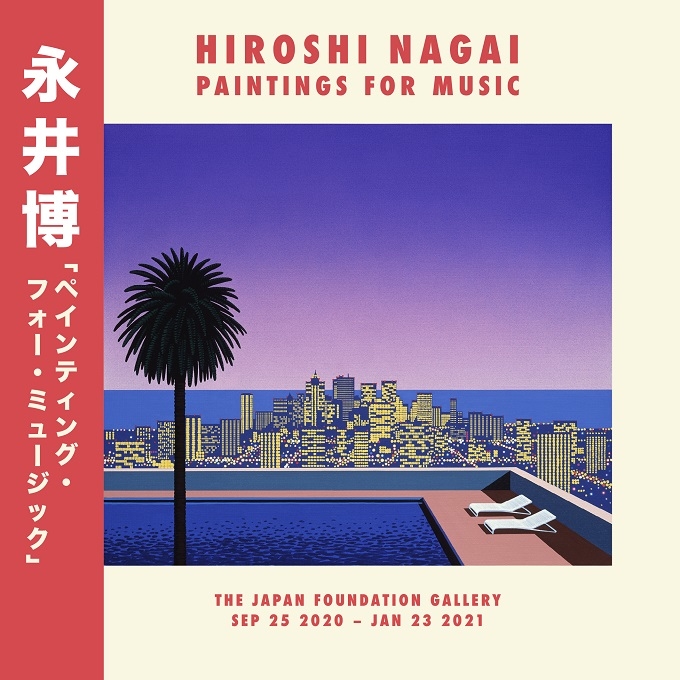 Hiroshi Nagai: Online Catalog (scheduled for December 5)
The Australian government's swift response to COVID-19 has been successful, and since May when the spread of the disease in the country subsided, each state government has been easing regulations in accordance with local circumstances. Border restrictions are expected to remain in place until mid-2021. With the exception of Victoria, which is in lockdown due to a resurgence of the virus in July, life is beginning to go back to normal in all other states while social distancing is maintained.

Although in-person programs can now be implemented by taking infection control measures, stringent restrictions such as lockdowns could be quickly reintroduced should the virus resurge.

Given the cancellation risk, we can channel our focus on online programs. However, the Center is implementing in-person programs and online programs in parallel based on the conviction that physical in-person experiences can never be substituted online. As such, in planning we strive to ensure that the programs, whether held in person or online, can be fully enjoyed as a stand-alone event while assuring that the content helps both formats complement each other and deepens understanding.

Furthermore, the Center will continue disseminating Japanese culture via numerous online programs and deepen engagement with audiences. These programs include a documentary work of contemporary artist Fuji Hiroshi, who was scheduled to participate in the Brisbane International Art Festival in 2020; an online Japanese film festival; an online Japanese cultural talent contest; and online programs of external organizations made possible through grants.

There are many unfamiliar technical difficulties involved in holding online programs. Even so, I find it very rewarding knowing these online programs allow us to deliver Japanese culture to regional audiences that we could never have previously reached through in-person programs alone.

We still have no clear idea how traditional cultural programs will be reshaped in this era of living together with the virus. As online programs become more prevalent, the meaning of real space will probably also evolve as well. We need to regard online programs as an extension of traditional cultural experiences rather than alternatives to in-person programs. While fusing both types of programs, we would like to continue exploring the possibilities of cultural experiences and exchanges in an era of the new normal.
Sugie Yurika
Joined The Japan Foundation after graduating from college. After working at the Arts and Culture Department and the Secretariat for JAPONISMES, she is currently responsible for arts and cultural exchange and academic exchange at The Japan Foundation, Sydney.
(Japanese version of this article was released in October 2020; positions are as of at the date.)