Inner Diversity <4>
Report on the Awards Ceremony for the Japan Foundation Prizes for Global Citizenship
November 16, 2022
[Special Feature 076]
Special Feature: Inner Diversity (See here for an overview of this special feature)
Since 1985, the Japan Foundation (JF) has been presenting the Japan Foundation Prizes for Global Citizenship to organizations that deepen ties and cooperation between Japanese and foreign citizens through international cultural exchange activities, exchanging mutual wisdom and ideas and thinking together. Three organizations received these awards in 2021: Friends of El Sistema Japan (Chiyoda, Tokyo), Colegio Mundo de Alegria (Hamamatsu, Shizuoka Prefecture), and Door to Asylum Nagoya (Nagoya, Aichi Prefecture).
The awards ceremony was held online on March 1, 2022 as a measure to prevent the spread of Covid-19, as was the case the previous year.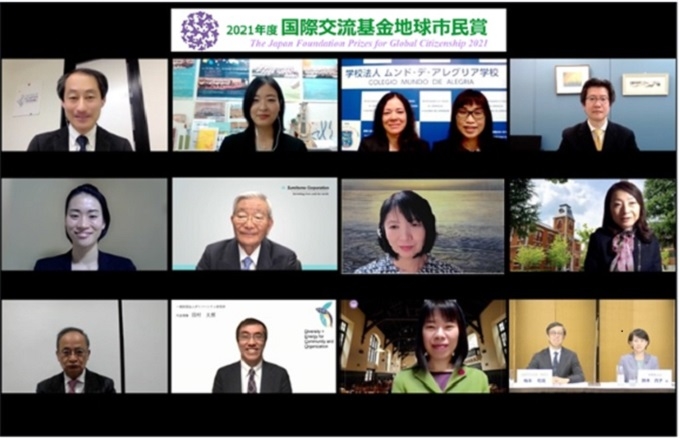 In his acceptance speech, Kikukawa Yutaka, President of Friends of El Sistema Japan, touched on how he valued ownership and partnership and emphasized building a relationship with the local residents so that they could participate with autonomy, despite neither being a musician nor being from the area himself. He went on to explain his feelings regarding future activities, saying, "I've only been doing this 10 years, but based on my experience so far, if you prepare the environment and focus on the learning of each individual, then the children's abilities truly blossom. They come to strive towards their goals and value the existence of others as they come to love music above all. Now that we are trying to overcome the limited freedom of the Covid-19 Pandemic, and as we think about the war in Ukraine, I would like to bring the abundant experience of music to even more children."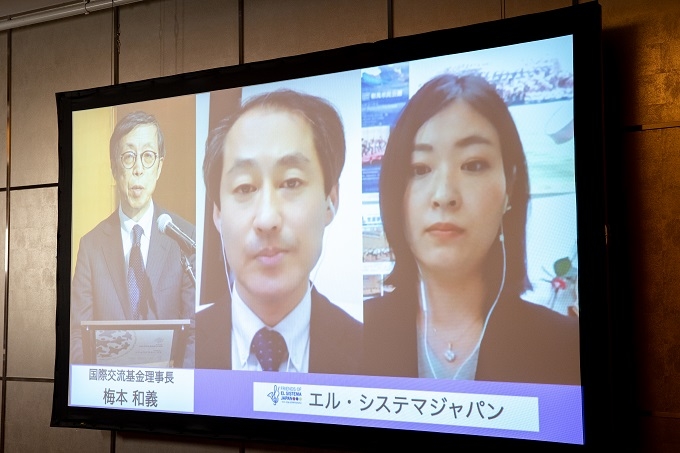 Kikukawa Yutaka (center), President of El Sistema Japan and Soma Program Coordinator Watanabe Sara (right)
Matsumoto Masami, principal of Colegio Mundo de Alegria, commented on receiving the award, explaining, "I took on the challenge at Mundo to give the students a double advantage of both their native language and Japanese. This was a considerable challenge for a South American school operating on a low budget, but I chose it specifically because of that difficulty. Our hopes being given the limelight for the first time through receiving this highly honorable award serves as a recognition of our past hardships, struggles, and hopes."

Vice Principal Kaiya Maristela spoke of her feelings for the school, adding that "I am deeply moved that a Japanese individual, rather than someone from my own country, created such a school. I will do my best to enable as many children as possible to experience the joy of learning."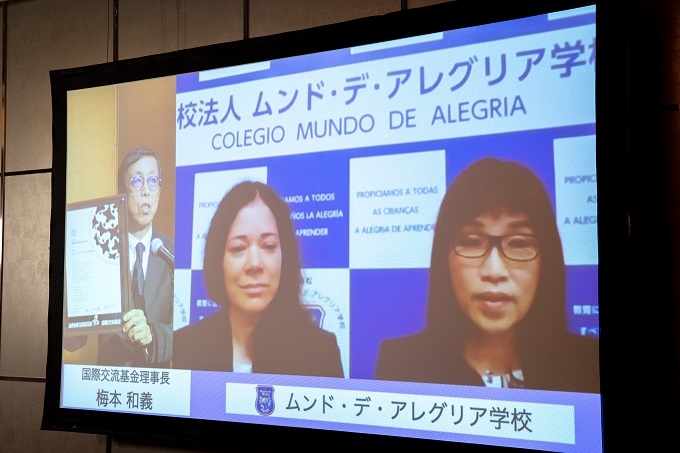 Kaiya Maristela (center), vice principal, and Matsumoto Masami (right), principal of the Colegio Mundo de Alegria
Kawaguchi Naoya, Vice President of non-profit Door to Asylum Nagoya Refugee Assistance Office, gave a speech that gave a closeup view of his organization's activities, explaining, "The number of refugees in need has increased under the Covid-19 Pandemic. In response, we began providing food supplies with the cooperation of the Chiiki to Kyodo Kenkyu center (Community and Cooperative Research Center) and the Asia Volunteer Network Tokai, and were able to continue that activity throughout the year. With the assistance of university students, we included letters with all the supplies that we sent. In return, we received replies of joy and gratitude from the refugees who received those supplies. I believe that a message that there are people out there who are concerned about you reached those refugees. I hope to continue to contribute to the coexistence of diverse cultures through supporting refugees from the Tokai region."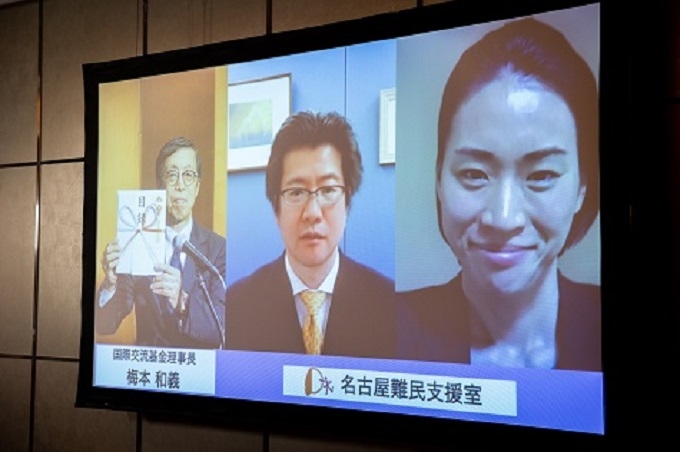 Kawaguchi Naoya (center), Vice President, and Hatano Maho (right), Director and Coordinator of Door to Asylum Nagoya
During the ceremony, additional comments were offered by the selection committee members, who noted that the common features of the three organizations were that they treated people as individuals with individual needs and that they showed respect for others in their efforts for mutual understanding, and that these attitudes would be important for international cultural exchange moving forward.
They also offered words of encouragement, saying that the organizations should use this as an opportunity to further improve their activities, as right now, under COVID-19 where connections have tended to become weak and perspectives narrowed, there must be a need for people to connect, as with the activities of the three winning organizations.
While the winning organizations and other people involved were not able to meet face to face, the awards ceremony was filled with the joy of the organization members and their passion for their future activities.

The Japan Foundation Prizes for Global Citizenship
https://www.jpf.go.jp/e/about/citizen/

Text: Ishikawa Yui (The Japan Foundation)