JF's Initiatives for Crossing Borders, Engaging in Exchanges and Harnessing the Power of Creation amid COVID-19 <3>
ShiShi Yamazaki Animation Masterclass, an Attempt to Obtain Free Expression
February 14, 2022
[Special Feature 073]
Yoshimura Shuhei
(The Japan Foundation, Mexico)
JF's Initiatives for Crossing Borders, Engaging in Exchanges and Harnessing the Power of Creation amid COVID-19 (click here for a special feature overview.)
The Japan Foundation, Mexico ("the Center") has been holding the ShiShi Yamazaki Animation Masterclass for young Mexican creators since September 2020, with up-and-coming animation artist ShiShi Yamazaki as the lecturer. Each participant creates a 30-second animation themed on "body transformation brought about by the stay-at-home period during the pandemic," with their creations to be presented at ANIMASIVO 2020, a contemporary Latin American animation festival held in November. Since it has been difficult to hold face-to-face events, we wanted to help young artists from Japan and Mexico to meet each other online. As they rarely come into contact with each other, this would provide them with an opportunity to mutually inspire through production of animation. The COVID-19 pandemic has imposed many restrictions on people around the world, so we set the goal for this project to encourage people to regain freedom of expression and awareness of the body through art during the pandemic.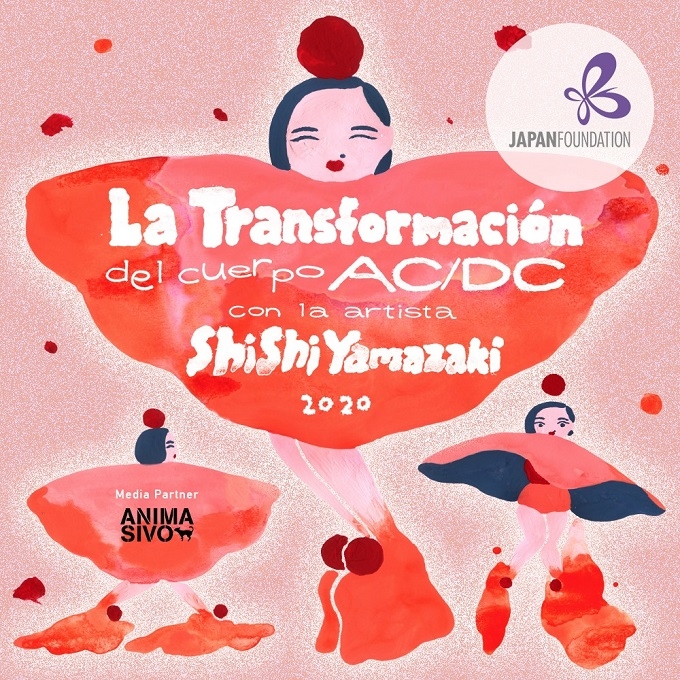 Illustration for the project designed by ShiShi Yamazaki
ShiShi Yamazaki uses a technique called rotoscoping to create animated works from live-action video footage. She is known for her watercolor-like touch using a unique color called ShiShi Pink, and is a prominent young Japanese artist who has showcased her works at numerous animation festivals around the world. Although the project was begun suddenly under the irregular situation of the pandemic, it nevertheless is rooted in the experiences accumulated by the Center.

The number of COVID-19 infections reported in Mexico gradually started to increase in the spring of 2020, two months after the pandemic began to spread in Asian countries. As Mexico had previously experienced the closure of public facilities and private businesses due to the 2009 swine flu outbreak, it was anticipated that the country would sooner or later face a similar situation to what had been occurring in Asia and Western countries. Having heard unfamiliar expressions such as "spike in infections" and "lockdown" on international news programs, we came to realize that it would become more difficult to continue conventional international cultural exchange activities and began exploring ways and possibilities to keep our business going during the pandemic.

The spread of infections became serious in Mexico around the time of the end of the fiscal year (March) in Japan. It became difficult to travel internationally, and projects planned for the new fiscal year were all suspended. Anticipating what was to come, all of the staff at the Center had started to prepare to work from home at an early point. We needed to continue with our mission to promote international cultural exchange, even if the planned projects were indefinitely suspended. Therefore, we solicited ideas for projects using Zoom and other online platforms and decided to develop feasible projects as we went along.

As a start, we held "Creators Talk Online," a series of lectures by artists active in Japan or Mexico, and "Cine Club Online," a series of discussions by movie aficionados moderated by a Japanese movie researcher, in April and May. Furthermore, we invited Mexican people to post their illustrations of Amabie, a mythical creature in Japanese folklore with the power to fend off plagues which went viral on social media, in the "Amabie Challenge" event. Contributors posted over 400 works in just one month. Now, we are currently preparing for "Overworld," an online exhibition curated by Mexican and Japanese urbanists, involving 10 exhibitors such as artists, designers and architects from Mexico and Japan. These people will showcase their works ranging from photos to short essays and videos on the subjects of cities and cultural images of their countries. As we were unfamiliar with organizing online projects, it was only through a period of trial and error that we came to realize the benefits of the medium. Above all, we were freed from geographical restrictions on participation in Mexico, a vast country about five times as large as Japan. The project also showed that online events have the potential to reach a wider audience, as some participants were from Spanish-speaking countries in Latin America and the Caribbean as well as from the United States, which has a large number of Spanish-speaking residents.
Two award-winning works from the Amabie Challenge
The "ShiShi Yamazaki Animation Masterclass" project was planned by Ileana Rojas, a Mexican staff member who is the coordinator responsible for cultural and artistic projects at the Center. She studied visual communications and art history at the Universidad Nacional Autónoma de México (UNAM) and is working to become a contemporary art curator in the future.

In Mexico, universities started offering academic degree courses for animation from the latter half of the 2000s, which promoted the development of human resources for the fast-growing animation industry. However, most animated programs and commercial advertisements still use 2D or 3D animation. Business opportunities are limited for creators who are more than ready to explore new fields using experimental techniques such as the rotoscoping used by ShiShi (to be clear, though, rotoscoping is actually a technique with a long history). Ileana explains why she focused on ShiShi. "Interestingly, I see in her works a playfulness that you find in traditional Japanese art such as emakimono (picture scrolls) and ukiyo-e (woodblock prints). I wanted to introduce her as an example of a commercially successful pioneer to young Mexican artists (not just showing the enjoyment that it can provide as art)." ShiShi understood our desire to promote exchange between Japanese and Mexican artists through production of animation, and readily agreed to get involved despite our out-of-the-blue request.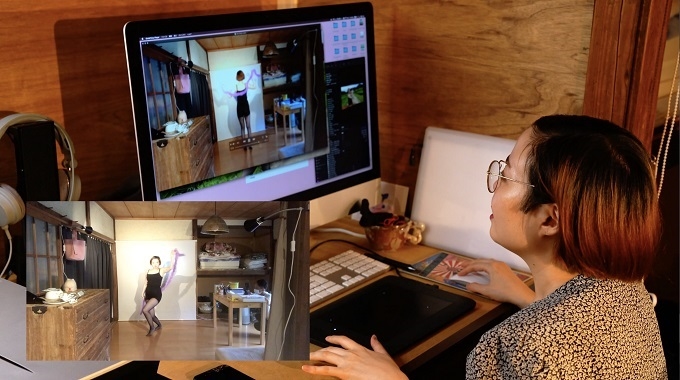 A scene from the tutorial video used in the masterclass. ShiShi explains how to animate using the rotoscoping technique as she creates a work.
Actually, there is a reason why the theme of the masterclass is "Transformación de los Cuerpos AC/DC ("Transformation of Bodies Before and After COVID-19")." While the pandemic has been forcing people to stay home for a prolonged period of time, everyone has gone through different physical and mental changes. One of the characteristics of ShiShi's animated works is the world view created by ShiShi Girl, an avatar produced using videos of ShiShi's own performances. In these animations, another ShiShi Yamazaki flourishes to reveal an existence different from herself in the real world, and Ileana was inspired by this. She thought that you would be able to free yourself from real-life home confinement and from its influence on your body and mind by exploring your physicality and projecting it through the rotoscoping animation to expand its scope, thereby letting out your emotions. "Hopefully, participants will discover rotoscoping is a medium that gives artists freedom to create the things they want to create and that also sets them free," says Ileana.

ShiShi also hosts the "ShiShi Yamazaki no Oekaki Kyoshitsu" online painting class in Japan. "The act of drawing is intrinsically neither good or bad. The most important thing is to allow your hands to experience the sense of moving back and forth between perception and reflection by drawing again and again and to acquire your own thoughts and perspective," asserts ShiShi. She explained what she expected from the masterclass. "I hope both the participants and I can learn a lot by taking the opportunity to create and interact with each other. I will be happy if I can discover elements that are unique to Mexico in their works."

In July 2020, about 450 people participated in the live-streamed lecture, which was also aimed at promoting the masterclass. The archived video has been viewed almost 6,500 times, suggesting the intensity of the public interest. On September 25, 2020, 19 artists from Mexico, Argentina, Brazil and Italy selected out of 179 applicants attended a kick-off talk with ShiShi. For the workshop that was to be the core of the masterclass, we put Spanish subtitles on the pre-recorded and edited tutorial video and distributed it as teaching material. ShiShi followed up with the participants via an online platform and other tools, and they were offered the option of choosing either of two tasks: learning how to rotoscope using a video prepared by ShiShi or making their own original rotoscoping work from videos shot by themselves. In the first follow-up session on October 10, 2020, students presented their first experimental rotoscoping works and storyboards and exchanged opinions with ShiShi for a total of five hours. It was a really lively exchange and many students gave positive feedback, saying "I really learned a lot."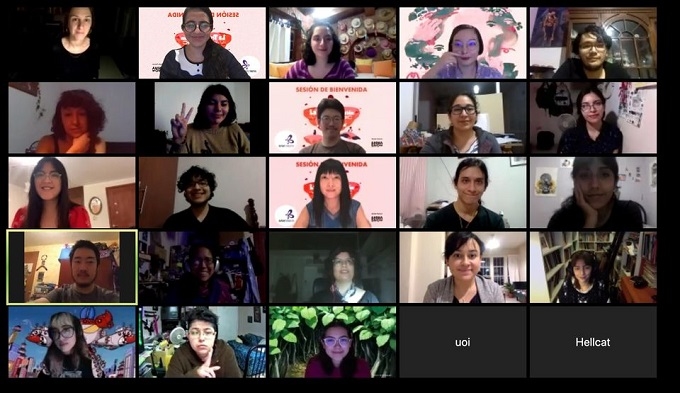 Participants and ShiShi Yamazaki (top row, second from right) meeting for the first time at the kick-off talk on September 25, 2020
The ANIMASIVO 2020 was to be held in Mexico City from November 25 to 29, 2020. The contemporary animation festival presented a good opportunity to show the animation works created in the masterclass to the public, and we wanted to invite ShiShi to Mexico City for a lecture so the students would be able to finally mingle with her in person. However, the festival had to be switched to online due to the continuing COVID-19 pandemic. While the project is fully feasible online, I still firmly believe that the best thing remains to actually visit the place, feel and experience the local culture, enjoy local food and mingle with local people. ShiShi was also looking forward to visiting Mexico, as she has become interested in Mexico and other Latin American countries recently. We would like to invite her to Mexico if the pandemic subsides so that she will be able to fully experience the country.

It's not that we were directly inspired by ShiShi's new animation, Tonikaku Nanika wo Hajimeyo ("Let's Just Start Something") below, but The Japan Foundation, Mexico, also wanted to take whatever the necessary first steps with regards to activities in the midst of the COVID-19 pandemic, which has presented us with an unprecedented challenge in our modern life. I believe, therefore, the project rightly embodied our wish. Although we are still searching for an answer to the big question of how to carry out international cultural exchanges during the pandemic, our goal right now is to make the online masterclass a new successful model for artists to exchange and collaborate.
Tonikaku Nanika wo Hajimeyo ("Let's Just Start Something")
Song / Lyrics / Animation
by ShiShi Yamazaki


Let's get it started if you are ready.
Just start something even if you are not in the mood.
Just start something even if you are not sure about the consequence.
The toughest thing is to get it started.
Take the first step. Then, it will open up and expand from there.
Your original world.
Failure is all right. Just make it. That is important.
Don't wait for someone to help you. It will just be a longer way.
Let's get it started if you are ready.
Just start something even if you are not in the mood.
Just start something even if you are not sure about the consequence.


Archived online ShiShi Yamazaki Animation Masterclass talk (July 22, 2020) https://www.facebook.com/watch/live/? v=1153950218309688
Facebook page of The Japan Foundation, Mexico
https://www.facebook.com/fjmex1/
The works created during the masterclass are shown on the Instagram page of The Japan Foundation, Mexico.
https://www.instagram.com/fjmex1/
(Japanese version of this article was released in October 2020; positions are as of at the date.)