JF's Initiatives for Crossing Borders, Engaging in Exchanges and Harnessing the Power of Creation amid COVID-19 <7>
Connecting Japan and the World Through Japanese Films - Digital and Live JFF Projects -
March 28, 2023
【Special Feature 073】
Konomi Masafumi
(The Japan Foundation, Film and Broadcast Media Dept.)
JF's Initiatives for Crossing Borders, Engaging in Exchanges and Harnessing the Power of Creation amid COVID-19 (click here for a special feature overview.)

The Japanese film industry made headlines in 2019 with a record high annual domestic box office revenue in 2019 of approximately 261.1 billion yen (up 17.4% from the previous year). However, 2020 saw a drastic change due to the impact of the COVID-19 pandemic. During the month of May 2020, domestic box office revenues for Japan's 12 major companies saw a devastating 98.9% drop from the previous year with a total of approximately 196 million yen (according to the Motion Picture Producers Association of Japan, Inc).

This crisis prompted the Japan Foundation (JF) to review the entirety of its existing programs. Most fields may be continuing their "shift to digital," but JF's mission has always been to connect people, and so in-person events remain essential to our business. If JF is to continue to exist in this new climate, it will need to combine digital and live.

To this end, JF has been working towards integrating and branding its two businesses, the Japanese Film Festival (JFF) Network, which holds live screenings in theaters, and JFF Plus, an online platform. Let's take a look at these two projects and see how they came about.
The JFF Network began in 2016 as the JFF Asia-Pacific Gateway Initiative, and by 2019 it had expanded to the 10 ASEAN countries (Indonesia, Cambodia, Singapore, Thailand, the Philippines, Brunei, Viet Nam, Malaysia, Myanmar, and Laos), plus Australia, China, India, and Russia for a total of 14 countries. With more than 170,000 people in attendance in 2019, we have been able to bring Japanese films to at least 500,000 people over four years. It is thanks to the extraordinary efforts of our on-site staff and volunteers who run the festivals in each of the abovementioned countries that the brand power of the JFF Network is growing steadily with an ever-expanding fan base.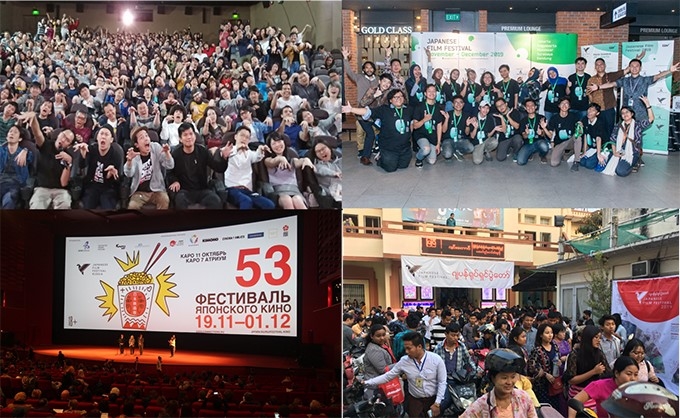 JFF Network film festivals: (clockwise, starting from the top left) Singapore, Indonesia, Myanmar, Russia
However, there have been some concerns surrounding the JFF Network events. The film festivals are annual events, and they are usually concentrated in large cities. These live events can generate temporary interest in the JFF, but they do not lead to ongoing awareness of Japanese films, nor do they lead to sustained audience interest. As such, if we want to expand the Japanese film fanbase overseas using Japanese films, an annual JFF event is not enough on its own. People need an environment where they can be surrounded by Japanese content. They should be able to watch Japanese content through all sorts of media, such as theaters, the Internet, and through televised broadcast, wherever they are and at any time. We believed it was necessary to develop this sort of online-viewing infrastructure, which is why we began preparations for the online distribution of Japanese films several years ago.

We have been publishing online articles and news columns about Japanese films, and we have been posting information about the JFF in a number of different countries. These efforts led to more than 1.5 million unique users since our launch in October 2017. However, these actions alone still weren't enough, which is why we decided to add new functionalities to delight our current users, and we changed our business system to guide fans from virtual experiences to live experiences.

We believed that giving our fans access to film-related articles and guest talks online would enable them to spread the appeal of Japanese films to a wider global fanbase. Then, if these people wanted to actually interact with other movie fans and filmmakers, they would be more inclined to make their way to the live events. This would deepen the connection between the JFF Network and its fans, and keep them coming back to the online platform and other related events. We hoped that this combination of live and online events would create an ecosystem in which fans, the film industry, sponsors, and cooperating organizations could come together, leading to a bigger fanbase and a revitalization of the Japanese (film) market.

But online distribution is not so easy to set in motion. We wanted to have some data before we began, and so in March 2020 we began streaming independent films (which are relatively easy to obtain screening permission) to the rest of the world (excluding Japan). This just so happened to be around the time when the COVID-19 pandemic was beginning to wreak havoc around the world, and screenings that were scheduled for the first half of 2020 were cancelled in Wuhan (set to be the first to host the screening), three out of seven other cities in China, two out of four cities in Viet Nam, and the entirety of Singapore.

We joined forces with MOOSIC LAB, a competitive film festival that connects up-and-coming filmmakers and musical artists to create new films, to create a special streaming program surrounding the theme of the fusion between film and music. We streamed nine feature films and three short films, making a total of 12 films. COVID-19 stay-at-home orders saw an increased online demand all around the world, which meant we received an extra boost in views, and we also received many responses from all around the world, but mostly from Japanese film fans in countries where JF offices are located. The cumulative number of views reached over 95,000.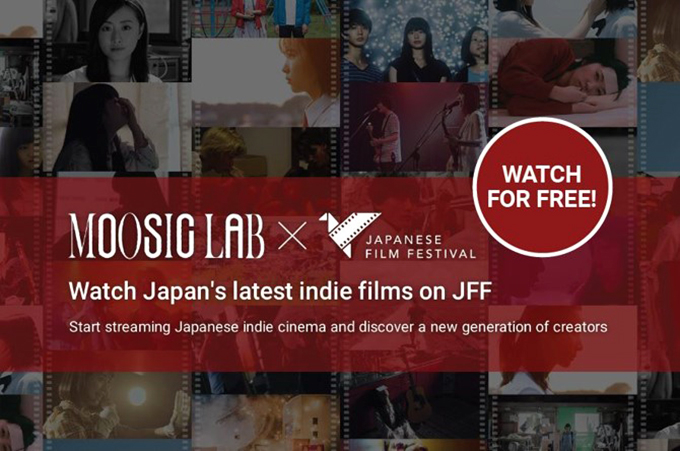 Screenshot of the streaming distribution site co-hosted by MOOSIC LAB
Following the positive response from stage one, stage two once again featured a distribution lineup of ten works from MOOSIC LAB, but this time it also collaborated with various Japan Foundation overseas offices to utilize their crucial on-site capabilities for public relations and other events. For example, the Japan Foundation, Mexico, hosted an online discussion with Mexican fans on the film "All About Chiaki Mayumura (Provisional)," which was one of the films that was distributed and which had received awards in four categories, including MOOSIC LAB's Audience Award in 2019. The film's director, Matsuura Hajime, and starring idol Mayumura Chiaki took to the stage to promote Japanese subculture to Mexican fans. You can read our Event Report*1 for more information.

Attracting an audience is important for both entertainment and artistic works, but it is not always easy to attract a wide range of people. It is especially difficult to garner audience interest in works that are highly auteuristic or artistic, which is why we considered it to be strategically important to start by building a place (platform) where people can participate and communicate. The basic idea behind our platform strategy was to focus on simple and easy-to-understand works for that market, and later guide the market towards other works which have stronger auteuristic and artistic qualities.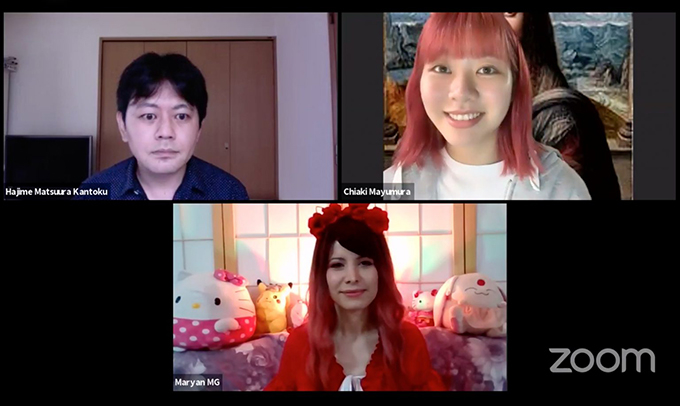 Online discussion between Director Matsuura Hajime (top left), Mayumura Chiaki (top right), and Mexican singer Maryan MG (bottom)
Then, around mid-May 2020, we were suddenly approached by Tencent Video, China's largest distributor, to co-host an online Japanese film festival.

China has strict government regulations and so it is often difficult to operate film festivals in China, so we needed to adopt a different approach to what we had taken with other countries. The JFF China program initially commenced in 2017 and saw great success with over 20,000 participants, but given the scale of China's film market (1.6 billion people according to UNESCO's movie theater attendance numbers in 2017), 20,000 is actually a rather small turnout. We believe there were also many people living in rural areas who were unable to physically go to see the Japanese films. As a way of overcoming this issue, we had focused on the importance of enabling online distribution at the same time as the JFF, and we had approached a major Chinese distribution company about an online co-hosted event. That is what led to this co-sponsored project.

Interactions between the Chinese and Japanese film industries have been rapidly accelerating over the past few years. So many Japanese films have already been distributed, but they end up being buried among the plethora of total distributed works. This is why we proposed a special lineup of Japanese films selected from the vast number of films that are already out there to be displayed on a special page on the Tencent Video website for the online film festival.

With Tencent Video's large market impact of around 100 million members, we felt that by holding the JFF and discussion panels on this platform, we would be able to acquire new audiences and attract regular customers even if the films on show have already been distributed elsewhere.

Things moved quicker than expected from China's side, and the special co-sponsored event "JAPANESE FILM FESTIVAL ONLINE" commenced on June 11, 2020 and went for 10 days. The JFF selected a total of 61 films (31 contemporary and 30 classics) from among the films for which Tencent Video had exclusive distribution rights, and streamed these over the 10 days on the special page.

To help promote this project, we invited Mark Chao, a popular young Taiwanese actor, to act as an ambassador, and the discussion panel had some fantastic guests representing Japan, including Okita Shuichi, director, and Kora Kengo, actor, in "A Story of Yonosuke," Sato Shinsuke, director of "Kingdom," and Suo Masayuki, director of "Shall We Dance?" The two-hour long discussion panel was full of friendly interactions with prominent Chinese directors and screenwriters, and more than 400,000 people enjoyed the show. Furthermore, 1.85 million unique users visited the special page during the festival, and the total number of Japanese film views reached at least 2.34 million (for the 30 contemporary films out of a total of 61 films screened).

Screenshot of the special page for the JAPANESE FILM FESTIVAL ONLINE
Discussion panel: Kora Kengo (front left), director Okita Shuichi (front right), producer Nishigaya Toshikazu (back)
As the scale of the audience (market) increases, so too does the film festival's brand power. This creates a synergistic effect around the various elements of film, which in turn leads to the creation of a type of ecosystem. The co-hosted JAPANESE FILM FESTIVAL ONLINE has further convinced us that we made the right decision in moving towards creating a platform for the dissemination of Japanese films.

In October 2020, JFF Plus*2 took its first steps as a Japanese film exchange platform by launching a new website, with the "JFF Plus: Online Festival" held as one of our distribution projects. The Japanese film industry is constantly releasing new works, and JFF Plus aims to present these from three perspectives: "Read," "Watch," and "Join." We plan to stream a total of 30 Japanese films for free to 20 countries around the world, ranging from recent trending films, popular anime to classic films. The 20 target countries were separated into five groups and streaming occurred sequentially over a five-month period from November 2020 to March 2021*3.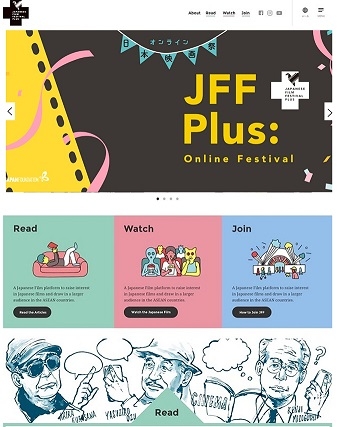 Screenshot of the Japanese film information website "JFF Plus"
The JFF Network team and the JF offices overseas have made extraordinary efforts in getting this project off the ground. There was a lot of trial and error before we were able to finally arrive at our new platform.

The pandemic saw many Japanese film screenings around the world cancelled or postponed, not just the JFF Network. Attention quickly turned to online film distribution, and this led to an accelerated speed at which the project was implemented. Meanwhile, JF headquarters worked together with their offices overseas to prepare for live film festivals. These are scheduled to be hosted in eight countries: Cambodia, Singapore, Thailand, the Philippines, Viet Nam, Malaysia, Laos, and China. Excluding China and Laos, six of these countries are also planning on implementing online film festivals, marking the first steps towards the fusion of live and online.

Under the motto of "Bringing Japanese Film To You," JFF and JFF Plus have a vision to "Connect Japan with the world through Japanese film," and we hope to continue to bring more Japanese films to more people around the world and increase the number of fans of Japan.