The Whereabouts of Art and Happiness that We Discovered in Bangladesh
Yasutaka Hayashi, Masataka Okada, and Toshinori Mizuno (Chim↑Pom)
Mizuki Takahashi (Senior Curator, Contemporary Art Center, Art Tower Mito)


The Asian Art Biennale Bangladesh (AABB), also known as the Bangladesh Biennale, was first held in 1981 and is the second-oldest international exhibition in Asia. The 16th edition was held in 2014 with the participation of 32 countries, including Japan, South Korea and Indonesia.

Chim↑Pom, an artist collective, participated in the latest edition of the AABB representing Japan, together with Mizuki Takahashi of the Contemporary Art Center, Art Tower Mito who served as the curator. Chim↑Pom's works attracted a lot of interest as their presentation was made not only at the museum but also expanded in Dhaka City.

Wochi Kochi Magazine invited three members of Chim↑Pom, Yasutaka Hayashi, Masataka Okada, and Toshinori Mizuno, and Mizuki Takahashi to talk about the exhibition and their experiences in Bangladesh.





Chim↑Pom, who breaks through the common art cycle, visits Bangladesh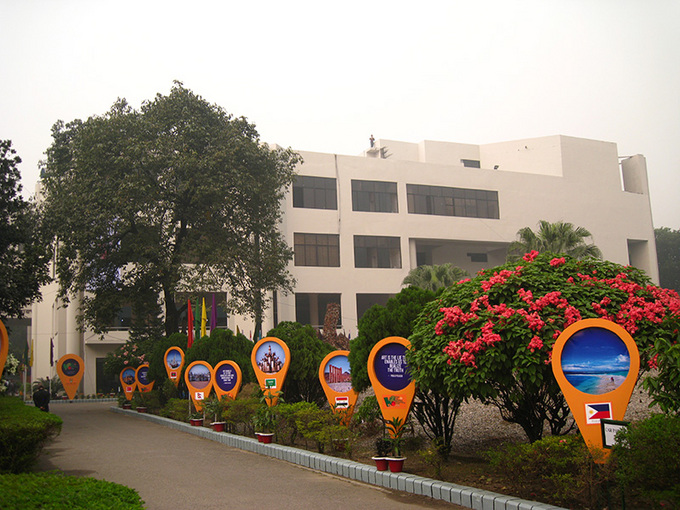 The venue for the Asian Art Biennale Bangladesh

ー Could you tell us why you selected Chim↑Pom as participating artists for the AABB?

Takahashi: I worked on an exhibition with Hideki Toyoshima, formerly of graf media gm, before. It was a Japan Foundation project aimed at introducing Japanese contemporary art to Indonesia, and Chim↑Pom was one of the participating creators in that exhibition.

Hayashi: Yes, that was in 2008. (KITA!!:Japanese Artists Meet Indonesia).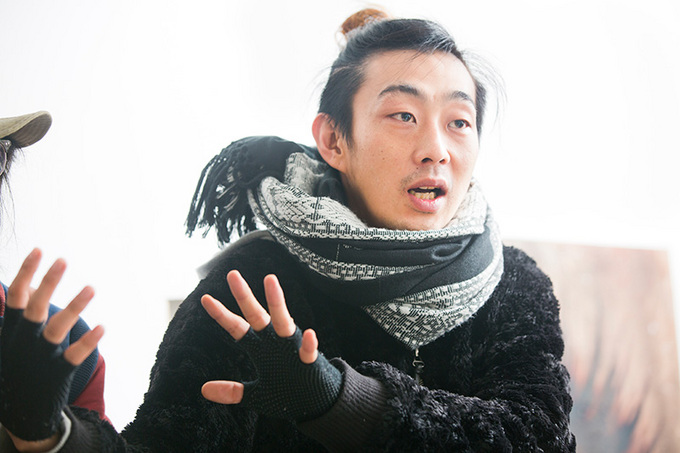 Yasutaka Hayashi, Chim↑Pom

Takahashi: That's right. First, I go to the venue where an exhibition will be held for a research, although this is not something limited to overseas exhibitions. Obviously, there are differences in terms of climate or facilities compared to Japanese art museums and galleries. This makes it difficult to simply take along works that have been created on the assumption they will be exhibited in Japan, where the environment is prepared. Also, I thought it would be more interesting to adopt an approach in which the artists interact with various people locally and then create new works. I asked more than half the exhibiting creators to produce works during their stay, and one of those groups was Chim↑Pom.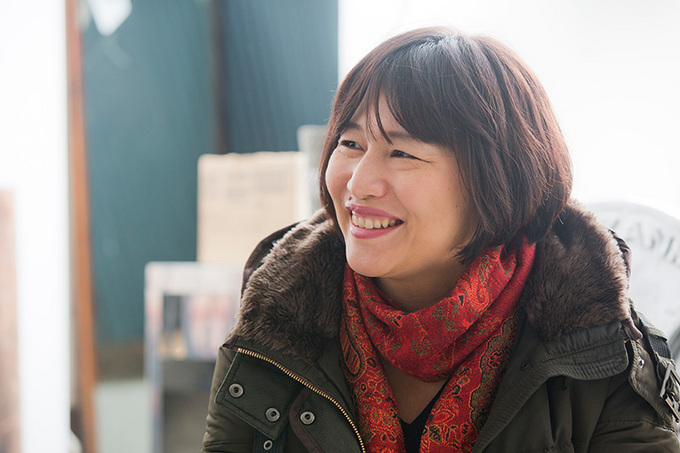 Mizuki Takahashi, Japan's curator of the Asian Art Biennale Bangladesh 2014

ーChim↑Pom makes a lot of social intervention-type works, so I think they were a perfect fit.

Takahashi: One of the distinctive things about Chim↑Pom is that they make breakthroughs in the creative process that are different to the common art cycle. I think this is a sort of artistic sensitivity to street art or approach toward street art. Particularly in light of recent art trends where the art market seems to hold the initiative, it is vital to showcase more artists like them who do not rely on art production methods from within the existing art world.

ーKohei Nawa and Hiroshi Fuji have also taken part in the AABB in the past. Japanese artists have been presenting works within a variety of exchanges, in the sense that they have been unveiling works that gather together local materials.

Takahashi: I did not ask Chim↑Pom to take part for the sole purpose of getting them to make work locally. You can also view Chim↑Pom as a product of the post-bubble generation, which experienced the outcome of the accelerated capitalism that occurred in Japan. My basic motivation for asking them to exhibit was that I wondered what would transpire if they came up with works from this unique Chim↑Pom perspective. Bangladesh is said to be Asia's poorest country, but are the conditions truly appalling? Is it not possible that by describing it as "the poorest country," we in fact end up condescendingly labeling it? So I was also hoping to touch on the issue of how valuing countries based on economic and industrial indicators, such as "developed country" and "poorest country," relates to the spiritual richness in people's lives.

ーWhat did you think when you actually visited Bangladesh?

Mizuno: The power in the cities is amazing. Apparently, the capital city of Dhaka has one of the highest population densities in the world. To begin with, the number of vehicles is incredible, and just going across a pedestrian crossing is a bit of fun given the volume of people. Being a countryman, to me there was a festival-like aspect to it.
Okada: The Shibuya scramble crossing is incredible as well, but there are traffic rules in place. In Bangladesh, there is a free-for-all melee of cars, bicycles and people.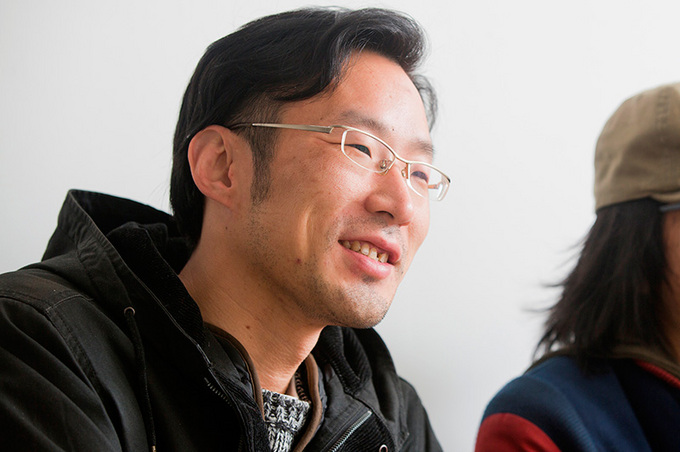 Toshinori Mizuno, Chim↑Pom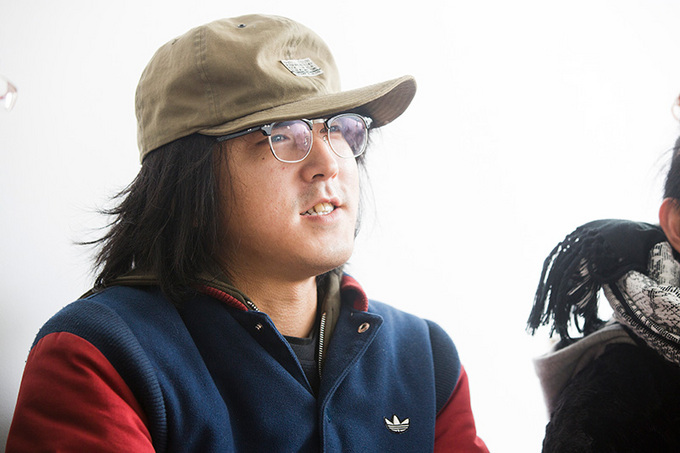 Masataka Okada, Chim↑Pom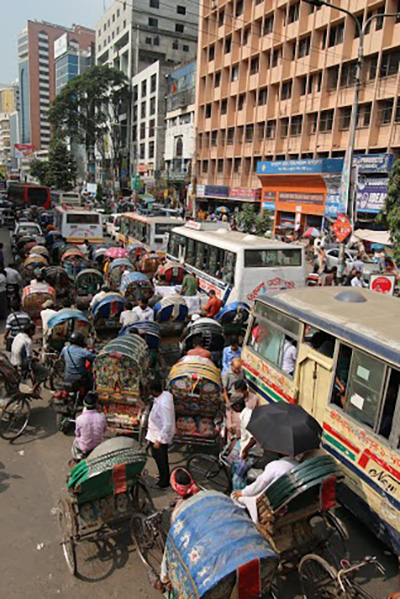 Traffic congestion on a Dhaka street

ーGiven the feverish nature of Dhaka, what sort of works did Chim↑Pom decide to show there?

Hayashi: We did some preparatory study on the social situation before we went, but once we actually got to Dhaka, the city was truly powerful. So we decided that rather than limit our venue to the art museum, we would try to create a framework that would encompass Dhaka as a whole.

Takahashi: We were permitted to show recent works created within the last two years, not only new works. So we proposed that Paradox of Downtown might be good prior to the exhibition.

ーThat work used iRobot Roomba Cleaning Robots (fully-automatic floor cleaning robot), right? Instead of cleaning the floor, the Roombas smear the floor with paint, producing an artistic effect like an action painting.

Hayashi: They weren't Roomba, they were the 'Robot Cleaners' sold at Nitori (laughs).

Takahashi: I think not using Roomba was a key point. We heard the AABB was "similar to the Nitten" and it was actually similar to some particular exhibitions in Japan, which show works by the general public. The AABB is the second-oldest biennale in Asia and is hosted by an artistic association known as the Bangladesh Shilpakala Academy (National Academy of Fine and Performing Arts). Many of the works conform to modern categories such as sculpture and painting, and even within that, abstract painting accounts for a large component. Japan's 'Gutai' art movement has been enjoying a boom recently, particularly in the U.S.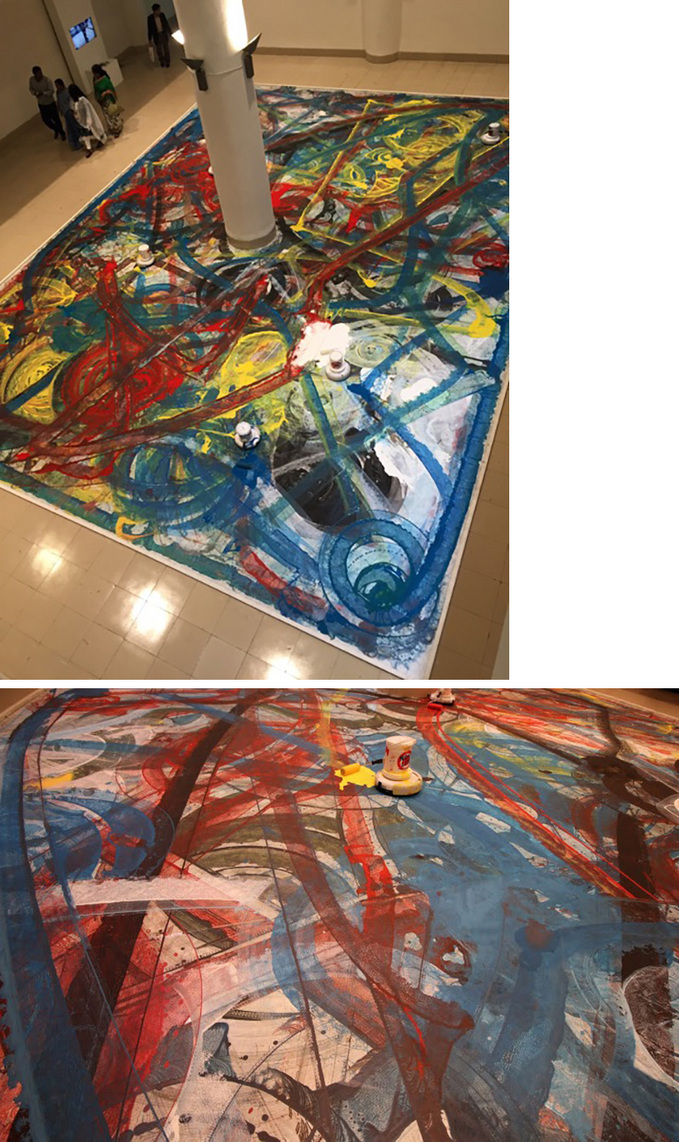 Paradox of Downtown, a work created using 'Robot Cleaners'

ーYes, over the past several years there has been an upswell in interest in connection with the reevaluation of post-war art. There was even a 'Gutai' retrospective at the Guggenheim Museum.

Takahashi: The phenomenon in which prices and evaluations change dramatically depending on art market trends is something we witness personally. However, Paradox of Downtown is a sort of Kazuo Shiraga-style Japanese action painting arising out of the ternary relationship between Western modern art trends; the AABB, which shares an affinity with the "modern" system; and Robot Cleaners, which you could describe as imitators of the Roombas that evolved out of Japan's most sophisticated technologies. It will be interpreted differently depending on the location where it is displayed. I thought the fact that these multiple interpretations would be generated would be interesting as well.

ーPeople in Bangladesh are unfamiliar with 'Gutai' for one thing, and no doubt this was the first time they saw Robot Cleaners.

Hayashi: That's right, and we received a number of requests from people wanting them after the exhibition was over.

Takahashi: I also wanted to take any impression of Japan as a "technological powerhouse" and turn it against ourselves.



Works that broke loose from the art museum to reach the city

ーParadox of Downtown was shown in the art museum, but what about your other works?

Okada: One of those works was It's the wall world, which employs a puzzle motif.

Hayashi: This is a series that has been going on since last year or so. We go to various locations, remove a portion of a wall in each location in jigsaw puzzle piece shape, and swap with a piece in the same shape from a different location.

Okada: Even though we had this precious opportunity to exhibit in Bangladesh, the average local there has no intention of visiting an art museum at all. The outside environment is incredibly interesting, so we wanted to incorporate that atmosphere.

Takahashi: This also goes for the Robot Cleaner work, but I consider Chim↑Pom's works to be street art because they possess a graffiti element. For example, Chim↑Pom removes a section of a wall in an art museum and exchanges them with a section of a wall in various locations outside. In the case of actual graffiti, there is significance to drawing a wall as you please without obtaining permission, but Chim↑Pom produces works with the help of people who don't even speak the same language, and these people really seem to enjoy themselves. The period of time during which the production of art takes place is thus shared with people whose lifestyles have no connection whatsoever with art discourse.

ーWhat sort of reaction did you get from the people of Bangladesh?

Hayashi: It was very good. In Sao Paulo in Brazil, there was also a hazardous atmosphere, as you might expect. However, from the time we arrived in Dhaka there was no fear, to the extent that I got the feeling that they would come up with their own proposals for things to try.

Mizuno: In fact, at a shipyard they suggested to us, "Hey, use this iron sheet!" We had a lot of interactions, didn't we?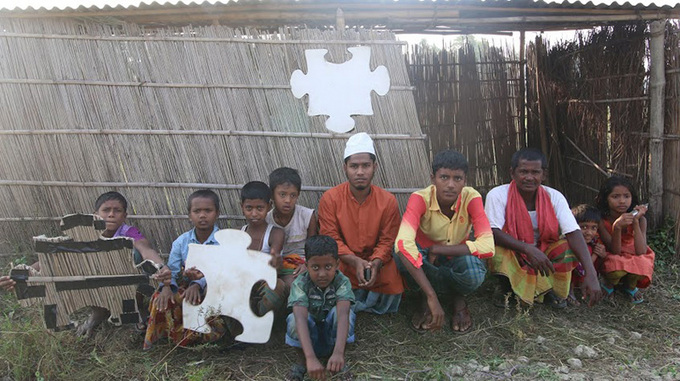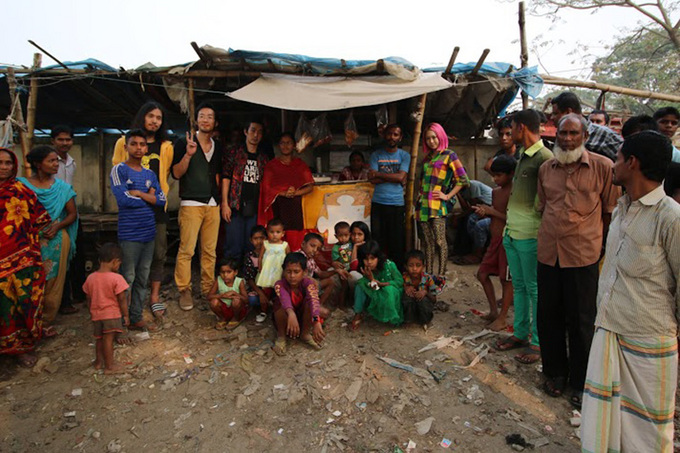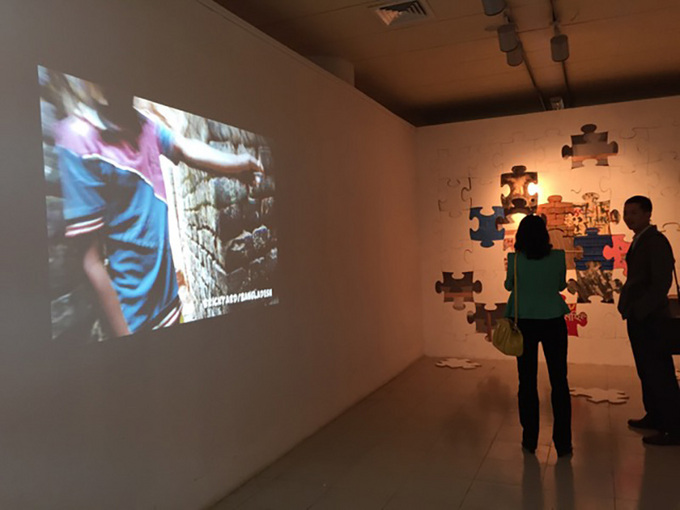 It's the wall world, a work that employs a puzzle motif

ーWhat about the other work?

Okada: The background to the third work is a little complicated. It was the project we initially proposed when we worked with Mizuki (Takahashi) in Indonesia in 2008, but as a result of the aftershocks that followed the earthquakes in Southern Sumatra, the project fizzled out due to the dangers involved. Nevertheless, as we were moving around Dhaka, we were delighted to find it had a brick factory.

Takahashi: The plan was to stack bricks as high as possible (bitter laugh).

Mizuno: I stack up the bricks while standing on them and eventually reach a height where I can no longer get down. Then I ended up calling out for help.

Okada: When we discovered the bricks, we just had to go for it!

Takahashi: For my part, I had no prior knowledge that they were going to create that work involving bricks while in Bangladesh.

Hayashi: We did it without saying anything. We spoke up once things were underway (laughs).

Takahashi: I got a call from a member staff of Japan Foundation who firmly informed me that "Chim↑Pom are doing an all-night shoot and we must have security assigned to them!" The moment I heard they were building a tower out of bricks, I realized with a start that Chim↑Pom hadn't forgotten that project!

Everyone: (Explosion of laughter)

Takahashi: It's nice that your idea reached fruition after more than six years.

Mizuno: "Bachao" is the local word for "help!" and it caught on in a big way at the brick factory. As I was stacking up the bricks, the workers who were working near me were calling out "bachao, bachao."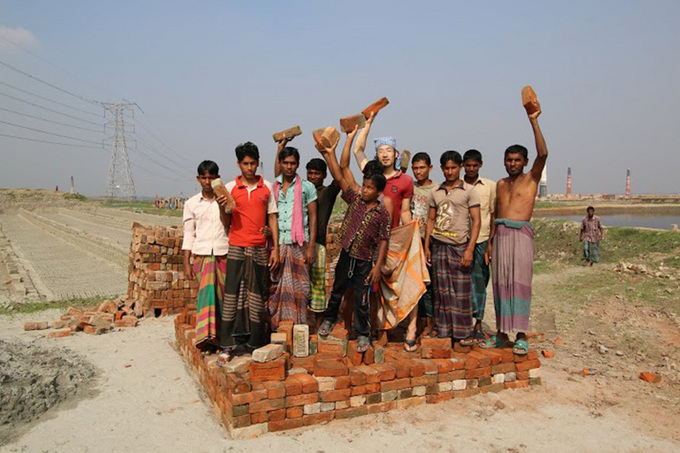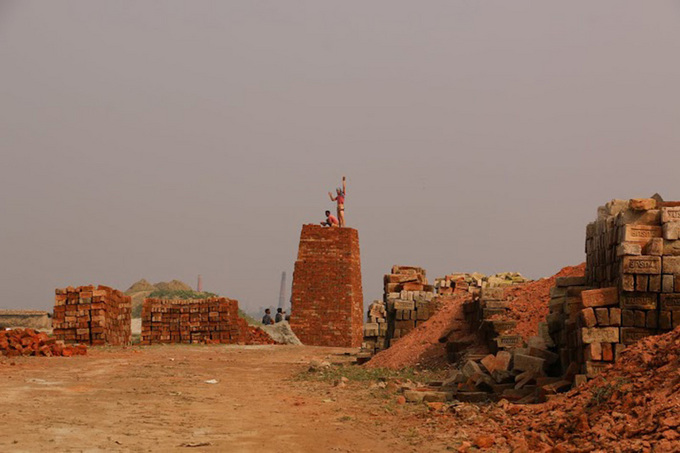 Creating the Bachao brick tower

ーMs. Takahashi said the reason she chose Chim↑Pom was because the works possess a sense of venturing outside, a sort of a street art element. What sort of elements does the interaction process hold for Chim↑Pom?

Hayashi: I think where it differs from street art is that this latest project did not in any way involve tagging in public places or doing as we pleased without getting permission. I understand there are positive aspects to doing that but this time around, rather than that, we wanted to record the negotiation itself. For example, when we visit the home of a local elderly woman and tell her we would like to exchange a part of her house's wall with a part of the art museum's wall. Naturally, we sometimes got turned down and so on, but in some cases we also got counteroffers about places or methods we hadn't thought of. It is not just about receiving -- there is also acceptance by the other parties. Those sorts of encounters are the ones we are seeking.

Okada: So the fact is that the people who act as our guides are very important. It's quite difficult to get to somewhere interesting without teaming up with someone who has close ties to the local lifestyle. Our guide this time, Shobuj, spent his 20s in Kabukicho, a district of Shinjuku, as a migrant worker. He came to our hotel without being called and we talked nonsense all night and gradually became friends. Shobuj also came to understand Chim↑Pom's way of doing things and actively enjoyed himself, and I think that was a key point that contributed to the success of the works.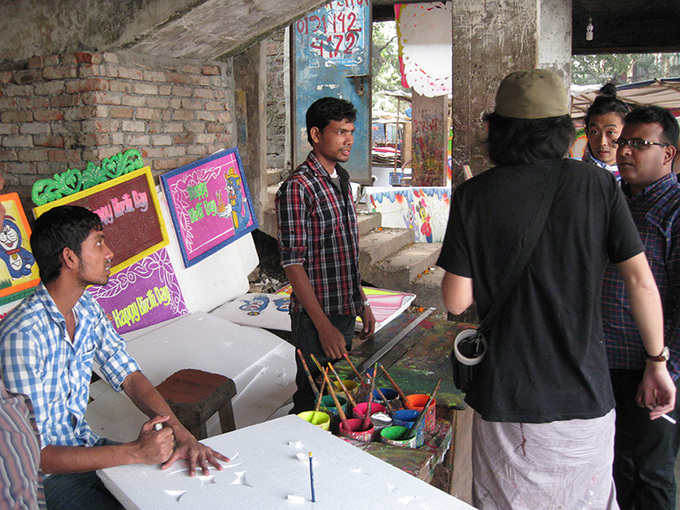 The guide, Shobuj (far right)



Sense of happiness in a city of song and music

ーLooking back, what were your impressions of Bangladesh? Earlier, Ms. Takahashi raised the question of the country ending up being labeled as "an appalling situation."

Takahashi: Before traveling to Bangladesh, I read Bauru wo Sagashite (Looking for the Bauls), a non-fiction work by former United Nations employee Ario Kawauchi.

The book is about a visit to the mystic minstrels known as the Bauls. Bangladesh is a country with a tradition and history of poetry and song. In the course of reading the book and meeting Ario Kawauchi in person, I had an inkling that Bangladesh would probably turn out to be a fantastic place. When I actually went there, the people I met were really vibrant. Their lifestyles overflow with colors and sounds.

Hayashi: Yes, I really thought that.

Takahashi: Even the women working at a sewing factory where Western fast fashion is manufactured all wore traditional dress, which is a combination of brightly patterned clothes. They were absolutely stylish.

Hayashi: Ellie was delighted. She went on a shopping spree.




Left: Women working at a sewing factory
Right: Ellie holding up a puzzle piece at the sewing factory

Takahashi: Everywhere we went, we could sense people's cheerfulness and a welcoming attitude to visitors. There was no feeling of being rejected whatsoever.

Okada: In some cases when we went location hunting, we entered apartment buildings. As a door was open, we would naturally make eye contact with the residents. In those situations, they might say, "Hey, come here!" or something similar. We would wonder what was going on but then they would say, "Why not have a cup of tea?" This happened time and time again. Also, we started to like lungi, a local traditional garment that you wrap around your waist, and we started wearing them every day. But apparently three or four years ago a song called "Lungi Dance" was quite popular, and it is rare for foreigners to wear lungi as well, so people we met would make fun of us and say, "Oh, Lungi Dance!!" That is also a fond memory.

Hayashi: We encountered barefoot children too, but they didn't seem to be going hungry.

Takahashi: Something Shobuj said was that people have no money, but because Bangladesh is an agricultural country, there is plenty of food. So the people don't have any major worries when it comes to eating.

Hayashi: It is also a culture of helping one another, in the Islamic way. The people working in the markets and so on work until morning, sleep thereabouts, then go off to work, and then sleep again. When Ellie saw that lifestyle she was envious, saying she'd like to live like that as well. It genuinely made us reassess what happiness is.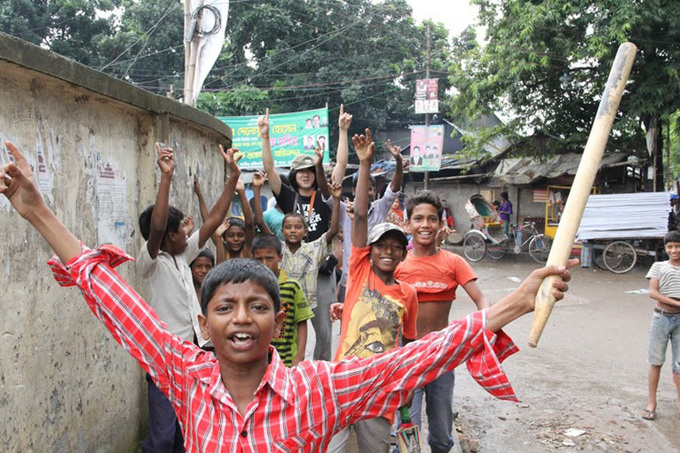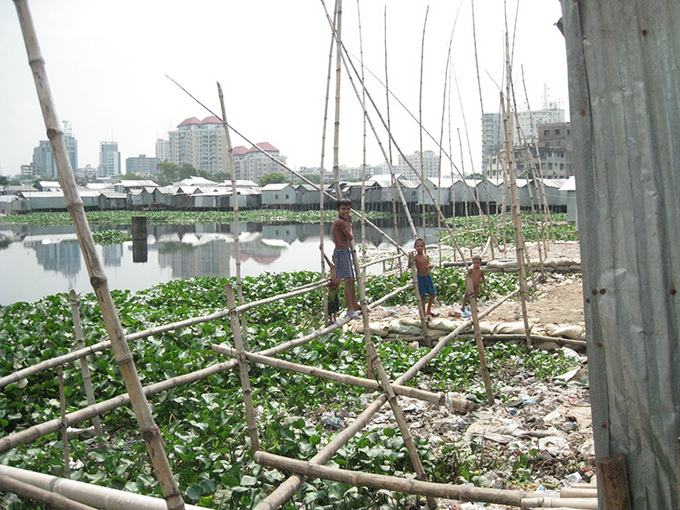 Upper: Chim↑Pom's Okada with children in the city
Lower: Children in Dhaka

Takahashi: We had about a day of free time before we returned to Japan, and we went to the Tagore's Residence and the Lalon Akhra. The Lalon Akhra is a place where a mystic minstrel who abandoned worldly things and was not affiliated with any religion is enshrined. There are many wandering mystic minstrel types in Dhaka as well, and they go about singing songs all over the place. People in Bangladesh believe all Baul songs are "the home of the heart," and there was a real sense of being immersed in songs and sounds as they soaked into your heart. People's daily lives are tough but it is as if the songs really empower them. It felt as though I had come into contact with the source of songs and music.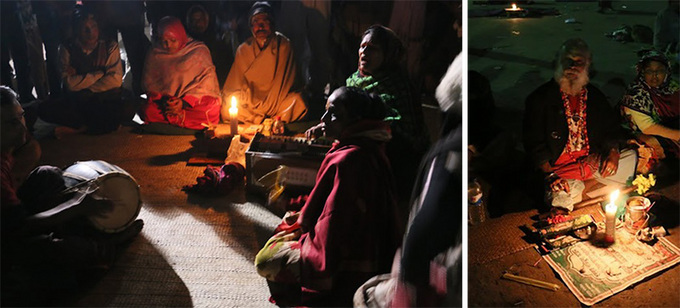 At the Lalon Akhra

Okada: Throughout Dhaka as well, when night falls people gather together from here and there and have small concerts and so on. There is also the sound of the Koran drifting about as well. Songs left a strong impression during our stay.

ーI listened to a bit of the music, and the songs seem almost nostalgic, don't they?

Hayashi: That's right. In a column I wrote for a combined report, I used the term "nostalgic." When you watch something like Sanchōme no Yūhi (Sunset on Third Street), it feels "nostalgic" even though you weren't born in that era, right? In Bangladesh, I gained a sense of people's fundamental enthusiasm, passion and affection.



From left to right: Mizuki Takahashi, Masataka Okada, Yasutaka Hayashi, and Toshinori Mizuno



Interviewer/editor: Taisuke Shimanuki
Interview photographs taken by Kenichi Aikawa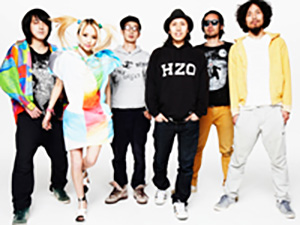 Chim↑Pom(チンポム)
Chim↑Pom is an artist collective formed in 2005 in Tokyo with Ushiro Ryuta, Hayashi Yasutaka, Ellie, Okada Masataka, Inaoka Motomu and Mizuno Toshinori and all in their twenties at the time. Responding instinctively to the "real" of their times, Chim↑Pom has continuously released works that fully intervene in contemporary society with strong social messages. Using video as a primary discipline, their expressions freely cross over a range of media from installation to performance. While based in Tokyo, they develop their activities globally in exhibitions and projects in various countries. More recently, they have expanded their activities further to include the direction of art magazines, and exhibition curation. They have published numerous books in Japanese, including Naze Hiroshima No Sora Wo PIKA! To Saseteha Ikenainoka (Why Can't We Make the Sky of Hiroshima "PIKA!"?; co-edited with Abe Kenichi, MUJIN-TO Production, 2009), Chim↑Pom (Kawade Shobo Shinsha, 2010), Geijutsu Jikkohan (Art as Action; Asahi Press, 2012), SUPER RAT (PARCO Publishing, 2012) and Ellie wa Itsumo Kimochiwarui (Ellie's sick all the time; Asahi Press, 2014).

Photo: Leslie Kee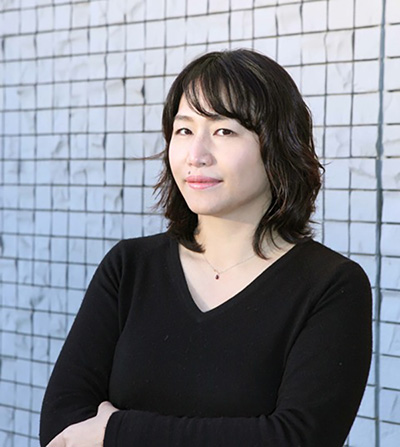 Mizuki Takahashi
After studying Art History at Waseda University in Tokyo, Mizuki Takahashi completed MA in Art History and Japanese Ethnology at SOAS, University of London. She currently works at Contemporary Art Gallery, Art Tower Mito. Her curated exhibitions are KITA!! Japanese Artists Meet Indonesia (held in Indonesia, hosted by the Japan Foundation, 2008), 8 Days - Beuys in Japan (Art Tower Mito, 2010), Manga Realities: Exploring the Art of Japanese Comics Today (Art Tower Mito, also held in Seoul, Manila and Hanoi, hosted by the Japan Foundation, 2010), Tadasu Takamine's COOL JAPAN (Art Tower Mito, 2012), Darren Almond Second Thoughts (Art Tower Mito, 2013), etc. She is the author of Jibun wo Kirihiraku aato (Art-Provoking Yourself; Film Art, 2009).

Photo: Hako Hosokawa