Motivation to Study Japanese, Learning Methods, and the Appeal of the Japanese Language: Tips from Foreigners Who Apply Their Japanese Language Proficiency in Their Careers
[Part 1]
Marty Friedman (Musician)
Carolin Eckhardt (Manga Artist)
Jenya (Voice Actress)
Japanese pop-culture, like anime, manga, and J-pop, is attracting global attention, and this trend has boosted interest in the Japanese language. The Japan Foundation has just released the results of its Survey on Japanese-Language Education Abroad 2015, but even the results of the 2012 survey shows that there are already nearly four million Japanese-language learners around the world. In fact, this does not include learners studying Japanese alone using television, radio, the Internet and other means, so the actual number of people studying Japanese must be considerably higher. So what motivates foreign people to study Japanese, and what learning methods do they apply? Also, what is their impression of the Japanese language? In order to find answers to these questions, we asked three foreigners fluent in Japanese--musician Marty Friedman (the U.S.), manga artist Carolin Eckhardt (Germany), and voice actress Jenya (Russia)--about their approach to studying Japanese and the reasons they felt attracted to it.
An ambition to learn Japanese being inspired by Japanese culture
Fluent in Japanese as if it were their mother tongue, they use it as the main language for communication in their respective careers as a musician, a manga artist, and a voice actress. When did they take interest in Japan and the Japanese language and what inspired them?
For Marty Friedman, it was the powerful appeal of J-pop that convinced him to join the Japanese music scene. He moved to Japan in 2003. The desire to learn Japanese, however, appeared much earlier, in the late 1980s, when he visited Japan for the first time as the guitarist of an indie rock band.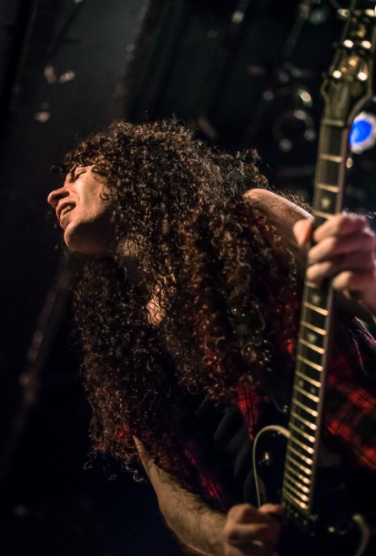 Marty Friedman, a world-class guitarist, moved to Japan 13 years ago.
"I was living in Hawaii in the early 1980s, and TV and radio programs catering to local residents of Japanese descent sparked my interest in Japanese music. This interest deepened after I visited Japan and became directly involved with the Japanese music scene. I strongly felt that Japan was an incredibly interesting place. At the same time, I realized that I needed to acquire some basic Japanese skill or otherwise I would not be able to enjoy this occasion. That is how I decided to learn Japanese."
For Carolin Eckhardt, who made her debut as a manga artist in Japan in 2012, what stirred her interest in Japan was the anime Sailor Moon which was on TV when she was in elementary school. Back then, however, she did not know that it was a Japanese anime series.
"The anime Sailor Moon became a hit in Germany, and soon afterwards the German edition of the comic book was published. I noticed that it was a Japanese manga only after I got the book. After that, I read various Japanese manga and felt drawn to the richness of the genre and the attention-grabbing storylines. Eventually, I became a big fan of manga. I felt a deep emotional connection to this uniquely Japanese genre despite the fact that I was German, so I could not help becoming hooked on it. The townscapes, clothes, foods, etc., depicted in manga were all new to me and I felt fascinated every time I opened one."
Jenya, a voice actress working in Japan, also became interested in the Japanese culture and language after watching Sailor Moon on TV when she was 16.
"In Russia, the anime was not dubbed but used translated voice-over with the original soundtrack. As I listened to the Japanese lines, I remember thinking 'What a beautiful and adorable language!' I felt really fascinated by the Japanese language and hoped I would be able to speak it one day."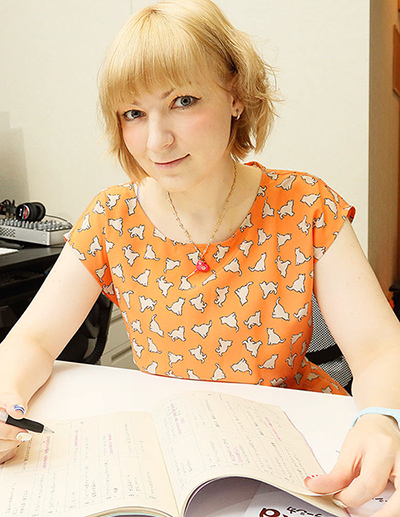 Today, Jenya is active not just as a voice actress but also as a singer and a TV personality.
Her determination remained firm, and Jenya started studying Japanese when she entered university.
"I did not major in Japanese in university, but studied it in a language course provided by the Municipal Cultural Center "Siberia-Hokkaido" in my hometown of Novosibirsk. I was taking weekly 90-minute group lessons. Sometimes I was not able to go to class because I was busy with the assignments at the university, but I attended it for a total of three years. After graduating from university, I reached a decision. I had no choice but to live in Japan in order for me to sound like a native Japanese speaker. So 11 years ago, in 2005, I moved to Japan."
Carolin, who fell in love with Japanese manga in elementary school, started studying Japanese at the young age of 13. A manga-loving classmate from Carolin's junior high school invited her to enroll in a Japanese language class near her home.
"The teacher, who was Japanese, taught me the basics of the language. Soon, I felt like I wanted to study Japanese more and learn more about Japan. So when I was 17, I went to study for a year in a high school in Sapporo, and experienced life in Japan through a homestay program. In the classes for exchange students, I studied Japanese grammar, Chinese characters, and composition writing, and through the interaction with my school friends and host family, I learned about Japanese culture, activities, and customs.
After completing the study-abroad program, I returned to Germany and graduated from high school, but when I turned 20 I relocated to my beloved Sapporo and started attending a vocational school with the goal of becoming a manga artist. Once in Japan, I worked hard to 'absorb' the Japanese language in my everyday life. I would immediately look up words that I was not sure about and ask friends to explain grammar that I did not understand. I took up a part-time job at a coffee shop to learn honorific and polite expressions. Working with customers was good practice that helped me improve my Japanese."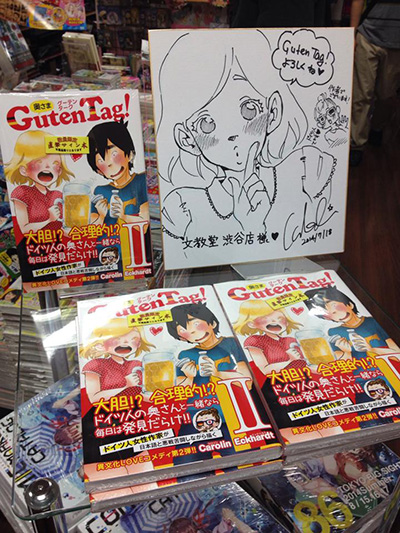 After graduating from the vocational school in Sapporo, Carolin made her debut as a manga artist in 2012. © Carolin Eckhardt/Shueisha
After his first visit to Japan, Marty Friedman, who was already a popular guitarist, learned Japanese almost entirely on his own. As he said in a past interview, "I did a university correspondence course for a year, and got a solid grasp of basic grammar." When touring with his band, he would bring his coursebooks and Japanese music magazines on to the airplane or bus and study.
"When I was living in the U.S., I struck up conversations with Japanese people I came across. I would jump on any opportunity to speak in Japanese. I have even participated in a Japanese language speech contest for university students. After moving to Japan, my appearances on TV turned out to be the most effective way to study Japanese. I had to concentrate on listening to what the other participants said and express myself in a precise, interesting, and smooth manner. Speaking under such pressure was the best practice method for me."
In Part 2 of this article, Marty, Carolin, and Jenya will explain the reasons they became attracted to the Japanese language and will talk about their preferred learning methods. Do not miss it!
(Text: Sayuri Saito)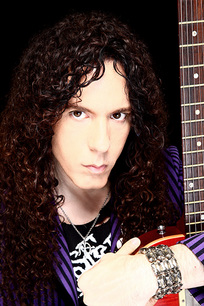 Marty Friedman
Marty Friedman was born in Washington D.C., U.S.A. After playing in various bands, such as Cacophony, in 1990 he joined the world-famous metal band Megadeth. After playing with them for 10 years as the lead guitarist, he left Megadeth and in 2003 moved to Japan, drawn by his fascination with J-pop. Since then, he has been active on the Japanese music scene in a broad range of creative fields as a guitarist, songwriter, and music producer, and also applies his multiple talents in television, radio, and cinema. In 2014, Marty Friedman released his solo album Inferno (Universal). He is also the supervisor of "Jojo no Kimyo na Boken" de Eigo wo Manabu! [Learn English with JoJo's Bizarre Adventure!], an innovative English study guidebook published by Shueisha.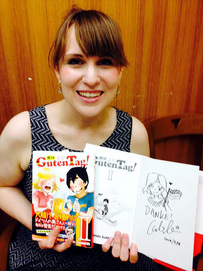 Carolin Eckhardt
Carolin Eckhardt was born in Potsdam, Germany. She started learning Japanese at the age of 13 and aspired to become a manga artist in Japan. As a high school student in Potsdam, she enrolled in a study abroad program and attended a high school in Sapporo City for one year (2004-2005). After graduating from high school in Potsdam, she returned to Sapporo in 2007 and enrolled in Sapporo Manga Anime Gakuin, a vocational school. After graduating, she joined the school as an assistant teacher in 2010 while drawing manga. She made her debut as a manga artist in 2012 with her serialized manga. The series ended in 2014, inspiring her to leave Sapporo, her home for the past seven years, and move to Tokyo in search of new challenges.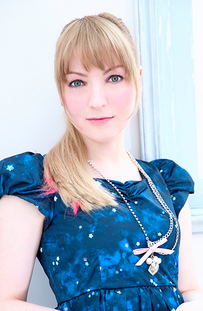 Jenya
Jenya was born in Novosibirsk, Russia. She graduated from the IT Department of the Novosibirsk State University of Economics and Management. From around 2000, she began uploading audio of herself singing anime songs in Japanese on her website. In 2005, she moved to Japan and began working hard to realize her dream of becoming a professional voice actress. She made her debut in Evangelion: 2.0 You Can (Not) Advance in 2009, and since then has appeared as a voice actress in several anime works, such as Pretty Rhythm: Aurora Dream, Crayon Shin-chan: Very Tasty! B-class Gourmet Survival!!, and Girls und Panzer. At present, she is also active as a singer and a TV personality.