Culture and the Arts as the Driving Force for Revitalization of Regions and Communities
- Taking a look at the activities of Japanese Americans and the initiatives of the Creative City of Kanazawa (part.2)
Culture and the Arts as the Driving Force for Revitalization of Regions and Communities
- Taking a look at the activities of Japanese Americans and the initiatives of the Creative City of Kanazawa (part.1)
The Japanese American Leadership Delegation (JALD) program is held every year in March, organized by the Ministry of Foreign Affairs of Japan. As part of the 2017 program, the Japan Foundation Center for Global Partnership (CGP) and the U.S.-Japan Council (USJC) jointly hosted the Japanese American Leadership Symposium in Kanazawa, Ishikawa Prefecture on March 6. The JALD program began in 2000. Since then, many Japanese Americans who are leaders in their respective fields across the United States have visited Japan, including both Tokyo and regional cities, where they have engaged in discussions with scholars and experts in various fields and visited cultural institutions. The 2017 program ran from March 4 to 11, with USJC President Irene Hirano Inouye accompanying a delegation of 11 Japanese Americans. The delegation arrived in Kanazawa on March 5, where they visited major cultural institutions. The Japanese American Leadership Symposium was held in Kanazawa the following day, March 6.
What role can culture play in revitalizing communities? What effect does it have?
Although this was the 17th Japanese American Leadership Symposium, it was the first time that it was held in Kanazawa. First, three Japanese American panelists gave presentations about their own activities, based on the theme of "the role of culture in developing communities." Following the presentations, Professor Masayuki Sasaki, Distinguished Professor at Doshisha University and a leader in the field of international comparative research on creative cities and creative economies, and Ms. Irene Hirano Inouye, President of the U.S.-Japan Council, moderated a panel discussion that also included Mr. Matsutaro Fukumitsu, President of Fukumitsuya Sake Brewery, as a discussant.
A summary of the panelists' presentations is provided here in the order in which they were given.
■Leslie A. Ito(Los Angeles, California)
President & CEO of the Japanese American Cultural & Community Center (JACCC). She has worked in the area of arts promotion for approximately 20 years, serving at many organizations, including the California Community Foundation and the Ford Foundation.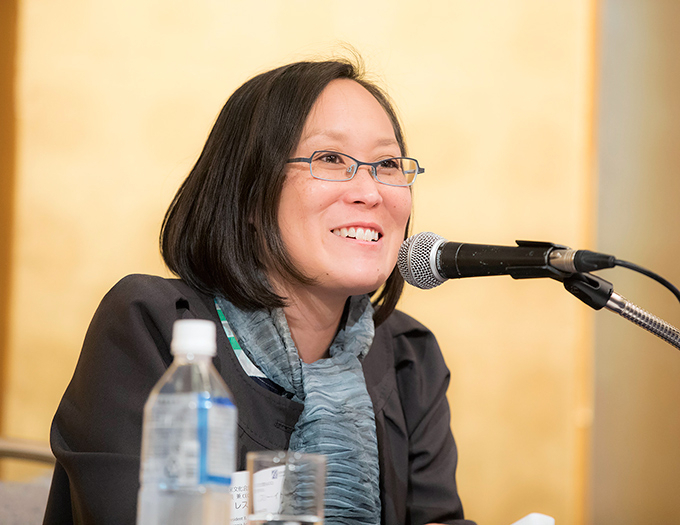 "I am a fourth-generation Japanese American. My great-grandfather on my mother's side of the family came to San Francisco from Fukuoka at the age of 19 in 1902, and that is where my family's history in the United States begins.
In 1942, forty years after my great-grandfather had come to the United States, the attack on Pearl Harbor took place. My grandfather and grandmother were placed in a concentration camp on the West Coast. This experience was very painful for my grandparents, and they never spoke about the time they spent in the camp until I was much older, when they shared their painful history.
I became President and CEO of the Japanese American Cultural & Community Center (JACCC) in 2013. One of the reasons why I joined JACCC was to tell the untold stories of Japanese Americans like my grandparents through arts and culture, and share them with future generations and my children.
JACCC was founded in 1971 by first- and second-generation Japanese American community leaders as a center for Japanese arts and culture. The mission of JACCC is to serve as a hub for Japanese and Japanese American arts and culture and a gathering place for diverse communities. JACCC connects traditional and contemporary, community participants and creative professionals in Southern California and the world beyond. It is very similar to the activities that are being implemented here in Kanazawa.
JACCC is located in Los Angeles' Little Tokyo and has an 880-seat theater, gallery space and a Japanese garden, among other facilities. Little Tokyo has a history of 134 years, and it is no longer just comprised of Japanese Americans. We are a place where you can feel the cultures and histories of various people, and enjoy good food and shopping at the same time. It is precisely because it is a sustainable community that we seek not just to preserve it, but ensure that it will thrive into the future by honoring the history and cultural context of the neighborhood.
There have been many historical threats to Little Tokyo, including the World War II evacuation and incarceration and also the continuous threat of displacement due to real estate development. A metro station is scheduled to open in Little Tokyo in 2021, and is expected to become the second busiest stop in Los Angeles County. The flip side of this good news is that it will increase real estate prices and force many small and family businesses out of the neighborhood.
However, culture and history prevail. We hold Obon dances during the Obon festival and also host other cultural events. We plan many free performances so that as many people as possible can live and play in Little Tokyo. JACCC also provides ukulele classes, taught in Japanese, Korean, and Spanish languages, and many multi-generational programs.
At JACCC, we try to connect people with community and culture. Nurturing and cultivating relationships and sharing stories and experiences that resonate are at the heart of our work. We want to stand in solidarity with those who need our support. So that others do not have to face the same kinds of injustices that the Japanese Americans faced during World War II, we are using our space at JACCC to express support and solidarity with all communities, including Muslim communities."
■Ken Russell (Miami, Florida)
Commissioner of the City of Miami (the first Japanese American to serve in this position). He is involved in efforts to restore Miami's Ichimura Japanese Garden, which are under the jurisdiction of the city. He is a member of associations for Japanese Americans and the Japan-America Society of Northwest Florida.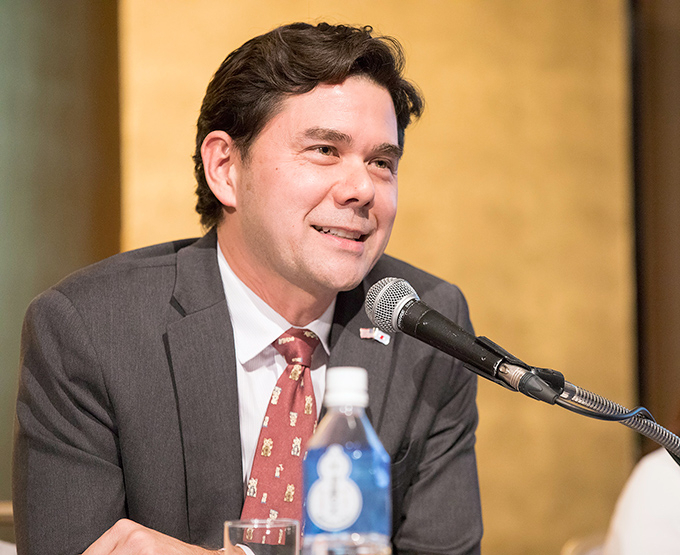 "I became a Commissioner for Miami City one year ago, but before that I made my living as a professional yo-yo player, traveling the world. In fact both my father and my Japanese mother, who was born in Tokyo, were yo-yo players.
Today I would like to talk to you about green space and how to reactivate that green space through art and culture. I currently live with my wife and three children in front of a park, a very beautiful green space. However, we learned that it was contaminated with highly toxic poisonous elements. For me this was unacceptable, so I began to organize the community and to convince the city to do a proper cleanup of the park. We were ultimately successful in getting the park decontaminated and cleaned up.
However, we found out that there were five other parks in the city that were also contaminated. With the encouragement of others, I decided to run for office and work to realize green spaces and decontamination, not as a grassroots-level activist, but as a politician. I started by walking around Miami and visiting people's homes to explain to them about the issues, and ultimately, I was successful in becoming Miami's very first Japanese American elected official.
I would like to introduce to you today three examples of my activities related to green spaces. The first is the renewal of an existing park, the Ichimura Garden. In 1957, on a visit to Miami, Mr. Kiyoshi Ichimura, the founder of RICOH San-ai Group, donated sculptures and some structures to create a Japanese garden in Miami. Although the garden was completed some years later, it was desolate after the passing of Mr. Ichimura and effectively stopped functioning as a garden. We have allocated US$200,000 to design and plan with the aim of bringing this garden back to life. The plans include new spaces for events and exhibitions, and we also plan to build a teahouse and install a stone garden.
The second example I would like to introduce is the Omni Park project. This project is based in a blighted area that could be referred to as a slum. Part of the land is owned by the Department of Transportation and they allocated the land to us for this project. We are planning areas for art and music, a skate park, and restaurants. We are very excited as the plan is scheduled for completion in about one month.
The final project I would like to introduce is one that we just completed, called Biscayne Green. Miami does not have much space left for green space, so we have had to get creative in greening spaces from the limited areas that remain. This is an ambitious project that takes an eight-lane highway with a large parking lot in one of the busiest sections of downtown Miami, and aims to make it into an active green space. We have created a dedicated bus lane from one of the traffic lanes. During the day the park also provides dance and yoga classes.
I really love arts and culture. This is why I am dedicated to creating green spaces on Miami's land and in its parks, where people can come into contact with culture".
■Wendy Takahisa(New York, New York)
Executive Director, Office of Community Relations at Morgan Stanley. She is an active member of the Japanese American community of New York and also participated in a Japanese drumming (Wadaiko) group.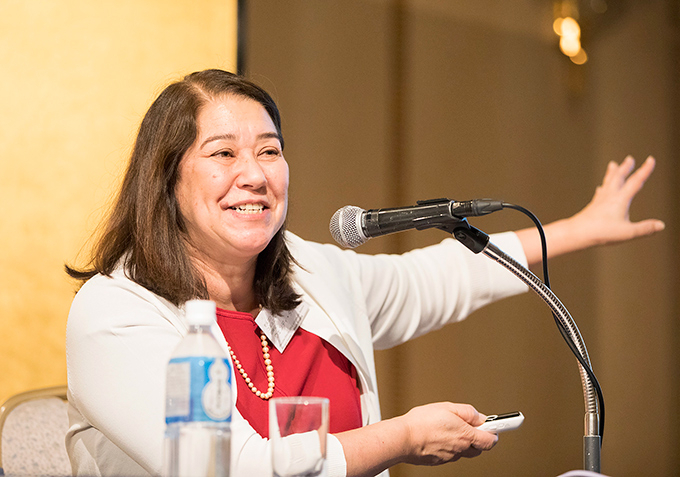 "I was born and raised in New York City. My father was a second-generation Japanese American born in California, and my mother was Jewish and of Eastern European descent. My parents got married in 1950, but as an interracial couple they suffered a lot of discrimination. My mother was initially disowned by her family, and all of their neighbors signed a petition to have them moved out of the building in which they were living. It is because I was born to parents who had endured such experiences that I am now very active in working for social justice and tolerance for all immigrants.
On this visit I have learned that the 21st Century Museum of Contemporary Art, Kanazawa, was built on the site of a former school, which is similar to activities that are being advanced in Chelsea, the area of New York where I live. Many groups in Chelsea are working to rebuild and remodel spaces for arts and culture using derelict and vacant buildings.
Chelsea is now a magnet for tourists, but previously it was an industrial neighborhood with freight lines and warehouses. From the end of World War II through to the 1960s when New York City was actively building public housing, approximately 2,000 public housing apartments were built in Chelsea. In addition, by the 1960s, many large corporations had closed their factories and operations, and the area fell into decay.
The most famous theater in Chelsea, which signaled the start of the area's resurgence, is the Joyce Theater. It was formerly a movie theater that closed in 1978, which was then restored by Eliot Feld's Ballet Tech in 1982 and reopened as a theater for dance and run as a non-profit organization. The theater is visited by 150,000 people each year now.
In 1987, Dia: Chelsea was also opened, which is a modern art gallery. Following the opening of Dia, more and more galleries moved into Chelsea, and by 2010 the area was full of them. However, there are fewer art galleries in Chelsea today because rents have increased, forcing some to move out of the area.
In 1997, the building that originally housed the Nabisco factory, where the Oreo cookie was invented, was transformed into Chelsea Market. The market has more than 35 stores and is visited by about six million people every year.
Another place that attracts many visitors is the High Line, an elevated park opened in sections from 2009 to 2014. The disused freight rail line that lay abandoned for 30 years has now been turned into a park that runs for a total length of 2.3 km. It has attracted 20 million visitors so far and is incredibly popular. The Whitney Museum also moved into Chelsea in 2015, and as a result the number of visitors to the museum doubled.
Today, now that the area has been regenerated, many new high-rise apartment buildings are being constructed. However, next to these developments there are still areas that are home to low-income families, and major income inequality is now one of the problems we face.
What we must remember is that when we engage in development, it is important to look at communities as a whole and consider what they need. It is essential to create communities that are ideal and welcoming for all residents, including those with low income. That is why people are working hard in Chelsea to try to bring communities together.
Following the presentations from the three panelists, Professor Sasaki moderated a panel discussion, with the panelists addressing questions posed by audience members.
Sasaki: "I would like to say a few words about my own impressions at the outset. I think that the "power of place" could be considered to be one of the key phrases in today's discussion, based on what we have heard from our three speakers. In other words, when a place is used as a hub for cultural activities, it can lead to revitalization of the entire urban environment and also promote tolerance.
Next, I would like to invite comments from Mr. Fukumitsu."
Fukumitsu: "My predecessors in the Japan Association of Corporate Executives, who supported community development in Kanazawa, always acted on the premise that it is essential to carry on the culture and traditions that we have been building in the city since the Edo period. This basic stance has permeated through society in Kanazawa and is today shared by all residents. Local companies have worked to create businesses centered around arts and crafts and nurture a creative city. As a result of these efforts, people with many creative talents have gathered in Kanazawa from around the country. Since the opening of the Hokuriku Shinkansen, there has even been a phenomenon where some creators in Tokyo move their offices and studios to Kanazawa. We will continue to treasure our 400 years of history as we work to build a creative city. This concept of the utmost importance for the people in Kanazawa."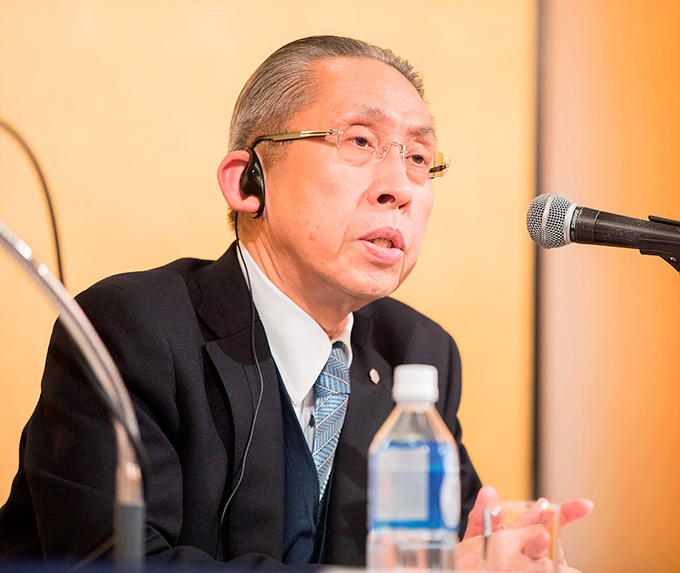 Matsutaro Fukumitsu, President of Fukumitsuya Sake Brewery
Sasaki: "Now I would like to address the many questions we received from the audience. The most popular question is this: How do you maintain your identity as Japanese Americans in American society?"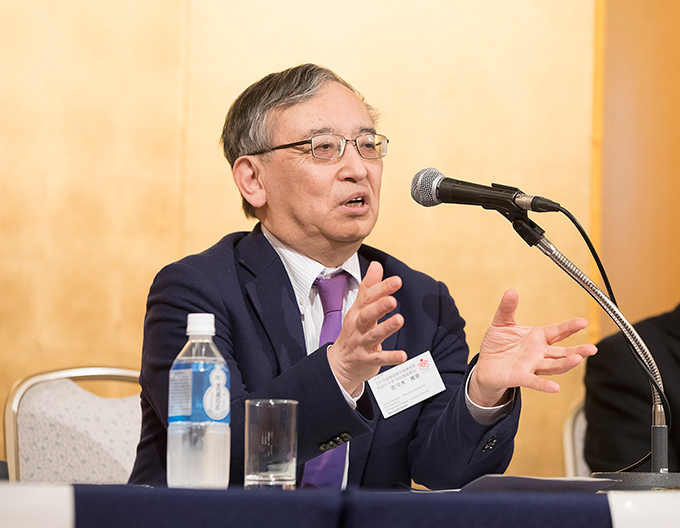 Masayuki Sasaki moderates the discussion.
Ito: "Japanese Americans living in Los Angeles have access to major cultural institutions like JACCC or the Japanese American National Museum, which helps to solidify our cultural identity by providing opportunities to experience and feel our roots and culture. I think that helps us to maintain our cultural identity."
Russell: "In Miami there are not many fellow Japanese Americans. For me, simply being a Japanese American living in Miami is something that is important and has meaning. Our identity is also very important in historical terms. I believe that it is my responsibility to convey the culture and history of Japanese Americans and link that towards the future."
Hirano Inouye: "In 1942, President Roosevelt signed Executive Order 9066, which resulted in the incarceration of 120,000 Japanese Americans. The year 2017 is the 75th anniversary of that part of our history, and various events are being held to commemorate it. In February, the Smithsonian National Museum of American History and the Japanese American National Museum held exhibitions on the theme of Executive Order 9066. It is our duty as Japanese Americans to speak about and share this history."
Sasaki: "Next, I have a question for Mr. Russell. I understood from your presentation how you treasure green space, but could you tell us the reason for your activities?"
Russell: "The fact is that when you create green spaces, it brings people together, which helps to revitalize the area. These spaces could also prompt new activities to emerge. Places have the power to bring people together. With the help of social media, many people who have not actually visited a place may get a feeling of having been there, and it is precisely because of this that spaces for culture and the arts have the power to draw people in."
Takahisa: "My daughter is a 21-year-old university student, but when the High Line opened she was 11 years old. At the time she was only interested in being on her computer or on her phone, but when the park opened, she said that she wanted to go and see it because it was such a groundbreaking new space. Actually going to a place and looking at it on a screen are two entirely different things. When the High Line was first opened, everyone there was smiling and greeting each other. It created a situation in that place that had not existed before."
Sasaki: "Finally, can I ask you each to say a few words about your impressions of your visit to Kanazawa?"
Ito: "It is the same in Little Tokyo in Los Angeles, and also here in Kanazawa, where no matter who you are, we all have a role to play in recognizing history and culture and also thinking about how we can protect our cultural treasures for future generations."
Russell: "I have been very impressed with Kanazawa, and I am also a little jealous of the way you cherish and take such pride in history, culture, and art. It is your history and art that makes Kanazawa so special."
Takahisa: "I have learned a great deal from my visit to Kanazawa. Wherever you go in the city, you find that everyone respects traditions and is also working to create new things. I think that is what makes Kanazawa stand out because it is so special."
Hirano Inouye: "I come to Japan many times each year, but I had never been to Kanazawa. I was really looking forward to this visit. The people who have welcomed us have shared a rich variety of stories and topics with us. The members of the Japanese American Leadership Delegation have also brought our own stories and experiences, and we have been able to share these with each other. Each of the 11 members of the delegation has a very rich background and brings significant expertise. We look forward to being able to find more opportunities to work together and connect with you in the future. Thank you very much."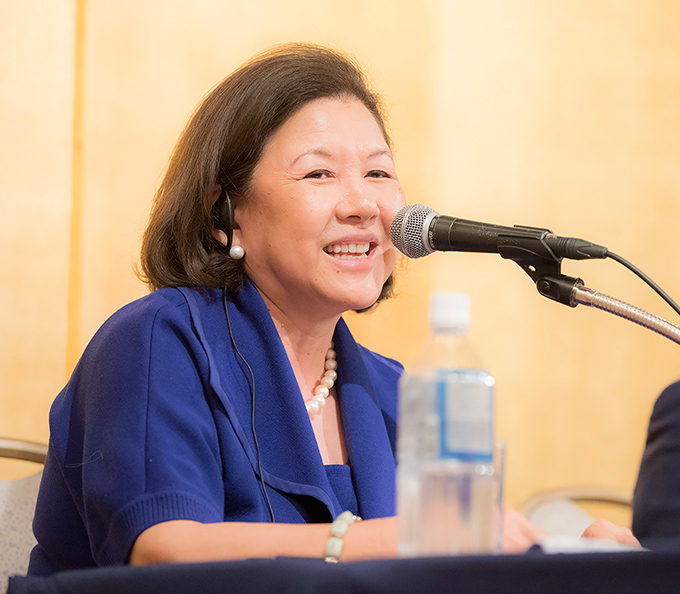 Irene Hirano Inouye, President, U.S.-Japan Council.
Places that have the power to bring people together. The communities that form from people coming together creating culture, movement and interactions. The creativity and revitalization that can be achieved while conveying history and maintaining traditional culture. We hope that the various people who shared time together in Kanazawa will have found some pointers for their future activities in their own communities from these discussions. There could be no better outcome than this.
(Text: Sayuri Saito, Photos: Kenichi Aikawa)
Moderators
Masayuki Sasaki
Dr. Masayuki Sasaki is a Distinguished Professor at Doshisha University and Emeritus Professor at Osaka City University. He also serves as director of the Promotion Office for the Creative City of the "Culture and Art Creation Cities" Project of the Agency for Cultural Affairs, and advisor to the Creative City Network of Japan.
Irene Hirano Inouye
Irene Hirano Inouye is President of the U.S.-Japan Council. After serving as President and founding CEO of the Japanese American National Museum in Los Angeles for 20 years, she established the non-profit organization the U.S.-Japan Council in 2009. The Japan Foundation Awards 2012 recipient.
Discussant
Matsutaro Fukumitsu
Matsutaro Fukumitsu is President of Fukumitsuya Sake Brewery. He also serves in various other positions, including Chairman of Ishikawa Sake Brewers Association, Chairman of Kanazawa Sake Brewers Association, and Chair of the Kanazawa Creative City Conference Executive Committee.
Japanese American Leaders

| | |
| --- | --- |
| David Boone | President, CB&I Federal Services |
| Jason Fujimoto | President & COO, HPM Building Supply |
| | Judge, Portsmouth District Court, State of New Hampshire |
| Roy Hirabayashi | Co-Founder, San Jose Taiko |
| Leslie A. Ito | President & CEO, Japanese American Cultural & Community Center |
| Lynn Nakamoto | Associate Justice, Oregon Supreme Court |
| Patrick Oishi | Judge, King County Superior Court, Washington State |
| Ken Russell | Commissioner, City of Miami |
| Michael Takada | CEO, Japanese American Service Committee |
| Wendy Takahisa | Executive Director, Office of Community Relations, Morgan Stanley |
| Gary Yamashita | CEO, Sakura Square |