Treasures from Kyoto: 300 years of Rinpa creation
Flowers that never wilt ―
From ardent emotions they come,
Eternally in bloom
So beautiful and fragrant...*
The words in this poem by Sugawa Nobuyuki (1839-1917) call to mind the blossoming friendship ushered in by the Treaty of Amity and Commerce between France and Japan, signed on October 9, 1858. The treaty focused primarily on economic and diplomatic ties, but as time passed those parameters expanded to welcome artistic influences as well. Through international expositions in the 19th century, France was introduced to a new artistic sensitivity as another way of looking at nature and beauty. French people developed a deep appreciation for works springing from Japan's Rinpa movement. And yet for some reason, the excitement of those years faded away with the passage of time.
"Japonismes 2018: les âmes en résonance" will re-tie those bonds of appreciation. Under the guidance of Yoshiyuki Hosomi, director of the Hosomi Museum; Ryuichi Matsubara, deputy director of the National Museum of Modern Art, Kyoto; and Manuela Moscatiello, head of the Japanese collections at the Musée Cernuschi, the exhibition "Treasures from Kyoto: 300 years of Rinpa creation" (from October 26, 2018 to January 27, 2019), in which exceptional artists will be introduced, will offer a journey through time.
The exhibition will be held at the Musée Cernuschi. We asked Manuela Moscatiello for background information.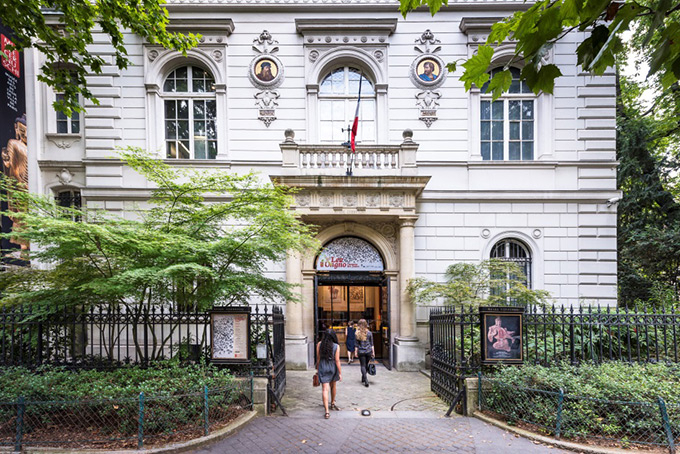 Exterior of the Musée Cernuschi, where the exhibition "Treasures from Kyoto: 300 years of Rinpa creation" will be held.
© Pierre Antoine / Musée Cernuschi
― Tell us a little about the Rinpa movement.
Rinpa is a decorative art movement which appeared in the beginning of the 1600s and whose influence is still felt to the present day.
It was founded in Kyoto by Hon'ami Kōetsu (1558-1637) and Tawaraya Sōtatsu (active 1600-1640), the pioneering figures. The term "Rinpa," meaning "Rin school," was first used around the end of the 1800s.
"Rin" comes from the last syllable in the name of the painter Ogata Kōrin (1658-1716), who modeled his art on the style of the two founders, while taking it in innovative directions at the same time. The school is also called Kōetsu's school, after one of the founders, or Sōtatsu and Kōrin's school, after both artists, although over the last few decades "Rinpa" is the term generally used.
Different from other Japanese traditional painting techniques, Rinpa artists are bonded by a common spiritual and aesthetic affinity, rather than a master-student type of relationship. The word shishuku is used to express the respect and affection of painters for their predecessors.
From the 17th century to 20th century, Rinpa artists developed their own individual methods, inspired by the favored subject matters of the school. For example, the iconography in one of Sōtatsu's most famous works, the folding screens Wind God and Thunder God, was reproduced most conscientiously by Kōrin and, years later, by Sakai Hōitsu (1761-1828), but their works are certainly not copies ― when we closely examine the three versions we can see a variety of differences. The subject matter is the same, and the artists all apply the same techniques, but we cannot fail to recognize that the later works are not plagiarized copies, but an expression of homage to a forerunner. Another example, Nakamura Hōchu (died in 1819) drew inspiration from his forerunners. He took Kōrin's humorous and refined motifs and treated them in woodblock print form. Then, he published these in two volumes in 1802. This was effective in spreading appreciation of the Rinpa style.
For their motifs, Rinpa artists also drew inspiration from classical literature. Their admiration for the Heian Period (794-1185), which they wanted to revive, answered particularly to their pursuit of beauty. The works often express the natural rhythms of the seasons. Their techniques varied, while reflecting the times they lived in. For instance, they appropriated and developed the tarashikomi, a traditional Chinese method, that provides the use of a brush loaded with ink or color that drips on a previously painted surface while it is still wet. The resulting smudges create the impression of buoyancy. Mokkotsuga (mogu hua in Chinese), literally means "boneless painting" is a technique which does not suppose any preliminary line to a painting; only ink or color is applied directly on the support of the work.
― What social class or classes did Rinpa artists come from?
Kōetsu and Sōtatsu, the school's founders, were from the wealthy Kyoto merchant class (machishu). For several centuries after them one trait shared by Rinpa artists was that they were well educated.
Kōetsu came from a family known for its fine work sharpening, polishing and appraising samurai swords (often classified as national treasures in Japan). Kōetsu was not only a samurai sword artisan, he also was a ceramist, and an outstanding calligrapher―he is still today considered one of the "Three Brushes" in the end of Momoyama Period which is the beginning of the 17th century.
Sōtatsu operated a Tawaraya fan painting studio, and married Kōetsu's cousin. He and Kōetsu were therefore related to one another, and shared the same refined and elegant tastes that one would expect of artists from their background. They collaborated as well ― in picture scrolls overwritten in waka poetry, the design and drawings by Sōtatsu and the calligraphy by Kōetsu. Their works are nowadays designated Important Cultural Properties. "Joint efforts" might not be strong enough a phrase ― we can see their exquisite dialogue between design and text.
― Is there a hidden meaning in Rinpa's decorative elements?
Japanese traditional art often uses good luck icons, like the crane and tortoise which are associated with longevity and prosperity. Rinpa conjures up images more than symbols. The Rinpa style is known for its unity of form and simplicity of design. There are many such examples, but what comes to mind here is Sōtatsu's Narrow Ivy Road (Tsuta no hosomichi). The panels take as their theme a passage from the Tales of Ise (10th century, acclaimed as one of the finest works in Japanese literature). The narrow road is drawn very simply, with vegetation delineating its lines, and color variation is minimal thanks to gold leaf and greens made from malachite. Just about any Japanese person who sees the picture would be able to recall part of the story: A noble young man is crossing over Mount Utsu, daydreaming in a love stricken way. He writes a poem for his wife, and hands it to a young monk who passes by, asking him to give it to her. On the screen panels, the ivy leaves are enough on their own to bring to mind the vivid emotions behind the scene.
A different set of screens, this one by Kōrin, takes another verse from the same the Tales of Ise. This time we see many irises beside a boldly drawn yatsuhashi zigzag bridge. The iris motif was taken up again by Kamisaka Sekka (1866-1942), a master painter from more modern Rinpa days. It is worth recalling that when an illustration includes plants and flowers, there is the suggestion of a specific season.
― Tell us why the exhibition will focus exclusively on Rinpa.
I believe that Rinpa materializes the core of Japanese sensibility. Even though Rinpa artists use Chinese painting techniques, still nothing could be more Japanese. I thought for some time about how my collaboration with Japonismes 2018 could offer the most value. I was excited at the proposal to present Rinpa artists' works in France, and suggested a retrospective exhibition on Kamisaka Sekka at the Musée Cernuschi. And then, because it would give the French public a wonderful opportunity to learn about Rinpa, I recommended a sequel that would introduce the artists I had covered in my books. This led to my being asked to organize an exhibition of Rinpa works. Rinpa is not well known in France, and I hope to make it as approachable as possible, for visitors to gain a deep appreciation.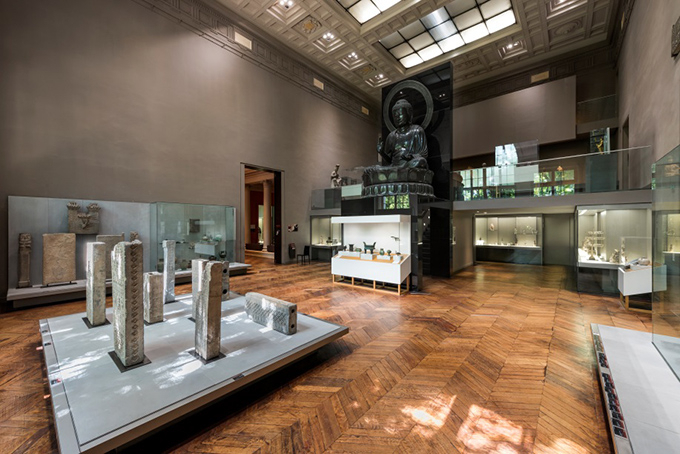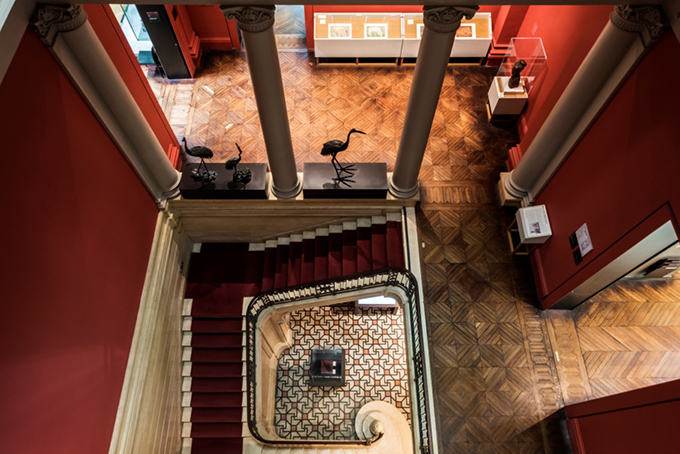 Inside the Musée Cernuschi
© Pierre Antoine / Musée Cernuschi
―How will the exhibits be organized?
My Japanese colleagues and I wanted to show Rinpa from its birth to the 20th century. So visitors will walk through a timeline. We will stress the idea of generations: over the centuries, Rinpa artists followed examples established by their forerunners, and that is how they carried on the school's traditions. Each generation of artists will be associated with a theme. The Rinpa journey we present will be divided into four stages:
First section: "Rinpa: Origins," highlighting the work of the founders Kōetsu and Sōtatsu.
Second section: "Creative Progress," featuring the Ogata brothers Kōrin and Kenzan. The latter is especially admired for his pottery. Their works will give visitors a deeper understanding of the soul and style of Rinpa.
Third section: "New Directions for Rinpa," presenting three artists: Watanabe Shikō (1683-1755), Fukae Roshū (1699-1757), and the above-mentioned Nakamura Hōchū.
Fouth section: "Rinpa's Heritage into the 20th Century: Sekka," focusing on the last artist representative of modern Rinpa.
The screens on display will present various aspects of Rinpa. We are fortunate to be able to display the Wind God and Thunder God screens, a National Treasure, as well as two other folding screen sets, the Narrow Ivy Road, and Bugaku Dancers, both Important Cultural Properties by Sōtatsu. Another screen, this one by Roshū, features plants and flowers highlighting the four seasons, and has also been awarded the Important Cultural Property appellation. The works will cover themes on all media used by Rinpa, from screens and illustrated tanka scrolls to pottery, lacquerware and picture books.
―Did the Rinpa movement have any influence on Western painting?
Louis Gonse (1846-1921) was the first in France to publish an introduction to Japanese art. His two-volume work, released in the 19th century, included many illustrations. In the introduction he tells us that the Japanese are "the first decorative artists in the world." I'm sure Western artists were charmed by the representation of nature and sensibilities of Rinpa objets-d'art. Gonse believed that Kōrin was the most creative and unique artist in the world in the early 1700s.
The simplicity of form evident in Kōrin's art can be seen as a thirst for modernism, an urge to paint and to depict otherwise nature. Those in the West who admired or even collected Rinpa works included Claude Monet and other impressionists, Émile Bernard and the Nabis.
If I may inject a personal note, I researched the Italian artist Giuseppe De Nittis (1846-1884) to discover his links to Japonism. He maintained contact with painters like Manet and Degas. I have done a lot of work on his interest in Japanese art. A number of his works take the shape of a Japanese fan, and he copied Japanese motifs, but it is little known that he went beyond all that, not only imitating the designs often seen in Japanese illustrations of nature but first of all ― and this I find illuminating ― using the methods and materials that are unique to Japanese traditional painting. Following the example of Rinpa artists, De Nittis even used expensive materials like gold and silver powder, and gold and silver leaf.
―When you were studying in your home country of Italy, what made you so interested in Japanese art?
When I was a student at the University of Bologna I developed a fascination in 19th century French and Italian art. It was my first love! But then I started leaning toward Japonism, and soon found myself hooked, especially on Japanese art. One of my professors, who I ended up working with for quite a long time, had lived in Japan for 10 years, and after he returned to Italy he taught Japanese art at the university. His lectures took me into a fabulous world that all began with Japanese woodblock prints. The university has an excellent collection of ukiyo-e prints. My encounter with ukiyo-e prints was a kind of starting point in my journey. The professor coordinated several retrospective exhibitions for them. I helped out, and this gave me an opportunity to learn a great deal about gallery visitor perspective. Later, I received a master's degree specializing in Far Eastern art history, and began studying Japanese. I traveled to Japan several times, and discovered that for me, Japan is, above all, Kyoto. The city has many Shinto shrines and Buddhist temples, creating an atmosphere I found truly relaxing (I still find serenity when I go there). Anyway, I continued studying the language and did what I could to learn more about Japanese art history. To take my research to a higher level I went to France.
Before I ever set foot in Japan I had visited the Freer Gallery of Art in Washington, D.C. It has the foremost collection of Japanese art outside Japan. I was 20 years old at the time. I had written to the museum's curator saying I would like to see Sōtatsu's folding screens, Waves at Matsushima. Fortunately I received a reply, granting me permission to view this priceless work of art. Standing in front of such important examples of Japanese art, I was astounded as never before. I spent the whole day in the repository there, enthralled and intrigued. The attachment I developed to Rinpa that day feels as strong as ever.
― Why do you think France has such a fascination with Japanese art?
It's not only France. I think the West as a whole has that fascination or, can I say, an unquenchable thirst to learn more about it. In the 1800s, many cultural spheres in France, especially fine art and fashion, came under the influence of Japanese art. One magazine article of the time went so far as to say, "Japanese art is very much alive in Paris, so there's no need to go to Japan to see it." Japanese art came to France through three channels. The first was the international expositions that were held surprisingly frequently in Paris over almost half a century, in 1855, 1867, 1878, 1889 and 1900. Their effect was considerable. Also important were the retrospective exhibitions and small galleries specializing in Asian art. The third channel was the auction houses, which also played a pivotal role.
I'm sure that Rinpa works of art have the potential to strike a chord in the hearts of the people of France. I do believe it!
― How do you view relations between France and Japan in this year, 2018?
The two countries enjoy a healthy relationship at every level, from trade and business to diplomacy, science and culture. They are partners in a special relationship. Of all Asian countries, Japan is among France's most important investor nations. Art, too, plays a critical role in the advancement of international relations. Perhaps I'm an optimistic idealist, but I believe art has the ability to heal many of the wounds of the world.
― Where do you think the Japanese love of nature comes from?
That deep love of nature has been evident in Japan since ancient times. It springs, I believe, from animism in the native Shinto religion. The Japanese have always been in awe of nature. Yet they also instinctively enjoy nature. I remember when I was staying in Kyoto, the coming of spring would bring people to parks after work for picnics under the cherry blossoms. The desire for that kind of activity is part of the soul of the Japanese. A love of natural beauty is seen in the ordinary things used in everyday living. Kyoto is a place where life and art combined with each other, where elegance prevails.
* Tanka poem written in bold ink at the beginning of the masterpiece Momoyogusa, by Kamisaka Sekka (1866-1942).
Reference: KAMISAKA SEKKA, Les Herbes de l'éternité, edited and translated by Manuela Moscatiello, published by Arles, Editions Phillipe Picquier, 2013
Interview and text collation: Aurélie Julia, magazine journalist based in Paris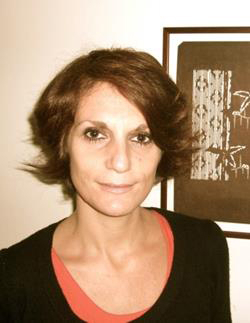 Manuela Moscatiello
Manuela Moscatiello has been responsible for collections of Japanese art at the Musée Cernuschi since July 2016. Her research fields include France-Japan relations in the 19th century and Japanese art of the Edo and Meiji periods. She has coordinated various exhibitions and written academic papers, and edited several publications on Japanese artists. KAMISAKA SEKKA - Les Herbes de l'éternité; HOKUSAI - Manuel de dessins; Les Fleurs précieuses du jardin mystérieux - Itô Jakuchû, among others. In 2011, she received the Society for the Study of Japonisme Award for her Le Japonisme de Giuseppe De Nittis, Un peintre italien en France a la fin du XIXe siècle. She was a researcher at the Far Eastern Art Study Centre in Bologna, and was responsible for the Oriental Art Room at the museum of the University of Bologna.