Report for 2019 Presentation Ceremony for the Japan Foundation Awards
2020.3.23
【071: The 47th Japan Foundation Awards—the Bond between Japan and the World
Nurtured by Culture, Language and Knowledge】
The Japan Foundation Awards, held for the 47th time in 2019, began in 1973, one year following the establishment of the Japan Foundation. Every year, the awards are presented to individuals and organizations that have made significant contributions to promoting international mutual understanding and friendship between Japan and other countries through academic, artistic and other cultural pursuits. Past recipients include such luminaries as Bernard H. Leach (potter, 1974), Kurosawa Akira (film director, 1982), Donald Keene (Professor of Japanese literature, Columbia University, 1983), Ozawa Seiji (music director, Boston Symphony Orchestra, 1988), Miyazaki Hayao (animated film director, 2005), Murakami Haruki (writer and translator, 2012) and Cai Guo-Qiang (artist, 2016). (Listed positions were held when awarded).
This year's award recipients included two individuals and one organization: Tanikawa Shuntaro (poet) from Japan, Perhimpunan Alumni Dari Jepang (PERSADA: Association of Indonesian Alumni from Japan) from Indonesia and Ewa Pałasz-Rutkowska (Professor, University of Warsaw) from Poland. This is a report of the presentation ceremony attended by the recipients on November 7.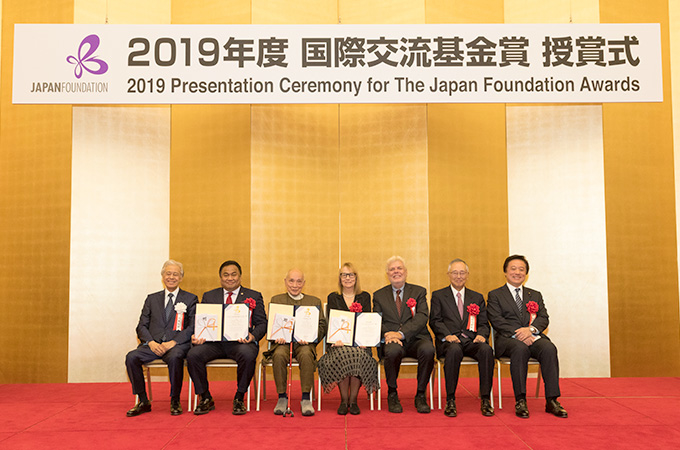 The Japan Foundation Awards is one of the oldest programs at the Japan Foundation, with 191 recipient individuals and organizations from 33 countries across the globe as of the 2018 awards.
For this year as well, recommendations were made by intellectuals in various fields from around the world as well as solicited publicly based on the three themes of Arts and Cultural Exchange, Japanese-Language Education Overseas, and Japanese Studies and Intellectual Exchange that make up the core of the Japan Foundation's activities. From among the 73 recommendations, recipients were then selected through discussions by the selection committee made up of 18 intellectuals.
Mr. Tanikawa Shuntaro has composed poems for nearly 70 years and continues to be energetically active in a variety of fields through his words. Using simple words, his clear and rhythmic poems have a great appeal even to non-native learners of Japanese, and they are used in Japanese language education as well. Over 50 volumes of his poetry have been translated into more than 20 languages, including English, Chinese, French and German, giving people around the world a chance to become familiar with Japanese culture.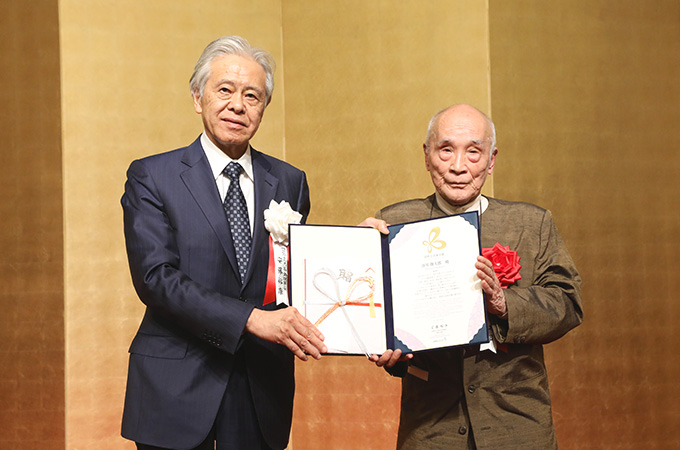 Mr. Ando Hiroyasu, President of the Japan Foundation (left), and Mr. Tanikawa Shuntaro (right)
Association of Indonesian Alumni from Japan (PERSADA) was established in 1963 by a group of Indonesians who had studied in Japan. With approximately 8,000 former exchange students to Japan, they have developed Japanese language education, cultural experience programs, interactions among specialists and many other meaningful activities. In 1986, PERSADA and Perhimpunan Persahabatan Indonesia Jepang took the initiative in establishing the private Darma Persada University. All of the approximately 5,400 students learn Japanese, and the university has become a bridge for active exchange between Japan and Indonesia, with academic exchanges with Japanese universities and employment with Japanese companies.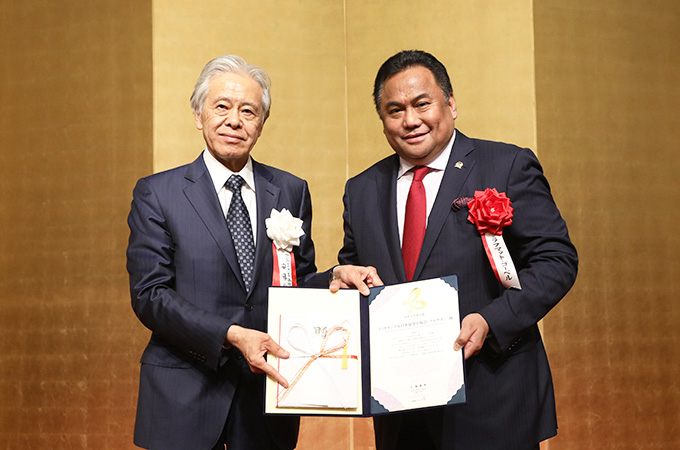 Mr. Rachmad Gobel (right), Chairman of Association of Indonesian Alumni from Japan (PERSADA)
Prof. Ewa Pałasz-Rutkowska (Professor, University of Warsaw), one of Poland's representative researchers in Japanese history, studies and explores an extensive amount of material in both Japan and Poland. She was the first in the world to research and publish on the revolutionary history of relations between the two countries, comprehensively handling the time period from the Russo-Japanese War through the end of World War II. Since 2003, she has guided many undergraduate and graduate students as professor at the University of Warsaw, while also contributing to cultural exchange, including operating a tearoom established in the university library as an honorary vice-president for Chado Urasenke Tankokai Warsaw Sunshin Association.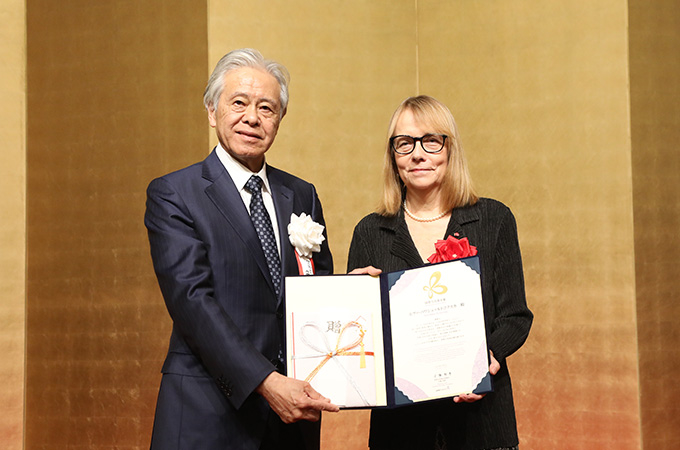 Prof. Ewa Pałasz-Rutkowska (right)
At the presentation ceremony held in Tokyo on November 7, approximately 400 people gathered, including recipients, representatives from recipient organizations, the selection committee and other related parties. At the ceremony, people associated with the recipients introduced and congratulated the recipients.
Fellow author Ms. Ozaki Mariko (Senior Research Fellow, the Yomiuri Research Institute) lauded Mr. Tanikawa, saying, "I think that in his poems Mr. Tanikawa has captured common emotions that each and every one of us in every country and region can relate to about human nature. It is truly befitting that he receives this award. We are truly fortunate that we are alive in a time when the words from Mr. Tanikawa's nearly 3,000 poems have been composed, as if gently being poured out from heaven." She then offered her thanks to Mr. Tanikawa.
Mr. Kuroda Naoki, vice president of the Japan Indonesia Association, which supports the activities of PERSADA, offered a speech, saying: "The history of PERSADA is connected to the relationship between our two countries. I am filled with deep emotion as we offer praise to PERSADA today. I think Darma Persada University is a unique, globally unprecedented university, having been created by former exchange students."
Fellow researcher Prof. Inaba Chiharu (Professor, Faculty of Urban Science, Meijo University) offered the following episode about Prof. Ewa Pałasz-Rutkowska: "In the 1990s, I exchanged letters with many Japan researchers, and all of them wrote back to me in English. But only Ewa wrote elegant letters that concluded with kashiko (best regards) in cute, curvy Japanese characters. They were splendid letters that could have been mistaken for samples of penmanship practice. Ewa's extremely high Japanese proficiency and her understanding of Japanese culture support her research."
Following these remarks, speeches were given by the recipients.
Mr. Tanikawa said, "I only write my poems in Japanese, my native tongue, and there is no greater pride or joy than to have my poems translated, although to be honest there is some anxiety if my intentions become lost in translation. It is strange yet wonderful when poets meet face to face, and even if we cannot communicate in the same language, there is a sense of familiarity in both being writers of poems." He then recited Shijinsan-tachi (FELLOW-POETS), a poem he spontaneously wrote of the scene of the Poetry International Festival Rotterdam 1992. He offered his thanks to translators and interpreters who have supported his efforts in international exchange.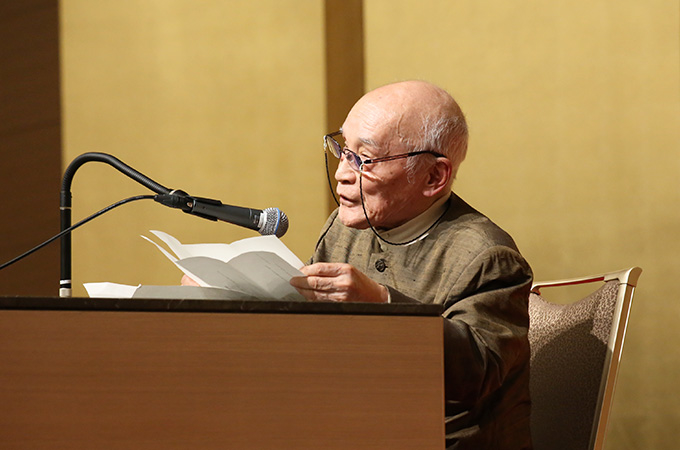 Mr. Tanikawa reciting Shijinsan-tachi (FELLOW-POETS)
From PERSADA, Mr. Rachmad Gobel, who also serves as deputy speaker of the Indonesian Parliament, smiled and said: "This award is proof of the contributions that further tighten the strong bonds between our countries through various cultural exchanges, cooperation in education, training and more. It is also testament of the mutual understanding and trust between Japan and Indonesia. I am deeply grateful for the vote of confidence by the Japan Foundation with regards to the contributions of all former exchange students who studied in Japan. Our mission is to foster the young generation of Indonesia and interact on a global scale. We are hopeful that the graduates of Darma Persada University will become leaders in various fields. I will display this award on campus at the university so that we can pass on the award to the next generation that will act as the link between our two countries."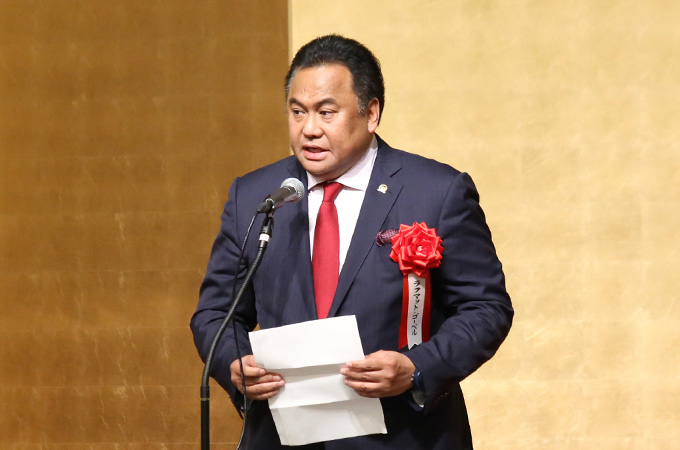 Mr. Rachmad Gobel describing the joy of receiving the award
Speaking in fluent Japanese, Prof. Ewa Pałasz-Rutkowska took a look back at the two times when she received the Japan Foundation Fellowship. The first time was from 1990 to 1991 when she began her research into the history of Japan and Poland relations and the second time in 2013. She also offered her thanks to various researchers and related organizations, saying, "I firmly believe that achieving my objectives and my continued love for Japan and Japanese culture is all thanks to you."
Prof.Pałasz-Rutkowska also reminisced about attending the presentation ceremony as a Japan Foundation Fellow for Prof. Wiesław Roman Kotański, her first mentor and professor emeritus (at the time) at the University of Warsaw, when he was awarded the Japan Foundation Award in 1990.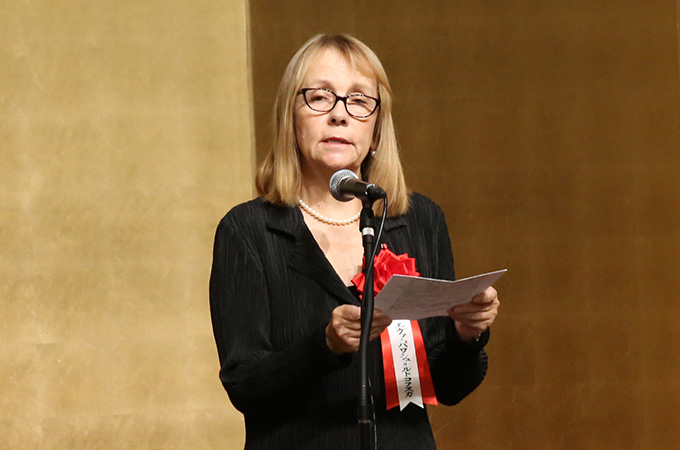 Prof. Ewa Pałasz-Rutkowska offering thanks in fluent Japanese
After the presentation ceremony, a crowd gathered around the recipients — proof of the support and encouragement given to the achievements of each of the recipients.
Interview and Text: Terae Hitomi (the Japan Foundation Communication Center)
Photography: Katano Tomohiro