The Japan Foundation, Manila:Activity report of the Japan Foundation, Manila
The Japan Foundation, Manila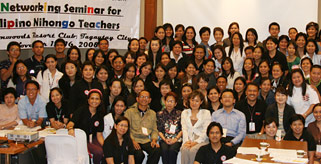 The 8th Nihongo (Japanese-language) Teachers' Forum, a project of the Association of Filipino Nihongo Teachers (AFINITE), in cooperation with the Japan Foundation Manila was held on November 15 and 16.

Around 120 Nihongo teachers and other participants from all over the country joined the seminar with the aim of reinforcement and development of Nihongo teachers network formation in the Philippines; including update regarding the situation of Japanese Language Education in the various regions/provinces in the Philippines; and providing a venue for discussing current issues/problems experienced by Nihongo teachers through a variety of workshops.

During the group discussions, concerns were raised on the need to create new Japanese Language Education materials to cater to specialized courses like hotel and restaurant management; and insufficient resources on the introduction of Japanese culture were also discussed. Subsequently, with the help of this forum, through the network of Nihongo teachers, in the course of sharing of information, techniques, actively tackling every problem with its corresponding solution, progress should not be far way.

Even after the forum, new ideas came to realization on how to expand networking through a social network via online exchange of information and ideas. A chance to develop closer relations among the Nihongo Teachers, thus providing a strong foundation in building a working network in the exchange of ideas and materials.

The Japan Foundation, Manila has high hopes on the improvement of Japanese Language Education in the Philippines; and will continue to support the flourishing network of Nihongo teachers in the country.