The Japan Foundation, New York:Lecture in New York by Dr. Kazuo Kawasaki, Japan's Visionary Industrial Designer
The Japan Foundation, New York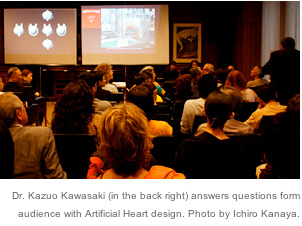 The Japan Foundation, New York hosted a lecture by Dr. Kazuo Kawasaki entitled "Peace-Keeping Design - From Wheelchair to Vaccine Injection," at the SONY Club in midtown Manhattan.

Dr. Kawasaki, Professor at Osaka University, is an internationally renowned industrial designer. A number of his products, such as his wheelchair, scissors and pencil sharpener have been selected for MoMA's (Museum of Modern Art, New York) permanent collection. He also designed "Kazuo Kawasaki," the high-profile eyeglasses worn by Alaskan Governor Sarah Palin and on Monday, he spoke about his creation of artificial hearts.

A physically challenged person, Dr. Kawasaki's sense of design is equalled by a deep empathy for the welfare of humans. Dr. Kawasaki spoke about Inochi (Life), Kimochi (Feeling) and Katachi (Form), which form the core foundational philosophy of his work.

Co-organized with the International Designer Network Foundation (IDNF), the evening lecture drew a capacity audience of designers, scientists, artists and corporate executives in New York.

He introduced the audience to his artificial heart, and his research at Tokyo and Osaka Universities (see photo) of its feasibility and implementation. His theory is based on the topology of three dimensional objects, giving no distinction between inside or outside. This drew particular interest from the audience, leading to a lively, intellectual exchange of views.

After the lecture, guests offered questions and compliments to Dr. Kawasaki, deep into the Manhattan twilight.

In addition to New York, Dr. Kawasaki held successful tours in Chicago and Washington, DC.