The Japan Foundation Center for Cultural Exchange in Vietnam:Exhibition on Children Picture Book by Iwasaki Chihiro
The Japan Foundation Center for Cultural Exchange in Vietnam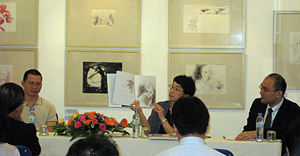 The Japan Foundation Center for Cultural Exchange in Viet Nam hosted "Exhibition on Children Picture Book by Iwasaki Chihiro" at its event space from April 28 through May 22, 2009. It was the first event since the refurbishment of the Center.

This project started in October 2008 when Chihiro Art Museum donated 103 children picture books written by Ms. Iwasaki Chihiro (1918-1974) to the Center. In her later years, Ms. Iwasaki deeply sympathized with children suffering from the Viet Nam War and published two picture books on Viet Nam in 1970s. "Exhibition on Children Picture Book by Iwasaki Chihiro" was organized to introduce her work to people in Viet Nam with children picture books and 35 pieces of Piezo Graph (precise reproduction of paintings).

At the opening of the exhibition, a gallery talk "The World of Children Picture Book: In Japan and Viet Nam" was held to promote Japan-Viet Nam exchange based on children picture books. Two guests were invited: Mr. Ta Huy Long, the first Vietnamese who received an award at "Noma Concours for Picture Book Illustrations" and Ms. Takesako Yuko, the Vice Director of Chihiro Art Museum Azumino, from Japan. They discussed on the theme of "Publishing and the Status of Children Picture Books in Our Countries."

This talk session contributed to the promotion of children picture books in Viet Nam, which has yet to be major in the country. For instance, many of local audience commented that this discussion changed their views on children picture books and illustrations. After the talk, a local publisher sought advice from us on publishing Japanese children picture books in View Nam. The event also provided an opportunity for Mr. Long to build a connection with Chihiro Art Museum which has the International Collection of picture books.

The exhibition of picture books was carefully directed by specialists from Chihiro Art Museum to create a cozy atmosphere: for example, sofas were placed to read picture books comfortably. Such warm and considerate care attracted many visitors, especially families.

The year 2009 is designated as Mekong-Japan Exchange Year. In Viet Nam, a variety of events are scheduled throughout the country, including Hoi An-Japan Festival 2009, Tourism Culture Festival (Venue: Can Tho province), Japan Film Festival, and the Second International Conference of Japanese Studies Association in Southeast Asia (Hosted by the Vietnam Academy of Social Sciences). In its second year since the establishment, the Japan Foundation Center for Cultural Exchange in Viet Nam is extending its activities to promote further exchanges between the two countries.