The Japan Foundation, Los Angeles:Event Report by the Japan Foundation, Los Angeles (Mazarin Chest Restoration Lecture)
The Japan Foundation, Los Angeles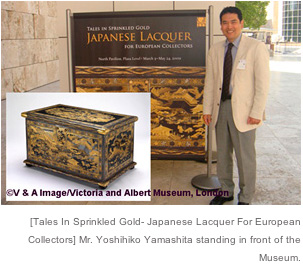 The Getty Museum presented a special art exhibition titled "Tales in Sprinkled Gold - Japanese Lacquer For European Collectors," from March 3rd to May 24th, featuring Mazarin Chests from Victoria and Albert Museum in London, England. The Mazarin Chest was produced in Kyoto during the beginning of the 17th century and then ferried across to Europe to be used as artistic gold lacquer furniture by the French aristocratic Mazarin family. The furniture had a European style but on the surface there it incorporated the design from the Tale of Genji, a classic work of Japanese literature. The chest was manufactured entirely using Japanese gold lacquer technique making it a very important cultural artifact.

On the second to the last day of this special exhibition, the Japan Foundation, Los Angeles, jointly sponsored a project with the Getty Center and the Japan America Society of Southern California to celebrate the 100th anniversary of the Japan America Society by inviting Lacquer Conservator Mr. Yoshihiko Yamashita from Japan to give a lecture on the world of lacquer ware and conservation of the Mazarin Chest. Previously, starting in 2004, the Getty Foundation and the Toshiba International Foundation with the support of the Japan Foundation implemented a joint (Japan-England) conservation research project to conserve the Mazarin Chest, which had deteriorated over the years. Under the guidance of Mr. Yoshihiko Yamashita, the project was completed last year.

The Getty Museum, one of the top ten visited museums in the United States, has not had a special exhibition for Japanese fine arts up until this event. By presenting the Mazarin Chest, which was manufactured in Japan, they provided a wonderful opportunity to introduce Japanese fine arts. There were over 80,000 visitors to the special exhibit and 120 people in attendance for the lecture making this event a success.