Activity Reports:Arts and Cultural Exchange:International Book Fair Participation Program for 2009: Guest of Honor at Seoul International Book Fair 2009
Shunsuke Sogo
Head, Information Department
Jung, Juri
Chief Librarian, Cultural Information Team of Information Department
The Japan Foundation, Seoul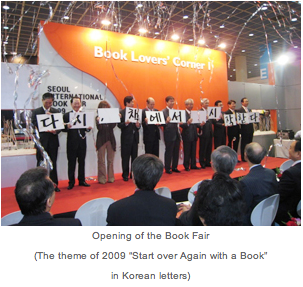 Seoul International Book Fair (SIBF), the largest international book fair in Korea, was held in May 13 -17, 2009, under the theme of "Start over Again with a Book." Convened at COEX, the largest international exhibition hall in Seoul, SIBF attracted publishers from 20 countries and 110,000 visitors around the world.

Preceded by China in 2008, Japan was designated as the Guest of Honor for the 15th anniversary of SIBF. The Organizing Committee for Guest of Honor (JAPAN) at SIBF 2009 was organized and led by the Japan Book Publishers Association. About 500 square-meter "Japanese Pavilion" was installed at the hall to exhibit 2900 published items by 232 exhibitors. They were publishers with a variety of specialties: from Japanese literature, history, society, and politics to manga, magazine, and children book. Next to the Japanese Pavilion was a booth of each publisher and organization. Events of various perspectives were organized based on the result of surveys at the previous year's SIBF, including the opening performance of calligraphy demonstration by Ms. Mariko Kinoshita and a seminar entitled "Reading Campaigns of Today and the Future of Publishing Culture in Japan and Korea." National broadcasting networks such as KBS and MBC as well as cable TV networks covered this book fair, and a large picture of the Japanese Pavilion appeared at the front page of a major newspaper. These media coverage proved high interest in SIBF.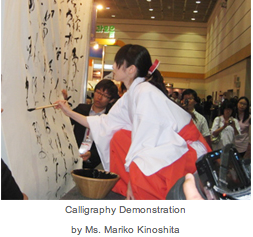 Under the slogan "Reading: A Bridge Between Japan and Korea," The Japan Foundation (JF), in cooperation with the Publishers Association for Cultural Exchange (PACE), collected and exhibited 200 Korea-related books published in Japan and 200 Japan-related books published in Korea. In addition, JF exhibited the books that received The Japan Foundation BORANABI(violet butterfly) Award for author / translator and the books reviewed in the JF quarterly magazine "Japanese Book News." Panel exhibitions were also provided. JF also co-hosted with the Organizing Committee for Guest of Honor an information desk and event spaces to introduce Japanese cultures and cultural exchange programs at the Japanese Pavilion. JF and PACE also co-hosted a lecture by Mr. Tetsu Shirai and a workshop by Mr. Taro Miura, children picture book author, on Book Start movement (a movement to promote book reading with infants by presenting picture books to babies) that has been gaining popularity in Japan and Korea. Another co-hosted program was autograph session and talk session by Ms. Riku Onda, a leading Japanese author. According to the survey of visitors (473 responses), over 95% of them evaluated the Japanese Pavilion as "Excellent" or "Satisfactory."
The hottest program among those related to Guest of Honor was autograph sessions by leading Japanese authors Ms. Kaori Ekuni, Mr. Shuichi Yoshida, and Ms. Riku Onda, as well as manga authors Ms. Yoko Kamio and Ms. Miki Aihara. In 2008, 837 books of Japanese literature and over 2400 books of Japanese manga were published in Korea. It means that most Japanese popular books have been published in Korea. The floor was filled with excitement generated from a long queue of fans to get authors' autographs and people looking at the queue with envy and taking pictures. Such excitement proved the popularity of those authors in Korea. What struck us was that most of people gathered at autograph sessions were young.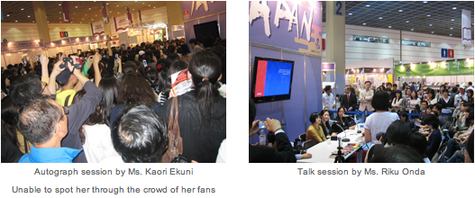 A lot of exchanges are required for mutual understanding, whether it is between people or countries. Among such exchanges, books play a significant role in understanding the thoughts, feelings, and emotions of the counterpart. Today, Japanese books account for far more substantial portion of the publishing market in Korea than Korean books account for in Japan, so it is rather a one-way exchange. By providing more and more opportunities of exchange in the area of publishing between Japan and Korea, we hope a large number of Korean books will be read in Japan, and as SIBF 2009 slogan stated, the reading will be a bridge between Japan and Korea.