Activity Reports:Japanese-Language Education Overseas:Training Program for Overseas Teachers of the Japanese Language for 2009 Spring Concluded Comments from Participants
Teachers Training Section
Japanese-Language Teacher and Institutional Support Department
The Japanese-Language Institute, Urawa has been providing the Training Program for Overseas Teachers of the Japanese Language. The program consists of several categories depending on the target students of the teachers and the length of training periods. Each year, about 500 teachers from more than 50 countries participate in this program. In every spring, a short-term training program for teachers at elementary and secondary educational institutions abroad is provided: in 2009, it was held for about two months from May 14 to July 2. Participants were 28 teachers from the following seven countries: Indonesia, Thailand, View Nam, Malaysia, Sri Lanka, Georgia, and Russia. (Teachers from Russia were participants of "2009 Short Term Training Program for Russian Teachers of Japanese Language" sponsored by Japan-Russia Youth Exchange Center.)

This training program aims at improving the teachers' Japanese-language proficiency and teaching ability as well as at enhancing their knowledge of Japan. Therefore, in addition to lessons of Japanese-language and teaching methods, there are programs to experience Japanese cultures: not only classroom lessons of tea ceremony, calligraphy, and origami, but also experiences outside the Institute, such as visiting elementary and junior-high schools, appreciating sumo and kabuki, and visiting museums. Although five-day four-night trip after the training program was not compulsory, everyone in training program participated. They visited Kyoto, Nara, and Hiroshima to have opportunities to meet the historical heritages.

Comments from the participants are as follows (cited from speeches at the closing ceremony and send-off party. Their names are in family-name (capitalized), first-name order):
---
Ms. Manjula (GEDARAWATTAGE, Manjula Priyanthi; from Royal College, Sri Lanka) and Ms. Nalika (VITHARANA, Hewawedage Shanthi Nalika; from WP/KL PANADURA BALIKA MAHA VIIDYALAYA, Sri Lanka)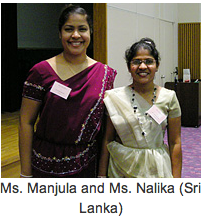 We have been teaching Japanese-language to high-school students in Sri Lanka. Grammar of Japanese-language is similar to that of our native language, so it is not difficult to teach. On the other hand, we often encounter difficulties in teaching Japanese cultures, traditional customs, and daily lives of Japanese people, because, though we are teachers of Japanese-language, we have never experienced actual life in Japan. It is very difficult to teach culture and daily life of a foreign country as described in textbooks without hands-on experience.

When we had just first arrived in Japan, we felt it was rather difficult to get used to life in Japan. Thanks to our friends and teachers, however, we were being accustomed gradually. Our classmates are teachers from various countries, but we felt as if we were members of one family. This sense of family helped us to forget our loneliness of being far away from our own families. Our two-month stay in Japan will be of great use to enhance our abilities as Japanese-language teachers.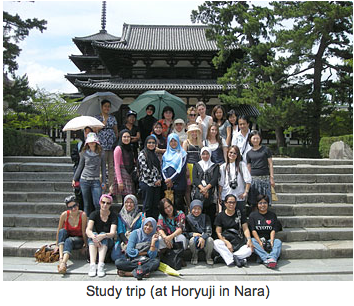 ---
Ms. Nhi (NGUYEN HOANG, Phuong Nhi; from Le Quy Don Secondary School, Viet Nam)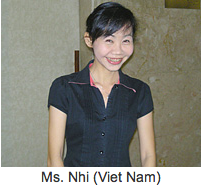 I studied Japanese-language at this institute for two months. I also participated in many activities of Japanese culture. I think it is a great experience to study with teachers around the world.

We all came here from different countries around the world. This is a true international encounter. I come to understand different cultures of different countries. Sometimes we disagreed with each other and argued. But such arguments turn to be good memories by now. It is memorable that we share good conversations and laughter. I will never forget your smiles.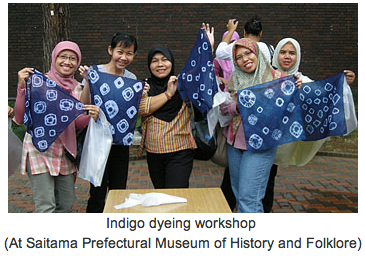 ---
Ms. Lyudmila (MIRONOVA, Lyudmila; from Municipal Cultural Center "Sibir-Hokkaido", Russia)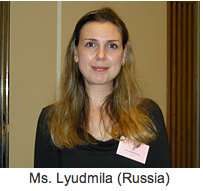 Two months are not a long period, but I was fortunate to be granted such an opportunity to study Japanese-language just like I did in my schooldays. It had been difficult for me to find time and create an environment to focus on studying while working as a teacher. Therefore, it was a happy experience to live and study in such a wonderful environment.

By participating in this program, we could meet different cultures from those of our native countries and find many paths other than the one we had been taking up to today. In case of Japanese-language, I believe that the path to reach the top is not gentle, and it is rather like climbing a mountain. When you start climbing, you can't see the whole mountain. It is easy to climb at first, but then the path becomes steep. You may think it is too difficult to understand and hard to make it, but it is important to take every step with efforts. If you keep studying without giving up, you can reach the next level. At each level, the mountain called Japanese-language will show you another view of beautiful scenery. Looking forward to this excitement, we will keep studying Japanese-language.