The Japan Foundation, Seoul:OKINAWA SPECIAL Film Screening
The Japan Foundation, Seoul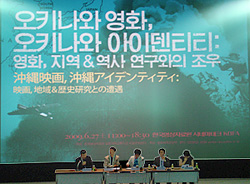 The Japan Foundation, Seoul (JFS) and Korean Film Archive (KoFA) co-hosted "OKINAWA SPECIAL" film screenings (Okinawa Film Festival) from mid-June to early July, 2009.

This film festival aimed to look at Okinawa from cinematic perspectives. Owing to its geographic and historic backgrounds, Okinawa has been the islands on the border, of U.S. military bases, of tourism, and of peace. Its history dated back to the era of Ryukyu Dynasty and then it was ruled as a part of Japan under the Shogunate system. After Japan defeated in the World War II, Okinawa was occupied by the U.S. military. It was 1972 when Okinawa was returned to Japan. Korea, on the other hand, had a long history of Joseon Dynasty before it was invaded by Japan, and after the World War II it was occupied by the U.S. and the former U.S.S.R. Under the Cold War, the peninsula was divided and it still is today. Because Okinawa and Korea have a lot in common geographically and historically, it was of great significance that an Okinawa film festival was held in Korea. It was one of rare occasions that such special screening was held outside Okinawa.

In this film festival, 18 new and old films were shown. Some were based on the wartime experiences of people in Okinawa and what they went through after the war. These films provided us valuable insights into the identity of Okinawa. Other films included those directed by Yuji Nakae who has been making films of Okinawa as well as those describing young people in Okinawa today. At an symposium entitled "What Are The Cinematic Identities of Okinawa?", scholars and filmmakers from Japan and Korea discussed about Okinawa as the subject of geographical or historical researches as well as about the identities of Okinawa revealed in films.

The nature and culture of Okinawa have never ceased to fascinate us. We were wondering how Korean audience saw the society of Okinawa described in the films. These films and the symposium revealed the fact that Okinawa's uniqueness lies not only in its culture and history but also in its role to raise various issues relevant to Korea, East Asia, and even to the world. We hope this film festival fostered interest and understanding of people of Korea in Okinawa and Japan.