The Japan Foundation, Mexico:Intensive Training Course for Japanese-Language Teachers 2009
The Japan Foundation, Mexico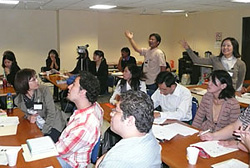 The Japan Foundation, Mexico and Mexican Association of Japanese Language co-organized the Intensive Training Course for Japanese-Language Teachers 2009.

This annual event for Japanese-language teachers in Mexico started in 1999 and held every July for two days.

In the past couple of years, the course has mainly targeted inexperienced teachers. Last year, for example, the theme of the course was "How to conduct a Japanese-language class: from introduction to practice." Participants of the course reviewed their class activities and created introduction and practices to promote motivation of learners.

The course of 2009 based on the results from last year and got back to the basic issues such as what is required for teaching elementary-level classes and what kind of classroom activities should be provided to students, under the theme of "How to create a teaching plan: To build basic skills of Japanese-language."

As a lecturer, we invited Ms. Sachiko Miwa from Japan. This is her second lecture in Mexico; she taught in this intensive course in 2006.

The capacity of the course greatly expanded from that of last year to 40 participants, but the enrollment reached promptly to the maximum, proving the interest and enthusiasm of Japanese-language teachers. In addition to Mexico City, participants came from ten states nationwide, including Puebla, Veracruz, and as far as the northernmost Baja California. The number of non-native Japanese and that of native Japanese participants were equal, 20 to 20.

Participants were divided into several groups for activities and presentations, and they absorbed knowledge by creating specific teaching plans. In addition to the experience at this course, they also benefited from exchanging ideas and information with each other.