The Japan Cultural Institute in Cologne:Japan Day
The Japan Cultural Institute in Cologne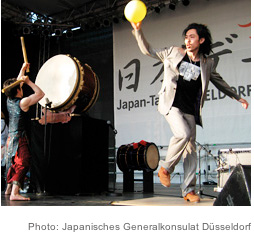 Dusseldorf has the largest Japanese population in Germany, and holds annual "Japan Day" in early summer. This year, the eighth Japan Day was held in June and attracted 850,000 visitors in spite of adverse conditions such as closing of Japanese schools due to spread of the H1N1 virus. Co-organized by North Rhine-Westphalia State, Dusseldorf City, the Japan Chamber of Commerce and Industry, and Japanischer Club, Japan Day is one of the greatest Japan-related events in the world.

A row of stalls along Rhine embankment stretched for over one kilometer, providing Japanese foods as well as demonstrations and tryouts of Japanese cultures and sports. At the outdoor stage in the central square, musicians, singers, drummers, and dancers performed one after another. One of the highlights was performance of Blendrums supported by the Japan Foundation. Blendrums is a group led by Japanese Taiko drummer Leonard Eto, and they displayed their prowess of drum, guitar and tap dance that enchanted the audience. In the pop-culture zone, thousands of young manga fans disguised as comic characters. Since most of characters in Japanese manga and anime had Western-style figures, such costumes just fit young German fans.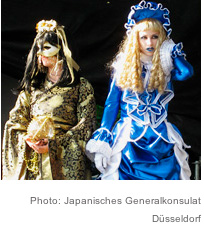 To conclude the festivities, fireworks display was the greatest spectacle of all. Four thousands of pyrotechnic articles shipped from Japan were set off on the Rhine for almost half an hour, erupting in cheers from visitors admiring the fireworks.

People in the Rhineland love festivals and they seem to regard Japan Day as the second Carnival.