Activity Reports:Arts and Cultural Exchange:Japan Pop Culture Festival
Yuko Susa
Planning and Coordination Section
Arts and Culture Department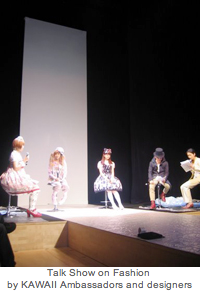 From July 2 to 5, 2009, The Japan Cultural Institute in Paris hosted Japan Pop Culture Festival to introduce multifaceted perspectives of Japanese pop culture, including Japanese animation and fashion that receive high popularity among the younger generation internationally.

The opening event of the festival was a fashion show entitled "Laforet KAWAII Collection in Paris." With the participation of 10 leading brands from Harajuku that are drawing attentions in France, Misako Aoki and Yu Kimura, both are KAWAII Ambassadors appointed by the Ministry of Foreign Affairs to promote Japanese pop culture, appeared on the stage with French fashion models. There were also a talk show with KAWAII Ambassadors and a designer, as well as a mini live by Kanon Wakeshima, signer and cellist whose fashion attracts many young followers.

A long queue had already been formed in front of the Japan Cultural Institute in Paris one hour before the opening of doors to obtain numbered tickets. Since it is located in close proximity to the Eifel Tower, the street in front of the Institute is always busy with tourists. Youngsters in pompous Lolita fashion came out of the flow of people and stepped into the building one after another. Among those, a woman came all the way from Slovenia to join this event.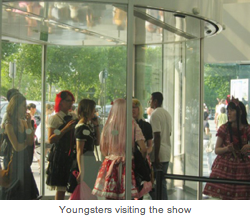 The show was held at the Institute's main hall that was filled with people in French fashion industry and journalism. With dance music and colorful visual effects, Misako Aoki and Yu Kimura of KAWAII Ambassadors came out and brought the atmosphere of Harajuku to the stage, and the audience gave a big applause. Parisiennes have detailed knowledge of Harajuku fashion; there is even a boutique dedicated to such kind of fashion in Paris.

Starting from the second day, five leading Japanese animation films were shown. Screenings of three films, "Eureka seveN the movie - Psalms of Planets Eureka seveN - good night, sleep tight, young lovers" (director: Tomoki Kyoda), "Basquash!" (project director: Shoji Kawamori), and "Musashi - The Dream of the Last Samurai" (director: Mizuho Nishikubo, executive director: Mitsuhisa Ishikawa) were preceded by presentations by directors and producers and followed by meetings with the public. In such rare occasions to communicate with creators of popular movies, French audience asked pointed questions about characters and stories of these movies as well as about animation techniques, exhibiting their strong interest in Japanese animation.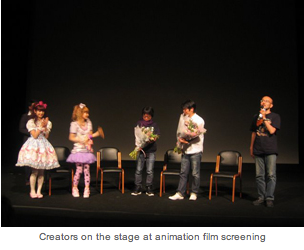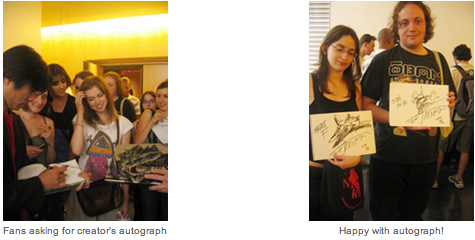 Other events held during the festival were "Animation and the Spirit of Budo" (special exhibition of photographs of animated drawings and original storyboards of popular animation films including "Sengoku BASARA") and presentations of "Manga and Japanese" Competition winners' works. These were also drew many visitors.