The Japan Foundation, Jakarta:Screenings of "Departures" at the 11th Jakarta International Film Festival
The Japan Foundation, Jakarta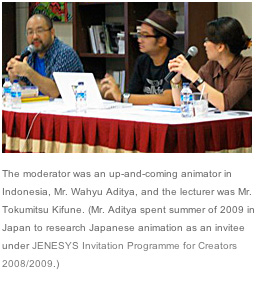 The 11th Jakarta International Film Festival was held from December 4 to 12, 2009.
This film festival started in 1998 immediately after the fall of President Suharto. For the last ten years, it has developed to be renowned for its quality and quantity as one of the largest international film festivals not just in Indonesia but also in Southeast Asia.
The Japan Foundation has been the sponsor of the Japanese film category in this annual festival since its beginning, and this time we provided the Academy Award-winning film "Departures" (Okuribito). Tickets were sold out before the screenings and the largest English newspaper in Indonesia, The Jakarta Post, listed this film among "the festival's more popular offerings."

Another event we offered during the festival, in cooperation with Inter College Animation Fesetival (ICAF), was the screenings of the selected 20 animation films produced by Japanese students of art universities and design schools, in order to present the trend of animation film production in Japan.
Mr. Tokumitsu Kifune, Director of ICAF and Professor at Tokyo Zokei University, visited Indonesia to hold a seminar to discuss the shown films, the history of ICAF, and today's situation of animation film production in Japan. About 100 young Indonesian animators and students participated in this seminar and engaged in heated discussions, revealing how interested they were in the topics.

Due to political upheaval and economic crisis, only a number of films produced in Indonesia in the 1990s, the decade of hardship for Indonesian movies. In the 2000s, the country regained its vigor and many Indonesian films today are distributed globally. In addition, the widespread use of computers made the production of animation films easier than ever. Now it is possible for creators with innovative ideas to present their works globally even if they are living in developing countries.

The Japan Foundation, Jakarta will keep presenting projects to encourage human exchanges between Japan and Indonesia in the fields of film and animation production.