The Japan Foundation, Mexico:The 400th Anniversary of Japan-Mexico Relations: Part 2
The Japan Foundation, Mexico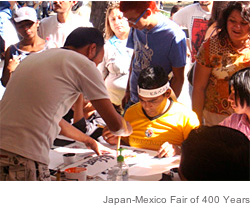 In commemoration of 400 years of the exchange between Japan and Mexico, many events are scheduled in 2009 and 2010.

On November 21 and 22, Japan-Mexico Fair of 400 Years was held on Paseo de la Reforma, the main street in Mexico City. It included all sorts of colorful programs, such as a parade by Japanese and Mexican groups including Yosakoi Soran dance team and Ryukukoku Matsuri Daiko drummers; music and dance performances; and Lucha Libre (Mexican-style wrestling) on a special stage.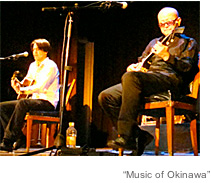 The Japan Foundation, Mexico was one of 43 organizations that set up stands on the both sides of the street. It held workshops on Japanese culture: twice for each of origami, calligraphy, and furoshiki wrapping. Each program gave a first-hand experience of Japanese culture to more participants than expected.

On December 3 and 4, Yukito Ara, Isamu Shimoji, and Sunday gave "Music of Okinawa" concerts at Centro Cultural Jose Marti. This commemorative event for the 400th anniversary of Japan-Mexico diplomatic relation was also the opening concert of their tour in three countries: Mexico, Jamaica, and Cuba. The hall was packed with the audience who filled the seats and aisles on both days. They reacted enthusiastically to passionate performances by the musicians. The chemistry between them really livened up the concerts.