The Japan Foundation, Toronto:Two Lectures on the Changing Society of Contemporary Japan At The Japan Foundation, Toronto
The Japan Foundation, Toronto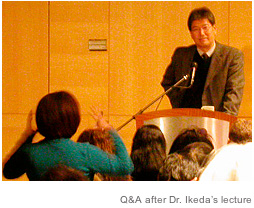 Recently Japan has been experiencing major changes in its political and social landscape. Despite the fact that many Canadians are interested in current events in Japan, this news is not widely reported or discussed in the Canadian media. With this in mind, in early 2010 the Japan Foundation, Toronto held two lectures focusing on the changing society of contemporary Japan. By presenting this information from the viewpoint of Japanese Studies scholars in Canada, we hoped to facilitate a deeper understanding of what the present situation in Japan really is, and how this is relevant to Canada.

On January 29, Dr. Satoshi Ikeda, of Concordia University in Montreal, delivered a thought-provoking and highly-motivating lecture entitled, "Japan and the end of the Capitalist World-system: An Exploration of Emerging Alternatives". Dr. Ikeda's social economy-themed lecture was followed by a lively Q&A session, which kept people debating and discussing even as they left the lecture hall.

On February 11, Dr. Yves Tiberghien, of the University of British Columbia, guided audience members through the intricacies of the Japanese governmental system and explored the significance of the August 2009 election, with his lecture, "Regime Change in Tokyo?: Promises, Stakes, and Realities of the Revolutionary Hatoyama Administration". The audience was impressed with Dr. Tiberghien's depth of knowledge and eager to hear his insights into the future of Japan.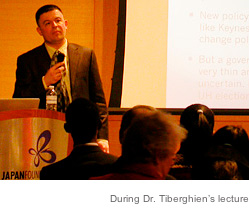 Both lectures were very well attended, despite the blisteringly cold Toronto winter weather. The audiences were diverse, made up of graduate students, professors, business people, and members of the general public who are interested in Japan. Audience members were asked to complete a questionnaire providing feedback about the event, and comments included, "I was very impressed. I am glad that the JF is supporting the dissemination of exciting academic studies in areas where Japan and Canada can learn from each other," and "Very informative, as we get so little news on Japan". Our patrons also expressed a wish for more lectures on these kinds of contemporary topics.

The response to these lectures was overwhelmingly positive, and the subject matter drew in many first-time visitors. As visitors were encouraged to visit our library and gallery before the lecture, we had the opportunity to introduce them to the many services that we offer. With the success of these events, we hope to arrange more lectures on current events in Japan in the near future.