The Japan Foundation, Seoul:The Japan Foundation, Seoul Relocated to Shinchon
The Japan Foundation, Seoul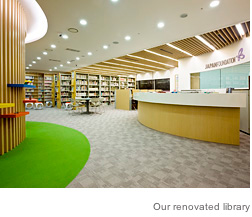 The Japan Foundation, Seoul opened as a JF office in Korea in 2001. Since then, cultural exchange between Japan and Korea has been flourishing; with the significantly increased popularity of Hanryu (Korean Wave) in Japan and Japanese pop culture in Korea. The cultural exchange projects that the Japan Foundation, Seoul has been focusing on in particular are Japan-Korea Collaboration (projects of joint performance or production) and discussion on shared social issues such as aging society and juvenile crimes.

In the fall of 2009, the Japan Foundation, Seoul relocated its office from the government and business district Gwanghwamun to Shinchon, the student quarter with many universities including Yonsei University and Ewha Womans University that is therefore well known as the "Town of Youth" where new Korean cultures are coming from.

This relocation of our office to the Town of Youth seemed to be welcomed by Korean people. We held a ceremony commemorating the relocation on February 1 with attendance of Mr. Inchon Yu, Korean Minister of Culture, Sports and Tourism. (Mr. Yu visited Japan in 2006 when he was an associate professor at Chung-Ang University as a JF Japanese Studies fellow.)

At the ceremony, singer-songwriter Tomoe Sawa sang her original songs in Japanese and Korean, the languages of her parents. She was the first singer with Japanese nationality to hold a concert in Korea in 1996. In 1998, she sang the first Japanese song ever sang officially in Korea. Ms. Sawa held concerts in Seoul on February 2 and 3 and in Busan on February 5, all of these were well received.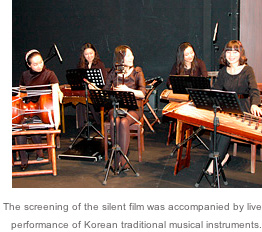 Another program in the ceremony was the screening of Yasujiro Ozu's silent film "Daigaku wa detakeredo (I Graduated, but...)" with a narration by Korean actor Dae-jong Kim and live performance of Korean traditional musical instruments by young Korean musicians.

The Japan Foundation, Seoul has been hosting various commemorative events in cooperation with several organizations until March 2010, including the exhibition of Chihiro Iwasaki's works, Furoshiki Design Contest Collection, the special screenings of Kenji Mizoguchi's films, and performance and workshops of Shakuhachi (bamboo flute) by Kifu Mitsuhashi.

The office is conveniently located near the station and has a cultural information room where audio visual materials and books are available for visitors and seminar rooms for Japanese-language courses, conferences, and exhibitions. We are looking forward to seeing you at our office reborn in Shinchon, the Town of Youth. It's the best place to feel what is going on in Japan today.